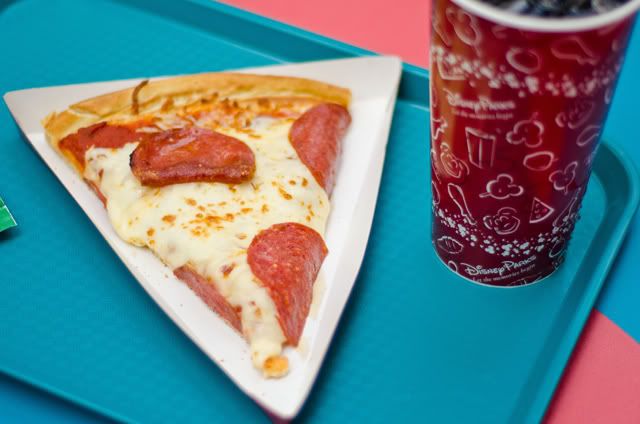 Redd Rockett's Pizza Port is a counter service restaurant serving pizza, meatballs, and pasta in Disneyland's Tomorrowland. Redd Rockett's offers an Annual Passholder discount of 10-15%. Pizza Port is housed inside the former location of the Mission to Mars attraction, and a tribute to the old Moonliner rocket sits in front of the restaurant.
We've been to Redd Rockett's Pizza Port a fair number of times. The first time it was mediocre, but we enjoy the location in Tomorrowland and have heard some pretty positive things about the restaurant, so we decided to head back a second time. The food was a little better this time, and free refills were nice, but it didn't even come close to comparing to Hungry Bear Restaurant, Rancho del Zocalo, or some of Disney California Adventure's new restaurants.
However, we decided to head back again, because we heard that we were "doing it wrong" by going at off-hours. This made sense, as the pizza sat out under heat lamps, so if you go at a time that's not busy, your food is less-than-fresh. We also heard we were making a grave error by not ordering the Count Down Chicken Fusilli. So we gave it another try.
Turns out the third time was the charm, as we finally had an excellent meal at Redd Rockett's Pizza Port on our third visit. We visited right during the busy dinner rush and ordered both the chicken fusilli and a slice of pizza. Both were excellent. Add to that a couple of drinks with free refills and we had an exceptional meal. One of the better counter service meals we've had at Disneyland.
The pizza here is different than at most other locations, like like Boardwalk Pizza & Pasta and Village Haus Restaurant, where flatbread is the option of choice. While I prefer thick crust pizza, It seems to me the quality of the flatbreads is a bit higher. It's entirely possible to make an excellent quality thick crust pizza, so I'd like to see some improvements made on this front at Pizza Port. Still, the pizza is pretty tasty at Pizza Port. Not exceptional, but not terrible.
It may seem reasonably priced at around $7 per slice, but the slices are not sizable-enough to constitute an entire meal. You'll either want to order two slices or order a side. We've been unimpressed by the bread sticks in the past. If you do go at a slow time and the pizza under the lamps looks less than appetizing, consider ordering a gluten-free pizza. It's made fresh for you, and we've heard it's pretty good. We've never done this ourselves, but it's an option to consider.
The Count Down Chicken Fusilli is the real star of the menu. It's served in a large portion  and consists of fusilli pasta tossed with moist and well-seasoned grilled chicken, sun-dried tomatoes, garlic, parmesan cream sauce, and topped off with fresh basil. For less than $10, it's actually fairly reasonably priced given its excellent taste and portion size. If there are two light eaters in your party, they could likely share this dish and be satisfied.
The theming at Redd Rockett's Pizza Port isn't all that impressive, but the old attraction posters on the wall inside are really cool. For whatever reason, we really like eating in the pavilion seating across from Captain EO's queue near Space Mountain (within the building; pictured below). Not a lot of people head up here, so you can hear the background music and watch people queue up for Space Mountain and Captain EO. If you look around in this area, you can find some alien dinosaur eggs. These eggs were added during the infamous New Tomorrowland project in the 1990s, and have never really been explained, nor is there much online coverage concerning this detail. Although in absolutely no way relevant to this review, they're fun to spot, though, and you can impress your friends with your obscure Disney knowledge by pointing them out.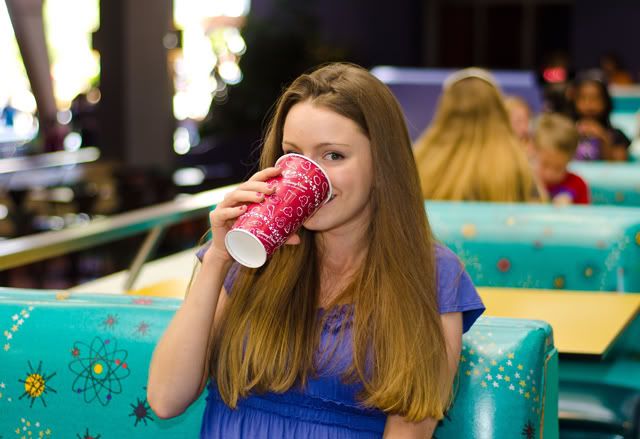 Overall, if you do things right, Redd Rockett's Pizza Port can be a good place to eat in the heart of Tomorrowland. We've some decent meals here, as mentioned above. However, its inconsistency and basic menu cannot be overlooked. Even its best dishes pale in comparison to middle of the road stuff elsewhere. Restaurants should offer good food without guests having to know the "secrets" to getting a good meal. Redd Rockett's Pizza Port falls a little short there, and is penalized in this review accordingly.
Your Thoughts…
What do you think about Pizza Port? Is it a "good enough" spot for some guilty pleasures, or do you opt to dine elsewhere? Share your thoughts in the comments!
To read other Disneyland restaurant reviews, check out our Disney Dining Reviews Index.
Overall Score: 5.5/10