Usually, when those of us who write trip reports sit down and touch quill to papyrus (what, the rest of you who write trip reports don't do your initial drafts on papyrus?!) the trips are relatively fresh in our minds. For today's post, I am going to break several trip reporting customs, including the misconception that you even need to remember any aspect of a trip to write a report on the trip. I know I certainly prefer fiction to non-fiction!
The above string of tongue in cheek comments aside, this won't be a trip report in any traditional sense. For obvious reasons, I don't quite remember all, or even most, of the details from a lot of these trips, so instead of filling the gaps with concocted content (unless you want to read about my epic battles with the dinosaurs in Universe of Energy), I am presenting little vignettes of things that stood out from each trip, and things that, generally, appealed to me as a child visiting Walt Disney World. It will be an aggregate, of sorts, of multiple trips from my childhood and while there while undoubtedly be some inaccuracies (memories often alter themselves as the years pass), they will be innocuous and unsubstantial, rather than off-the-wall fiction. With that said, let's board our time machine ride vehicles for the trip report! (Warning: this trip report is traveling at the same speed as your time machine vehicle. Please take small children by the hand, look down, and watch your step into the text.)
My voyages to Walt Disney World began way back in Christmas 1984. In utero, baby! That's right, my parents were so dedicated to raising a devoted Disney fan even back then that they braved the crowds the week between Christmas and New Year's just to let me experience the spirit of the Christmas season in the parks. Although I doubt I could see anything, I am certain that I enjoyed the experience's rhythm, ambiance, or something while asleep, or whatever it is that fetuses do, in there.
Of the trips that I don't remember, that is the one that sticks out most in my mind right now. This is mostly because I like to say, "I've been going to Walt Disney World" since before I was born. Obviously, I don't actually have any first-hand knowledge of this trip, or the couple of other trips we took when I was a toddler. There are undoubtedly photos from these trips scattered throughout this report. Although I don't remember the show, I would say one of the highlights of these trips was seeing Country Bear Christmas. What I would give to see that show again!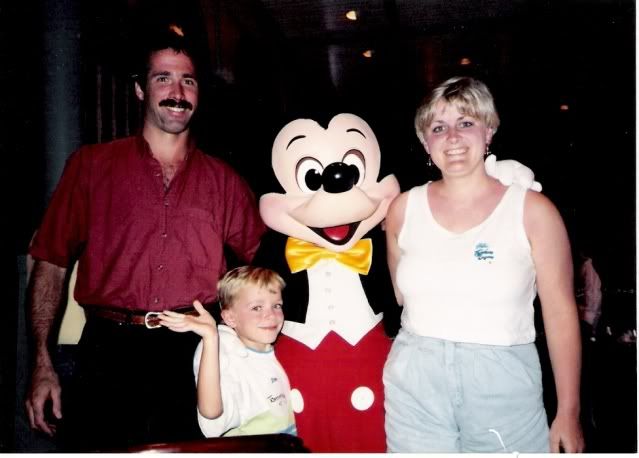 On one of these trips that I don't recall, my parents decided it would be an appropriate time to introduce me to the not-so-gentle giants that roamed the earth during the Cretaceous Period. Prodigious, I was not, as I did not have the ability to distinguish between Audio Animatronics and living creatures. I also had no sense of self-preservation, as instead of quietly hiding from the creatures, I wailed and carried on. (Sorry to any of you who may have been riding with us in the mid-1980s!) What is notable here, however, and what I'm constantly reminded of, is that in the midst of the show, I referred to the dinosaurs as "dime-o-saurs." This is probably not that humorous or endearing, but I am reminded of this at least once per year by my mother, so it's a memorable Disney experience for our family; thus into the report it goes! Beyond this, though, I can't say there are any specific experiences that (I've been told) stick out from these trips.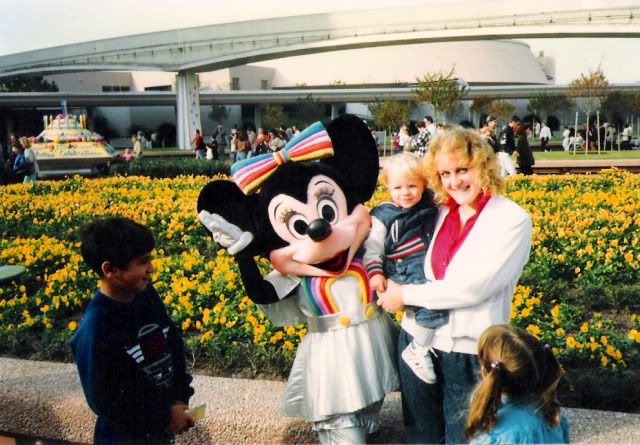 Of the trips that I do remember, I'm not really quite sure in what years we took each of our next trips, besides 1989, 1991–because I know we were there for the 20th Anniversary, and 1996–because I know we were there for the 25th Anniversary, but for the most part we went every year in the Spring, although not usually for Spring Break, because my parents saw the importance of avoiding crowds. This means that they *gasp* pulled me out of school for a week for our trips. Shockingly, and much to the chagrin of countless posters on Disney forums, I turned out just fine. Or at least, so I think. I will probably make reference to things my parents did or allowed me to do in this report that would not be kosher in today's "bubble-wrap your kids before they leave the house" era. I assure you, they're mostly upstanding individuals.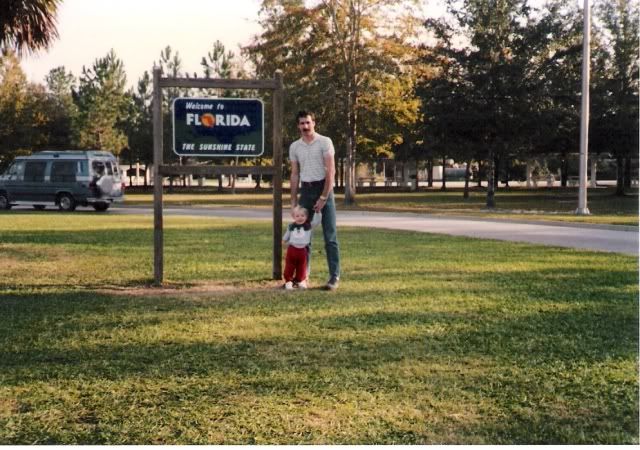 We drove down to WDW, as far as I can recollect, every single time we went. This was a fun experience for me, as I could look out the window at things and read. In elementary school, my goal was typically to read an entire Goosebumps book before we reached Atlanta. From there, I would focus on whatever homework assignments I had, then nap until we drew closer to Walt Disney World, at which time we'd tune the radio to Disney Radio to get updates on the parks as I watched for the new Disney billboards. I recently discovered a few years of these Disney Radio loops on MouseBits, and they certainly were a blast from the past!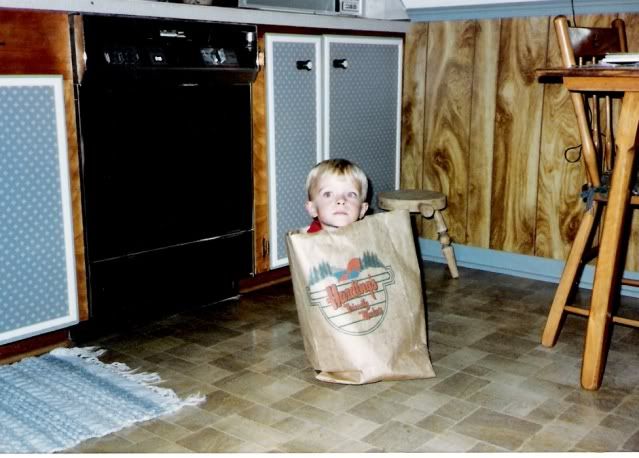 Returning home, on the other hand, was usually so depressing that I locked myself in a grocery bag.
The first trip we took that I remember was in 1989, and I remember this specifically because a new show had just hit the television airwaves. Probably the greatest show ever, actually. I'm talking about Chip 'N Dale Rescue Rangers. I was obsessed with the show, and come to find out, the campground at which we were staying, Fort Wilderness, had some ties to Chip & Dale. This trip was destined to go down in history as the greatest thing ever.
On this trip, two things really stick out. First, was heading to the Outpost at Fort Wilderness during our trip to buy my one souvenir from the trip. Being terrible parents, instead of spoiling me with lavish and endless amounts of toys, sought to teach me accountability and money management. In so doing, they required me to earn things like "television time" and an "allowance." On these trips, though, they would buy me one item as a souvenir from the trip. Those readers with an affinity for vermin culture will know that Rescue Rangers starred two delightful chipmunks, and accordingly, Disney capitalized on the two stars by producing two separate character plushes (dang, even back then Disney was an evil giant! ;-P). Since I could only purchase one, I chose the mischievous and irreverent Dale, orange and yellow Hawaiian shirt and all. That Dale was the start of what would later become quite a large plush collection. In fact, he was still living in my parent's basement up until a couple of years ago, when one of their cocker spaniels took to chipmunk hunting. Sort of sad, especially after the recent exposee on the subject entitled Toy Story 3.
There are multiple pages in this Walt Disney World trip report. Navigate to the next page below!