California Grill is a Walt Disney World Signature Restaurant located in Disney's Contemporary Resort. The restaurant features classic cuisine with a California fusion twist that makes for an experience that is simultaneously conventional, but also a bit adventurous. In addition to being a wonderful fine dining restaurant, it's also one of the best locations at Walt Disney World for watching the Magic Kingdom fireworks, really giving it the perfect balance between sophistication and 'Disney whimsy.'
Thanks to this balance, California Grill is a Disney restaurant that will appeal to just about anyone. Everyone from picky eaters to the most refined palates will find something to love about California Grill. Since it is a Signature Restaurant, it will cost you two credits on the Disney Dining Plan. It also accepts the Tables in Wonderland card for a 20% discount; AP/DVC members get 10% off, too.
California Grill underwent an extensive "re-imagining" and now features entirely new decor and a re-invented menu. We had the chance to dine here following the refurbishment, and find the atmosphere and menu of the new-look California Grill to be exceptional. This review combines photos from our latest visit along with our dining experiences from earlier visits.
We've been dining at California Grill together for a decade now, with our most recent visit in February 2017 and our first time in August 2007. During that time, a lot has changed. For our first visit, we had the Disney Dining Plan, which at the time included appetizers and tips. It may seem silly and meaningless to most others, but our first meal at California Grill in 2007 was quite special to us. That trip was our second to Walt Disney World together, and we treated California Grill with the specialness the experience deserved, dressing in formal attire and feeling a bit overdressed in the process.
For our most recent meal, we paid out of pocket with only the Annual Pass discount, dining in the more laid-back atmosphere of the lounge after a long day in Magic Kingdom. Our park attire matched the more laid-back atmosphere of the lounge, but interestingly enough, many patrons of California Grill's main dining rooms were dressed considerably nicer, with many wearing cocktail attire!
Before we move on to the cuisine at California Grill, let's take a look at the redone interior…
During the 7-month re-imagining of California Grill, Imagineers drew from the Contemporary's mid-century modern roots for design inspiration. The result is a style that combines Googie, modern, and even Disney influences to create a new look that is simultaneously retro and modern.
It works incredibly well, and creates a timeless look that is at once classy, sophisticated, and trendy. (I also suspect this style won't become dated at any time soon.)
One of the highlights of California Grill is the views of Magic Kingdom (you can see Cinderella Castle and Space Mountain through the window above).
Window tables are often quite popular, especially around fireworks time in Magic Kingdom. We'd recommend requesting a window table on arrival (be prepared to wait), as it really does enhance the experience.
If you're interested in more of a foodie experience, request a seat at the sushi counter. This is something we have not done since California Grill was refurbished, and I found it odd that no one was seated here during our visit. Perhaps it was reserved? (It's also odd that California Grill does not have a Chef's Counter/Table experience.)
Since this is a California restaurant, it should come as no surprise that they have an impressive wine list. We are not wine drinkers, so we cannot speak to the quality of that list, but it sure is impressive to look at!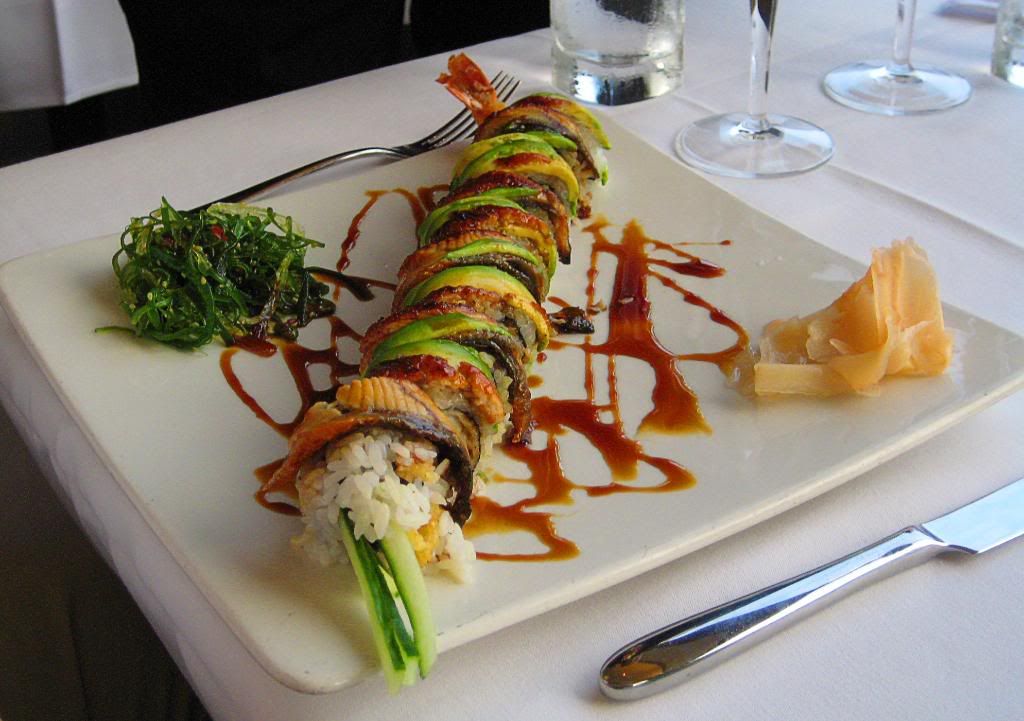 If you're going to California Grill, even if you're on the Disney Dining Plan, you'd be remiss to not try the sushi or a flatbread. California Grill's sushi is some of the best I've had anywhere, even in Japan.
The Spicy Kazan Roll is a personal favorite, but all are fairly inventive. We've never tried the Sashimi, but that's definitely on the list for next time.
Flatbreads change seasonally, but always seem to offer something fresh and inventive.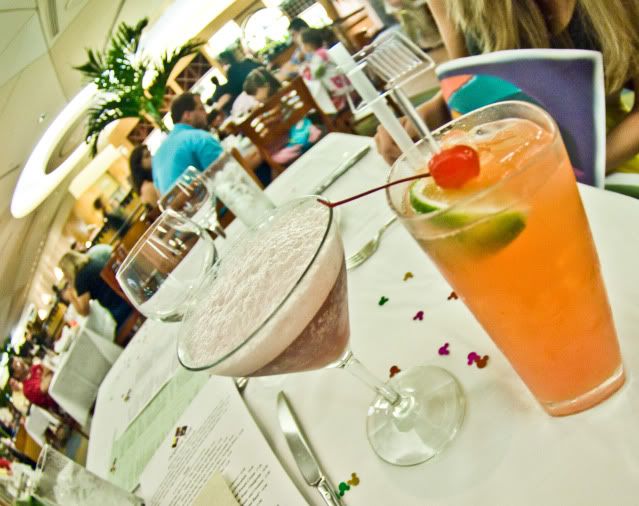 Like any good Signature Restaurant at Walt Disney World, California Grill features a drink menu with a variety of options in addition to that formidable lineup of wines.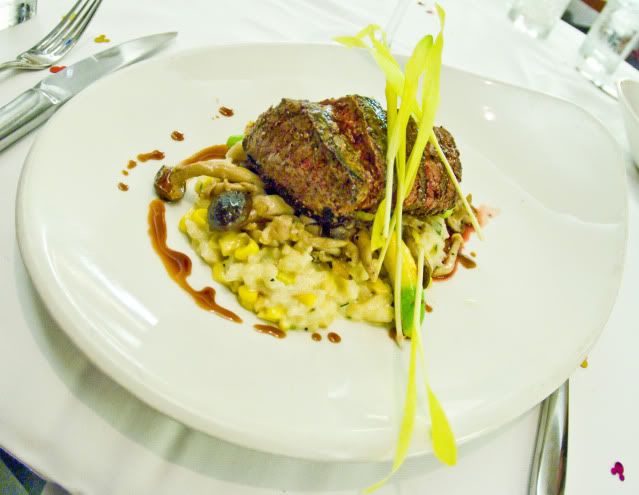 The main courses are delicious, albeit expensive. These plates seem to change regularly, but of the items presently on the menu, without question our favorite right now is the Oak-fired Filet of Beef.
The beef is tender and incredibly flavorful, and the accompanying mashed potatoes are the perfect compliment to the meat. We have generally found the seafood at Cali Grill to be of lesser quality than the other meats, but even still, the seafood is typically good.
As its former name, Top of the World Restaurant, implies, California Grill has some great views. If you're there around sunset or Wishes! wait the extra time for a window seat. Actually, regardless of when you're there, wait for a window seat. At prices this high, you should get the full experience.
For a while, California Grill was arguably a shadow of its former self. That was likely true for a stretch leading up to the most recent refurbishment, but it would seem to us that the decor, atmosphere, and (most importantly) menu have been revitalized since, and California Grill is once again one of the premier Signature Restaurants at Walt Disney World. As it should be. California Grill is the most expensive restaurant on property besides Victoria & Albert's, but for a while was one of the weaker Signature Restaurants, and perhaps even eclipsed by mid-tier options such as Sanaa. With the dining experience virtually reinvented, it's once again a must-do restaurant for foodies visiting Walt Disney World.
Planning a Walt Disney World trip? Learn about hotels on our Walt Disney World Hotels Reviews page. For where to eat, read our Walt Disney World Restaurant Reviews. To save money on tickets or determine which type to buy, read our Tips for Saving Money on Walt Disney World Tickets post. Our What to Pack for Disney Trips post takes a unique look at clever items to take. For what to do and when to do it, our Walt Disney World Ride Guides will help.
For comprehensive advice, the best place to start is our Walt Disney World Trip Planning Guide for everything you need to know!
Your Thoughts…
Are you a fan of California Grill? If so, is it for the food, for the ambiance and view, or for both? Are you excited to dine at the "new look" California Grill? Have you dined at California Grill since the refurbishment? Any favorite menu items? Share your thoughts in the comments!