Disney Parks Blog Trick or Meet-Up Event Recap
Trick or Meet-Up was a private event hosted by the Disney Parks Blog at the Magic Kingdom on September 29, 2011 from 9 pm until 11:59 pm focused, unsurprisingly given the name, on Halloween.
My rough estimate based upon viewing the crowd would be that there were around 250 attendees, all of whom gathered at Blizzard Beach for registration prior to being shuttled on Disney Cruise Line buses to the Magic Kingdom.
The Disney Parks Blog team encouraged Guests to get into the Halloween spirit by dressing in costumes, and many Guests did exactly that. Sarah and I chose to go as a classic Disney couple: Beast and…errr…Mrs. Potts? Turns out a nice Belle costume isn't exactly so cheap to make or purchase, so Sarah opted to go as arguably the most important story in Beauty and the Beast, Mrs. Potts!
After getting registered for the event at Blizzard Beach, we stood around and chatted with other attendees while listening to the loud beats of the DJ and a trivia contest going on somewhat simultaneously. It was an amusing way to pass time while everyone got registered.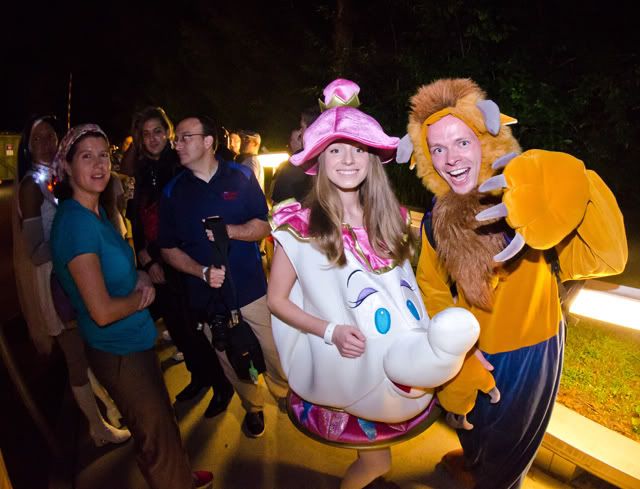 Shortly thereafter, we all boarded buses headed to the Magic Kingdom. Along the way, the buses played Halloween at Walt Disney World videos, detailing how the parks prepare for the season. The video also included a humorous face-painting tutorial to make your child look like a pirate.
We arrived near Splash Mountain, and walked through Frontierland to the Hall of Presidents, where we would hear Walt Disney Imagineer Jason Surrell explain some of the history behind the Haunted Mansion. As we entered the Hall of Presidents, legendary Disney Yellow Shoes photographer Gene Duncan stopped us to take our photo.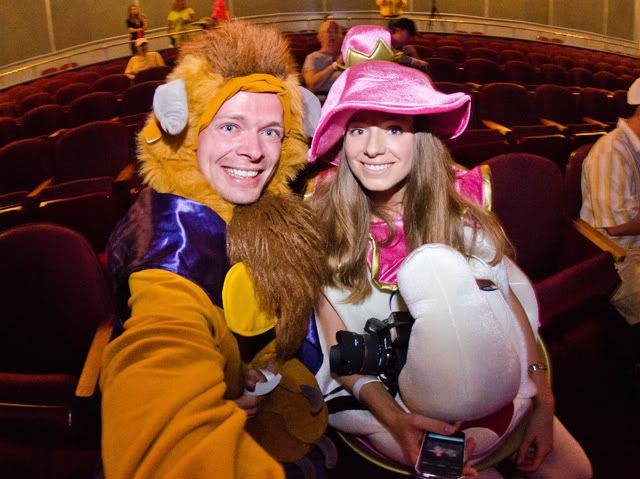 Once inside, we were seated in the Hall of Presidents while Disney Parks Blogger, Gary Buchanan, dressed as a large brown object entertained us. At first, he appeared a bit…lewd…but once he explained that he was a turkey leg, the light bulb went off and we thought, "oh yeah, turkey leg!" I don't think we were the only attendees who initially thought he was something else.
Disney's Social Media director Leanne Jakubowski took the "stage" after the turkey leg, and introduced the rest of the Disney Parks Blog team. It was nice to finally meet many members of the blogging team whose work we had been reading for the last couple of years. Overall, they seemed like a cool bunch who were certainly enthusiastic about Disney.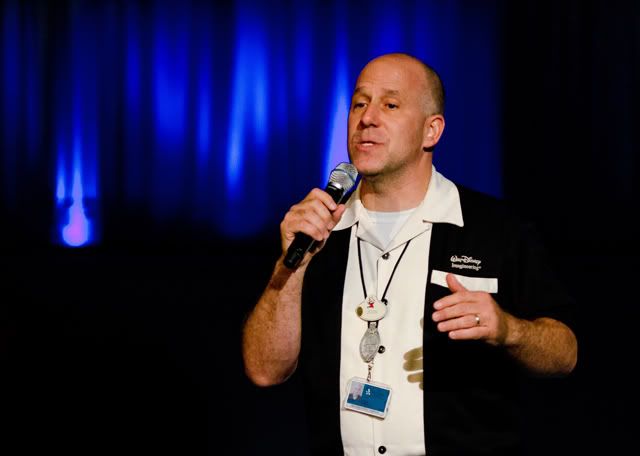 Next up was the star of the show: Jason Surrell. As I mentioned in our Part 16 of our May Trip Report, Jason Surrell, along with Alex Wright and Jason Grandt, hosted the presentation at Destination D that was by far the most humorous and enjoyable. Absent were his partners in crime on this evening, but Jason was just as funny as before.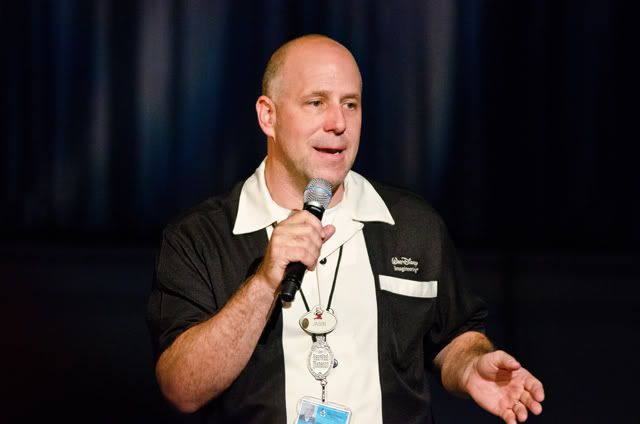 He started out the presentation rather innocuously, calmly discussing the history of the Haunted Mansion before pausing, and indicating that all of us fans probably already knew all of that. At that point, his presentation devolved (although the connotation is a little harsh there, as this is when the presentation really became good) into the Jason Surrell Comedy Hour, as he joked with the audience, and inferred that Abe Lincoln (behind him) would be disappointed if he could see the country's obsession with social media. Ironically, he had the crowd, myself included, which consisted largely of avid social media users, in stitches.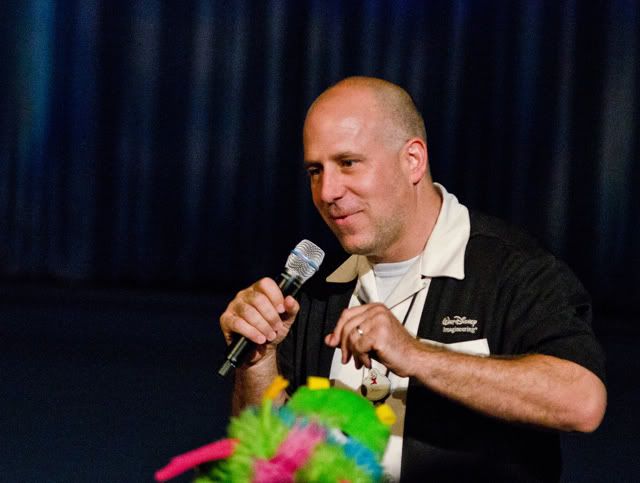 His presentation wasn't entirely jokes, as he mixed in a good deal of information, and answered questions along the way. One of note to me was that he bluntly indicated that, at present, Disney felt it inappropriate to bring Haunted Mansion Holiday to Walt Disney World. This is because, compared to Disneyland, most Walt Disney World Guests were infrequent or once-in-a-lifetime visitors, and as such, Disney wanted to present the original Haunted Mansion to them. It was nice for someone at Disney (for once) to treat fans as if they're rational and intelligent human beings capable of hearing an actual answer rather than the typical, "our Guests have told us that they want X." I do wonder, though, if Disney is on edge whenever Jason Surrell takes the stage for this type of event. Clearly most fans love his irreverence and wry humor, but it wouldn't surprise me if Disney isn't too fond of some of his comments.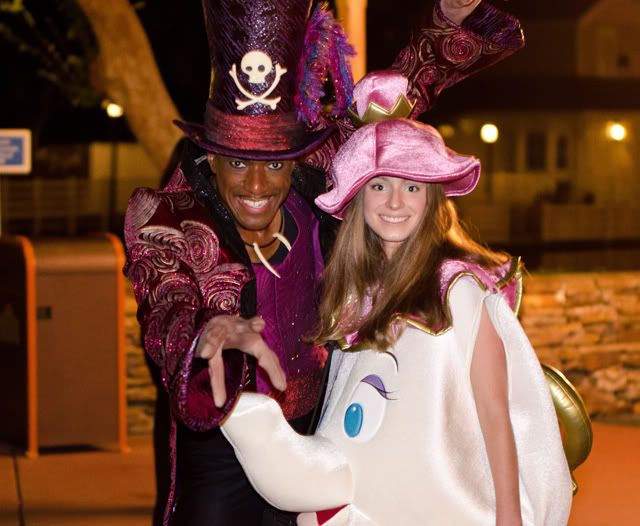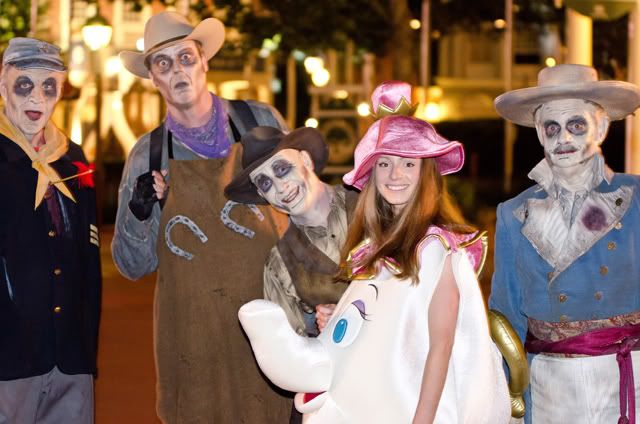 Jason Surrell's presentation was by far the highlight of the evening, but Surrell wasn't the only character at the event. Minnie and Mickey Mouse were on hand for photos, decked out in their Halloween attire, as were Daisy and Donald Duck.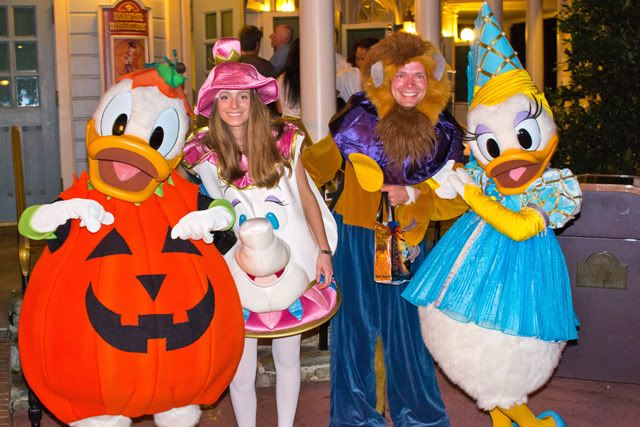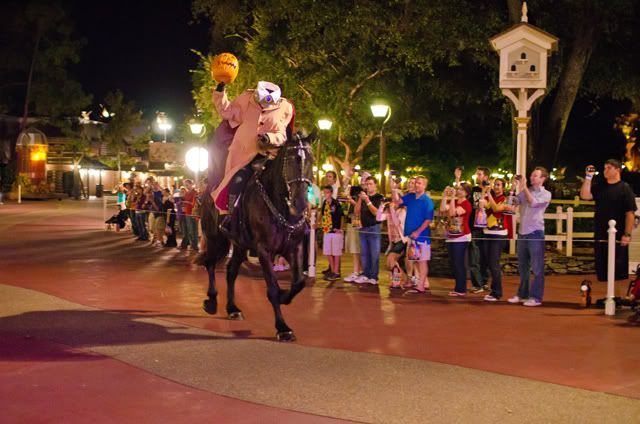 Dr. Facilier was also out, as were The Cadaver Dans performed, and Madame Carlotta and Renata entertained attendees waiting in line for the Haunted Mansion queue tours, while Haunted Mansion butlers and maids were fully decked out as they dredged around, walking ghoulish dogs.
Trick or treat bags were passed out so Guests could wander Liberty Square and the edge of Frontierland to collect candy. Light refreshments, including drinks and desserts were available. Tours of the new Haunted Mansion interactive queue were offered with Imagineers Pete Carsillo or Eric Goodman, the Haunted Mansion was also open for rides, and the lighting package used for Mickey's Not So Scary Halloween Party was also utilized during this event.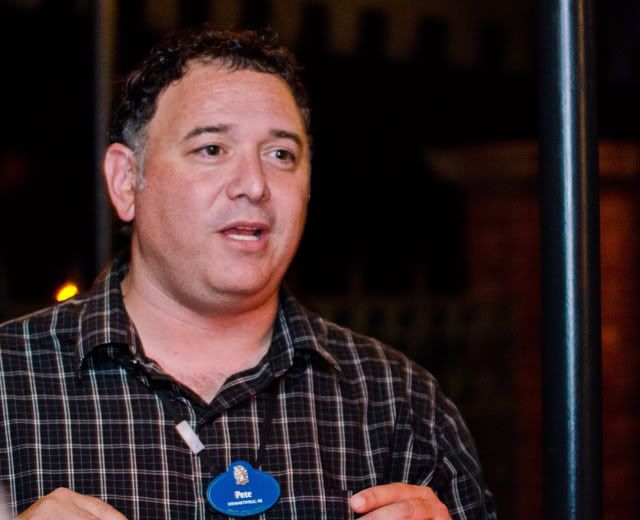 The tours by Carsillo and Goodman were very interesting, and pointed out details and rationale that gave me new appreciation for the queue. As I stated before in our May trip report, I thought the new queue was neat, but I certainly wasn't singing its praises (nor was I condemning it like most). This definitely swayed me towards being more of a fan of the queue.
As the night wound down, the Headless Horseman ran through Liberty Square before Guests headed back towards the Splash Mountain exit. Some attendees (including us!) received Create-Your-Own Vinylmations as prizes for their costumes. Every Guest won, in a way, though, as we all received posters of the Hitchhiking Ghosts on the way out of the event, along with a "Nightmare Before Christmas" Vinylmation, plus wonderful memories.
Overall, we were very pleased by the event. It was a great experience, especially for the (free) price! There was plenty of entertainment, a great presenter, and great atmosphere throughout the night. It was thoughtful of Disney to hold the event over the weekend of October 1st, 2011, as it gave many out of town guests who would be in town for that weekend an opportunity to be a part of the fun. Thanks Disney Parks Blog team for a great evening! Now here's hoping for a Christmas meet sometime between December 8th and 11th that we'll be able to attend!
If you enjoyed this post, please help us out by clicking the +1 button above to increase DisneyTouristBlog.com's visibility on Google (no Google account necessary). If you have Facebook, click the "Like" button, too!