Part XII: Coast-to-Coast Disney Trip Report
I neglected to introduce our team previously, mostly because I didn't want to reveal the photo of my brilliant Figment costume prematurely. Our team consisted of myself and Sarah, plus our friend Nick, and JL Knopp of http://TheDisneyDrivenLife.com. As we stood in line earlier that morning at Epcot, we were struggling for a team name. Suddenly, as if my horns picked up on the "signal" of Imagination floating through the air at EPCOT, the team name came to me. It was thought-provoking, deep, meaningful, and brilliant all at the same time. The TouringPlans Tourminators. Get it? Brilliant, right?! Now you know our team and our story.
After finishing the little photo shoot at EPCOT, we took the monorail to the Magic Kingdom. Upon receipt of our book at the Magic Kingdom, we spent about 10 minutes organizing questions, and giving a hard look to the 5 and 10 point questions. We identified a lot of questions that called for answers for Main Street (or started there). This was actually one disappointing aspect of the Hunt: way too many of the questions pertained to the windows on Main Street. These windows are interesting, don't get me wrong, but far too many people know far too much about these windows, giving those participants an advantage there. Disney touted the Hunt as putting everyone on a level playing field (and for the most part, they did a great job with this), but this is one area I'm sure some had a decided advantage. On top of that, 10 questions about windows becomes a bit monotonous. I don't know if this was done out of necessity because the Magic Kingdom is somewhat devoid of little details as compared to the other parks (I highly doubt this), or because the windows just really interested those writing the questions.
After spending a long time on Main Street, we headed off to the other areas of the park. Frontierland had some difficult questions, as did Liberty Square. By contrast, the Tomorrowland and Adventureland ones were pretty easy. We even managed to guess correctly at a 10 point question in Adventureland, which was a huge moral victory for us. However, given time constraints, we decided not to answer the questions (16 points worth) over on Tom Sawyer Island. This worried us at first, as we had answered every question at EPCOT, but after the Hunt, we talked with a few other teams that said they also skipped TSI. We were doing the Hunt for fun, anyway. With all of the obsessive Disney historians out there, we highly doubted we'd place in the top 50% of the teams.
We turned in our Magic Kingdom book with 10 seconds to spare (we weren't really this 'down to the wire' we approached the desk, guessed at answers we couldn't find, and checked other answers all while watching the clock) and collapsed on benches near the table afterwards. Given my brief discussion of the Hunt here in the trip report, it actually did take more than a "couple paragraphs" worth of time. This Hunt was seven hours of our day! By contrast, I've fixated on the toppings bar at Cosmic Ray's for more text in previous trip reports despite it only taking up a few minutes of delicious time. Unfortunately, since I don't have any photos from the Hunt, and since the questions are impossible to remember, it would get quite monotonous (for both you as the reader and me as the writer) if I wrote, "we went to X attraction/shop/postshow/detailed area in Y land/pavilion/area of the park and answered a 1/5/10 point question. We think we got the question right/wrong/undecided." The Hunt was very interesting and fun, but reading 400 sentences following that model would be mind-numbing.
Finally, it was time to enjoy some attractions! Or so we thought.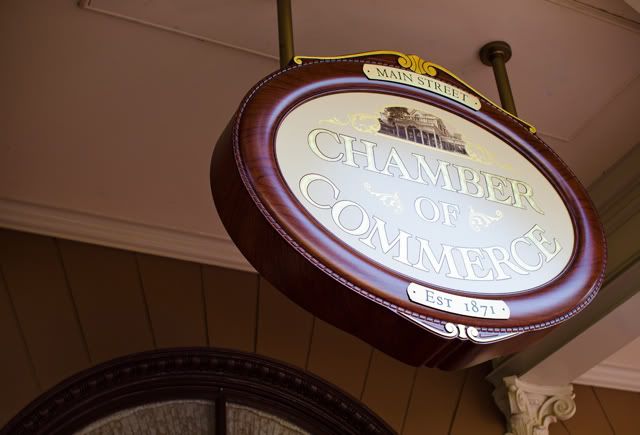 Sarah had to use the restroom, and the line for this looked fairly long, so while she was doing that, I made my way up Main Street to capture some photos. I needed to compensate for the photos I "missed" during the day, after all! As I was taking photos on Main Street, I noticed some beautiful sun rays peeking out from behind clouds up by Crystal Palace. So I ventured that way. From there, I saw the rays at the edge of Adventureland. To make a long story short, I found myself outside of Big Thunder Mountain Railroad when I received a call from Sarah, asking where the heck I was. I had just wandered to the opposite end of the park without giving it a second thought. It's really a wonder I never got (permanently) lost as a child.
One thing you may notice throughout this report is that I have a lot of weird photos of random buildings or more shots with guests than I have had in previous trip reports. The reasons for this are two-fold. First, in looking through some of my favorite shots from past trips, there have been a surprising number of shots that I would categorize as shots that "take me back" to that moment. They can be as simple as a photo of a tray of food at the water park to a wide capture of Hollywood Boulevard at sunset. These shots are typically far less unique or artistic than my other shots, but I think they're still pretty interesting (and well-captured), and more importantly, they capture that feeling of being in the parks so well. Maybe I'm alone in this sentiment, but I figured if that type of shot gives me that euphoric (okay, maybe that's going too far…or is it?!) feeling of being at Disney, it would give others the same feeling.
The second reason I'm including more shots like these is because I took fewer shots on this trip than I otherwise would. During the Scavenger Hunt I didn't take any photos, and during the Destination D seminars, I took very few photos (and the ones I did take look pretty similar to one another). So I tried to compensate be going nuts when we finally got out into the parks.
I knew they probably didn't want to wait around while I wandered back to the front of the park, so I told Sarah that she, JL, and Nick could do TTA without me. Not a big loss as far as I was concerned, because it was still too early for the ideal TTA riding conditions. I took some more photos, then met them at the exit of the TTA. From there, we headed to Space Mountain.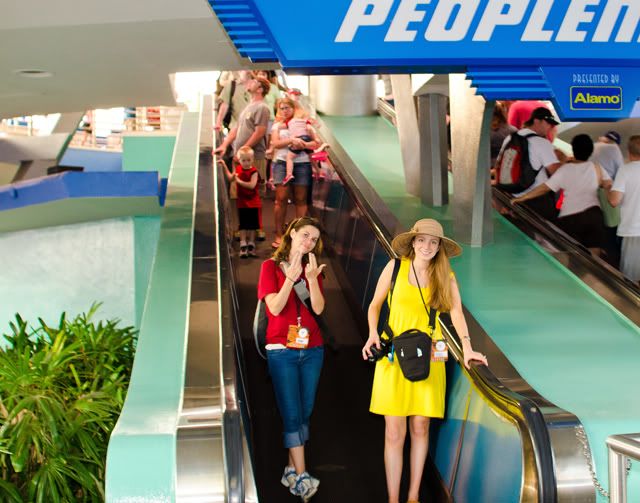 When in Tomorrowland, as they say, do what the Tomorrowlandians do. This meant stops at Buzz Lightyear's Space Ranger Spin and Space Mountain, both of which were pretty lousy experiences. Sarah beat me at Space Ranger Spin, and anytime this happens, it's clearly the result of my laser blaster malfunctioning. No other explanation is reasonable. Then, when riding Space Mountain, the work lights on the TTA were illuminated! I love Space Mountain as a coaster, but its appeal is largely in the darkness of the attraction. There is a new thrilling wrinkle when the track is brighter, though: the ride track is so close to your head in certain sections that you fear decapitation! This coming from someone who isn't exactly tall, either. Pretty interesting, but probably not the best way for an attraction to be labeled a white-knuckled thriller. I prefer not to fear for my bodily safety when on board any attraction, but that's just me.
The Tomorrowland Speedway is an attraction we rarely do. I'm still not quite sure how I feel about it. From a personal perspective judging the substance of the attraction, I'm not that wild about it. However, it seems like one of those Magic Kingdom rite-of-passage attractions, and kids do seem to like it a lot. In that regard, it's a lot like Dumbo, and I can't imagine people advocating the removal of that classic attraction.
Perhaps, like Dumbo, the Tomorrowland Speedway should receive some plussing indicative of its status as an important attraction for children (if Disney perceives it as such). In any case, it's an attraction we'll do once every few trips just to relive those childhood moments and let loose as kids again.
By this point, Tomorrowland was beginning to come alive in all its nighttime, neon-y glory. When the lights come on in Tomorrowland, you know the party has started. I think there's is a Ke$ha song to this effect on one of her albums. It was far enough beyond the dinner hour that things wouldn't be too hectic at Cosmic Ray's Starlight Cafe, so we headed there for dinner. The two best Walt Disney World counter service restaurants in one day. We were living the life!
Since we were with others, I restrained myself in the toppings department. Although in fairness, I think it should be poor manners to not load one's burger with an obscene (well, I guess it wouldn't be obscene if it were appropriate manners-wise) amount of toppings. Still, I placed a copious amount of mushrooms on the burger, along with plenty of other toppings. My secret to keeping the burger relatively small: condensing the toppings using the bun. The jury is still out on how well that worked, as you can probably tell from the photos.
Halfway through our meal, Sonny Eclipse went silent. I don't know if Cosmic Ray had gone from paying him weakly to not-at-all or what, but for whatever reason, the music died. This was a bit disappointing, especially given that he's the reason Cosmic Ray's scores so highly on the dining "Brick-O-Meter," but we knew we'd be back again before the trip concluded, so it wasn't too big of a deal.
There are multiple pages in this Walt Disney World trip report installment. Navigate to the next page below!