Part XII: Coast-to-Coast Disney Trip Report
Crowds were really low that evening in the Magic Kingdom, so we figured we'd get some of the longer line attractions out of the way. We had a FastPass for Peter Pan, but we figured we'd hit Winnie the Pooh on the way there, as it's quickly becoming a favorite of Sarah's. The line was supposedly only 10 minutes, but based upon the look of the queue, it appeared much longer. We quickly got out of line and headed for Pan.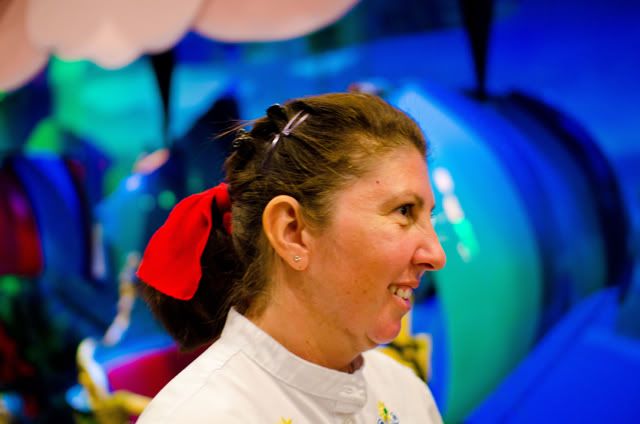 Next up, it was time for the Haunted Mansion. Since this was our first time experiencing the attraction in earnest and really exploring the queue, I decided to save my thoughts of the new experience for here. The new queue…where to begin? This has become quite the divisive issue in the fan community, and frankly, I don't quite see why. I will say that I'm not quite sure why Disney chooses the Haunted Mansion for these constant plussings. While I am a firm believer that things should constantly be updated, I am also a realist, and I think there are so many things in Walt Disney World that are more pressing. Since resources are finite, I would rather see other, more glaring, problems addressed first.
That said, I have no problem with these changes from the perspective that changes to the queue draw from funds that could be allocated towards additional attractions. To be sure, 8-10 of these "NextGen" queues might add up to the same cost as the construction of a new attraction (maybe, I'm just throwing that number out there). Like many others, I'd rather have a new attraction than 8-10 interactive queues. However, the construction of a new attraction is not the only cost of a new attraction, which is what others fail to consider when they make the argument that Disney should be building new attractions with the money.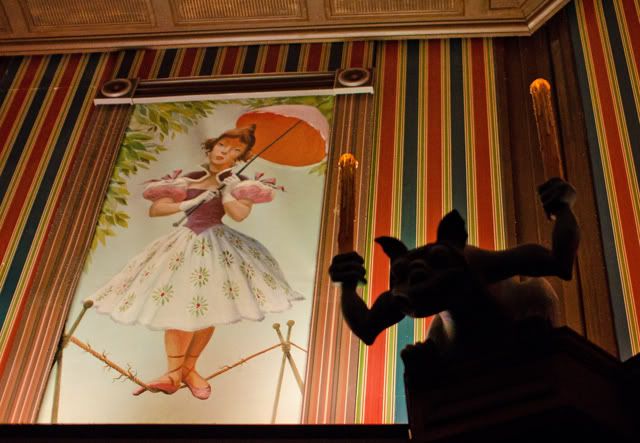 This is because attractions also need Cast Members to operate, and the operational maintenance of an attraction is much higher than the maintenance of a queue. For example, even if 10 queues cost a total of $75 million to build, and a new attraction costs $75 million to build, the actual costs of the two aren't the same. This is because a new attraction will also require Cast Members to operate. I don't work in operations, but I'm guessing there are 20 or so Cast Members working each attraction at a given time. By contrast, at most, an interactive queue adds one Cast Member to the fray. This doesn't even begin to consider maintenance costs. To be fair, attractions do increase the capacity of the parks, and thereby either decrease the amount of time people wait in line (allowing them to spend more in gift shops or at restaurants when they're not in line) or increase the number of people at the parks (assuming the attraction pulls from other busy attractions or the park is approaching capacity). However, interactive queues also make the time in line more bearable, and thereby might increase guest satisfaction, which might increase their likelihood of returning.
The point being, as you can see with all of the different above factors and the rampant theorizing, is that this is not a cut and dry matter. It's not as simple as saying, "spend the $X on new attractions instead of spending the $X on queues for better return on investment!" Things aren't that simple. The (Disney) World's problems can't be solved with a little debate on an internet message board. We simply aren't privy to all of the variables associated with making such a decision. I fear Disney is tailoring its research to validate conclusions it has already made prior to the research, as seems likely to be the case based on the past, but I hope the company is performing its due diligence and making the decisions based on actual cost/benefit research.
And that's why the spending on the interactive queues doesn't bother me. I simply don't have the information necessary to make an informed decision as to whether they are a good investment. Anyway, now that we you've read "The Gospel of Interactive Queues According to Tom," here's my take on the substance of the queue itself.
The queue is a distraction while waiting for the main attraction. I am not so diluted (as some) to think it "kills the suspense" as some have claimed, as I really don't think there's much suspense to kill for most guests. If anything, for those guests who would feel suspense when in line, the new attraction adds a new layer of foreshadowing. I think most of the aspects of the queue are interesting and skillfully executed. In addition, I think they add nice interactivity to the experience. My only complaints would be that the headstone plots are too small for a body to be buried below, and that some of the queue is a bit cartoonish. Specifically, the busts at the beginning of the queue are a bit overly exaggerated, and just don't seem to fit with the rest of the Haunted Mansion. Aside from these small quibbles, I think it's extremely well done. The interactivity is short enough that it doesn't impede the flow of the queue, and, like I said above, its elements are a nice distraction from waiting in line.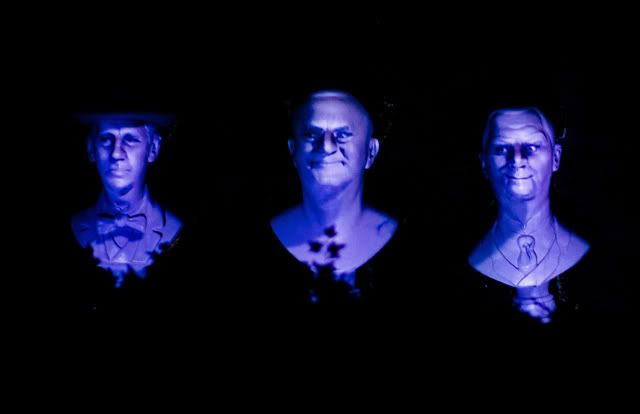 As for the other changes to Haunted Mansion, well, I don't know how anyone could disparage those. These upgrades, which are to the AA hitchhiking ghosts and the ghost "following you home" projections immediately after, are wonderfully executed, and give the attraction a real cutting edge feel. The AA ghosts are brighter, more acentuated, and their surrounding area has more details. The big upgrade, however, is to the ghosts that follow you home. No longer do they just haphazardly float in the car over one of the passengers, they now actually interact with the passengers in a realistic way. The manner of interaction varies, and is really cool. Definitely a great upgrade!
Next up was the Magic, Memories, and You Castle show. I was shocked at how many people were staked out for the show. Since Wishes! starting shortly after, I figured a lot (most) were just getting spots a little early for that.
The Magic, Memories, and You is definitely a lot better on Cinderella Castle than it is on it's a small world, and I enjoyed it pretty well on it's a small world. It really doesn't bother me that it's displayed on the Castle, since it's only like 10 minutes long. Plus, I actually liked the Castle Cake, and that was on the Castle for a full uninterrupted year. As long as there are permanent changes to the Castle that cartoonize it, I don't really mind.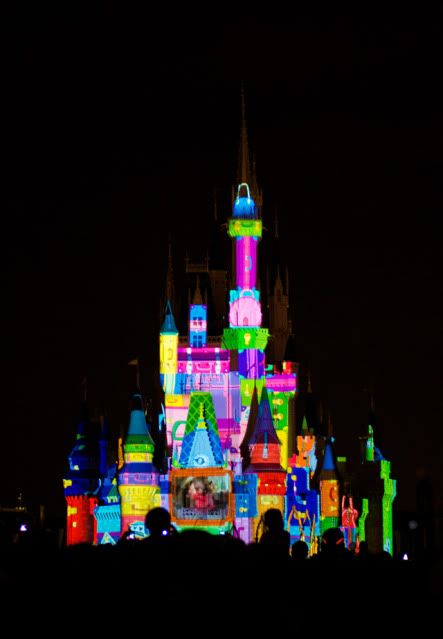 The scale of Cinderella Castle makes the show much better. The show is very well done, from the projections that are crisp and vibrant, to the transitions between the scenes in the displays. I only thing I don't really care for about the show is the vacation photos of other guests that aren't really that discernible, anyway. I know this is sort of the crux of the show, but I still don't like it. I really hope they use the technology for the show in some capacity for future fireworks and/or Castle shows.
I was shocked when, after the Magic, Memories, and You show, guests began leaving en masse. My best guess is that they thought the couple of fireworks bursts at the end of the show were the fireworks for the night? I'll bet those people think the fireworks show is really lame!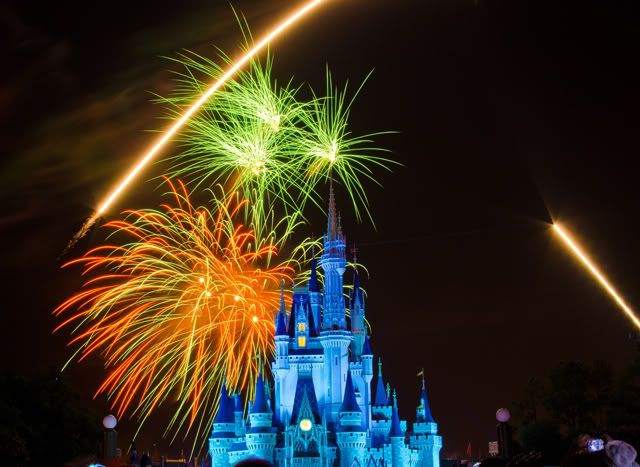 Wishes was…Wishes. After Remember…Dreams Come True, no Magic Kingdom fireworks show can compare. Wishes was enjoyable, but with Remember so fresh in my memory, Wishes was a bit of a disappointment.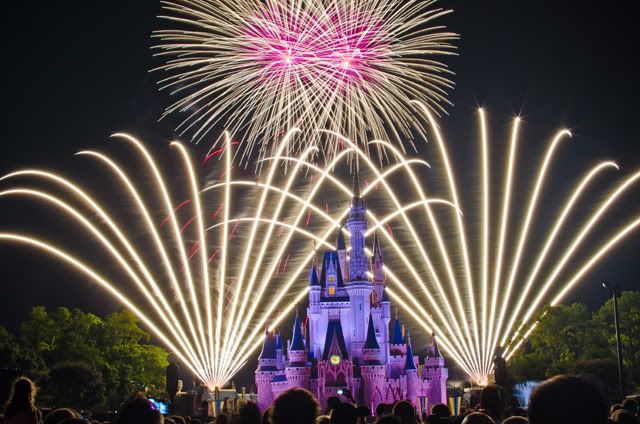 Still, it was nice to see the fireworks show in our "home" part in front of Cinderella Castle. It could be the lamest fireworks show in the world, but by virtue of being set in front of that Castle, it'd be special.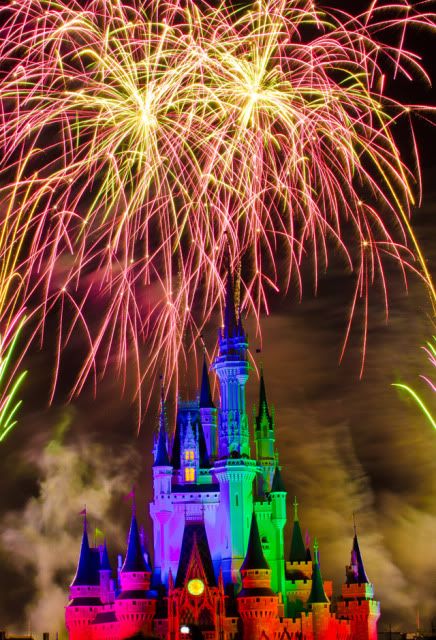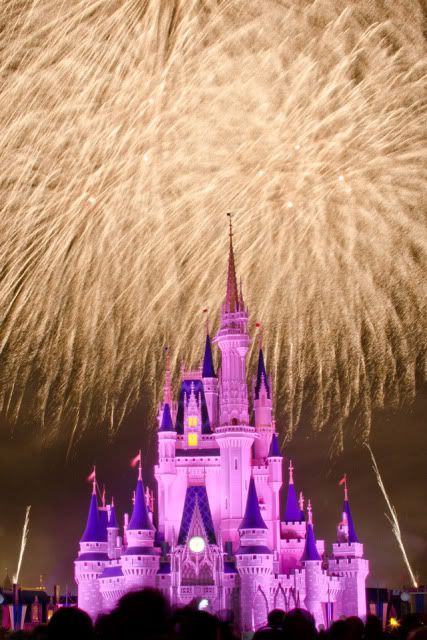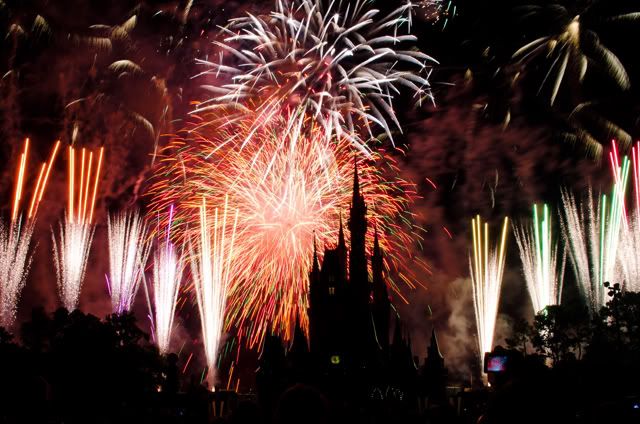 After Wishes, we dredged through the crowds and (slowly) made our way back to Big Thunder Mountain. The crowds at Walt Disney World always baffle and aggravate me. I don't know how many people could walk around with their heads up their…well, this is a family topic, so I won't use that language. It just is annoying that so many people don't know where they're going, stand in the middle of walk-ways, walk as slow as humanly possible with their entire party in taking up an entire pathway as they walk in a line of slow-ness, and so on. Half of this is my own fauly because I like to walk at a very brisk pace, but I swear, some people need to learn how to walk around in a heavily trafficked public place!
After Big Thunder Mountain, it was on to Splash Mountain. Splash was closed at Disneyland, and we had only done it one time in December at WDW due to the weather (and that one time we got stuck on the ride for 45 minutes because someone got off the ride), so we were really excited to ride again. After all, it is one of our top attractions in WDW. (Probably #2 for me after Tower of Terror!) The attraction was nothing short of excellent, as usual. This is one attraction that I really wish I could have that "first time" experience on again. Luckily, the attraction is so different at Disneyland, and I was so pre-occupied with staying dry the one time we rode it, that it's basically new for us out there. I cannot wait to ride it again out there!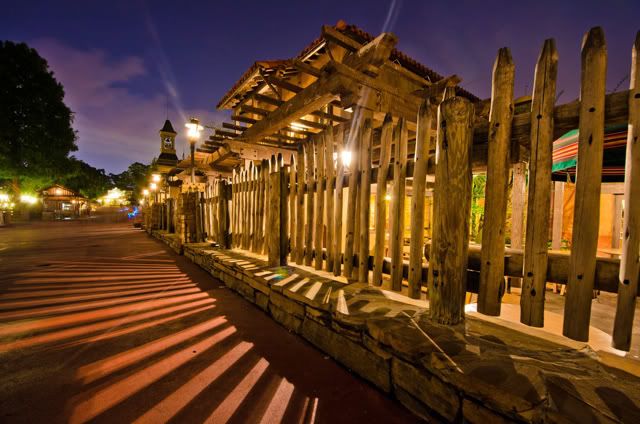 From here, we began taking pictures in Frontierland and Adventureland. In WDW, Tomorrowland is our usual photo location of choice at night, so it was nice to change things up a little. I had never used my 8-16mm lens at WDW at night, so this was a great opportunity. After a couple of shots in Frontierland of Pecos Bill Tall Tale Inn and Cafe, we headed to Adventureland to the new Tortuga Tavern. Two places you don't normally see photographed, so I thought it would be a nice change of pace. While photographing Tortuga Tavern, Sarah remarked on the excellent Pirates of the Caribbean background music. We had noticed the music in the past in passing, but we were here for a little longer this time, so we heard more of the loop. It was good stuff.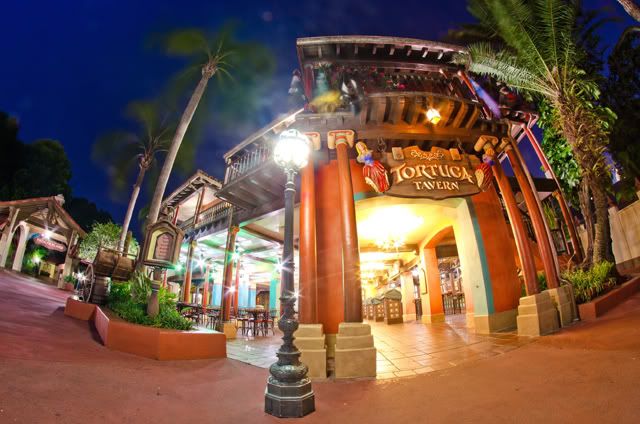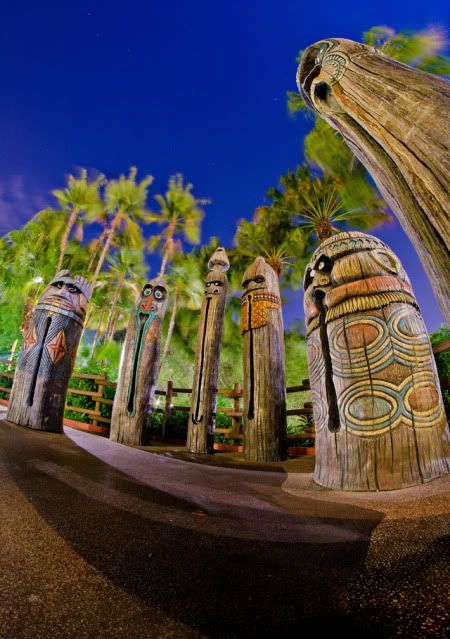 After exiting Adventureland, we found ourselves on a barren Main Street, USA. We spent some time here, taking a few more photos as we shuffled up Main Street.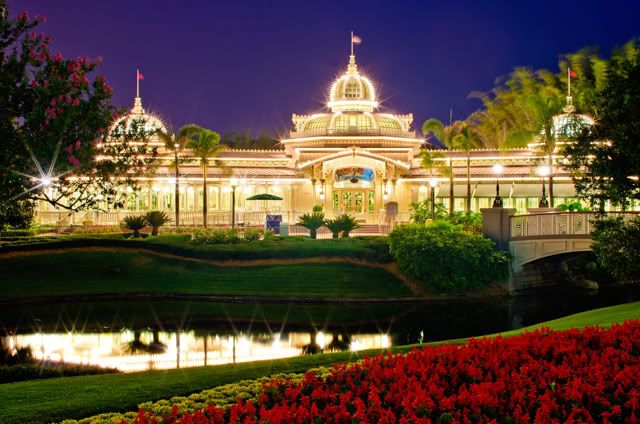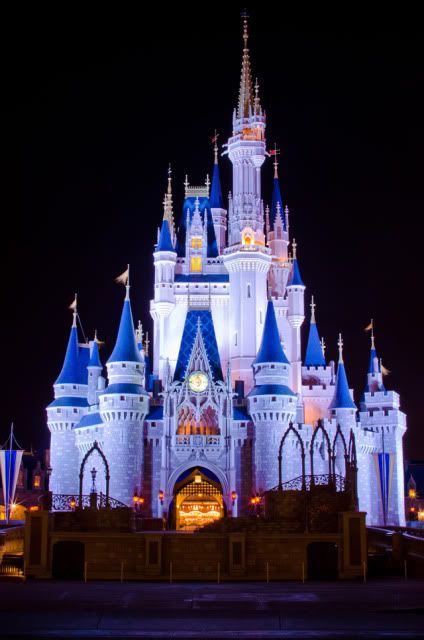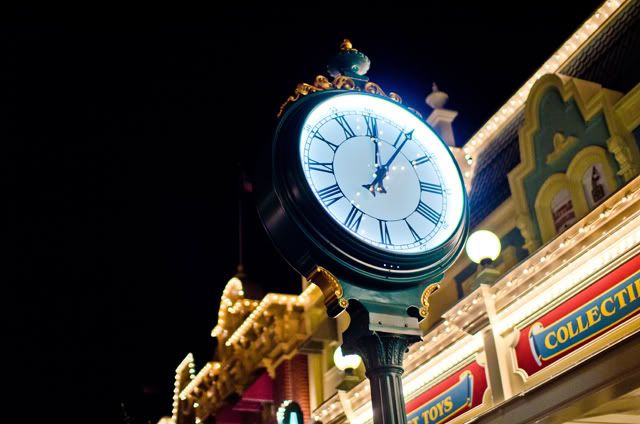 It was still relatively early (I loath pre-midnight park closings), but we were exhausted, so we meandered on out slowly, soaking in the atmosphere of Main Street. With all of its lights, and music that is finally audible at night, Main Street is a great place to be when the park clears out. If you exclude Cinderella Castle, which I don't really think qualifies as being in any land, even Fantasyland, it's my third favorite land at night, significantly far behind Tomorrowland and in close third to Frontierland.