Part XIV: Coast-to-Coast Disney Trip Report
Handing in that final book brought us a great sense of accomplishment. It was as if we had just finished the Tour De France, except undoubtedly much more awesome. I had heard great things about the Tune In Lounge on a recent episode of WDWToday, so we headed over there for celebratory drinks. Well, at least I thought that's what we were doing. It turned out that Sarah's idea of a celebratory drink was a milkshake, so she ordered that. We were trying to be quick with this so we could get out and start doing rides, but the first milkshake Sarah ordered took forever to come out, and when it finally did, it was oddly lukewarm and tasted funny. She asked for a replacement, which quickly arrived and tasted decidedly better.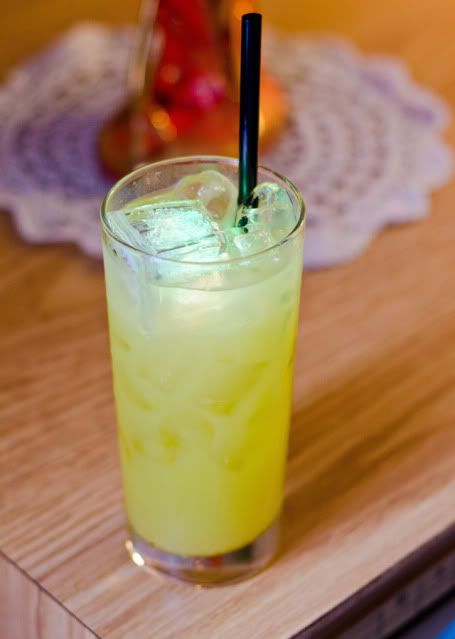 I ordered Dad's Electric Lemonade. At over $10 for the drink, it was a little on the small side. In addition, it wasn't much as far as the drink went. It lacked punch, essentially just tasting like a regular lemonade. But it did come with an awesome light up glow ice-cube that I had been looking forward to, for some odd reason, for quite some time, and it gave us a chance to relax in the ambiance of the 50s Prime Time Cafe.
Honestly, the light up ice cube was the whole reason I ordered that drink. I spent about 10 minutes taking photos of the drink. People probably wondered why the heck I was so I was so enamored with my drink. Once I was done with the photo shoot, I sat down and drank up the ambiance–and the lemonade.
What ride to do first?! Well, we were definitely tired, and the Great Movie Ride was equal parts awesome, close, long, and seated, so we went straight for that. It was a nice relaxing ride–one of those rides that just subdues you into a "vacation mode" stupor. Some people get that from sitting on the beach in the Bahamas, I get it from the Great Movie Ride. To each his own.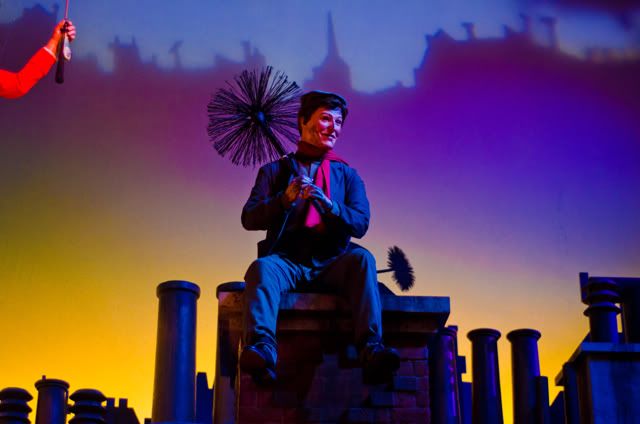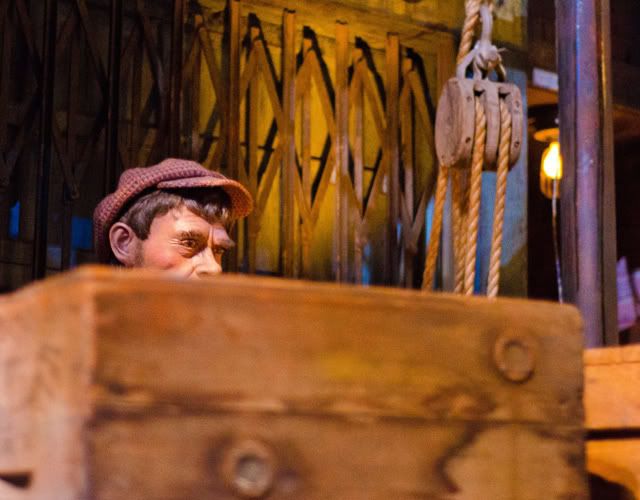 Not having taken many photos all day long, I went crazy with the camera on the Great Movie Ride. I think I was trying to make up for all of the "lost shots" in one ride through. I actually had great success capturing a lot of the scenes!
Next it was on to Toy Story Mania, something we don't often do at Walt Disney World. With its ridiculous lines, this is just an attraction that's better saved for Disney California Adventure, where the line has peaked at about 30 minutes on all of our trips. Disney really needs to build a few more family-oriented attractions in Disney's Hollywood Studios to alleviate some of the burden that presently rests on TSM. It's a good attraction, but not 90 minute plus waits good.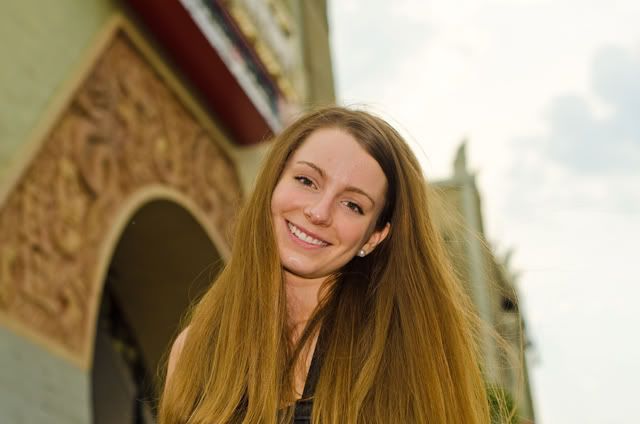 Following that, we headed to Rock 'N' Rollercoaster, which I hadn't experienced in a while. For a while, I rode RNRC while Sarah would ride Tower of Terror. However, even with a FastPass, RNRC takes much longer, and getting a FastPass for it really monkeys with our FastPass system, because typically, we could get another FastPass for Tower of Terror sooner than we could get one for RNRC, so Sarah was then on a different FastPass schedule, so to speak.
Like a brave little trooper, Sarah entered the Rock 'N' Rollercoaster queue. It must have seemed like a wholly new experience to her, as I think the last time she rode this attraction was way back in 2009. Okay, that's actually not that long ago, but it certainly seemed like a long time to me.
Rock 'N' Rollercoaster was an enjoyable experience–I mean, who doesn't love looping around in almost complete darkness with a couple cardboard cutouts illuminated in black lights–but when we exited the attraction, we found it had started raining. Actually, a torrential downpour had started is more apt.
The one positive thing about the freak downpour was that it cleared out the queue for Tower of Terror. We waited in line only about 5 minutes there, and by the time our elevator began descending, we saw that the sky had cleared and a beautiful sunset was trying to peak out from behind the clouds.
At this point, we were faced with a dilemma: 1) the counter service food at the Studios isn't that great, 2) we weren't sure if we wanted to attend the Scavenger Hunt awards presentation at the Contemporary, as we knew we hadn't placed, and 3) Epcot had good counter service options. nt Epcot's food won out, and we decided to head there to visit Sunshine Seasons again.
There are multiple pages in this Walt Disney World trip report installment. Navigate to the next page below!