Part XIV: Coast-to-Coast Disney Trip Report
Once there, we started with a quick trip aboard Spaceship Earth. In case you want a two and a half month old news update, the descent is still unfinished and the paper boy still faces the wall. But all else is well in one of our favorite Walt Disney World attractions. We could seriously ride it over and over again (and we have!).
We then headed over to Test Track, hoping to make it quickly through the single rider line before heading to Sunshine Seasons. While in line, Len (of the Unofficial Guide) text messaged me asking when we'd arrive for the resort nightlife testing. In my food-deprived state, I had completely forgotten that we were doing nightlife testing of appetizers and specialty cocktails at the Deluxe Lounges over the course of the weekend. Whoops.
As soon as we made it out of Test Track, we booked it out. And I mean booked it. It took us about 13 minutes (if I recall correctly) to get from the exit of Test Track to the parking lot of the Contemporary (JL drove us). To demonstrate just how quickly we were moving, we opted not to take the tram to her car, as the tram was slower than we could move ourselves.
We finally got to the Contemporary, right on time! Unfortunately, we couldn't get up to California Grill because it was "full." While we waited for "room," I texted Len, who indicated that they had a table with open spots for us. I explained this to the hostesses downstairs at the California Grill check-in, but they didn't budge. It was quite odd.
I relayed this to Len, and suddenly he appeared in the elevator, and told us to come on up. Finally, we would be arriving to the promised land, a land with wonderful food and drinks, after not eating for so long.
Unfortunately, I can't go into much detail about the food and drinks that we had at California Grill, other than to say that they were exceptional, but here are a few photos to give you an idea of how exceptional the food was.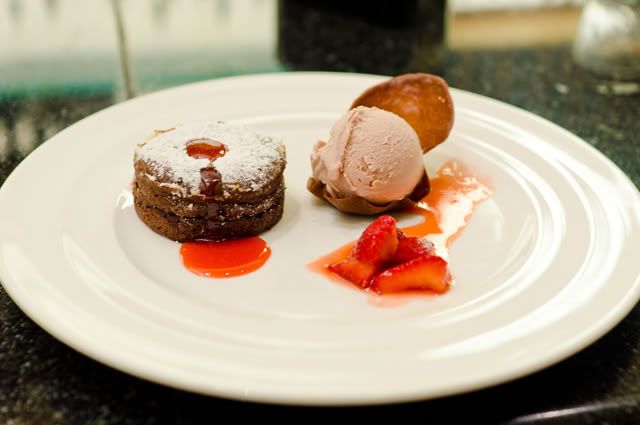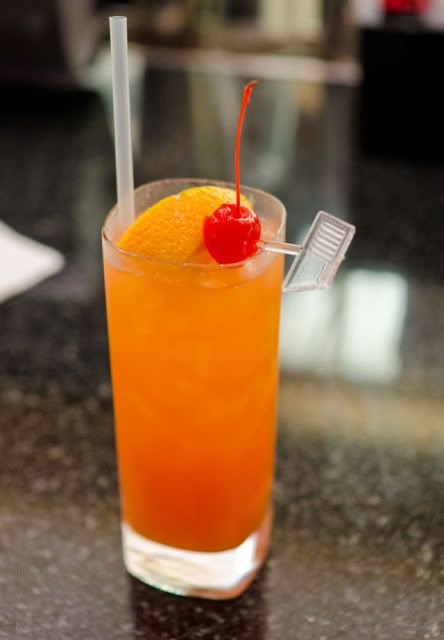 We sampled four flat breads and every type of sushi California Grill offers. The flat breads were really good, although I like my pizza-like foods a bit thicker and with more cheese.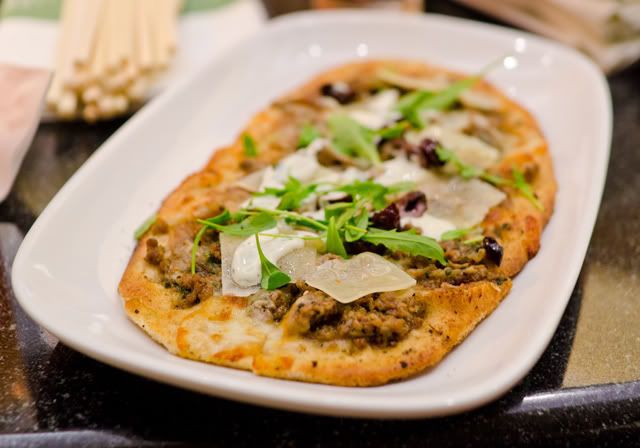 Having giant plates with every type of sushi California Grill serves made me feel like a king. If only I would have worn my crown and brought my chalice to the restaurant!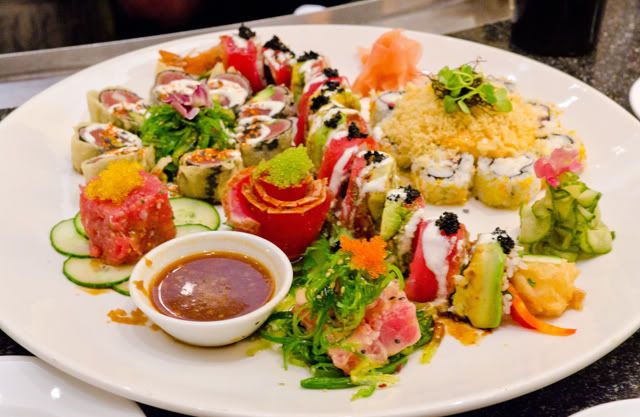 Suffice to say, I stand by what I've thought for years: California Grill has some excellent sushi. I've heard some negative things about it, but that has not been my experience with it at all. Although I haven't sampled much sushi at Walt Disney World, in comparing it to sushi at nice restaurants in the real world, Cali Grill scores quite well by me.
Since we were splitting this research up amongst several nights, we didn't have to move too quickly from Cali Grill. We loitered around for an hour or so, before heading to our next destination: Mizner's Lounge.
On our way out, Henry and Kate arrived. Henry had previously indicated that they wouldn't be participating in that night's research, as they were going to the awards ceremony and were really worn out. So it was a pleasant surprise to see them.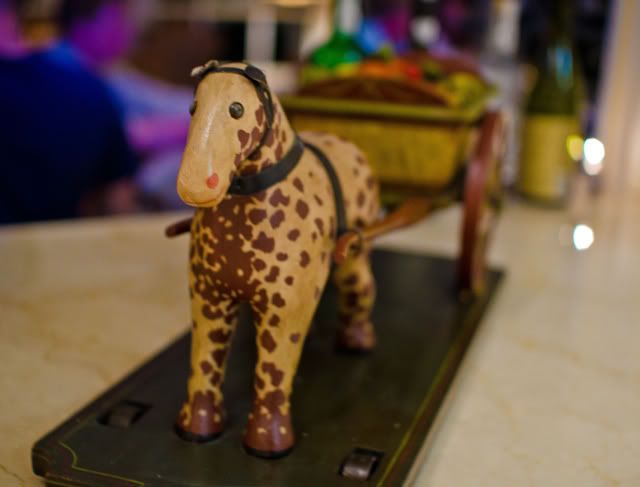 We boarded a croweded monorail to head to a similarly crowded Mizner's Lounge. Right as we were arriving, a large group (the winners of the Scavenger Hunt, actually) was leaving, and they gave us their table, which was a huge victory for us!
After having "issues" at Club 33 choosing a sophisticated drink, I had decided that I needed to establish a go-to manly drink for such situations. Since I fancy myself a modern-day James Bond, this was an absolute necessity. I figured the Grand Floridian's flagship lounge would be a good place to find such a drink, so I ordered the most suave-looking drink on the menu: the Classic Manhattan. Unfortunately, never having had a Manhattan before, I didn't realize questions would be asked of me after I said, I'd like a Manhattan, so I was a little unprepared.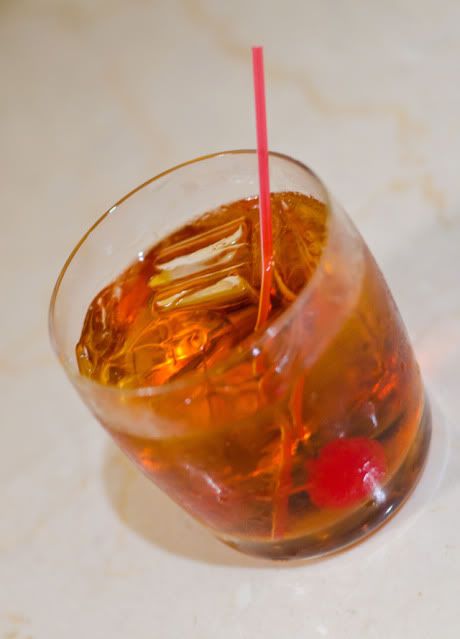 The Manhattan was good, but when it comes to mixed drinks, I guess I skew towards the fruity feminine ones (I don't really care for mixed drinks that much at all, and would rather always order a great craft beer as I stated in the Disneyland installments, but many fine-dining restaurants turn their noses up on craft beer for some reason), as Sarah's drink, the Godiva Chocolate, with Stoli Vanil vodka, Godiva chocolate liqueur, white creme de cacao and Frangelico, looked and tasted far superior to my Manhattan. Like I said, though, I'm going for the James Bond presence.
Epcot had Evening Extra Magic Hours on this particular evening, and our plan from the outset was to stick around at Mizner's until around 11, then head over to Epcot for the last hour of Evening EMH. Well, that plan did end up working out, as we were having so much fun that we didn't notice the time until about 11:30, and by then, we knew we'd really be pushing our luck to get into Epcot before it closed. Instead, we just decided to stay at Mizner's.
Two years ago, the idea of missing an evening of shooting in the park would have been like heresy. Beginning last Christmas, we spent less and less time photographing the parks at night, and more time doing other things, like hanging out with friends. It's not that we've lost interest in nighttime photography, I just think that our interests at Disney are evolving. I can't imagine ever losing interest in Disney photography, but I've lost interest in every single other hobby I've ever taken up, so who knows. I have no doubt that our touring style will continue to evolve, and maybe eventually we'll return to just using point and shoot cameras exclusively. In any case, I'm sure that date is far off.
Back to Mizner's. Even though the bar closes at midnight, we didn't end up leaving there until about 12:15. Of course, it was "only" a little after midnight at that point, and we weren't ready to go to bed. Plus, we were hungry again.
At this point, it was really helpful to have the knowledge of Unofficial Guide researchers at our disposal. Henry quickly rattled off the locations in Walt Disney World that were still open, and conveniently, one of them, Gasparilla Grill was located right in the Grand Floridian! We immediately headed down there to get some pizza.
Unfortunately, the pizza looked less than appetizing. It was the only thing they had available right then, so we decided to take a pass. I can't recall if there were other options, but we weren't incredibly hungry, so we essentially gave up after we declared that our first choice wasn't a viable option. Instead, we headed outside to soak in the ambiance of the Grand Floridian.
We were on the side of the resort facing Cinderella Castle, and as we sat there chatting, it was cool to see the Castle change colors. It really made me want to book a Magic Kingdom view room! Although, in fairness, I think if I had a Magic Kingdom view room, I'd be up all night on the balcony gazing at the Castle. That lack of sleep probably wouldn't be a good thing! It really was nice and relaxing to just sit outside at the Grand Floridian and enjoy the ambiance, watching the Castle as it changed colors. It was so relaxed that I didn't even think to take any photos; now I wish I did to forever capture the mood of the night. Then again, I suppose I wouldn't have been as relaxed were I trying to capture the perfect photo!
Finally the bugs got to us, and we decided to call it a night. It was about 1 am by this point, so we figured we'd have to catch a taxi back to our resort. Unfortunately, everyone else was in the same general resort area, so they could split taxis. We were the only ones at an All-Star. Sucked for us, but the night was worth it. Then, unexpectedly, I saw a bus pull up. I asked where the bus was going, and it said Downtown Disney. When I said, "oh, thanks anyway," the driver asked where we were going. I responded All Star Movies, and he said, "get on." Success! No cab fare for us at all! We enjoyed the long bus ride from Grand Floridian to All Star Music, then went to bed.