Since our first trip to Disneyland last August, I have (unexpectedly) fallen in love with the place. Upon returning from that trip, I began amassing a Disneyland coffee table book collection in the vein of my Walt Disney World coffee table book collection. Unfortunately, I didn't know what I was getting myself into, as my Disneyland book collection has already cost me exponentially more than my Walt Disney World book collection! I say this to caution the money-conscious before they read on. I also want to note from the outset, before I lose the Walt Disney World "only" fans that a lot of these books are great titles for Walt Disney World fans too, as without Disneyland, there would be no Walt Disney World, and many of these books share insight into the historical underpinnings of both Resorts. Also of important note is that most of these books are out-of-print so they can only be purchased on the secondary market (I've linked to the official Amazon page for each title); many of them were written by the legendary, and now deceased, Bruce Gordon, so expect their values only to increase in the coming years.
Disneyland Then, Now, and Forever
– I start with this title because I think it's the best place to start your collection. It's definitely not the best book in this list, but at less than $40, it's relatively inexpensive. While it's not comprehensive, this book takes a stroll down memory lane by viewing extinct attractions that pre-dated present favorites at Disneyland. My personal favorite is the "What was there before Big Thunder Mountain," which covers an especially intriguing attraction to me: the Mine Train Through Nature's Wonderland. While I love Big Thunder Mountain, I think I really would have enjoyed its predecessor. This book is far superior to the Walt Disney World title by the same name, and it's a great way for Walt Disney World fans to learn some of the history of Disneyland.
Disneyland the Nickel Tour: A Postcard Journey Through 40 Years of the Happiest Place on Earth
– Unquestionably the best book about Disneyland, unfortunately, it's also the most rare and expensive. Seriously, though, it's great. The premise is brilliantly simple: use a complete set of Disneyland postcards (and other photos) as a vehicle for telling the story of Disneyland. That said, it's the execution that really shines. The authors spent over a decade, on and off, researching and writing this title, and it really shows. Laden with their unique brand of humor, I've found this voluminous 392-page title to be quite the page turner. I became so enamored with this book after purchasing it that I have since purchased a "non-reading" copy for my collection. (Although I would trade it for a copy of Disneyland Paris: From Sketch to Reality!) The current market price, $225-600, for Nickel Tour should only increase in the coming years as both authors are now deceased and the publisher is out of business. It's very unlikely that any reprints or future editions will be written. It may seem like a lot of money, but I doubt very much that you will be disappointed with the investment.
Disneyland: Inside Story
– Prior to Nickel Tour, Imagineer Randy Bright's Disneyland Inside Story held the crown as the most comprehensive Disneyland book ever written. At 240 pages, this book presents quite the history, along with some exceptional photos. Although the book was written in the late 1980s, surprisingly, it doesn't feel incomplete (with the obvious exception of California Adventure). Recently, this title has come down in price to around $40-$50. If you only have money for Nickel Tour or Inside Story, get Nickel Tour. If Nickel Tour is out of your budget, get this. Don't expect it to stay at that price long.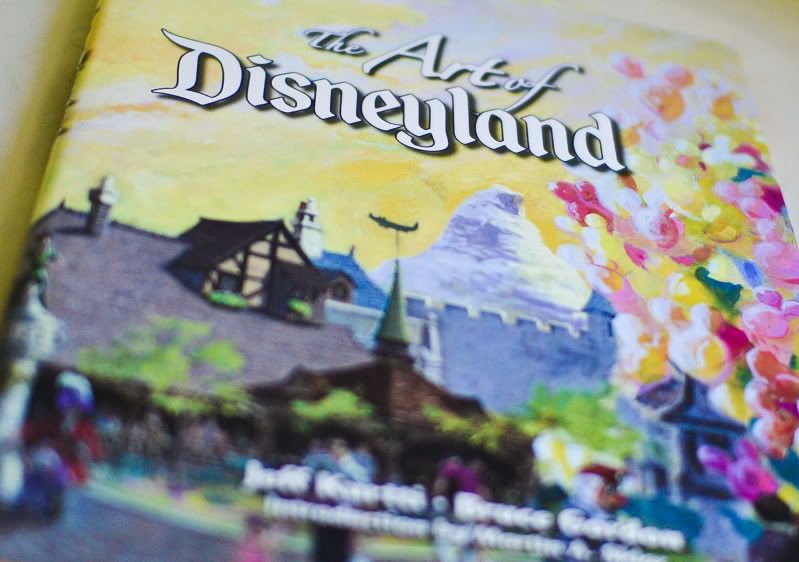 The Art of Disneyland
– Currently ranging in price from $75-200, The Art of Disneyland is another expensive title that is an essential for any Disneyland collector. For that matter, it's an essential for any Disney collector. Seeing the early art in this title gives me goosebumps, and reading the story of Herb Ryman being told be Walt that he was going to draw the now-famous concept art for Disneyland always brings a smile to my face. While Nickel Tour and Inside Story are great titles as they present a near-complete account of Disneyland's history, The Art of Disneyland is a totally different beast entirely. It's a visual treat with its amazingly detailed concept art, just don't be surprised if once you open it you can't put it down. My favorite portions of the book (unsurprisingly) involve the various incarnations of Tomorrowland. Although I did laugh at the authors positive remarks about the warm colors in Tomorrowland '98. They were joking, right?!
Disneyland, Memories of a Lifetime
– This book is presently pricier than when I bought it, but it's
one of the best newer titles. Author Tim O'Day knows his stuff, and presents his knowledge well (as you know if you've ever seen him host a Disney panel). This title has some of the best photos out of all of the books here, too. From a historical perspective, it doesn't hold a candle to Nickel Tour or Inside Story, but it's a valuable title, nonetheless.
Walt Disney's Disneyland
– There are a few variations of this title from the 1960s, each clocking in at about 70 pages. Given that, I'd characterize this as a souvenir book, not a coffee table book. However, I own a copy of this anyway, and suggest buying it for one reason. Click on the link and check out the author's name. Yeah, that's who you think it is. It's worth owning one copy from this line of souvenir books for that reason alone!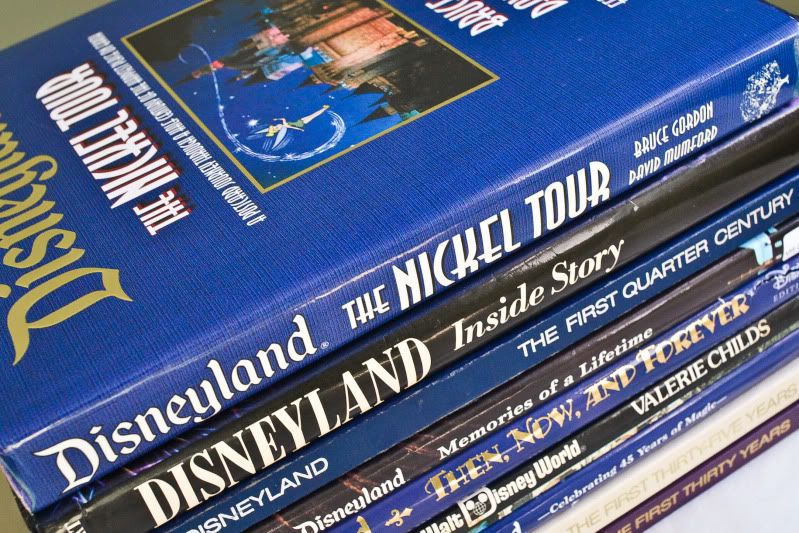 The Magic of Disneyland and Walt Disney World
– This book is surprisingly cheap (less than $5) and surprisingly awesome. It covers Disneyland and Walt Disney World fairly evenly, with plenty of photos I haven't seen elsewhere, including a lot of character photos. (Valerie Childs must have loved Brer Bear, Brer Fox, and Tigger!)
Disneyland Dreams Traditions and Transitions
– This is another title that I found surprisingly good. While it's not as good as the upper echelon, the photos are solid and unique from other editions, and the accompanying text is okay. For less than $10, you really can't go wrong with this title.
Disneyland the First Quarter Century
– Now we're getting to the bottom of the list, where the titles aren't nearly as impressive. The First Quarter Century is fairly similar to The First Thirty Years, which is also very similar to The First Thirty-Five Years. Each title does differ slightly from one the others. This title is cheap and different-enough from the others to justify owning.
Disneyland; The First Thirty Years
– Very similar to the other two collector's books that bookend it, this is probably my favorite of the three. It seems to have the best photos and I really like the cover. Lame justification, but it is what it is. It's cheap, so it's not a bad idea to pick it up even if you own the others.
Disneyland: The First Thirty Five Years
– Apparently nothing happened in five years, as this book is nearly identical to its predecessor. I haven't gone through and counted, but I'd say 80-85% of the content is duplicative. Still, a cheap title for completionists.
Disneyland – There's Magic In The Stars – Celebrating 45 Years Of Magic
– I list this book last not because it's the worst, but because it has suddenly become ridiculously expensive. I purchased it from Amazon about 5 months ago for $9.99. Now, the only seller on Amazon wants $7,700+. Obviously, not worth it. It's a good title with more unique photos, so it's worth monitoring. Maybe by the time you read this, the price will have dropped!
If you're considering purchasing any of these titles, I think Alibris and Amazon
are the two best options. I will caution you, though, make sure to purchase from a listing that includes a photo. Most of these books do not have ISBN numbers, and are prone to being mislisted by sellers if there is no photo on the item page. I've received the incorrect book a couple of times.
Check back here often, as even though this is a pretty comprehensive list of the collectible Disneyland books, there are a couple of titles I'm still trying to track down. I'll update this page with my reviews of those titles when I find them!
Join me in the next installments when I share my general Disney theme park book collection and my Disney theme parks "guide" books collection, and my thoughts on those titles! What books in this list do you own? Which do you like best? Share your thoughts in the comments!