Jiko Disney Dining Review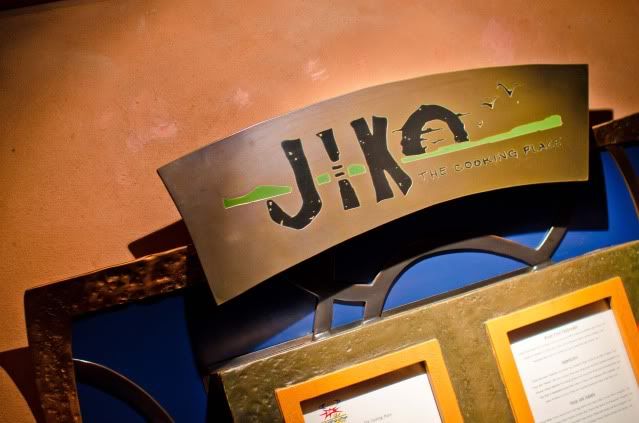 Jiko is a Signature Restaurant at Walt Disney World, located in the Animal Kingdom Lodge. Jiko – The Cooking Place (its full name…I don't know anyone who actually calls it that) participates in the Disney Dining Plan, requiring 2 credits, and also accepts the Tables in Wonderland card for a 20% discount. Because it requires two credits, it's not one of the top values for table service dining on the Disney Dining Plan. Jiko is just about the height of fine dining at Walt Disney World, ranking in our Top 10 Table Service Restaurants at Walt Disney World. It features an inventive menu of African, Indian, and Mediterranean cuisine. It also features a wine list that Disney regularly advertises as the most extensive selections of South African wines in North America. Cool, I guess, but I'm not sure how difficult it would be to have the most extensive selection of South African wines outside of South Africa. Regardless, Jiko is an incredible restaurant all around.
As "evidence" of its quality, here are some names to consider: Samantha Brown. Snookie. The Brickers. Three A-list celebrity names who all ate at Jiko in the same week, per a host at Jiko when we dined there. Okay, so maybe the Brickers aren't quite as famous as the other two, and maybe I did throw up in my mouth a little when I referenced Snookie as an A-List celebrity, but Samantha Brown is certainly cool!
Despite not actually being celebrities, we certainly received the celebrity treatment at Jiko. Our hostess seated us in a large booth, which is my preference as it is more intimate and apart from other guests, in what I is known amongst Cast Members as the "sun room" because the colors on the wall change. As you can tell from the photos here, Animal Kingdom Lodge, and the lobby of the restaurant (and bar area) were decked out for Christmas, and they both certainly looked gorgeous.
Once in the restaurant, the Christmas season wasn't as noticeable, but the ambiance was still impeccable, with appropriate lighting and properly spaced tables for a Signature Walt Disney World restaurant. The place looked like Mufasa and Rafiki would appear at any moment, with the latter holding up Simba. Yeah, I know I'm immature, but for whatever reason I associated this fine dining establishment with the animated classic, The Lion King.
Shortly after we ordered drinks, our server brought out each of us Creamy Spring Onion Soup compliments of the chef. Rich and creamy with some exquisite cheese, this soup was delicious!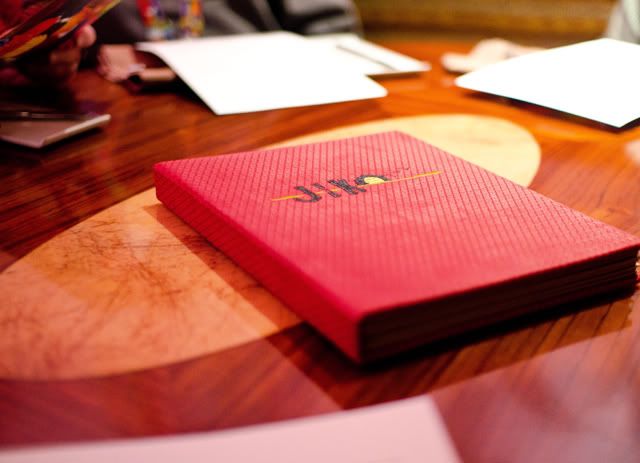 As we perused the menu, I debated getting an appetizer. I was a little reluctant to do so, as my meal was already going to be expensive, and I didn't think anyone else was ordering one. At the last minute, I decided to do it, realizing we probably wouldn't be back to Jiko for a while.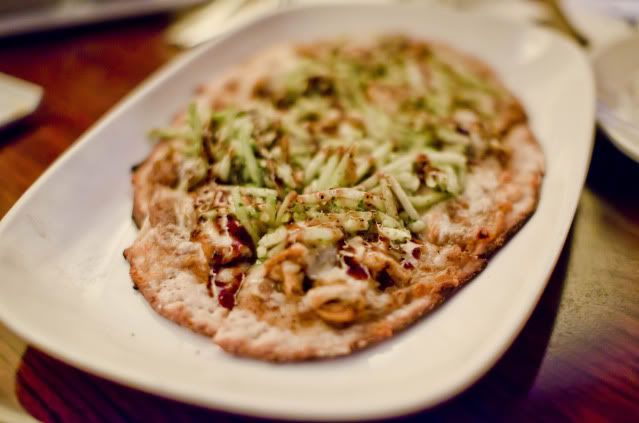 I wanted to get something more adventurous, as we were at a unique dining location and I didn't just want to opt for the "American tourist picks," but I think I ended up doing just that. I ordered the Barbecue Chicken flatbread as an appetizer and the Oak-Grilled Filet Mignon with mac 'n' cheese (which apparently no longer comes with mac 'n' cheese, but the server said they could do it anyway) for my entree. Our server recommended both, so I didn't feel so bad about not being adventurous.
The flatbread was excellent, with quite a unique flavor compared to a flatbread at, say, California Grill. I couldn't put my finger on whether it was the African BBQ sauce or the cheeses, but the flatbread ingredients just "worked" well.
Sarah, admittedly, didn't make as good of picks. Not to say her picks were bad, but in this case, mine were just better. She opted for some selections of bread called the "Taste of Africa" as her appetizer (once I became the appetizer "trend setter," everyone else also got one). Unlike the wonderfully unique breads at Sanaa with their addicting sauces, these breads were merely garden variety bread. Nothing terrible, but also not something you'd expect from a top tier restaurant.
For her entree, Sarah ordered the Grilled-marinated Lamb Loin. I thought her lamb was good, with a brilliant Apple Cider Reduction that really gave it a unique flavor unlike the typical gamey flavor you find in some lamb dishes (nothing against this normal flavor, I just want to point out that this was a fair departure). The lamb was tender, well-cooked, and the sides were good as well.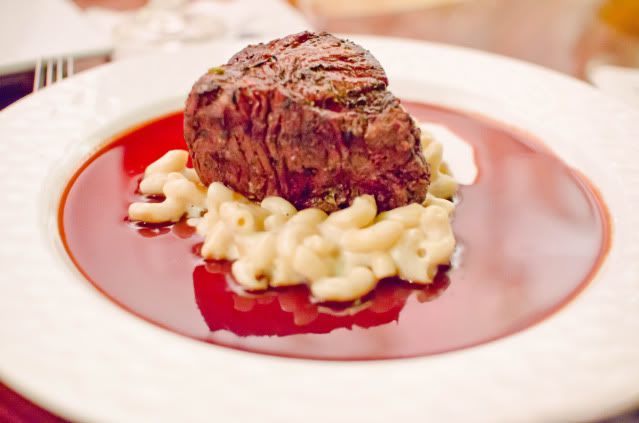 However, once Sarah tasted my filet, her lamb paled in comparison. I was shocked that the filet was so good. Cooked to perfection, with an amazing red wine reduction, the filet was perfect. Somehow, as surprising as this may sound, the mac 'n' cheese was the perfect compliment to the filet. I can understand why it was taken off the menu, as it doesn't sound like it belongs in such an upscale restaurant, but it really does. At the time, it was the best cut of meat I had ever had on Disney property, but that crown was later taken by the filet at Napa Rose in the Grand Californian Hotel at Disneyland. Still, the best Walt Disney World steak is a title that's not too shabby. No wonder Jiko is the highest rated signature restaurant on property. Given its reputation for being more of a unique restaurant, I was surprised it dominated the category of "traditional cuisine" (although the preparation of the filet was clearly African-inspired).
We were told that the candy-cane cheesecake was pretty popular and since it was the Christmas season, we were feeling festive and gave it a whirl. The candy-cane cheesecake was actually candy-cane AND eggnog cheesecake, which seemed somewhat more questionable. Sarah and I split an order of it anyway. It was okay, tasting exactly like I imagined a melding of candy-cane and eggnog would. Interesting combination and not something I'd necessarily recommend, but it was a nice festive treat. The other desserts on the menu looked and sounded delicious, so I think that lowering Jiko's score on account of this one dessert, an apparent anomaly, would be inappropriate.
Overall, an excellent, excellent meal. I would rate it higher than California Grill (although not in ambiance) and Club 33, but lower than Victoria & Albert's and Napa Rose at the Grand Californian Hotel in Disneyland, giving it a respectable second place out of all Walt Disney World dining establishments, and third place out of all domestic Disney restaurants! The Oak-Grilled Filet Mignon is definitely the item I'd recommend ordering here, even if it may not be so adventurous. I'd even recommend being one of "those guys" and trying to order off-menu to have the mac 'n' cheese accompany the filet. It may not be even an off-menu option any longer, but it's worth checking. To satisfy the need to be adventurous, check out the many excellent appetizers offered at Jiko!
Your Thoughts…
Do you agree that Jiko – The Cooking Place is one of the best restaurants at Walt Disney World, or do you think it's overrated? If you've tried any of their wines, which do you recommend? Share your thoughts in the comments!
To read other Walt Disney World restaurant reviews, organized by location, check out our Disney Dining Reviews Index.
Overall Score 10/10