Part VIII: Coast-to-Coast Disney Trip Report
After Soarin' we headed over to Disneyland to meet up with the Works for one ride on Space Mountain before they had to leave (our schedules hadn't really clicked earlier in the day, so we decided to just meet for this one attraction). We had a little time to kill before the meet-up, so we grabbed FastPasses for Big Thunder Mountain Railroad, headed into the Golden Horseshoe, and then took another spin aboard Buzz Lightyear's Astro Blasters. I don't recall who won, but I can only assume it was me!
It was then time for another ride on Space Mountain with the Works. As we were heading up the entrance ramp, Henry pointed out some egg-looking things scattered amongst the plants. Apparently, these dinosaur-alien egg type things were scattered around during the New Tomorrowland refurbishment. I'm all for little details to give a land dimension and story, but these just seemed odd and ill-conceived. Scant information exists online about these eggs, and I really wish I would have taken photos of them now. I swear that they do exist, and I hope someone can corroborate my story so I don't seem like one of those crazies who claims to have seen Walt's frozen head under the Castle bridge.
Oh, did I mention what I saw below the Castle bridge the previous day…?!
After Space Mountain, I set up to take a photo of the Rocket Jets similar to one I had seen in one of the Disneyland books I have. I'm too lazy to scan the photo from the book here, but if you have the book, you should check it out. If you look closely at this photo, you'll notice it's actually a composite of several photos. I thought it was a pretty cool idea. Not something I'd post on Flickr as I like to post only original shot ideas there, but still cool, nonetheless.
From here we decided to head back to DCA. It was almost time for the next showing of Aladdin: the Musical, and this was not something we wanted to miss. We had seen it twice on our first trip, and we only spent one day at DCA then! Given how long it takes to see the Musical, you can probably guess that ate a significant chunk of time out of our day. Although we really enjoyed it last time, we resolved ourselves to only seeing it once this trip, despite being in Disneyland longer, as we wanted to experience as many new things as we could.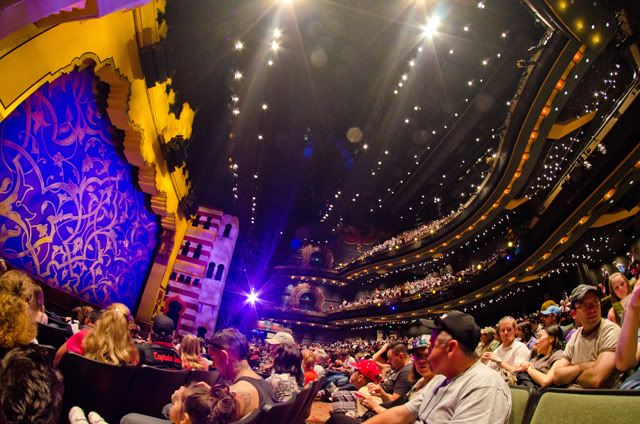 Genie, as always, was the star of the show. The way he captivates the audience is incredible. Fusing pop culture references with the story in a tasteful, albeit slightly over-the-top way, his style and delivery are perfect. All the while, the audience just eats it up, playing into everything so perfectly. Whomever "thought up" the Genie character for the Musical really deserves some high praise. Without Genie, it would just be an above-average musical, with him, it alone justifies the cost of admission to DCA.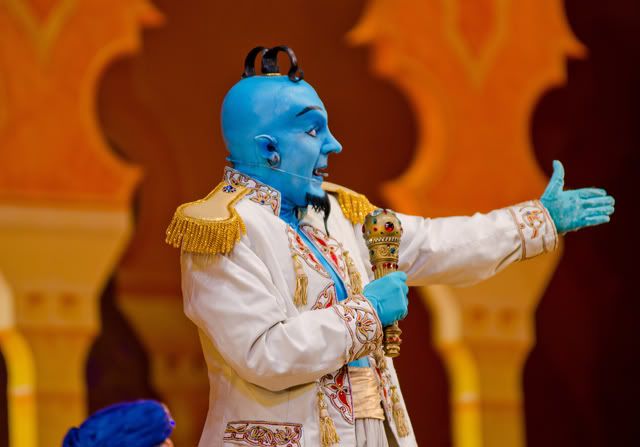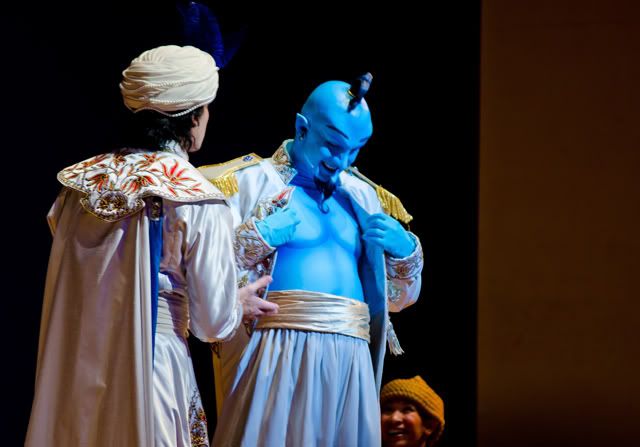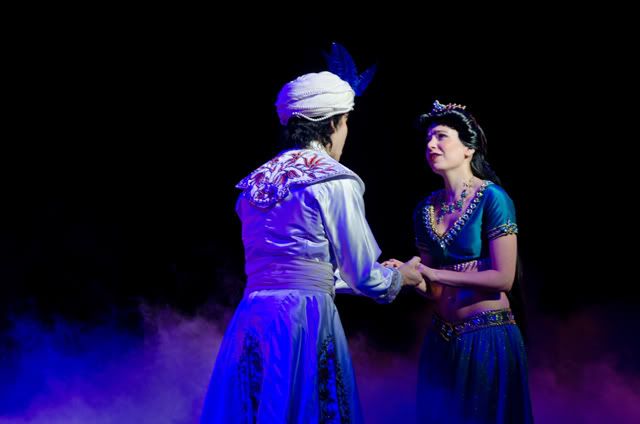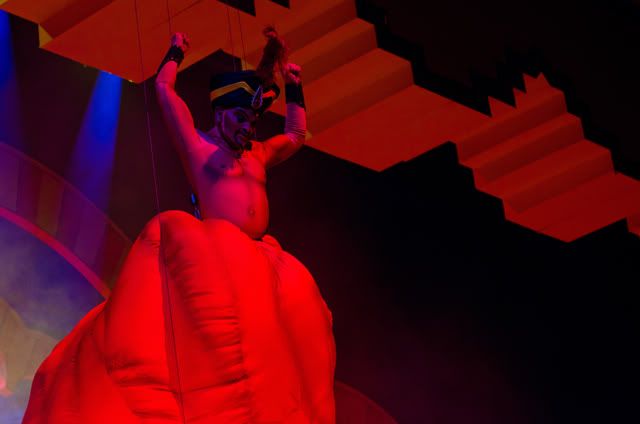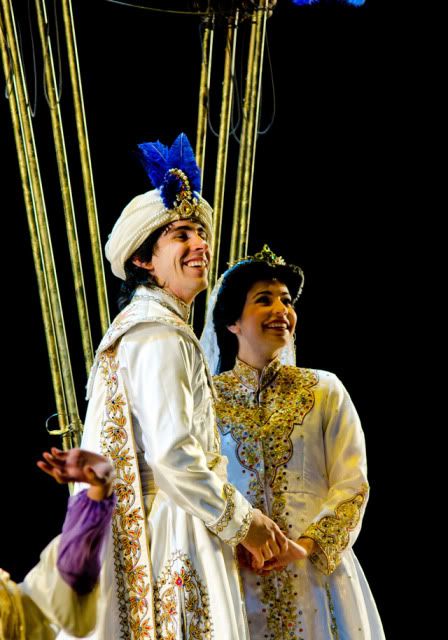 Evening was starting come, and we decided that now would make a good time to make a pit stop at our hotel to get some things we'd need for the evening. Right as we were arriving at Desert Inn, I got a call from Gregg Cooper, who informed me that he and Ryan Pastorino, two notable Disneyland photographers, were approaching Disneyland and wanted to meet up with us.
We met up with them, and I told the tales of my encounters with my new nemesis, and they were surprised that security had acted in such a manner. We had dinner at Rancho Del Zocalo, something we had both wanted to do for a while, as the restaurant looks gorgeous at night (although we ate a little early to see the brilliant nighttime lighting, we did still see the place during the golden hour, which was impressive).
I'm hardly a connoisseur of Mexican cuisine, but it seemed like pretty good, though somewhat tame, take on Mexican quick service cuisine. For the price and our portion size, I was quite pleased with the food, but as I said before, I'm not the best judge of whether more discerning Mexican foodies would appreciate it. My suggestion, to those folks who are "discerning" "foodies" is to not eat at a fast food place in the first place if you expect some expertly prepared cuisine.

Photo courtesy Ryan Pastorino
Disneyland was surprisingly light in crowds at this point, which I surmise was a result of it being a Sunday evening at the end of Spring Break. We were able to hit several attractions with Gregg and Ryan in record time for this time of day, as we did Big Thunder Mountain Railroad, Matterhorn, Space Mountain, and Buzz Lightyear's Astro Blasters.
BTMRR and Matterhorn were great as we got awesome sunset views while riding, and Space and Astro Blasters were fun, well, just because they're fun. The sunset wasn't really applicable since they're indoors!
At this point Ryan had to leave so he could make it back to San Diego that night, but the rest of us chugged on to hit Astro Orbiter for the sole purpose of getting some cool photos. If we were in Walt Disney World, I would say we did it for the view, too, but the Astro Orbiter out west is on the ground for some reason. I know the Observatron is serving all sorts of useful purposes doing nothing on top of the former Rocket Rods load area, but it sure would be awesome to have it up there, where it could offer stunning vistas. Plus, I think sweeping lines and a more 'grandiose' entrance are a plus for Tomorrowland. The moon rocks and congestion look aren't working so great, in my opinion.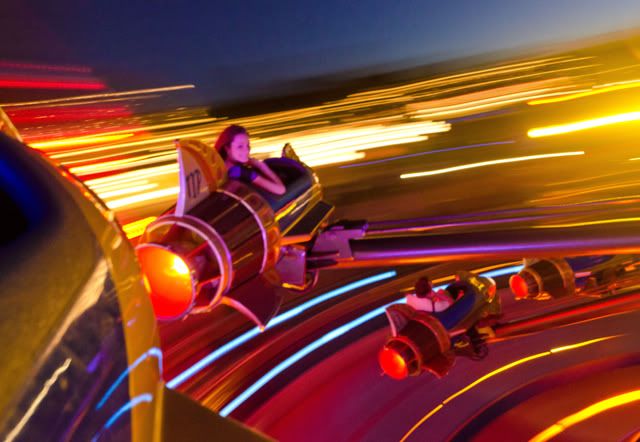 Dusk had fallen, and it was the perfect time to do some early nighttime tripod shooting off the beaten path so we could get the shots out of the way before our good friend in security made us put the dreaded devices away after closing.
We first headed to Innoventions, only to find that it closed early. While this was bad news for our photo endeavors, it was great news for casual tourists, who were now precluded from making the grave error of accidentally stumbling into that dreaded place. Overall, even though it negatively impacted us, I'd say it was a net benefit in the horrors that it saved other innocent tourists from witnessing. Sort of like how every time a TV network chooses to air some other show instead of reruns of "the Nanny." It stinks for the people who were a part of that show, as they don't get any royalties that may be due to them, but it's great news for the rest of society. Thus, overall, a win.
Our second stop was the monorail station. I pulled out my tripod and prepared to screw in my mounting plate to my camera. I usually carry two of these in case I lose one. I dug through my bag, and come to find out, I had left both in our hotel room. This was about the third time I had forgotten something in the hotel room during the trip, and I think knowing that our room was so close had made me a little sloppy in my morning ritual of double-checking what I brought.
I was really disappointed, as this meant that we would have to immediately run back to our room, then run back to Disneyland to get spots for the Remember…Dreams Come True fireworks. We got back about 30 minutes before the show, and I had no idea from where I wanted to shoot them. This is something I do way too often–winging it when it comes to a desired fireworks location, wasting precious minutes and having slots that were originally open fill up as my indecisiveness kills us. And kill us it did.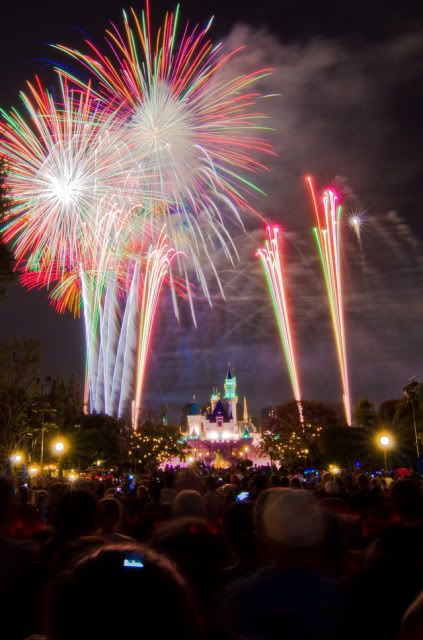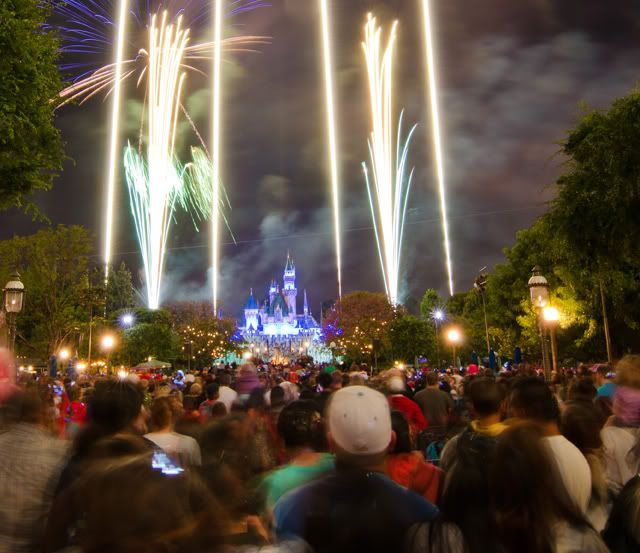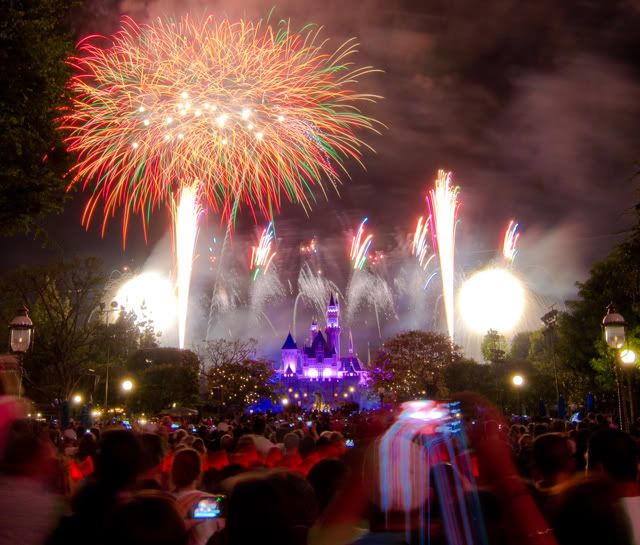 Despite this "death," I was ultimately pleased with our decision to watch the shot from about mid-way back on Main Street. While it was a poor choice to use my ultra-wide angle lens this far back (remember, my 30mm was out of commission as was my neutral density filter), I didn't even think of using Sarah's 18-200mm lens, which was most definitely the best option. As a result, these photos have been severely cropped, and aren't all that impressive.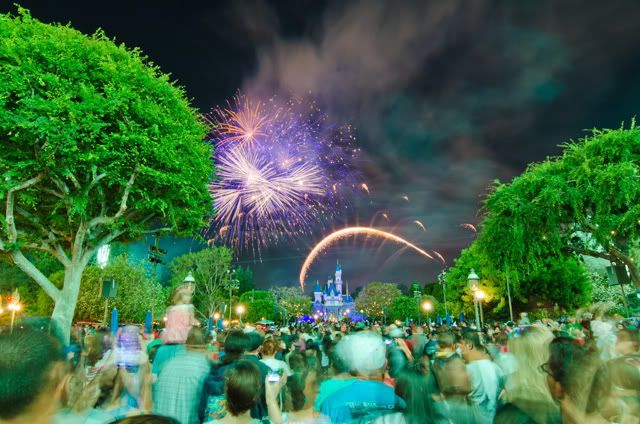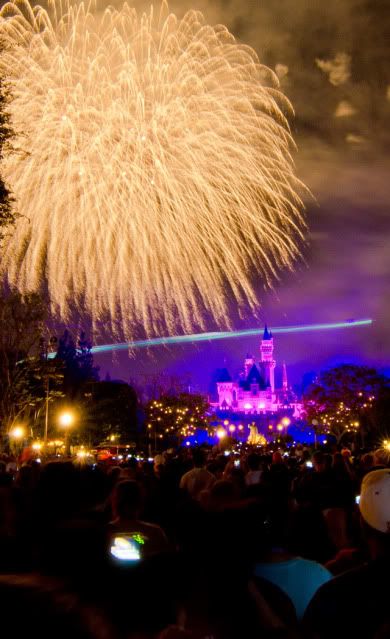 There are multiple pages in this Disneyland trip report installment. Navigate to the next page below!