Cinderella Castle Suite Tour & Photos
The Cinderella Castle Suite was built in 2006 by Walt Disney Imagineering out of a location in Cinderella Castle at Walt Disney World that was originally intended to be an apartment for Walt Disney. After his passing prior to the opening of Walt Disney World, such plans were aborted. The location would take on multiple purposes over the years, finally opening as a suite completely decorated and upholstered as a 'royal bedchamber', which can sleep up to six people for the Year of a Million Dreams (or Years of a Million Dreams, as they ended up being since the promotion extended into 2008). During this contest, it was given away as a grand prize of sorts to one lucky family each day.
Since, the Cinderella Castle Suite has become the dream experience for some Disney fans. Along the way, this fan-desire has been spurred by Disney-forum accounts from the Suite by lucky guests who won stays in the Suite, podcast details of the Suite from travel agents, and everyone's favorite, Samantha Brown Travel Channel special tours of the Suite. In just a few short years, it has attained the cult-like status of exclusive Club 33 restaurant or Walt's Apartment in Disneyland, and rightfully so, as it's arguably more exclusive than either of those locations. We have been fortunate to make two visits to the Suite, one in 2010 and another in 2011. The photos that follow throughout this post are some of our unique photos from our visits to the Cinderella Castle Suite.
Please excuse the abundance of fisheye photos here. I attempted to photograph the suite with a rectilinear wide angle lens, but it didn't provide sufficient coverage. One thing these photos don't adequately convey is just how small this suite is. It is multiple rooms, but overall it's still incredibly small and cramped.
On our visits to the Cinderella Castle Suite, we unfortunately didn't have the opportunity to stay overnight.  The Suite cannot be booked, it's by invite or via winning a contest, only. Staying overnight inside Walt Disney World's Magic Kingdom is a dream of ours, but apparently we do not have the clout of Suri or Tom Cruise, Mariah Carey, and other recent celebrity guests. Oh well, perhaps after we get our own reality TV show on which we act like buffoons we'll  be invited.
To call the Castle Suite opulent would be an understatement. Lavishly adorned with the full royal treatment, its "Beauty-Per-Square-Foot" Ratio is through the roof.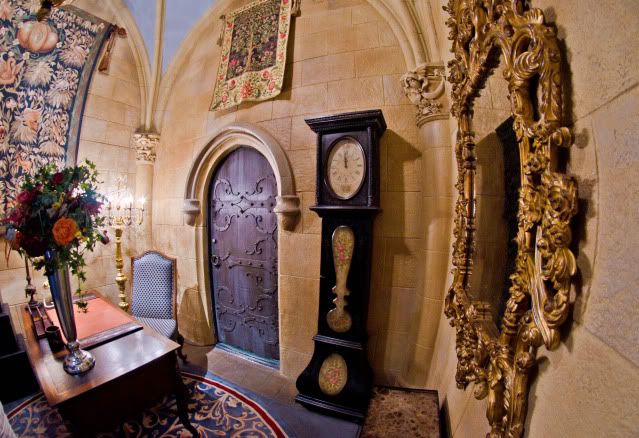 Originally intended to be an apartment for Walt Disney and his family when they were in Florida, the space became an area for telephone operators after Walt died in 1966. The Suite is visible from the bridges to Liberty Square and Adventureland; it's the small stained glass windows some distance above Cinderella's Royal Table.
[Cinderella's Royal Table is one of Disney's most popular restaurants. Read our Disney Restaurant Reviews.]
Any visit to the Suite begins by boarding its elevator activated by what else, but a Key to the World card. While quite small, the elevator's look foreshadows what is to come, with its intricate design and beautiful details. Upon exiting the elevator, guests find themselves in a small marble-floored foyer area before entering the main quarters.
This area is a veritable treasure trove of all things Cinderella, with the highlight being the fairytale pumpkin coach in the center of the floor. From the foyer, guests head to the Suite itself.
Signs bearing the words "Show Ready" adorning chairs and beds provide a gentle reminder to Cast Members and guests just how nice their surroundings are. I imagine the screening process for MouseKeepers who will be allowed to clean the room is a little greater than normal. Understandably so, as Disney probably doesn't want someone like me in there, so filled with exuberance that it causes them to jump on the beds.
Behind this extravagant exterior lies 21st century technology. The ornately framed, 17th-century-style portrait of Cinderella above the regal fireplace in the bedchamber magically transforms into a flat-screen HDTV. Likewise, in the den there is a mirror that can be turned on to reveal another HDTV. This isn't your (fairy) godmother's Cinderella's Suite!
Lavish it is, but large it is not. The entire space is slightly larger than a Studio room at a Disney Vacation Club resort. The Suite itself contains a salon, bedchamber, and bathroom all befitting of royalty. In typical Walt Disney Imagineering form, the entire Suite looks like something straight out of a fairytale, or more likely, an authentic, Medieval Castle.
Each celebrity guest who stays in the Suite is given one of these glass slippers commemorating their stay (at one time, we were told that this slipper cost $18,000–there is considerable doubt that this is its actual cost/value…unless there's some serious Disney mark-up going on!). This slipper was given to Mariah Carey, who elected not to take it.
Some of the stately details include two queen size beds draped by regal canopies, a gorgeously stitched parlor sofa, and those beautiful stained glass windows mentioned above. Unfortunately, these windows don't allow for much of a view of the park (you can't see the gorgeous Disney fireworks shows out the windows), but they're pretty, nonetheless.
However, the most beautiful feature, unquestionably, is the bathing area. With its walls covered in mosaics reminiscient of those lining the walls of the passageway from Main Street to Fantasyland below, and its star-covered ceiling, guests bathe in style in this royal tub. The toilet, well…let's just say there's good reason to call this bad boy the "throne."
The myriad of details in the Suite are such that you could spend hours poking around in there and still not discover everything. It is quite unfortunate that Disney hasn't utilized this Suite more, as it presently is only used, on occasion, for visiting celebrities who supposedly make charitable donations for use of the Suite. Tours of the Suite have not been offered since 2007, and often, the Suite goes weeks with nary a guest stepping foot inside.
Seeing the guest quarters is such a wonderful experience that it's a travesty that park guests do not have the opportunity to see the inner chambers of the Cinderella Castle Suite. I know an overnight stay in the Castle Suite is in my wife's thoughts each time she stares longingly at the Castle on our Walt Disney World trips. I guess until the Year of a Million Dreams 3.0, that stay will only be once upon a dream!
Planning a Walt Disney World trip? Read our other Walt Disney World restaurant reviews and Walt Disney World Trip Planning resources. 
For updates on Walt Disney World, the latest news, and tips, sign up for our free monthly newsletter!
Your Thoughts…
What do you think of the Cinderella Castle Suite? Do you wish you, like Suri Cruise, could stay whenever you want? Or would you rather stay at a larger Walt Disney World hotel? Share your thoughts or any questions about the Cinderella Castle Suite in the comments!