Disneymoon Trip Report Pt II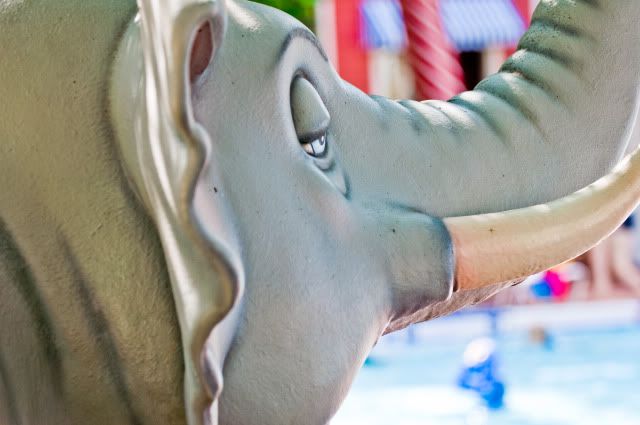 Join us for Part 2 of 3 in our Walt Disney World Honeymoon trip report. To view Parts 1 and 3, please visit our Walt Disney World "Disneymoon" trip report index page.
We slept in a bit the next morning, getting to EPCOT at around 11 a.m.. First on the agenda, as usual, was to grab Soarin' FastPasses. While in the neighborhood, we stopped to eat at Sunshine Seasons once again.
Once again, I had the wedge shaped sandwich, this time getting cheesecake for dessert. The Key Lime pie looked delicious, but I really wanted to try something new. The cheesecake was much better than the dessert I previously had at Sunshine Seasons.
Sarah got the old standby, the delicious chicken and mashed potatoes meal and the Key Lime pie. After that, it was on to Test Track, which we rode (as we usually do) as single riders. Test Track is a big favorite of Sarah's, so we do it a decent amount. I like it moderately, but she puts up with riding several attractions she doesn't like that I enjoy, so I try to reciprocate a little.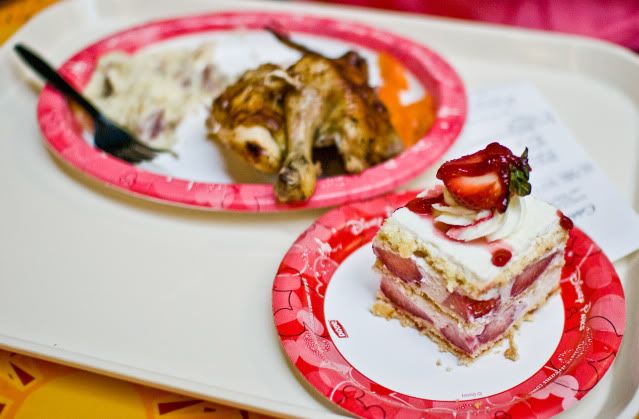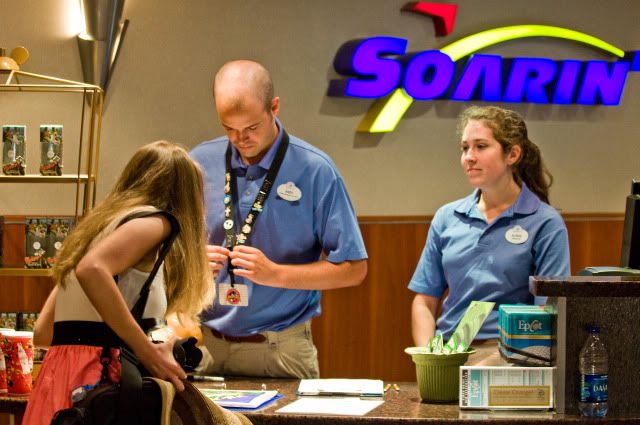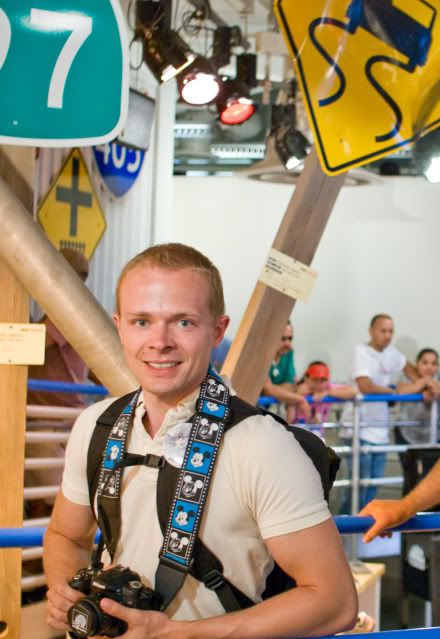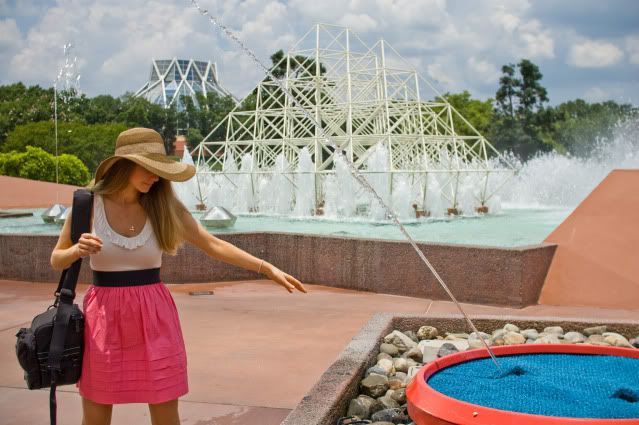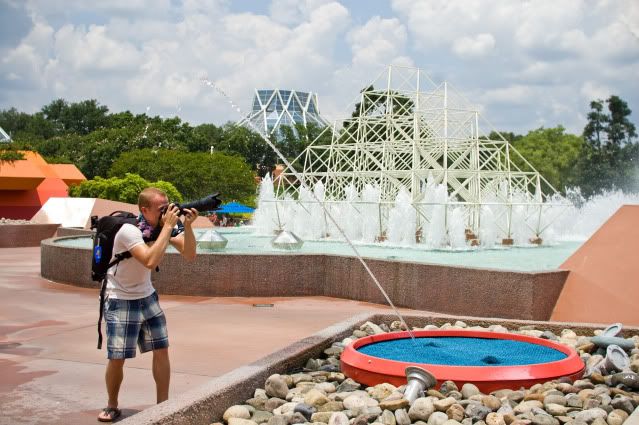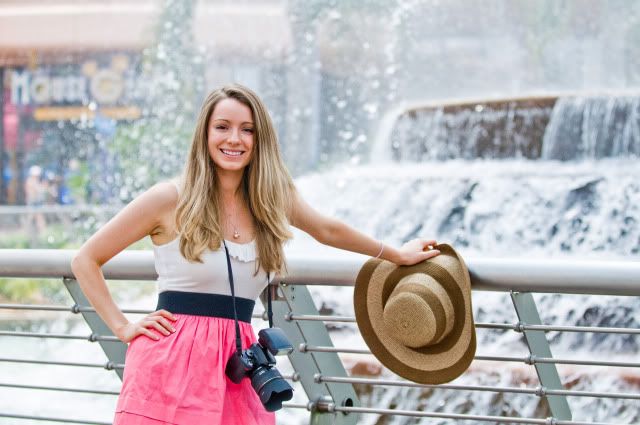 Now, for one of the moments of the trip report for which you've been waiting: Sarah's Gallery of Duck and Egret Shots! I guess I better preface this with an explanation: we have a running joke that one of the biggest attractions at WDW is the random birds flying around. This joke grew out of Sarah photographing them extensively when she first got her DSLR, and snowballed at the beginning of our honeymoon when she went a little trigger happy on the duck shots. The reason I bring it up now is because on this particular day, although we wouldn't know it at the time, it got even worse.
As we were sitting outside of the Imagination pavilion, we were watching some ducks swimming around, and later this day outside of the Land pavilion, we were watching some ducks walk around in the grass. On both occasions, we started "talking for" the ducks, Mystery Science Theater 3000 style, adopting duck "voices" and saying the things we thought the ducks would be saying, if they could talk. Now, this in and of itself would not be embarrassing. We do it everyday at home, talking for our pets and making them say some pretty ridiculous things. However, I'm pretty sure someone from here heard us doing this. At least, I think someone did, as I later discovered I had a private message from someone saying hello who said he or she saw us near some ducks. So to the person out there who sent that PM, if you're out there reading this now, I apologize for not responding to your message. Though in my defense, when you're unsure of whether someone witnessed you giving odd duck "voice-overs" you don't exactly know how to respond to them. That odd bit of information off my chest, here is Sarah's gallery: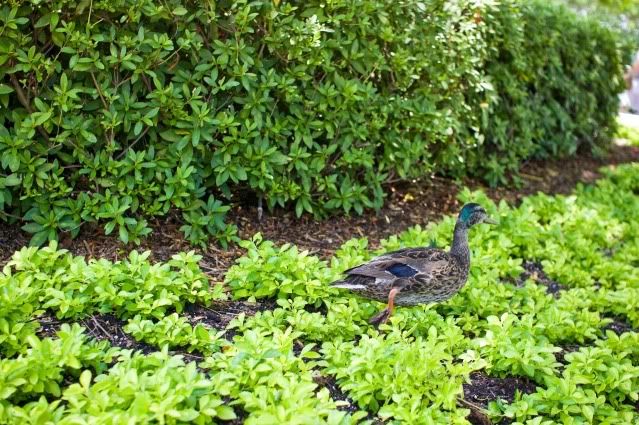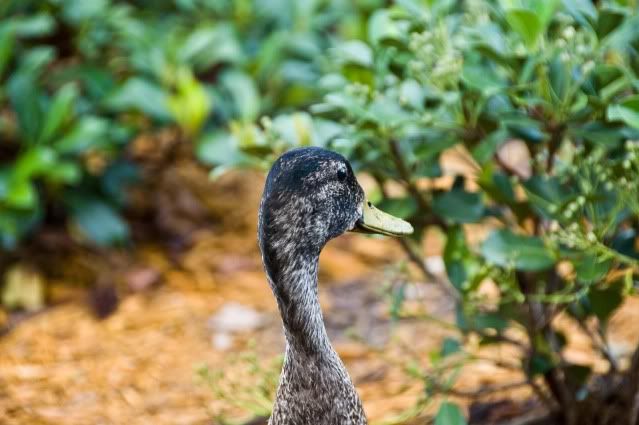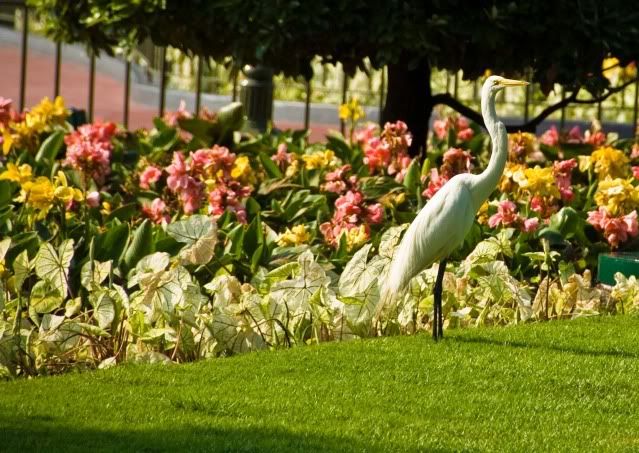 Following our conversations with ducks, we headed into an attraction that's worse than listening to strange people talk for ducks: Journey into Imagination 2.0. Like I've said in the past, it makes me almost sad to go on this, but I love Figment, and any dose I can get is worth getting. Sometimes I don't know why I subject myself to it, but the things why do for loved ones are sometimes irrational.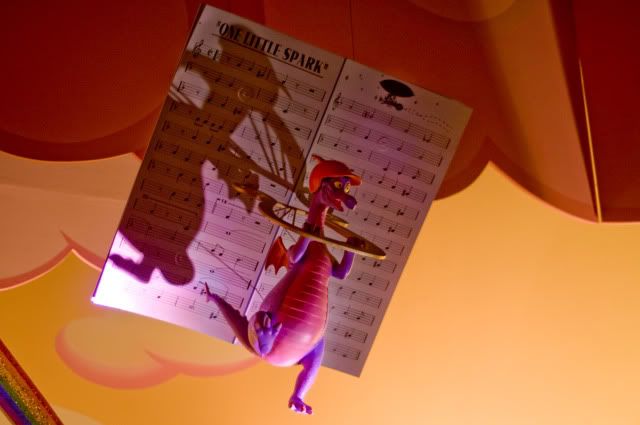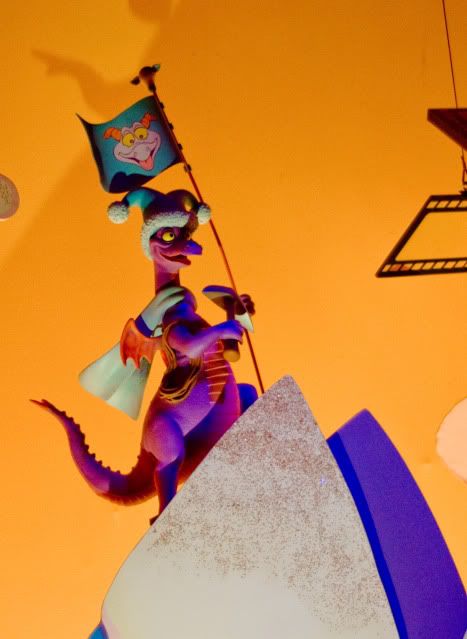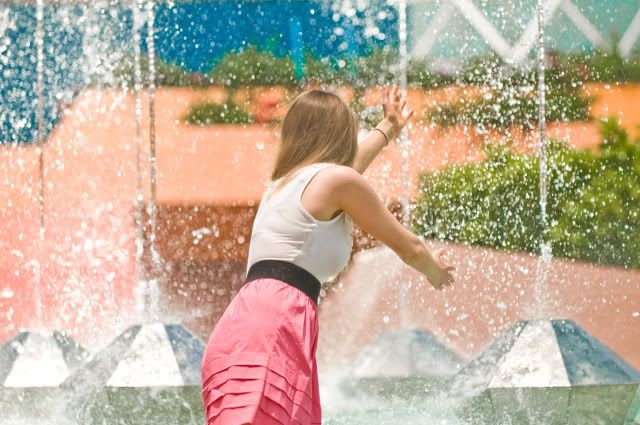 To wash the taste of the Figment suck-fest out of our mouths, we headed to Club Cool for some soda from other parts of the world. As we left Club Cool, the smells of the FountainView innundated our senses. We almost got something there, but there was no indoor seating, which killed the deal for us. Realizing we hadn't done anything in the World Showcase, we headed there, making stops in Norway and Mexico for those attractions as we strolled around the promenade.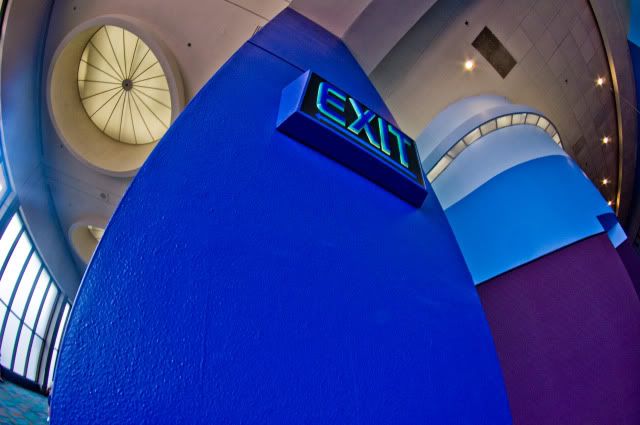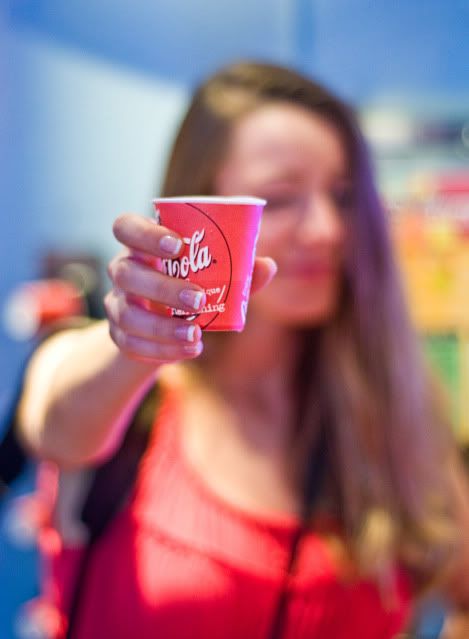 As we exited Mexico, planning on heading to go feel the flow again, Sarah stopped off in the bathroom. I told her that I'd go ahead to get FastPasses for Test Track. When I arrived at Test Track, it began to pour. Actually, pour would be an understatement. The sky was basically vomiting down buckets of water at an absurd rate. While the sky had been a little overcast before, it was in no way indicative of this storm. I don't know how the Florida weather works, but it seems to always have ambush rainstorms. To me, that seems a little unfair. The weather may suck in the North, but at least it's predictably sucky. No surprise when you don't see the sun for three months or get 2 feet of snow dumped on you.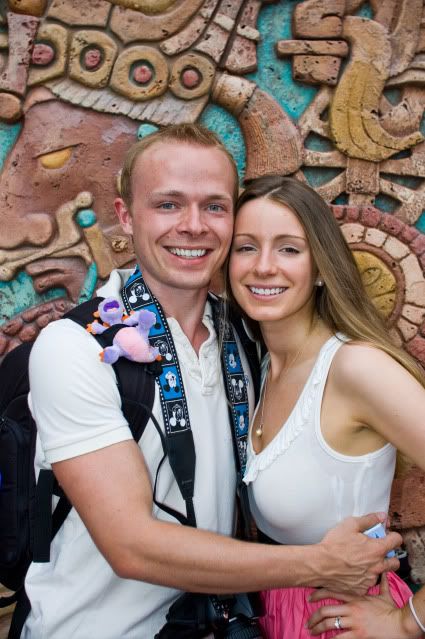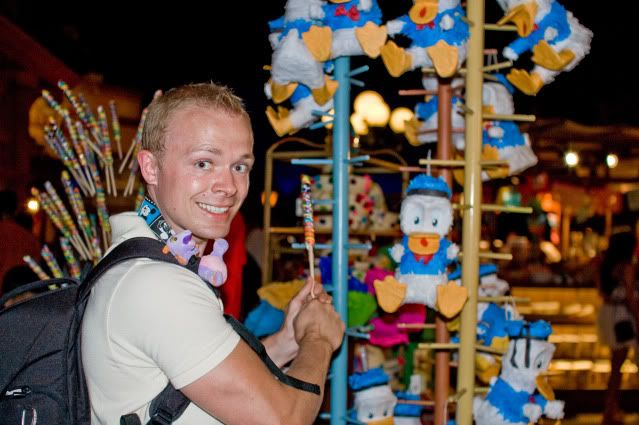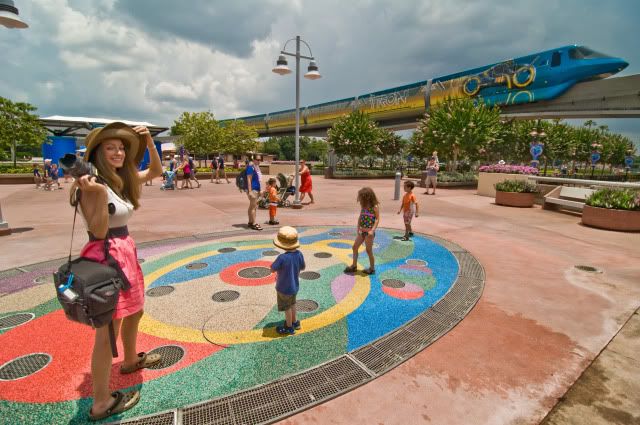 Given the spontaneity of the storm, and since neither of us brought ponchos that day, Sarah and I were stuck in our respective locations: her under an awning of the Odyssey and me inside the queue of Test Track (they allowed us inside). Once the first wave of torrential downpours was over, it started "only" raining hard. For this, I felt comfortable merely standing under the large cover outside of Test Track. Since I spotted lighting fairly regularly, I kept randomly taking pictures, hoping I'd catch some. Several minutes and countless wasted shots of this passed before I decided to just set up the tripod and go for longer exposures to increase my odds. All told, I took 150+ pictures, and I didn't catch a single bolt of lightning. Talk about bad luck. All of the pictures sucked, to boot.
When the rain finally subsided a little more, Sarah high-tailed it over to the Test Track awning, where we strategized our next move. We figured if we could go feel the flow at the Universe of Energy, we'd at least have an hour to let Mother Nature cool its jets with the rain. So we briskly headed that way, only to arrive and find out that Universe of Energy was down. After that, we tried SpaceShip Earth, which was up. Upon exiting, we found that it was still raining, at which time we decided to cut our losses and have Sarah get a poncho (since she has long hair, any rain exposure could cause issues). While she was getting a poncho, I saw quite possibly the coolest thing ever. This lady was walking, and all of the sudden, one of those strong, "underside of SSE" gusts of wind just came, and literally blew it to smithereens. It wasn't just as if the gust turned the umbrella inside out and detached the cloth from the frame, it was as if there were explosives mounted on the inside that suddenly detonated. I wish I had some pictures of that!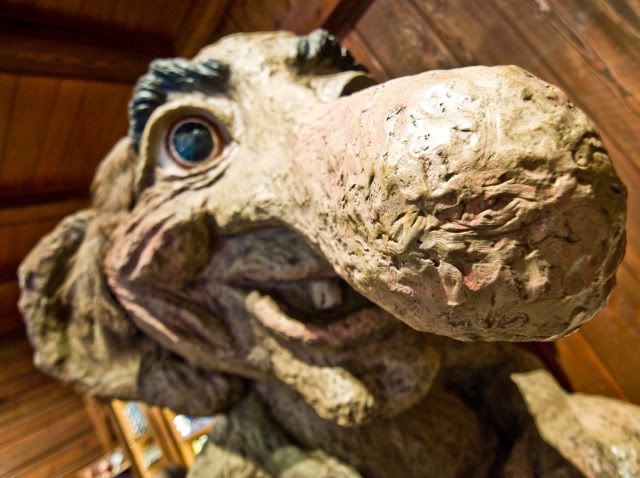 Fully armed with a poncho, we were ready to take on EPCOT in any type of weather. We didn't actually end up doing a whole lot with it besides visiting Norway, actually, since Le Cellier was beckoning. We arrived at Le Cellier slightly early to our ADR. Nothing out of the ordinary here, as the delicious meats of Canada beckon carnivores like us from opposite ends of the park. We had a very short wait at Le Cellier, which was somewhat surprising given the large crowds amassed in the area when we arrive. My guess is they were people trying to get last minute reservations. I heard the party after us ask if they had any availability for a party of 16. Sarah and I just had to chuckle to ourselves on that one. I can't imagine he had much success anywhere with that size of a party, let alone at one of WDW's most popular restaurants. Why anyone would go to WDW without doing some due diligence ahead of time boggles my mind. With the amount of money it costs, it's just unreasonable not to plan out one's trip. I wouldn't go on a weekend getaway anywhere without planning, I couldn't imagine going to WDW without planning. I have little sympathy for folks like this, and for this same reason (as I've probably said countless times around here), I love FastPass. It gives an advantage to those willing to plan and take the effort to understand it. Success in any aspect of life can be achieved through a little due diligence and with effort. If more people took that to heart, I think our society would be a lot better off.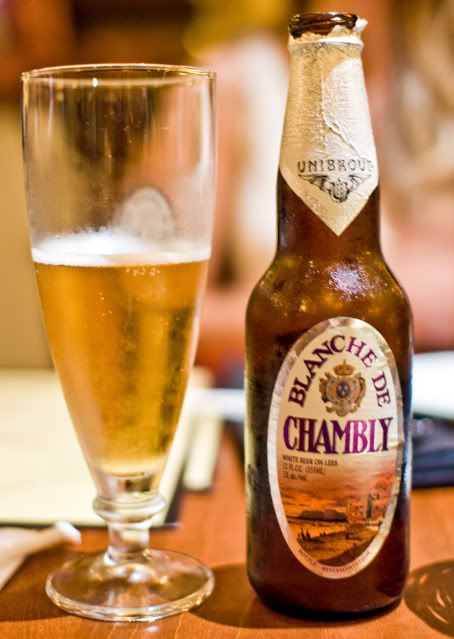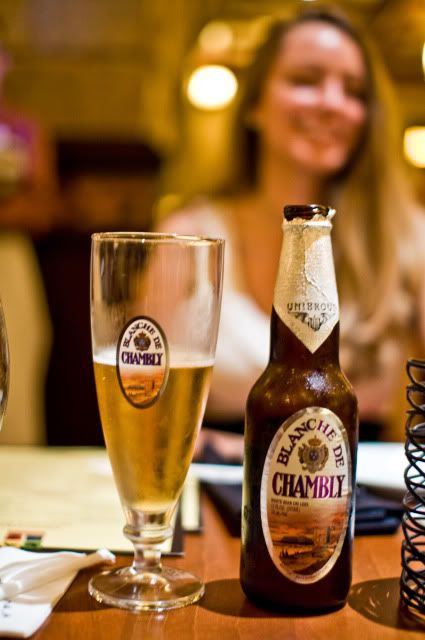 Enough of my soapbox. What can be said about Le Cellier that hasn't already been said? How about this: I think it's slightly overrated. Now, before you jump down my throat wondering where I came up with such heresy, I temper that statement with another that it's one of my favorite restaurants in WDW. It borders on being Sarah's absolute favorite. Being overrated is relative, and my stance is that in comparison to its actual quality, the opinion of it (at least as expressed in the Disney online community) is a little too high. People constantly gush over it, it's the restaurant I most frequently see called #1, and I just don't think it's quite up to the hype. If going from a value perspective on the Dining Plan, it's probably #1 (well, at least until the two credits requirement takes effect), but I don't think that's the ultimate criterion of a restaurant. It is great, no doubt, and the service is great, but there are some better restaurants at WDW.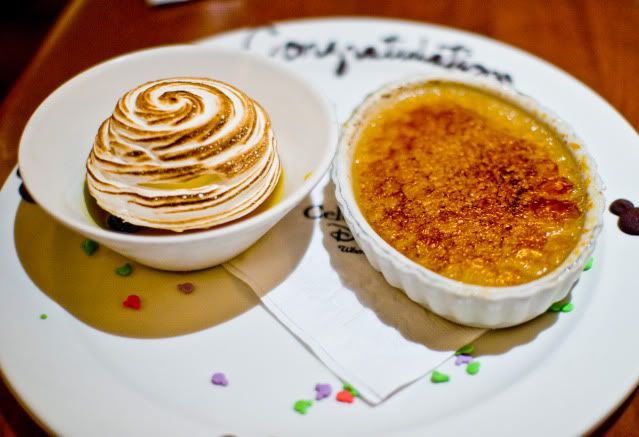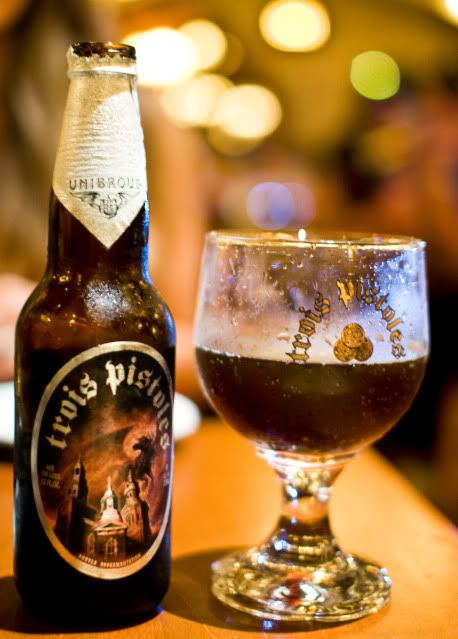 On this particular evening, our server was exceptional. He was very knowledgeable regarding the different entrees, and was actually willing to make a recommendation instead of indecisively saying "they're all good." His description of the beers actually persuaded us to each try one, when initially we were unsure of whether any of them sounded good. He really was a great salesman for the restaurant. The beer, which came out first, was delicious. I had the Trois Pistoles and Sarah had the Blanche de Chambly; mine was a darker, heavy beer yet one with fruity and spicy tastes, Sarah's was a lighter, hopsy and somewhat lemon or orangy beer. Following the beer came the bread, which is something so good that Sarah remembered it from a previous trip. While I love some good bread and butter, I don't think I'd remember it for that long. That alone speaks volumes about this bread. We think the pretzel bread is the best.
We both opted for the New York Strip Steaks. I am always tempted by the filet, especially with those mushrooms, but I love to eat, and the bigger cut is up my alley. Plus, I really like the taste of a good NY Strip, especially if it's seasoned well. I love filet, too, but I'll take the size combined with the taste of a strip over a filet most any day. The strip was, as always, delicious. Comparing them several days apart was really tough, but I had to give the slight nod to Kona's strip. It seemed just a little tenderer, and also larger. The potatoes at Kona were definitely better. Having had the same meal at both restaurants, Sarah disagrees, giving the edge to Le Cellier. Her conclusion wasn't even as close as mine, but I think she valued the better service at Le Cellier more highly than did I. The desserts would be the one area where Le Cellier definitely had the edge. My Maple Créme Brulée was phenomenal, and Sarah said she really liked her Le Cellier Mount Blanc Semifreddo I know I tasted it, but I don't quite remember what I thought of it.
Due to our early dining time at Le Cellier, it was only around 7 p.m. when we exited the restaurant. There was still plenty of time to take in the Seas, Turtle Talk, and Soarin' before finding a spot for Illuminations. As we walked towards the World Showcase, a rainbow appeared over the Imagination pavilion. In its current state, it's really not all that fitting, but 15 years ago, it would have been! Nonetheless, it was photo-worthy. As I lined up for the shot, my dreaded nemesis, the Tronorail passed by. Normally, I would have been elated to see the monorail approaching. All I could do this time was shake my first, scoff the ground, and go on my way. The serpentine of the sky had foiled me again. In this case, the Tronorail balanced out the shot, by my hatred for that beast really outweighed any excitement.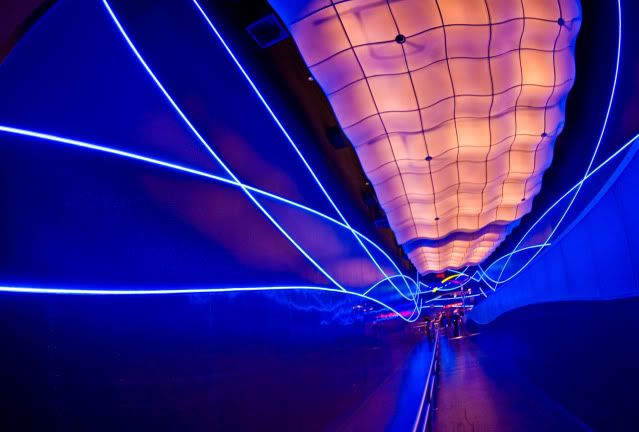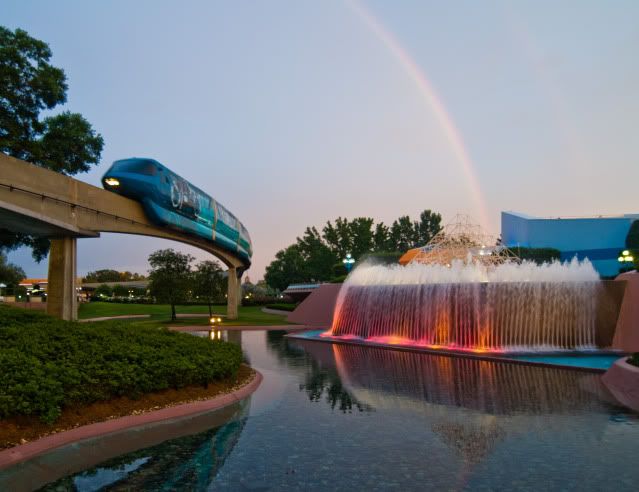 We had scouted out spots ahead of time for Illuminations, but we always seem to arrive too late, and to compound matters, I am indecisive in picking a location, often stopping at one, only to decide thirty seconds later to go back to a previous stop we passed, only to see that spot is taken, and so on. This night was such an occasion. I honestly cannot remember the last time I had a really good Illuminations location (from a photography perspective–we could see just fine). I had a fairly good spot in October 2009, thanks to other guys saving it for me, but I don't think I've had a great location since August 2008. In December, I really think I would like to watch once from the second story of Japan. Anyone have any experience with how crowded it is in that location in early December (i.e. off-season)? Once again, I did a fairly lousy job taking pictures of the show. Fine by me, as I enjoy watching it so much that photography isn't really my focus. That score is just perfect. Illuminations is one of the few things I would be happy with Disney never changing, or only having Disney slightly modify.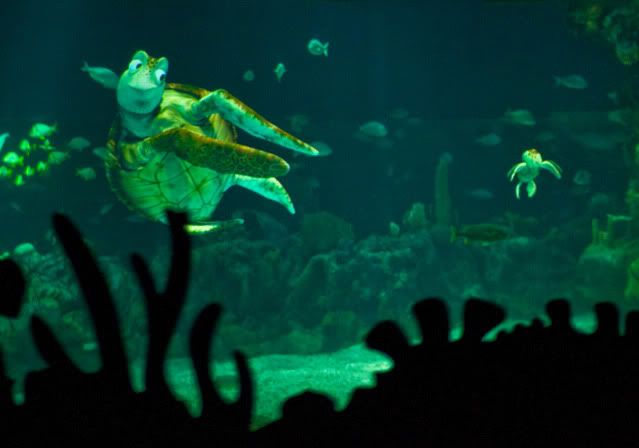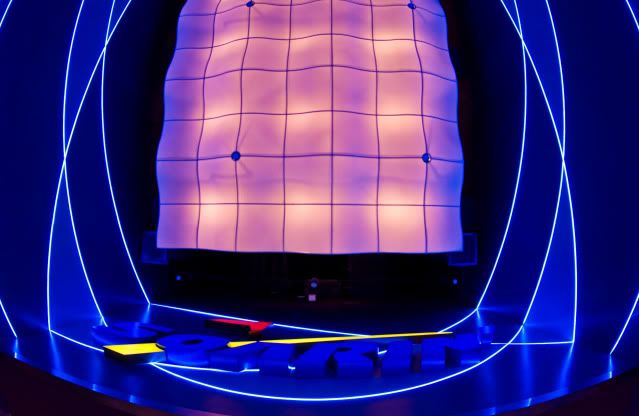 Following the show we inched our way toward SpaceShip Earth with the glob-of-a-crowd, where we boarded for a relaxing spin. I think I drifted off right around the time Rome fell. Hopefully society resolved that one satisfactorily; rumor has it that they lost some great library at Alexandria. With my SSE mini-nap over, we headed to Soarin'. On one of the nights of our trip, I'm thinking this one (I don't remember for sure), I drifted off for a second on Soarin'.
That has to be a new record for me. With that, and with Sarah equally as tired, we decided to take some pictures in World Showcase prior to close, and then call it a night. Again, it was tough for us to pull ourselves from the park early, but we were tired puppies. This night, International Gateway was still open, and we exited through it as it took us a little longer than normal to make the voyage back to BoardWalk.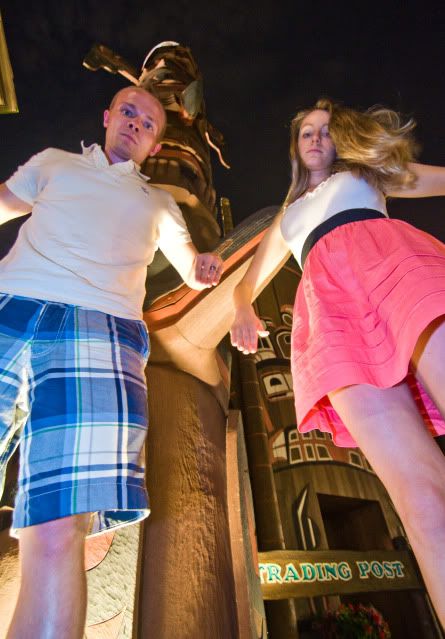 Creepy.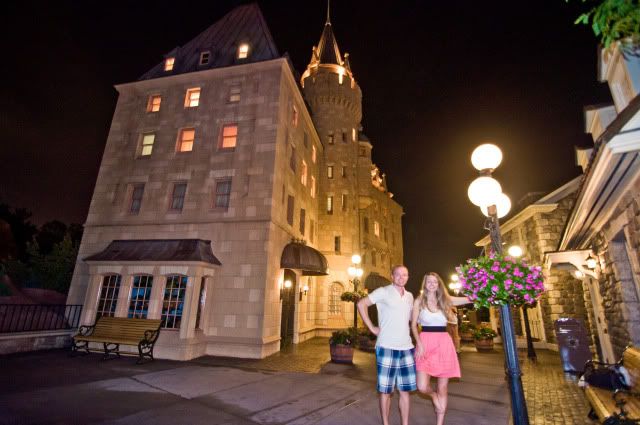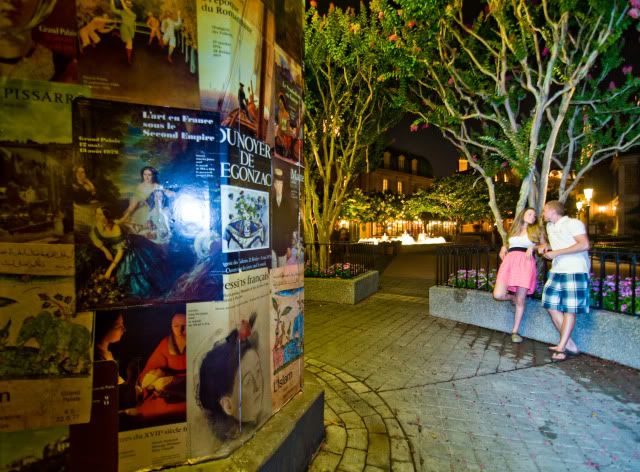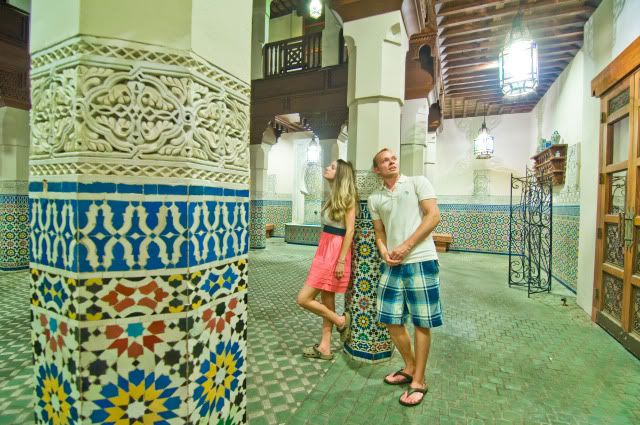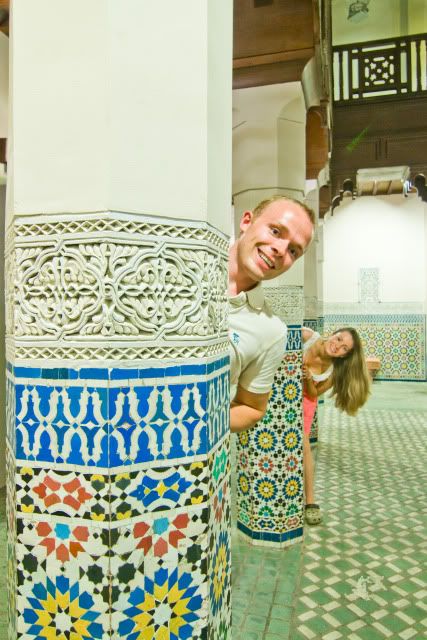 There are multiple pages in this Walt Disney World trip report installment. Navigate to the next page below!