Disneymoon Trip Report Pt II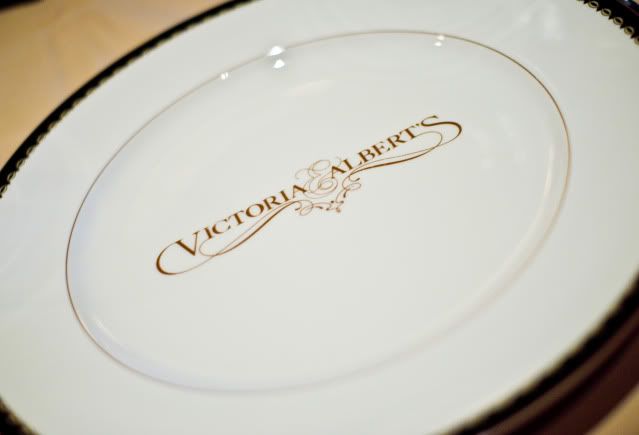 As mentioned earlier, we forgot some things in our haste to get ready. Two such things were my suit and Sarah's dress to wear to Victoria & Albert's. We thus had to have Sarah's mom send us our clothes via FedEx. As a result, they were a little wrinkled (and I think our cat, Yossarian, turned my suit into a bed for a few days, as it was also covered in cat fur), so I had to iron it, which I absolutely hate doing and am atrocious at, and use like 50 sheets of lint-roller paper on it. After we finally finished getting ready, we headed down to the bus stop for the Magic Kingdom.
We contemplated just taking a taxi, given the heat and our attire, but after having to mortgage two kidneys, a small intestine, and my prized collection of Care Bears, we figured we probably should save the money and just take the bus. Our confidence in the promptness of the Disney Transportation system had been bolstered by our experience with the AK-AKL bus experience, so we had no fears that we'd be waiting long.
Twenty minutes, three AK, three Downtown Disney, and minor frustration later, we were still waiting. More time passed. Finally, at the forty minute mark, I told Sarah she better call V&As to let them know we might be running a little late. She called and informed them of the delay, but a few minutes later, we decided it might be a better bet to just spend the $20 on the taxi. This was especially the case since it was our understanding that V&A only has two servings, and if you're not there at your serving time, we thought we might be rushed.
She ran to the room to get a credit card while I stood watch for the bus, and got back with no bus in sight. The taxi got us there in 5 minutes, still early for dinner. There was a minor scare when the taxi driver's card reader rejected our card twice, but he graciously accepted the card number anyway, saying it might've been an error on his end (it was).
Sarah and I have had some nice meals, and I have to say usually they aren't my thing. I get impatient when eating several "course" meals, and I feel out of place at the lavish restaurants where everyone else is seemingly aged 60-80. We have gotten poor service at some such places, I feel, because the staff felt we "didn't belong" (it only makes matters worse that we look slightly younger than our actual ages–or so we're told). Consequently, on the rare occasions that we dine out, I try to steer us towards more moderate restaurants.
Moderation is not a word in Victoria's, or Albert's, vocabulary. As we ascended up the stairs and the polished mahogany (I'm no expert of woods, but it sure looked like mahogany; even if it wasn't, that just sounds cool!) of the grand doors came into view, my stomach became unsettled, as I wondered if we had just forked down a substantial amount of money for what might only amount to a few hours of discomfort. I curled my Mickey Mouse camera strap into my hand as we approached the check-in stand, not wanting to appear like an "outsider."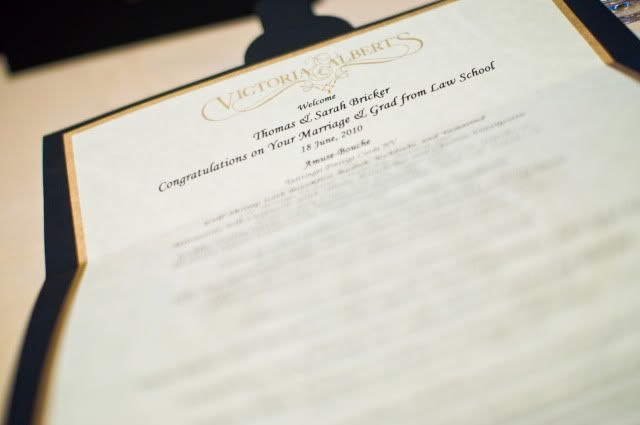 My fears would quickly be allayed. We had two maids (waitresses and waiters go by maids and butlers at V&A) who were both incredibly friendly and personable. Immediately, they offered to bring a stool for our cameras. The rest of the experience was only uphill. Our meal and the options were explained to us, and we were given a wine list. Actually, I think it might've been some sort of catalog from which to purchase a new car. The names of the cars didn't register (they were mostly French and older models), but the prices certainly suggested that it was a car catalog. Upon realizing all but the cheapest wines were out of the question (we didn't end up ordering any), we were given the menu for the meal.
The explanations for some of the items on the menu were humorous, to say the least. My favorite was some type of beef that is born in Australia and then flown to Japan, where he is massaged daily (I'm going off memory, so those locations may be wrong–the massage part is definitely correct). The beef is the world's most tender. All I could think of while our maid was describing this was some guy going out to the fields, 9-5 (or perhaps longer), to give a cow a massage. Do you think he takes a table and a white cloth to cover the cow up? When asked by his friends, what does he say he does for a living. Certainly there is a way to 'dress it up' to make the occupation sound better, but how different from the reality of the job can you make "Bovine Masseuse" sound?!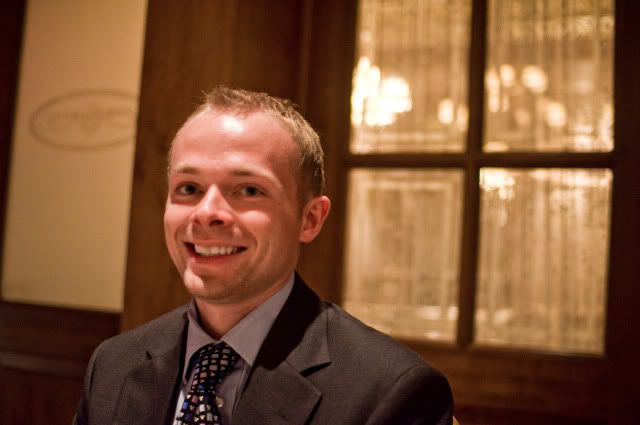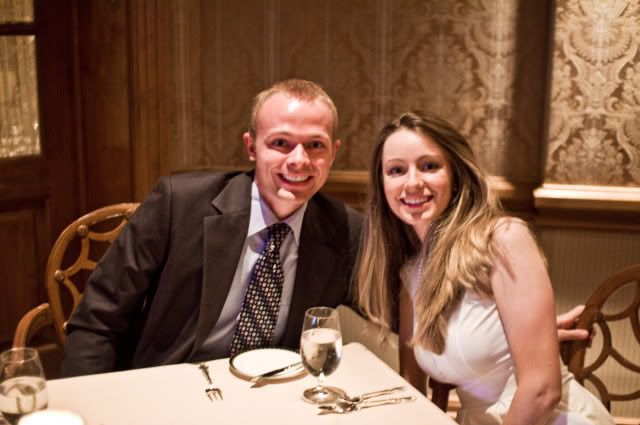 After ordering, one of our maids brought out palette stimulators, compliments of the chef (pictured below this paragraph–all subsequent courses will follow this format–if I get any of the names/pictures incorrect, let me know, as I am going off the names from AllEarsNet as I don't remember them). Upon my first spoonful of the egg, I knew I was in for the most amazing meal of my life. Up until that moment in my life, this was the best thing I had ever tasted. I don't think my palette is refined enough to describe all of the tastes (even if it were, I couldn't remember them so long afterward), but it was amazing. The other three portions were incredible, as well.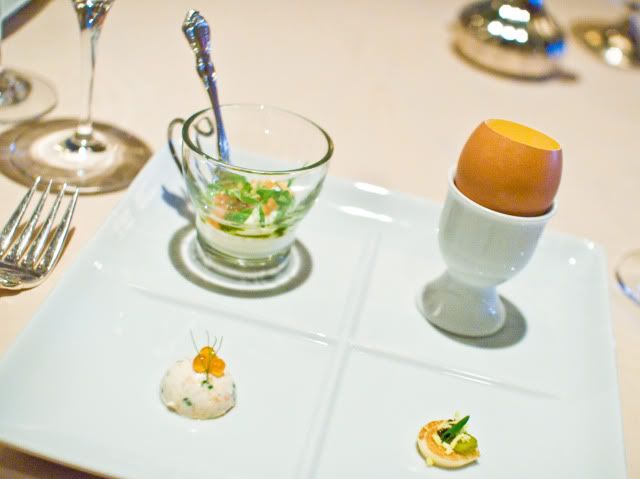 My first course was Minnesota Elk Carpaccio. After the first course, I was incredibly excited for this, as I love wild game. The elk was delicious with excellent presentation, but it left me wishing for a little more. It was so thinly sliced that it was almost difficult to properly taste it (at least I thought). Still, wonderful.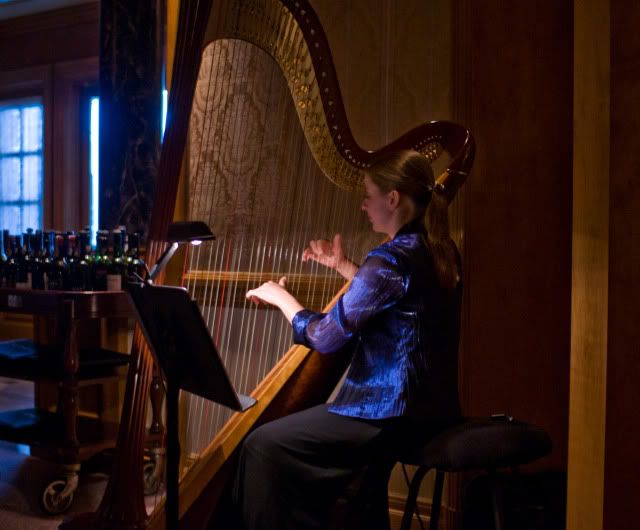 For her first course, we can't quite remember what Sarah had (I'll update this when we find our menu; the All Ears menu doesn't have her choice listed). She was equally impressed with her course.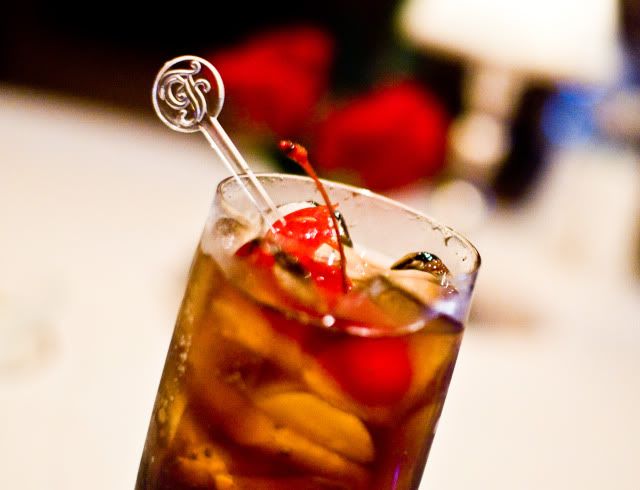 After this, the maids served us bread. This was some of the best bread and butter I had ever had. The butter had garlic in it that, while probably not massaged daily, was rich and smooth beyond belief. The bread itself was delicious, too.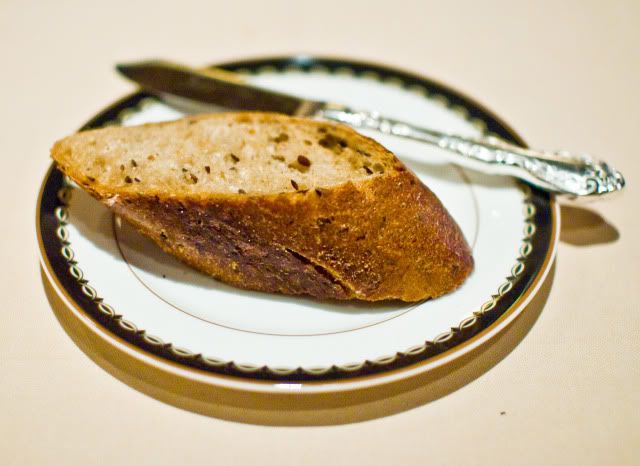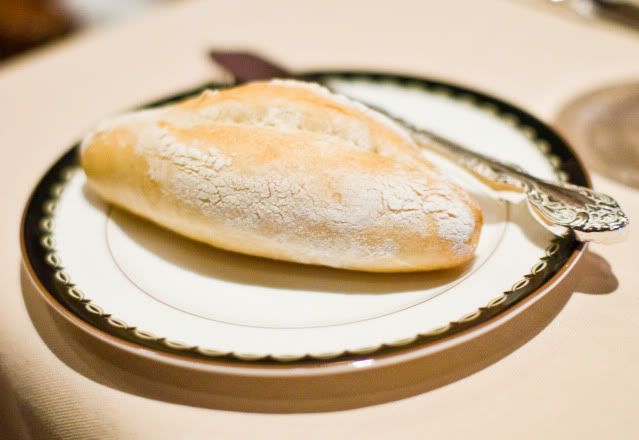 For the second course, we both got the Marinated King Salmon; it was delicious.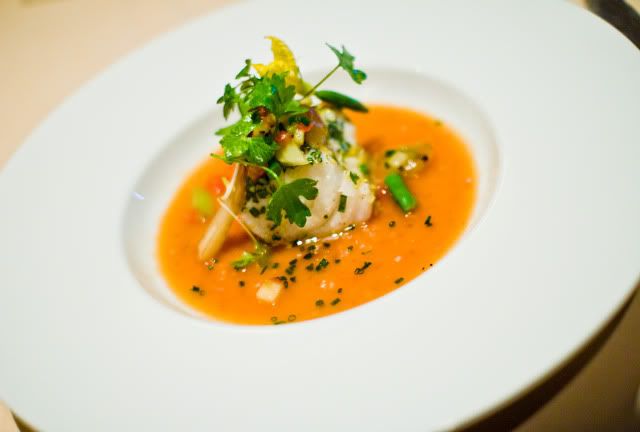 Throughout the meal, the maids were incredibly attentive and personable. Sarah asked one how she liked working at WDW, and they chatted for a few minutes about how (eventually) we'd like to work at WDW. The maid encouraged us to do it, which always lights up Sarah's eyes. I give it no more than 10 years before we're living somewhere in Florida.
Sarah had the Duck Breast, Duck Sausage and Confit, which I almost ordered as well. The sausage, especially, was delicious, and although I don't know what confit is, it sure made the plate delicious!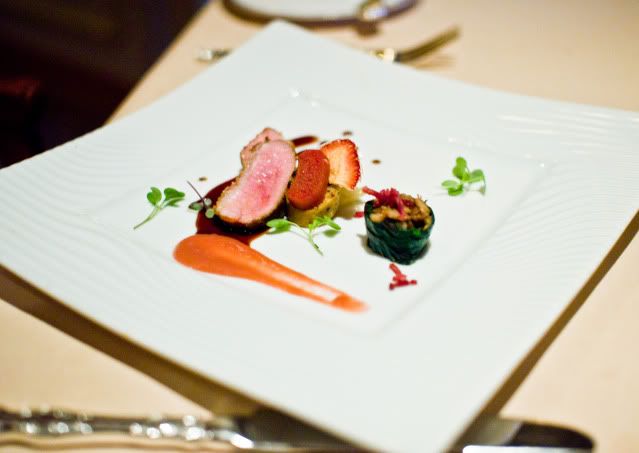 My rationale for not ordering the duck was that our meals were already going to shape up very similarly, and the Poulet Rouge with Mushroom-Truffle Ragout intrigued me. Truth be told, I had no idea what this was when I ordered it, and the maid's explanation didn't really elucidate things for me, but I decided to go for it anyway. I absolutely love mushrooms, and I figured it would be good. It was excellent. Some of the best mushrooms I've ever had, and this is coming from an expert Northern Michigan Morel hunter.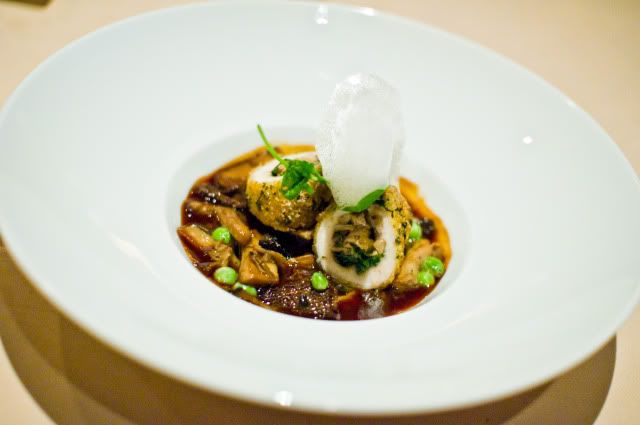 Next was the main course. Sadly, we decided against shelling out the extra money for the hand-massaged cow, instead both opting for the Niman Ranch Lamb. It was amazing. Out of this world delicious. At this point, though, it was a bit anti-climatic. Every course before it had been so amazing that we fully expected the perfect main course. It definitely delivered; cooked perfectly, nice and tender. It's right after lunch as I write this, but even thinking about it on a full stomach makes me crave it.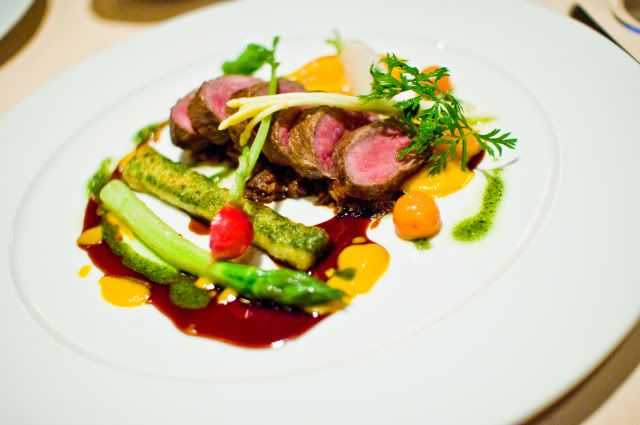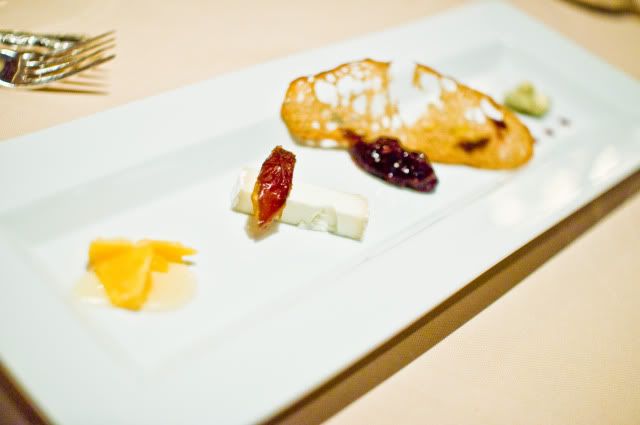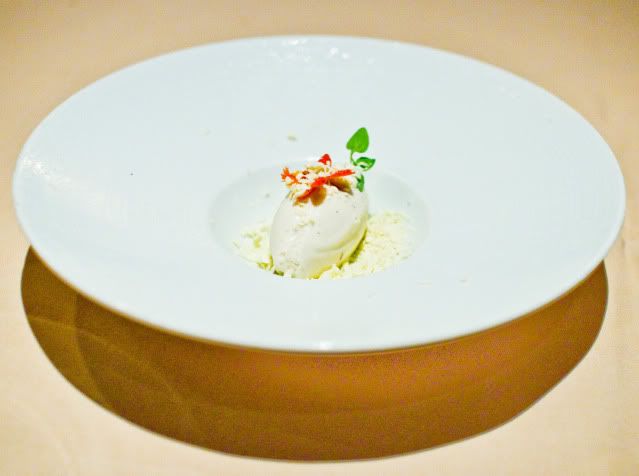 For dessert we were torn. It was really only a two horse race, but torn we were, nonetheless. Eventually we decided that Sarah would get the Hawaiian Kona Chocolate Souffle and I would get the Grand Mariner Souffle. Prior to this trip, I hadn't been a big chocolate or desserts person (much to the disappointment of my waistline, I've become a convert). Hallelujah, I saw the light on this trip! I don't even know if I could put into words the deliciousness of that dessert. Rich. Decadent. Super-awesome-fantasmic!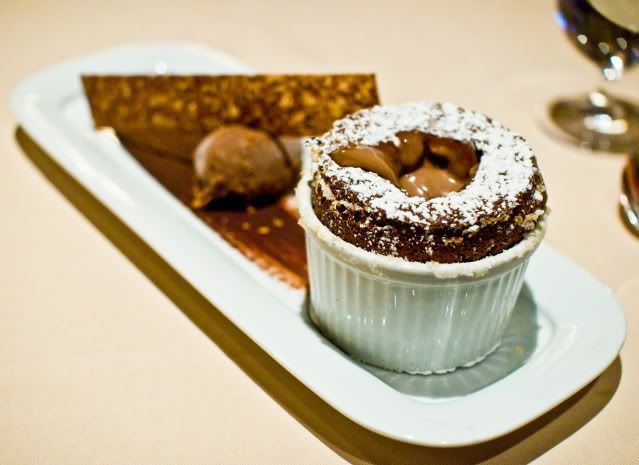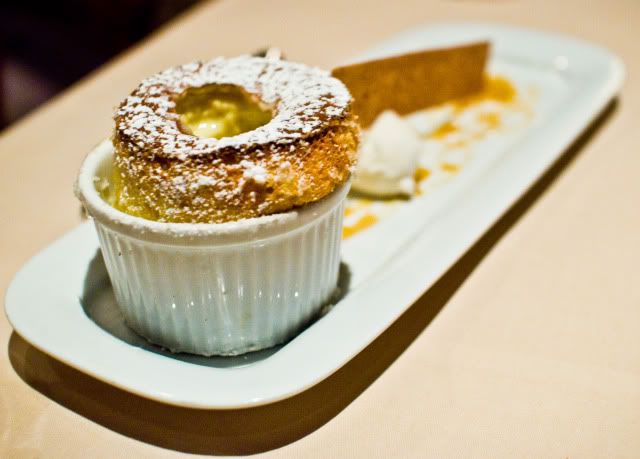 Finally, we were treated to some wonderful candies. (V&A doesn't even skimp on the candy!) Sarah was given a rose and we were given a dessert bread to take home. As the experience drew to a close, the maids gave us one last "course" that would prove wonderful–access to a private room in which we could take as many pictures as we wanted! The room, the Queen Victoria's room, was set up for overflow or perhaps parties, and the bookings were very light that evening, so it was not in use. We went in there, set up a tripod, and went to town!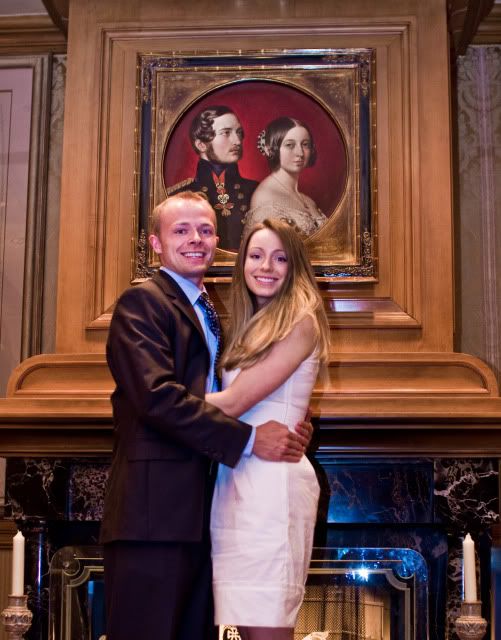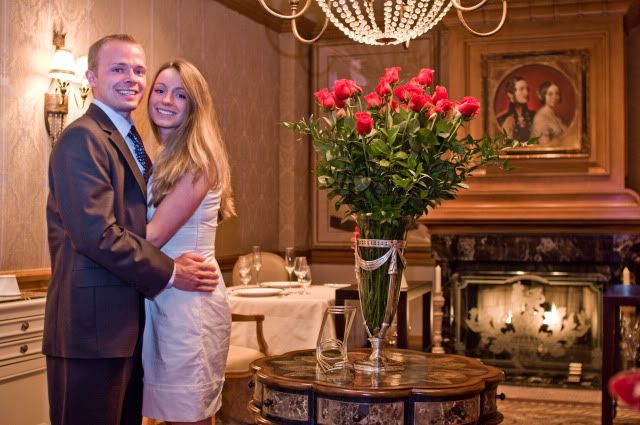 After finishing our pictures in there, I convinced Sarah that we ought to take some pictures around the grounds of the Grand Floridian before changing and heading to the Magic Kingdom. I am really glad we did, as I am quite pleased with these. It was also nice to, for our first time together, catch a viewing of the Electric Water Pageant. Although thanks to poor judgment on my part (maybe?), I missed much of the show while changing. On a subsequent trip, I really want to see this in full. It appeared to be one of those goosebump-inducing traditions you can enjoy for generations to come. I'm not nostalgic for it, but I wouldn't mind building some "future nostalgia" towards it, odd as that may sound!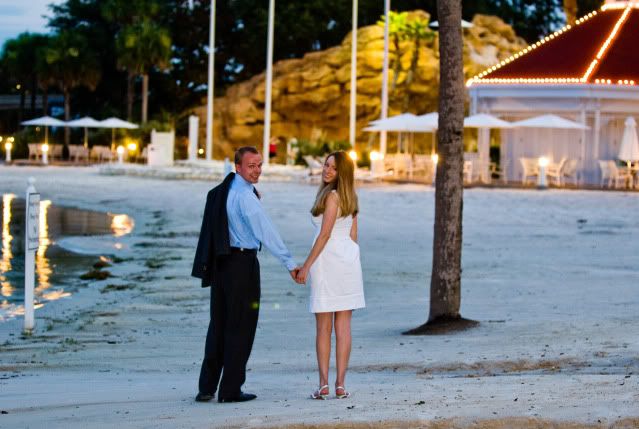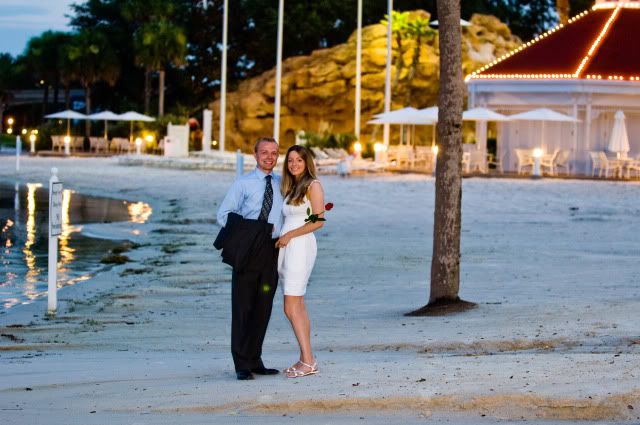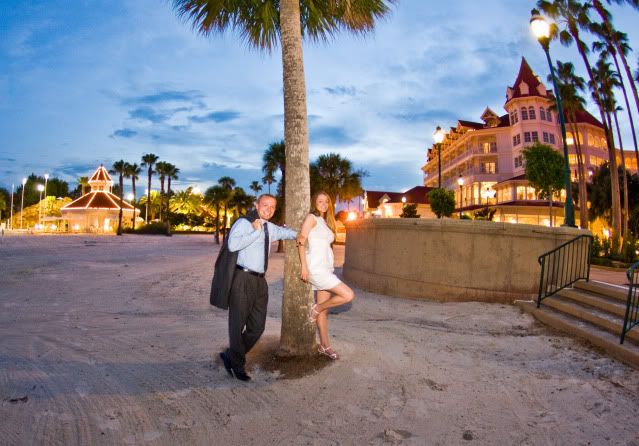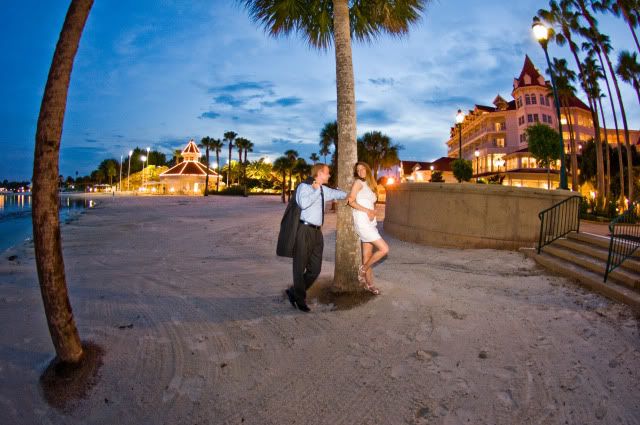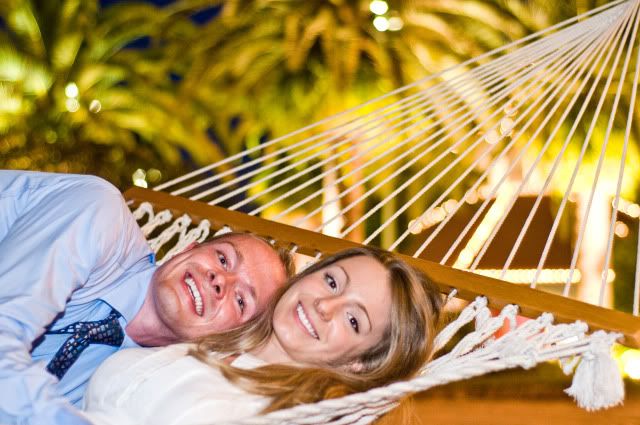 The thing I'm asked the most about Victoria & Albert's is whether it was worth the money. Obviously if people are asking, they're in a situation like us: money is not no-object, and a trip there would be splurging to some degree. My advice, unequivocally, no matter what degree of splurging it may be, would be to find a special occasion to celebrate there, and go. I don't say the 'special occasion' bit so you have a nice "in" to get a freebie, but rather because I think it provides a nice reason to be there, and something to "embrace" while you're dining. The meal is absolutely amazing, the service wonderful, really, I can't say enough good things about it, except for the price. However, no matter what amount of saving it requires you to do, it's definitely worth doing once. If it weren't for our honeymoon, I'm not so sure I could have enjoyed it as much in our present financial circumstances; rather, I'm pretty sure I would've been thinking about how much it was costing and wondering why we're doing it. In the context of a once-in-a-lifetime celebration, though, thoughts of price didn't cross my mind once (well, besides when looking at the wine list). I cannot wait until we are financially stable enough to enjoy our next meal there.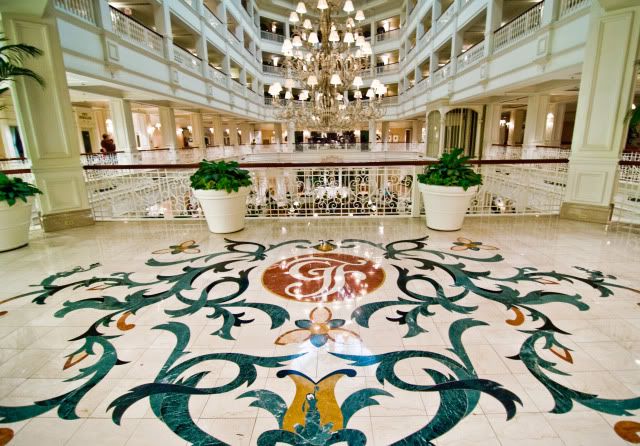 There are multiple pages in this Walt Disney World trip report installment. Navigate to the next page below!