Disneymoon Trip Report Pt II
At the Magic Kingdom, we grabbed a locker for our dress clothes and headed inside to play. Victoria & Albert's followed by evening Extra Magic Hours in the Magic Kingdom?! A new definition for us for the term "perfect evening."
We arrived on Main St. right before the Nightastic fireworks were about to begin. I had gotten into a grove with the camera on the beach of the Grand Floridian, and I kept that going for the fireworks, as I had my best night of shooting that night. We found that the best route out of the crowd was via that 'out of the way' narrow path from Main St to Tomorrowland (not the Terrace one), so we took that over to Tomorrowland.
Once there, we watched the dance party for a little bit. I know these dance parties have caught a lot of flak from the online community, but I must say that I completely disagree with that sentiment. I think it mostly comes from people armchair quarterbacking things, who make judgments without actually experiencing them. My take on the party was that it brought a palpable energy to Tomorrowland.
One that has been absent for a while at night, and one that is especially necessary in Tomorrowland. Now, I don't think the music is exactly appropriate for the "future" theme, so I would like to see that retooled (I think it could be done with a "space" or "future" music theme).
My other problem with it is that you can hear it while in the first two scenes of the Carousel of Progress. That said, the parties add needed atmosphere to Tomorrowland. I really wonder if all of the naysayers experienced Tomorrowland last summer as well as this summer. The difference in atmosphere between the two is stark.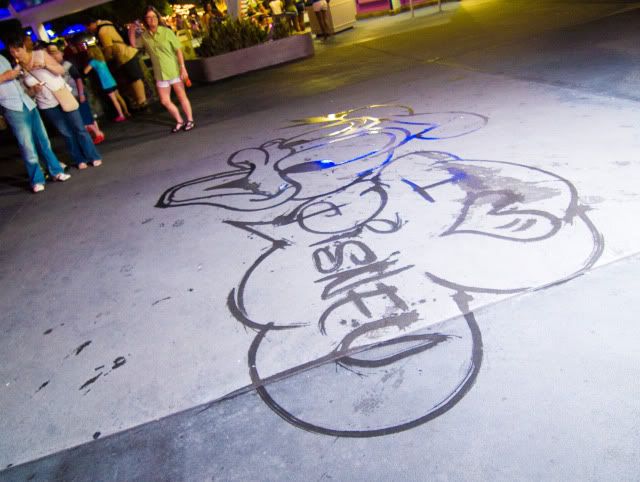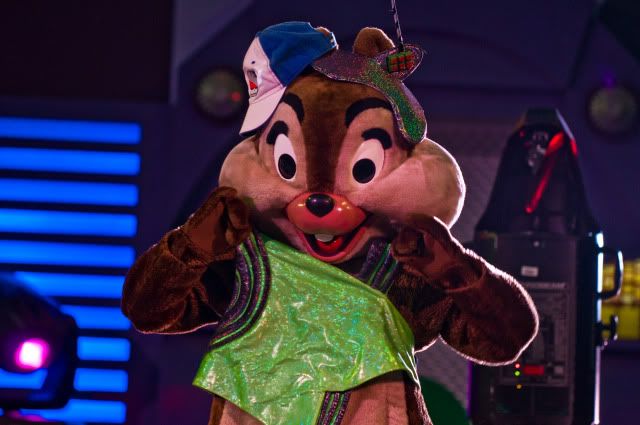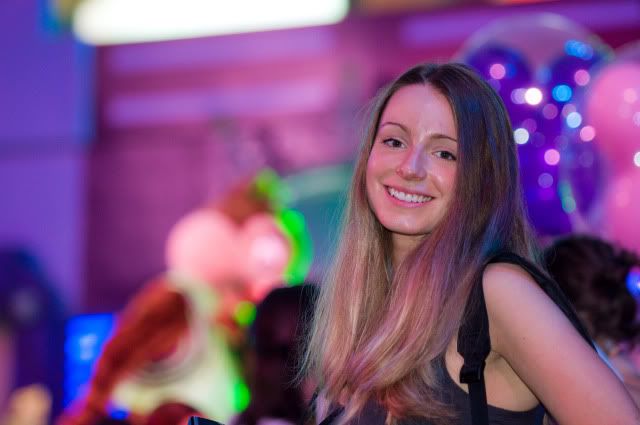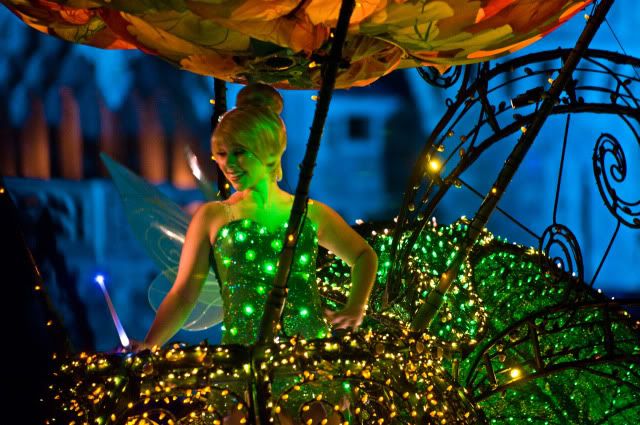 The rest of the evening was our typical late night MK fun: several trips on the TTA, Buzz, Space, and a viewing of the MSEP, followed up with some after hours shooting. One thing we saw a lot of throughout the trip, but especially on this night, was Cast Member mop art (don't know if there is another term for this). We had seen it on past trips, but certainly not to this extent. After we finished with pictures, we boarded a bus for BoardWalk and went right to bed.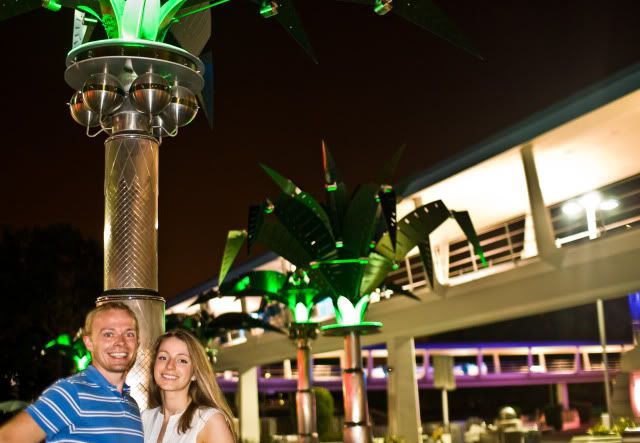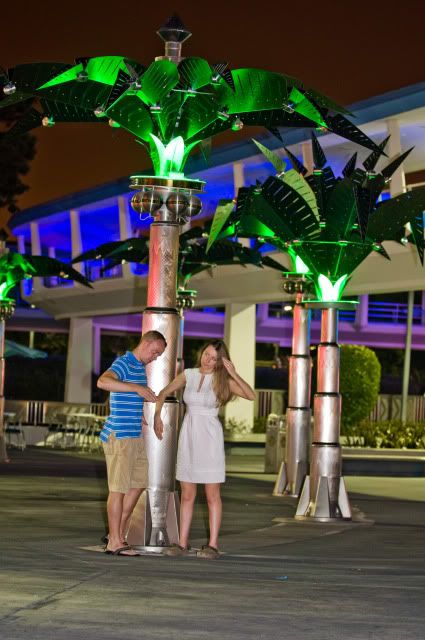 Who let the giant dork-bots into the Magic Kingdom?
Thought this was pretty cool–we used a two tripod setup (one for my Flickr-type shots, one for shots of us), both of which could be triggered by the same remote. On accident we triggered the wrong camera a few times.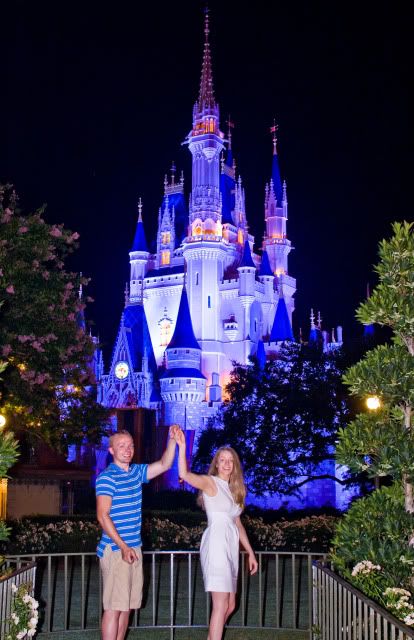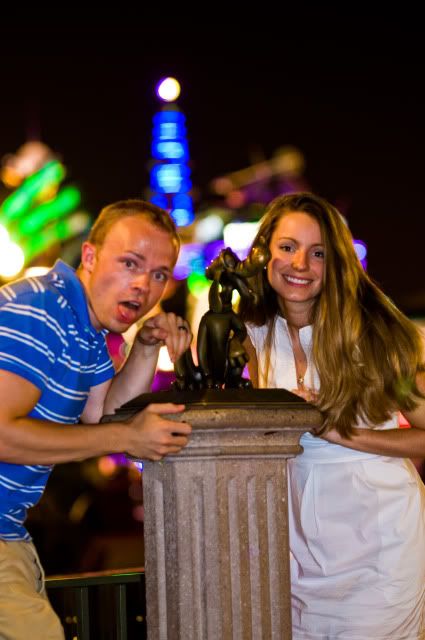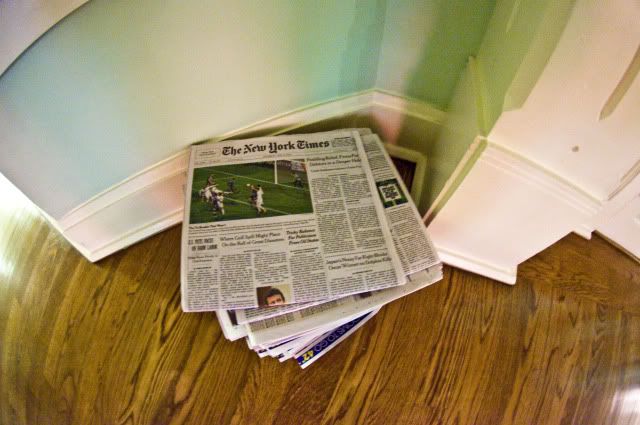 We got back so late–after 4 a.m–that the next morning's New York Times had already been delivered to the resort.
There are multiple pages in this Walt Disney World trip report installment. Navigate to the next page below!