Disneymoon Trip Report Pt II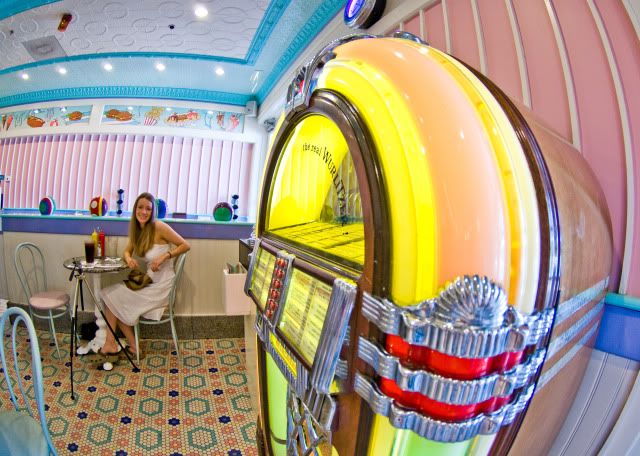 After being in the MK so late the previous night, we decided to sleep in again. This time, we actually got up fairly late (although I still think it was less than 6 or 7 hours of sleep). As you may have gathered from the pre-trip report, this weekend was to "Weekend of Deliciousness," with meals at Victoria & Albert's and California Grill. We had split our reservation at BoardWalk so that Friday and Saturday were booked separate from the days prior, enabling us to add the Dining Plan to the preceding days, but not to Friday and Saturday. Since V&A alone nearly justified the cost of the Tables in Wonderland card, we bought that to use over the weekend.
The sleeper in there was Beaches & Cream, which we figured we'd hit prior to Cali Grill for a light meal and some ice cream. I had mentioned the Kitchen Sink to Sarah far in advance. I think she thought I was joking, or maybe she hoped I'd forget. Quite the contrary: I deeply engrained it in my brain and fixated on it to the point that there was no way around getting the Kitchen Sink. Even if I had to eat it alone. I actually planned on only getting that and nothing else.
Upon getting ready and arriving at Beaches & Cream, I knew I couldn't get just ice cream. The burgers looked and smelled too good. We agreed to split a burger, which turned out to be a huge mistake. Those burgers are way too delicious to split! If anything, I'd recommend getting more than one. Seriously.
The nice toasted and buttery bun, perfectly cooked meat makes for the best burger I've had on property. I think by getting me to agree to the burger, maybe Sarah was hoping that I'd lose my desire for the Kitchen Sink. Not so. We ordered it, somewhat to the surprise of our very courteous server, who didn't seem to believe two people like us could eat it.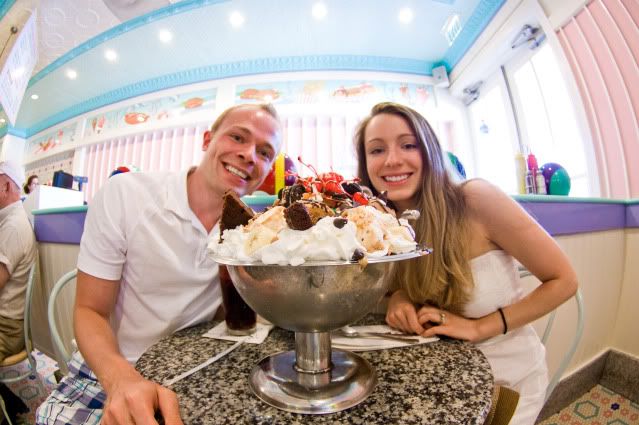 When the sirens went off, I knew our time had come to consume one of the greatest desserts known to man (remember, I'm a changed man when it comes to dessert). Ladle of Chocolate Fudge, Ladle of Butterscotch, Ladle of Peanut butter, 2 Scoops Vanilla Ice Cream, 2 Scoops Chocolate Ice Cream, 2 Scoops Strawberry Ice Cream, 1 Scoop Coffee Ice Cream, 1 Scoop Mint Chocolate Chip Ice Cream, Pineapple Topping, Strawberry Topping, Entire Banana, Muffin, Entire Can of Whipped Cream, Large Brownie, Angel Food Cake, Entire Milky Way Bar, 4 Oreos, Every single type of sprinkle in the house, Chocolate Syrup, Marshmallow Topping, and topped with a handful of Maraschino Cherries. Oh yeah baby, we were going home full!
As the evidence should clearly indicate, I contributed a lot more to our Kitchen Sink consumption effort than did Sarah. Not to diminish what she did, as we both ate a lot–way too much, actually. Although we weren't given any sort of medallions for conquering the epic dessert, we were champions in our own minds. The crowd (in our heads) cheered as we left the restaurant.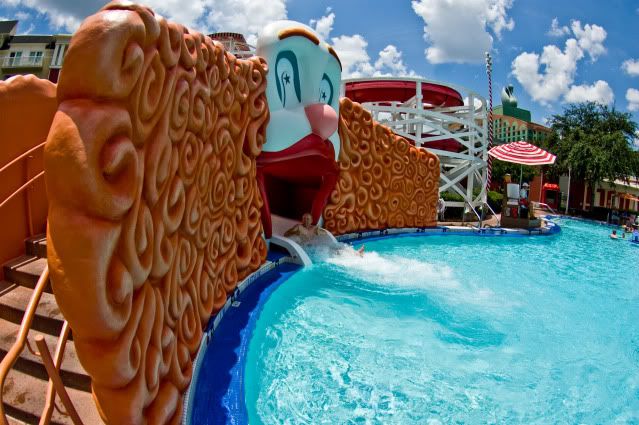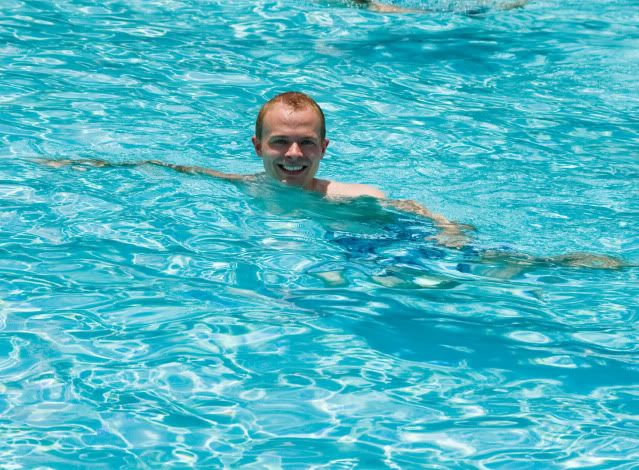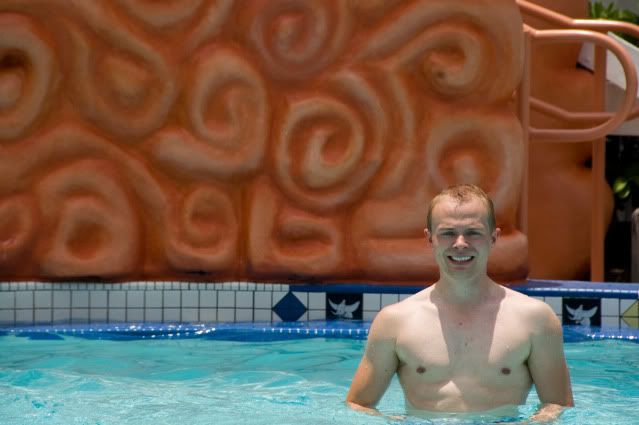 Don't ask me…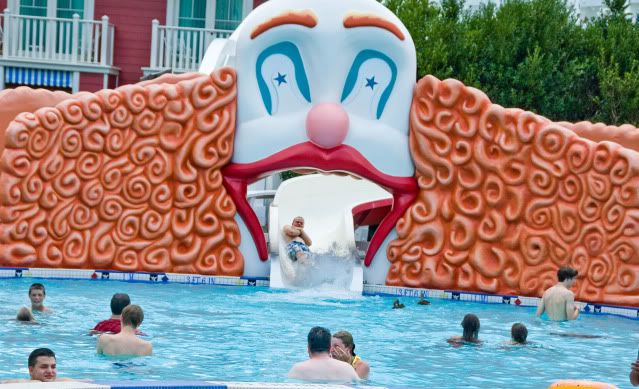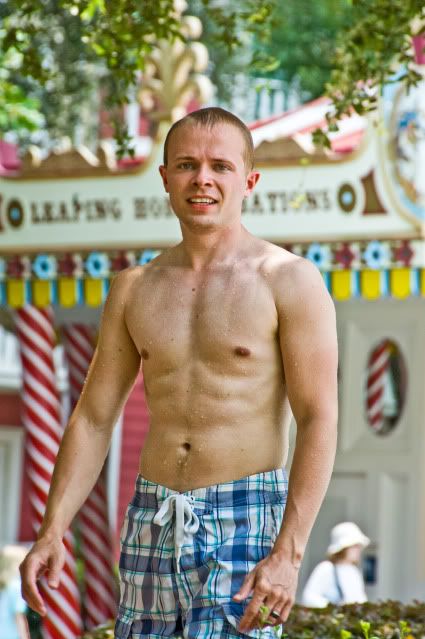 Wanting to show just how tough I was, I decided to go swimming right after we ate. Well, as cool of a reason as that may sound, in actuality, I had been itching to go swimming the entire trip, and this is the only day it would fit our schedule. Ideally, I would've loved to go to Typhoon Lagoon, but Sarah really dislikes the water parks, so this was my second-best alternative. I actually wore my swimming suit to Beaches & Cream with the hope of just using that pool, but little did I know the pool hopping is actively restricted via wristbands. I figured since we'd be there pretty early in the morning, they wouldn't otherwise have minded, but since wrist bands were in use, I wasn't going to mess with it. I'll circumvent the rules clandestinely, but not that actively. Instead, we headed over to the BoardWalk pool for the first time. I'm kind of glad we did. The slide there is awesome! The pool itself is really cool, and the theming is perfect. Sarah watched me play for a little while, wondering how I'd have any interest in swimming after eating all that food, before we headed to the room.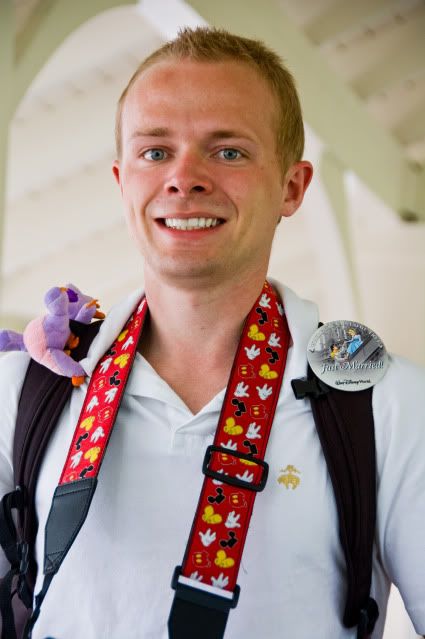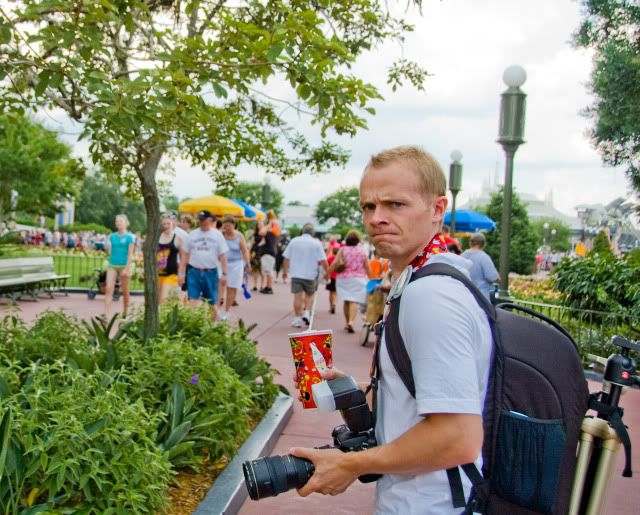 Given all of the food we had consumed, a nap was in order before heading out to the Magic Kingdom. Following that, we headed to the MK, where we rode Splash, Pirates, TTA, Space, MILF, HM, and Splash again before heading to California Grill.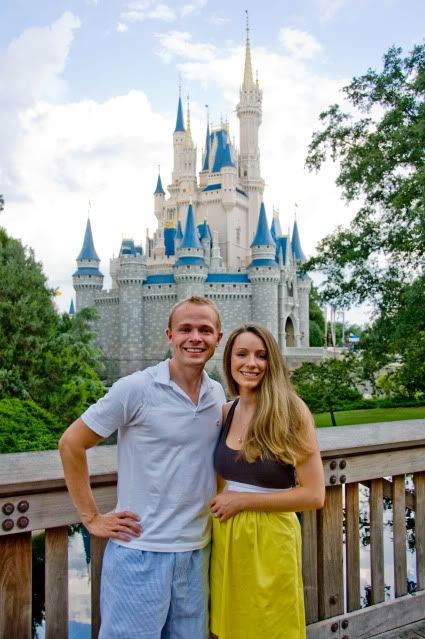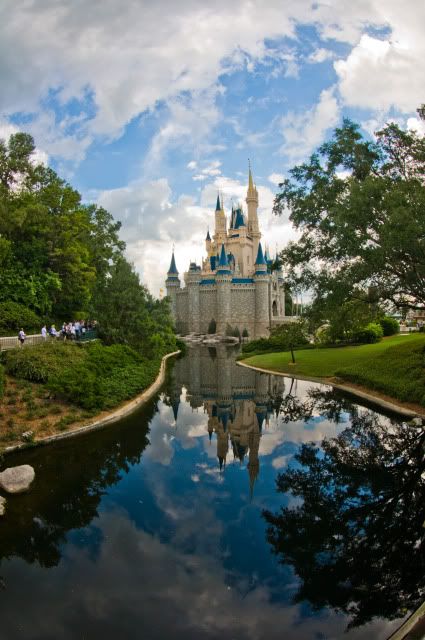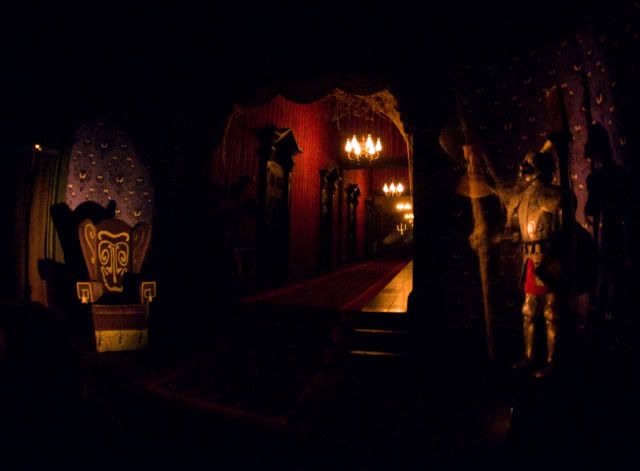 While we were leaving Monsters, Inc. Laugh Floor, we were talking about how good that show is, and how it takes a beating online for, what seems to us, no good reason. The only reasons I see people site are an abstract hatred for the living character initiative, not wanting Pixar in the parks, or it not fitting Tomorrowland. I can't think of many, if any, complaints about the substantive content (maybe my memory is incorrect on this).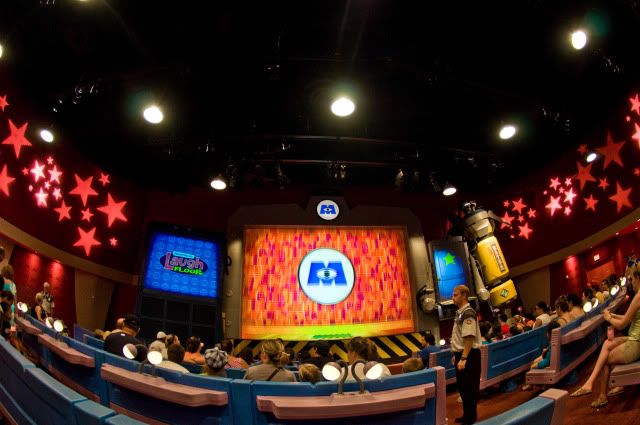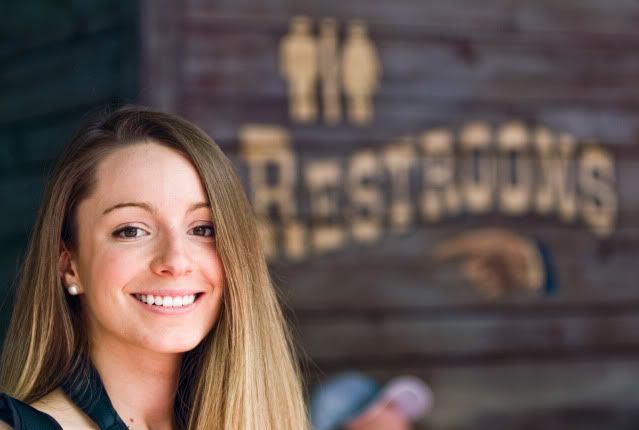 We find it to be one of the most underrated attractions in the Magic Kingdom. It has constantly been tweaked since being introduced, offers a new experience (albeit with overlap) every time, is genuinely funny, and utilizes Disney properties that have bona fide comic qualities. The audience gets a chance to interact and most of the time the shows are fun. I can't think of a time when I didn't laugh during them. Perhaps not all the way throughout, but at least at various point.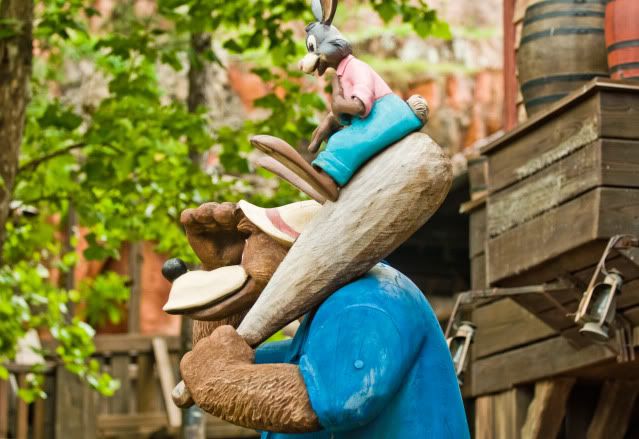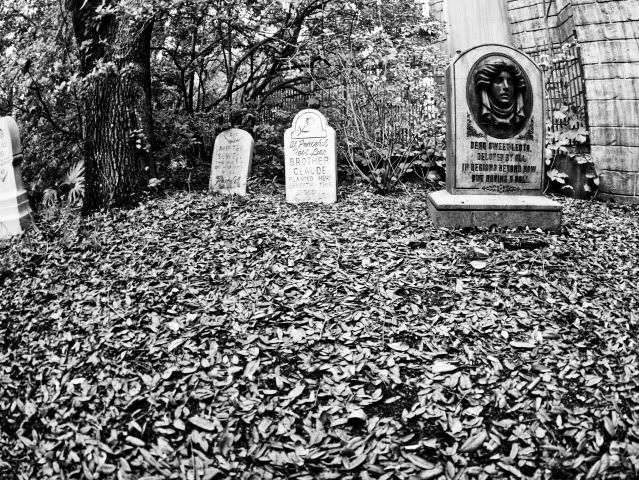 I am probably going to break some unspoken Disney fan code, but we think it's certainly better than the Jungle Cruise. While it may not seem like it at first blush, the Jungle Cruise is a similar attraction in that it's dependent upon the Cast Member's ability to entertain and/or engage the audience. I used to really enjoy the Jungle Cruise: the queue is cool, the pre-ride announcements are funny, and the ride along the way is mildly entertaining albeit incredibly dated (part of me thinks the self deprecating humor is necessitated by the fact that the props are so weak). However, I can't think of the last time we had a decent skipper on the attraction, probably sometime in 2007. Since, we've had over 10 rides with a skipper who was either phoning it in, or simply didn't have the aptitude for the gig. I know a lot of people love the Jungle Cruise, so maybe we've just been incredibly unlucky, but I doubt it. Even if we have been unlucky with the skippers, it also seems to us that the skippers tend to deviate only slightly from the script now, whereas in the past, there were much more substantial deviations (I think). Given that, I think MILF's re-experience-ability is much higher than Jungle Cruise. Plus, it's funnier. Anyway, we couldn't stand around and ponder the relative quality of the attractions for long, as it was time to head for Liberty Square followed by Frontierland.
Our ADRs for California Grill were approaching, and were getting sick of the crowds and heat, so we began making our way from Frontierland to the park exit almost an hour early to see if we could be seated early. As we left Splash Mountain, it began to pour. After the incidents of the previous days, I decided to suck it up and pack a poncho on this particular day. Boy was I glad I did. The only unused poncho Sarah had was a baby blue one that said San Francisco all over it. I figured if it were raining hard enough for me to don the poncho, I wouldn't care what it said. We quickly put them on inside the arcade then began the dash to the exit. The one day of the trip I actually wear shoes, it pours. Sarah was wearing Crocs and was consequently much slower than me. I wasn't about to go her pace, so I would rush ahead to an awning, then wait for her. As I sped ahead near the monorail, I saw a young girl dressed as a princess wipe out in a puddle. That made me a little sad; hopefully it didn't ruin her day. By the time we got to the monorail, both Sarah and I were drenched.
Although we arrived at dinner around 45 minutes in advance, our table was ready very promptly–and this was even after putting in a window request! It was actually ready so early that Sarah had to wait for me for a few minutes while I dried out my shoes in the bathroom. With no hand-blowers in those bathrooms, I'm sure the gentlemen who entered the bathroom wondered what I was doing dancing on my shoes with paper towels scattered about. Despite my best efforts, the paper towels didn't help much.
After the dinner at Victoria & Albert's the night before, the trip was becoming a bit like a Jerry Bruckheimer film: filled with explosions (thanks to the Nightastic fireworks), and way over budget. We determined that we'd reign in the spending a tad by eating light at Beaches & Cream that day, and sharing an entree at California Grill. However, Sarah had the habit of checking our honeymoon registry at various points throughout the trip to see where we stood, and she noticed we had a gift we hadn't seen before: $100 to Cali Grill. It was a total shock to us in more than one way, and we perceived it as a sign that we'd noticed it on the morning of Cali Grill that we should have the meal we wanted to have, not just a scaled back meal in order to take in the ambience of Cali Grill, thus allowing the "Weekend of Deliciousness" to "go down" in full form.
Even with the rain, there is something to be said for a view of the Magic Kingdom from California Grill. The food could probably be atrocious, but with that view, I doubt either of us would notice it too much. I've heard several people say online that the food has gone downhill in recent years at the Cali Grill. Now, we've only eaten there twice, once in 2007 and now in 2010, but we find that hard to believe. The food would've had to have been absolutely off-the-charts amazing pre-2007 for there to be a palpable change. Given those comments, I think it's safe for you to assume we enjoyed our meals.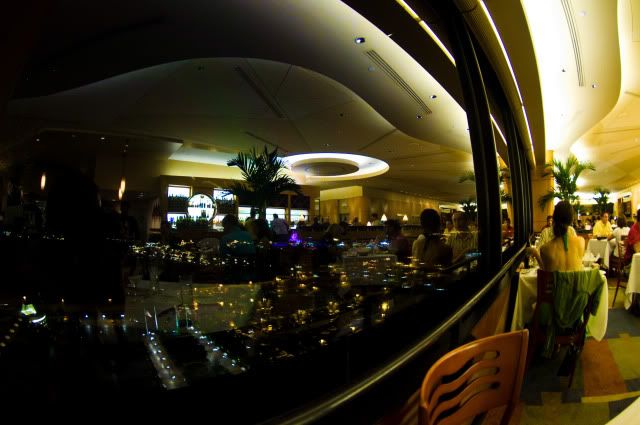 This may look like an uninteresting shot, but look closely–you can see both the MK and the reflections of the inside of the restaurant. Eh, I thought it was somewhat neat.
We started out by splitting the Triple Cheese Flatbread (Pecorino, Asiago, and Provolone with Sun-dried Tomato and Arugula Pesto) as on our previous visit we opted for their (delicious) sushi rather than a flatbread, which had also looked good at the time. It was wonderful. We are both big cheese fans, and we felt it had a perfect flavor combination between sharp and normal. We would highly recommend this flatbread, although the others sounded good as well.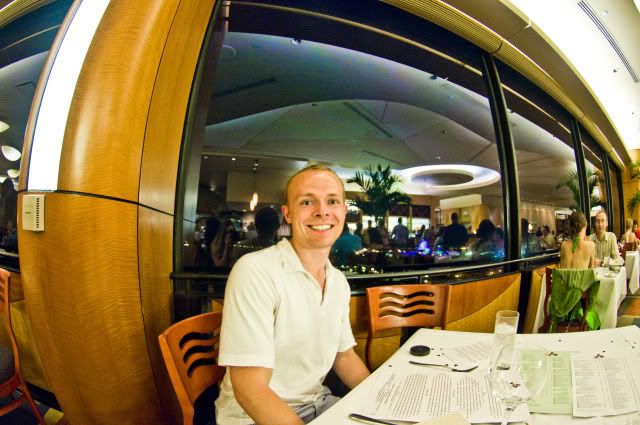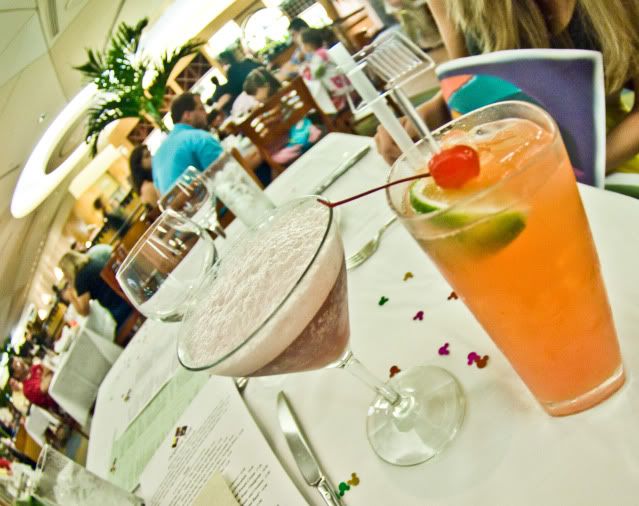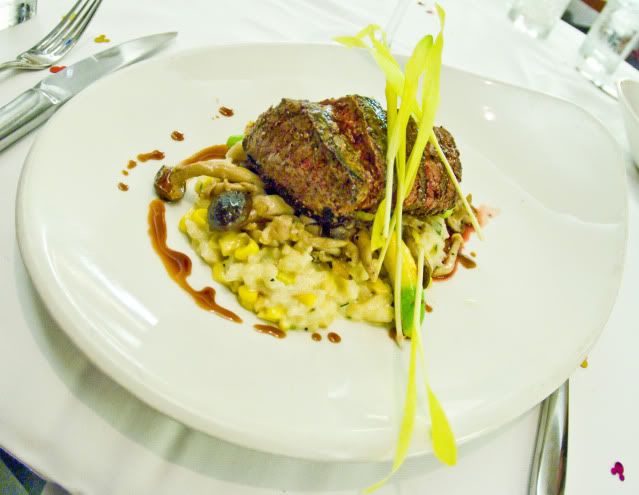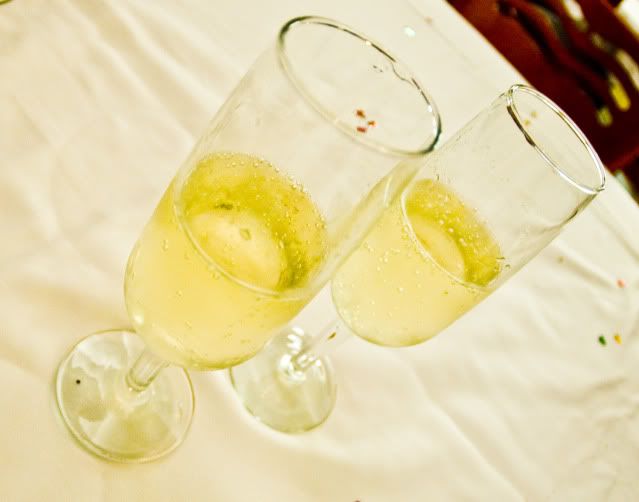 Once again, we were treated to free champagne, compliments of our server.
The rain subsided during dinner, but it was still lightly sprinkling afterward. We took our time, as our waiter informed us that the fireworks had been delayed. We intended upon watching the show from the observation deck, so we waited. At the time, it looked like it might clear up, but I'm no meteorologist, so that was pure speculation. At around 10:15 p.m., I said to Sarah that we needed to make the call: if we waited too much longer, we wouldn't be able to get back into the MK, and would miss any after-hours shooting; however, we might also miss the fireworks during the trip back to the MK. We decided that it was likely that the fireworks would be canceled since they had been delayed so much, so we cut our losses and headed to the MK.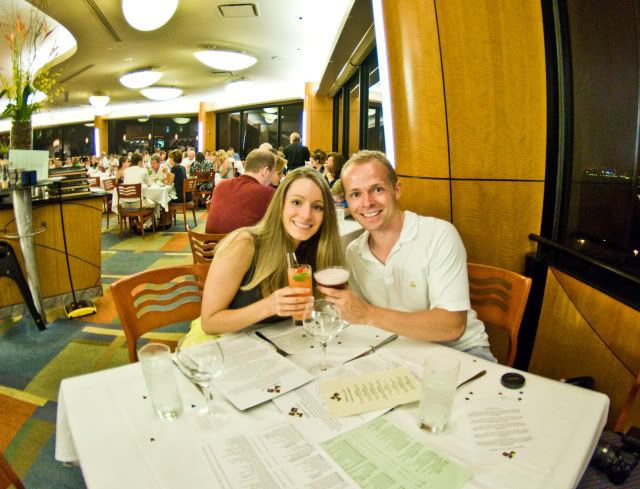 When we arrived, we fought the herd of people exiting (there was only ONE entrance turnstile open…it actually took a while to find), and made our way towards Space Mountain. At this point, no one was even waiting for the fireworks. Their cancellation was a foregone conclusion.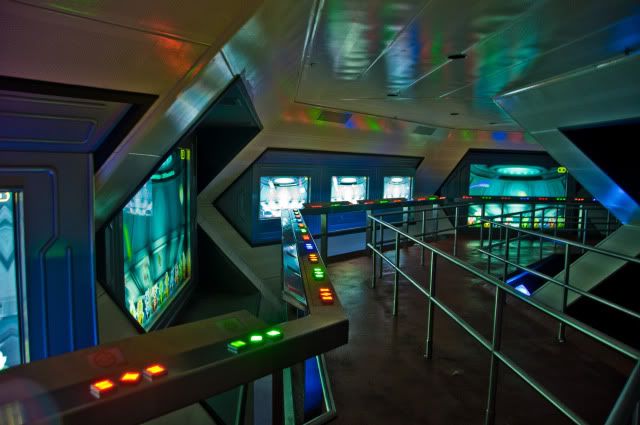 After riding Space twice, it was 11:05 p.m., and thus the park was closed. As we began setting up for our first shot in Tomorrowland, we heard the announcement, "In just 10 minutes, the Magic Kingdom will present the Summer Nightastic Fireworks…"; I looked, wondering if the announcement was mistakenly played. Rather than ponder the question too long, we briskly moved towards Main Street.
There couldn't have been more than 200-300 people still in the park, which mind you, had been closed for 15 minutes, at the point when the fireworks began (I realize this story is already long, so I won't elaborate on how I think this is a huge testament to Disney's incredible guest service; how much did that show cost…and for only that many guests to see it?!). Not wanting to miss an opportunity to shoot the show on an uncrowded Main Street, I set up my camera, improvising a Rain Sleeve from my poncho. Sarah said it was a terrible idea to risk my camera for a few fireworks shots, and it probably was, but after much frustration the previous nights in shooting amongst crowds, I wasn't missing the chance. Thanks to rain getting all over my lens, it doesn't hold a candle to most of my other fireworks shots from the trip, but thanks to the circumstances, I will always remember getting this shot. I realize this is hardly the best shot of the Summer Nightastic fireworks show, but it's special to me for the memory of that particular evening, and for that reason, it is somewhat "perfect"; despite its glaring imperfections.
At the start of our shooting that night, the plan was to just grab a couple pictures of us in front of the Castle with the camera set up under an awning. After we got that shot, the Kiss Goodnight played; at first we were struck by how early this was occurring, but then we realized the fireworks started after park closing and lasted a decent amount of time, so by the time the fireworks were done, it was nearly a half-hour after closing. Right as the Kiss Goodnight started, a light bulb went off. I often have people ask me what the Kiss Goodnight is when I allude to it here or on Flickr posts, and I usually just refer them to crumby YouTube videos. I had a tripod mounted DSLR capable of HD video, so why not record it myself? So I recorded it! (I'm not much of a videographer; this was like the 3rd time I've even used the video feature of the camera despite having it for over a year and a half. Suffice to say, the quality isn't quite what I was hoping, especially sound-wise).
After the Kiss Goodnight, we decided to head up in the Castle's tunnel to take some pictures, and then headed to Main Street. Most of the pictures are lousy because the lens either got some water on it or because we look like crap from the rain. Around this time, we noticed that the rain had pretty much stopped, so we decided to take some more pictures. We also heard the second Kiss Goodnight start, so we paused to watch that as the camera recorded it. This version was even worse because we were much further from the Castle, so the camera didn't pick up the sound nearly as well. Maybe someday if I get bored of photography I'll take up videography; one thing is clear: I currently suck at it.
Of course, right when the rain completely stopped, it was time to go. When we arrived at BoardWalk, I mentioned to Sarah that we had yet to get any pictures of us down on the BoardWalk at night. It was the worst possible night to do it of any on the trip, given that we both had gotten soaked and were exhausted, but the water on the wood made the pictures look a little more interesting. Sarah went up before me to get ready for bed as I took a few more pictures. As I left I turned and gave it one last look. I was really going to miss this place; it was easily the best resort at which we'd ever stayed.
Join us for Part 2 of 3 in our Walt Disney World Honeymoon trip report. To view Parts 1 and 3, please visit our Walt Disney World "Disneymoon" trip report index page.
Did you enjoy this Walt Disney World trip report installment? If so, please share the post on Facebook with a "Like" or "Share" through the buttons at the top of the post, on Twitter by clicking the "Tweet" button, or by sharing it through the random assortment of buttons below! As always, please leave your thoughts about this post in the comments!