Disneymoon Trip Report Pt II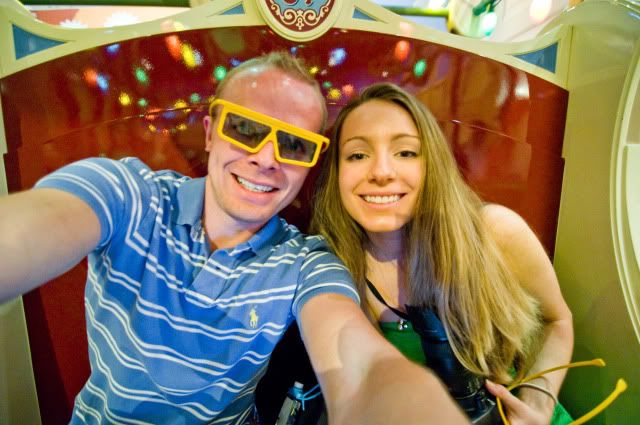 The next morning was another shotgun start. Set to start the morning at the Studios, we boarded a boat roughly 20 minutes prior to the 9 a.m. park opening. We got to the Studios about 5 minutes before opening, made our way through the turnstiles, and did the "TSM Dash" with the other early risers. We rounded the various corners of the Studios, guided by Cast Members who prevented us from taking the correct short cuts to gain advantage over the masses.
When we neared the entrance, we saw they were stacking the queue, and that the line to get FastPasses was already 10 minutes long. Sarah and I had never experienced stacking with TSM, but we decided to play it by ear, with Sarah getting in line for the ride, and me getting in line for FastPasses.
We agreed that she'd drop out of line if she got inside (as I didn't think it right to push my way through the queue, only join her if it meant not going through the queue, if that makes any sense). I watched as she got closer to the entrance, getting impatient as parties in front of me struggled with the FastPasses. I finally got mine and headed to the queue meeting Sarah with only about 10 people between her and the entrance to the building.
We had done TSM through the actual queue only once before, so it was nice to be in there (with a fast moving queue) to see Mr. Potatohead. It was fun although disappointing that we couldn't get a picture together with the AA. I think in the future we will always carry a point and shoot around to give to strangers that we ask to take pictures of us.
We've occasionally asked with our DSLRs, but usually people unintentionally mess up the shots (through no fault of their own, obviously). The ride itself…eh…we won't go there. I will just say the outcome of the ride was not what I was hoping. Sarah was not very gracious about it, either.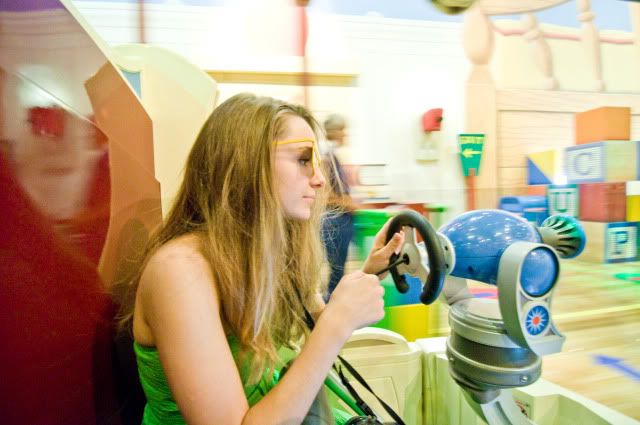 I couldn't sulk for long, as it was time to check-in at the Hollywood Tower Hotel. One of my research tasks before this trip was to figure out what Twilight Zone (original series) easter eggs were littered around the Hotel. It's one of my absolute favorite TV shows, so I was really hoping to capture some of the nods. We found a few, but I really only got a good photo of the glasses Burgess Meredith wore in the episode, "Nick of Time" (one of my very favorite episodes). When editing, I decided to give some of the shots an ultra-contrast, high-noise look. I think it suits the theme well; it gives them a bit of an edge. What do you think?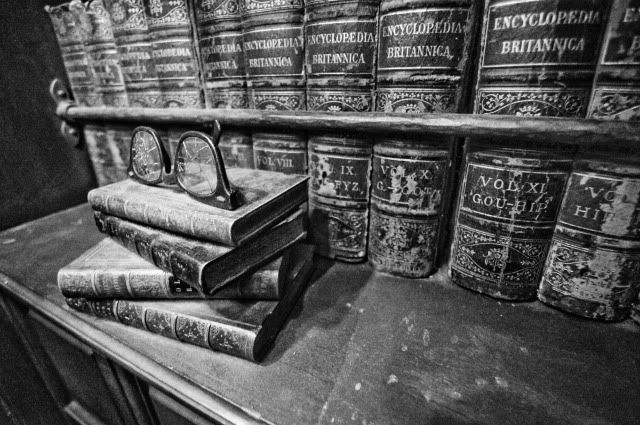 After a couple rides on Tower of Terror, I went to see if I could get FastPasses that would be ready soon for Rock 'n' Rollercoaster so I could go on the attraction. Sarah didn't want to go because the ride makes her a little queasy, and she didn't want to get sick before our big meal that evening. The FP wait was past the time we expected to stay in the Studios, so I aborted the plan, and instead got ToT FastPasses. During this time, Sarah was picking up delicious breakfast for us. Although they are really expensive, in my opinion, for what they are, the bagel/egg/sausage breakfast sandwiches are wonderful. I honestly think I could have the picture below as my desktop background and just stare at it all day. Not only because I enjoyed the sandwiches so much, but also because it would remind me of that morning at the Studios, which was a pretty good one for us, partly because it was highly efficient.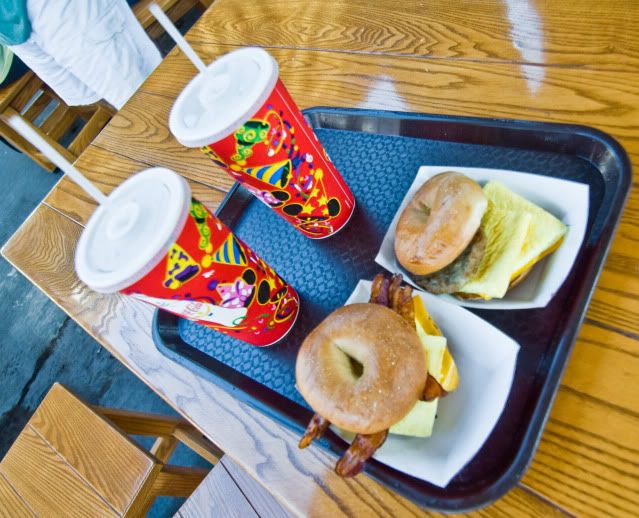 After breakfast it was time to use our TSM FastPasses. Although I was again displeased with the results, even that couldn't put me in a bad mood. At that point, we could have gotten in line for another one of the headliners, but we decided we didn't have enough character pictures, so we'd meet the new Toy Story 3 character who was in the Animation building. We were meeting him on the day the film opened, which I thought was sort of cool, but then again, I am lame like that. We waited in line 30 minutes, but it was worth it. I am a bit embarrassed to say that almost two months later, we still haven't seen Toy Story 3. The worst part about this is that we have two free passes to see it. Maybe if I didn't have to work tirelessly to type up a trip report to appease hoards of angry posters on a Disney forum we would have seen it by now. 😉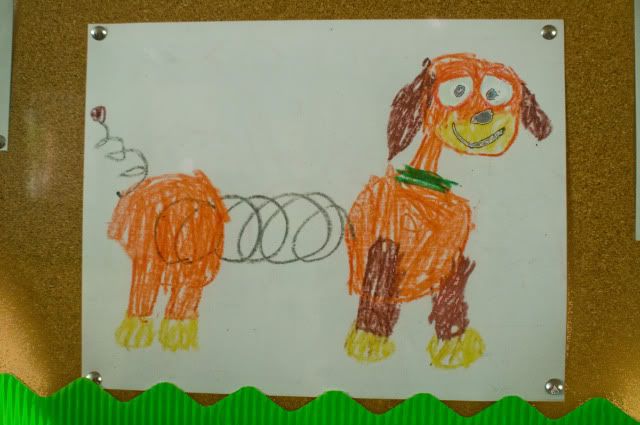 All Day I Dream About Dachshunds…
I love that they have indoor Meet & Greets in the parks, but one thing that I hate about these locations is that, despite them being permanent locations, the lighting is always atrocious. This is something about which I would think most people would care, especially from the perspective that they won't buy PhotoPass pictures if they (the people) look lousy in the pictures. A softer light wouldn't have an increased cost, and it would make a huge difference. I don't know why normal incandescent lights are used in those locations. Not a big deal to me because I can fix it to a degree in Photoshop, but I know Disney isn't doing this to its PhotoPass pictures, nor are most people who take the pictures themselves.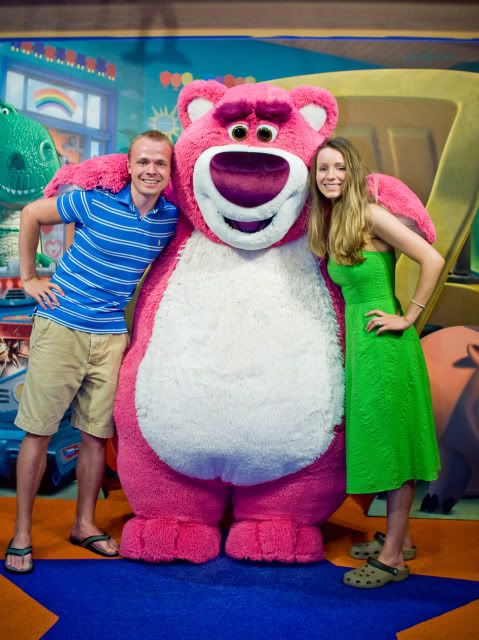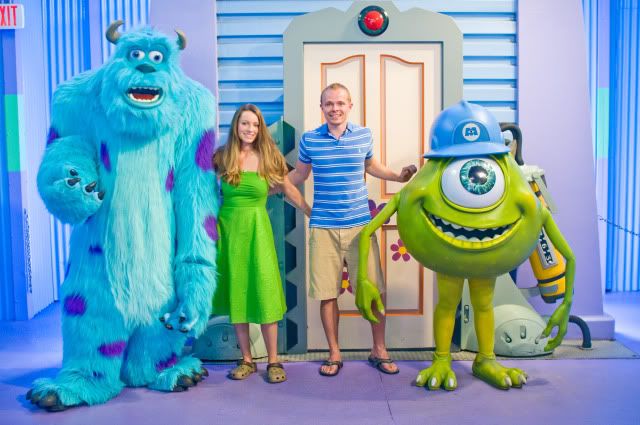 Next stop, Monstropolis! Here, the lighting was actually pretty good. We had wanted to meet Mike and Sully the other day, but they went in early when it started to rain (even though their location is under cover). The wait time was much better here, only taking about 5 minutes. This was another Must-Do for us on this trip, so I'm really glad we caught them. Back at their old location (near the Commissary), the lines would frequently exceed an hour. In the new, somewhat off the beaten path, location, I doubt the line ever gets that long. Following that, we made another stop at Pizza Planet, where we split a pizza. We didn't want to fill up in any way that might be harm our appetites for dinner. We had our FastPasses for another ride on ToT, but we decided two rides was plenty, and that a little more rest would be better, so we headed home. We were in the park from 9 a.m. until 12:08 p.m., during which time we rode TSM twice, ToT twice, ate breakfast, and met three characters. Not too shabby for three hours. We were both very happy. Back to the resort we went to rest for a few hours before dinner.
There are multiple pages in this Walt Disney World trip report installment. Navigate to the next page below!