Epcot Food And Wine Festival Seminar Reviews
With the 2013 Epcot Food & Wine Festival country booths soon to be announced, as well as celebrity presentations, Eat to the Beat concert performers, special events, and seminars, a lot of you are probably wondering if Epcot's International Food & Wine Festival is worth your time. Let me answer that question for you, with a resounding YES!
In addition to the snacks found at the country kiosks throughout World Showcase (click here for our top picks), one of our favorite things about Food & Wine Festival is the seminars (although we've never done the special events or celebrity chef-prepared meals). Certain seminars are free, although there can be long waits for these seminars due to locals with nothing better to do on a weekend than wait in line (sorry locals, not a knock at you, my weekend time at home isn't that valuable, either.) By contrast, the paid seminars don't have lines, and for around $11-13 each this year, they offer terrific value and a much better use of your biggest resource on vacation: your time. To give you an idea of what to expect from each type of seminar, read these reviews from past year's seminars. While these exact seminars will not be offered this year, seminar value is fairly consistent.
Free Event – Sam Adams "The History of Beer in America"

Based on comments I had read online that the free seminars often attracted ridiculous wait times or can be little more than glorified advertisements for their sponsors, I was a little hesitant to give "The History of Beer in America" a try. However, the Sam Adams Festival beer that we purchased was (surprisingly) so good that we decided to go to this seminar held at the American Adventure Pavilion.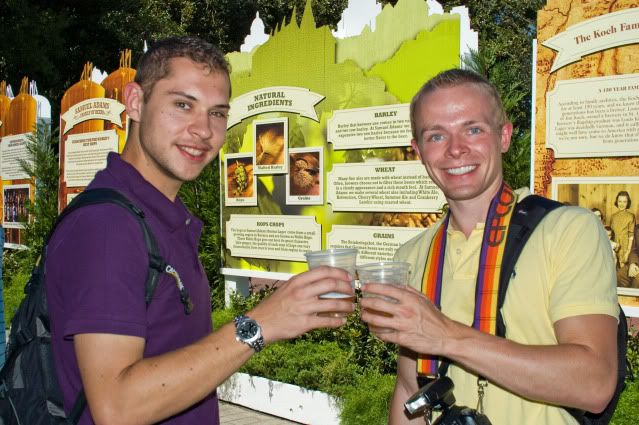 One of my concerns proved untrue. Perhaps we just got lucky, but we arrived in line only about 10 minutes prior to the seminar starting, and were seated within 5 minutes. We could have arrived 5 minutes later and still have been seated. The seminar was very interesting, albeit a blatant advertisement for Sam Adams beer. It might as well have been called, "The History of the Boston Beer Company and its Founders." This wasn't a terrible thing, as I went in expecting a somewhat sanitized version of the actual history of beer in America, but it would have been nice for a little more objectivity.
The samples were good, though, although I would have preferred something to replace Sam Adams and Sam Adams Light–the other two choices were fine. I realize the sponsor of the seminar wants to get 'bang for its buck' in giving out samples and in sponsoring the event to begin with, but I would have preferred a seminar without free samples that was a little more objective. Not that there was anything wrong with the seminar, I don't mean to sound down on it, as it was incredibly fun and interesting–but as with many things, there is room for improvement. We actually had quite a bit of fun there, but not nearly as much fun as we did at the bourbon seminar. I can definitely say that I would have paid $13 for a seminar that was objective and presented a few craft beers from different regions of the US.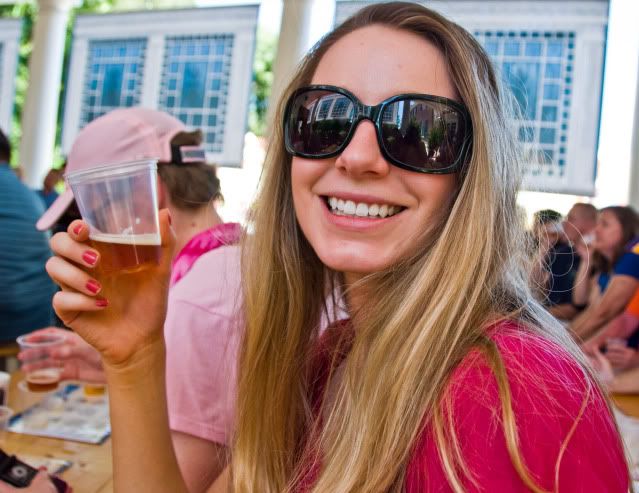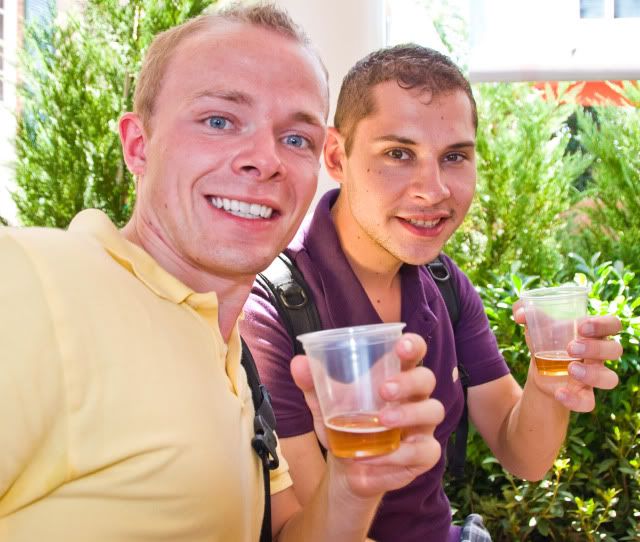 Paid Seminar – Bourbon Tasting Presented by Jim Beam
After the rousing success of the Sam Adams seminar, we decided that the insignificant investment in one of the paid seminars would probably be well-worth the cost. Tickets for this seminar were $11 (at the time, tickets were $8-11 per seminar, as opposed to $10-13 this year).
We arrived at the Wonders Retreat (or as old farts like me call it, The Wonders of Life pavilion) late enough that we didn't have to line up in advance (we noticed earlier when we were at the Wonders pavilion that many people were lining up far in advance for these ticketed events. Since only as many tickets were sold as seats were available, I'm not sure why. For the best seats…I guess?), and we got decent seats. I didn't really care about where we sat–as long as we could hear the presenter, I was fine, not like he's some celebrity that I really care about "seeing".
However, I think Sarah might have thought otherwise, as he was quite the sight. Your typical tough guy, fairly buff and well groomed, but with a couple interesting twists. First being that he had several bourbon tattoos. Okay, that's not unexpected given his occupation. Plus, a thick white belt encrusted with jewels. Maybe style is different in Kentucky, but that is not what I would have ever imagined a tough 'bourbon-man' would be wearing. But, to each his own, and this definitely has absolutely nothing to do with the quality of the presentation. I just thought it bore mentioning for some reason.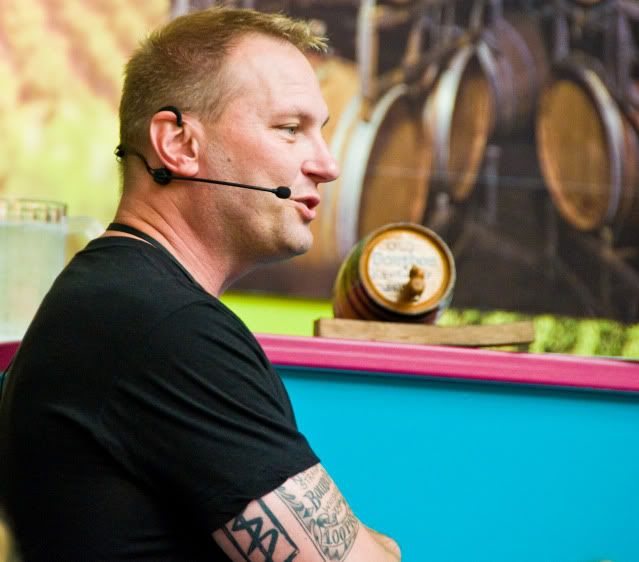 The substance of the presentation was nothing short of excellent. I have never been too big of a fan of bourbon, but this captivating presentation, laced with humorous digs at Kentucky's education system and statements of his 92 year old grandfather's love for bourbon (he drinks a quart per day!), made me excited to try the different samples and see if I could pick up on the differences. Then, reality set in when that warm bourbon hit my tongue, and I realized how disgusting I found bourbon to be. I could taste all of the flavors he discussed in the presentation, which was a really awesome feeling and made the seminar all the more valuable to me.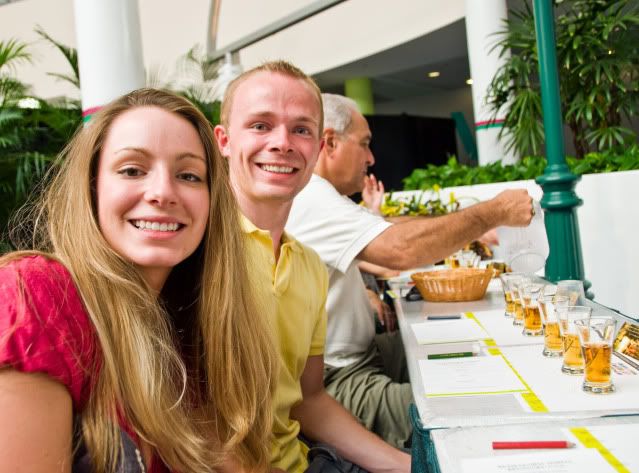 However, the two important flavors he omitted, those of "burning" and "stomach churning", were the most important. Still, all in all it was a very informative and interesting seminar. It just wasn't up my alley. Although there were some plugs for Jim Beam, it was far less blatant, at least in my opinion, than the Sam Adams seminar. It was a great lesson in the rich history of bourbon, along with plenty of tips for tasting. The educational component (although I'll probably never need to know anything about bourbon), as odd as it may seem, really hearkened me back to the classic EPCOT Center and its mission for the first time in years. I was learning, albeit about bourbon, and being entertained at the same time. Honestly, I felt a real sense of edutainment!
Overall, both seminars were fun, but I'd give the clear edge to the bourbon seminar, even though I prefer beer by a wide margin. The Sam Adams seminar, while fun, definitely felt like it was "free." As the saying goes, there's no such thing as a free lunch, and you pay for it being free by hearing a strong dose of advertising with your seminar. If, on top of the advertising, the line for this seminar would have been long (as I've heard frequently occurs with the free seminars), we wouldn't have been too pleased. Even though the $10-13 price can add up if you attend multiple events or have a large party, the cost is definitely worth it. This is especially true if you'd otherwise be purchasing items at the Food & Wine Festival booths. From our experience and what we've heard, you get more "samples for your buck" at the seminars than you do at any of the stands, by a pretty substantial margin. More importantly, your vacation time is incredibly valuable, and paying a bit of a premium for these seminars is a smart move.
Your Thoughts…
If you've been to Epcot's International Food & Wine Festival, did you like it? Do you feel it was worth the money you spent? Planning on visiting during Food & Wine Festival in the future? Share your thoughts in the comments!
Read our Walt Disney World restaurant reviews and Disney Dining Plan resources.