Hungry Bear Restaurant Review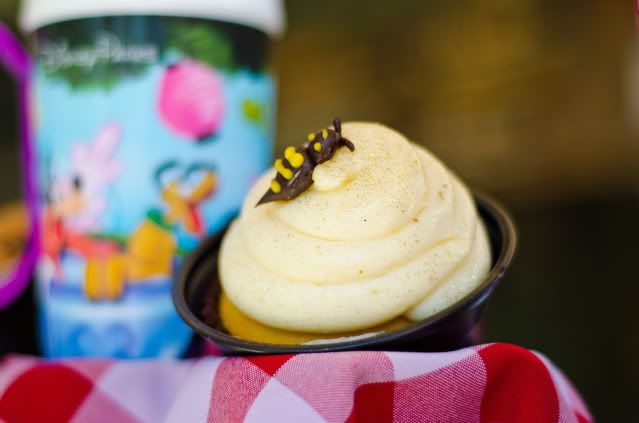 Hungry Bear Restaurant is a counter service restaurant in Disneyland's Critter Country that serves a variety of foods, from healthy options to comfort foods. Thanks to an excellent entree and dessert menu and its beautiful view out over the Rivers of America, it's one of our favorite counter service restaurants at Disneyland Resort. We've dined here several times, and love everything about the place, including its theming to one of my favorite Walt Disney World attractions, the Country Bear Jamboree.
Each of our meals at Hungry Bear Restaurant has been delicious. This review of Hungry Bear Restaurant will cover several of our meals there. The first time we visited Hungry Bear Restaurant after its big refurbishment and new menu, I decided in advance that I was going to go way out on a limb there, and try the Fried Green Tomato Sandwich, which was a huge departure from my normal fare because it didn't contain meat.
While I will experiment with my food, I am an unabashed carnivore, and will not try a vegetarian plate, no matter how good it may otherwise sound. In fact, I was so confused as to what one of these "vegetables" things might look like, that when I initially received a chicken sandwich by mistake, it actually took me biting into the sandwich to realize that it was not what I had ordered.
My first Fried Green Tomato Sandwich was okay. It honestly didn't quite live up to my expectations (I had heard really good things about it), but it was still better than a lot of Disney counter service dishes. I think part of the problem was that I had set my expectations for it a bit unreasonably high. Plus, it was a bit odd biting into a sandwich and not tasting a delicious animal in there. The fried green tomato itself was a bit too small, there was too little dressing, and the multi-grain bread a bit too dry. Otherwise, the condiments and vegetables on the sandwich were abundant and seemingly fresh.
I've tried this more recently on a few occasions, and am happy to report that it was much better. There was more flavor thanks to a better mix of dressing and fresh vegetables, and the fried green tomato was larger. It has really grown on me over time, to the point that relaxing on the balcony eating a Fried Green Tomato Sandwich while looking out on the Rivers of America at sunset is one of my favorite ways to relax at Disneyland.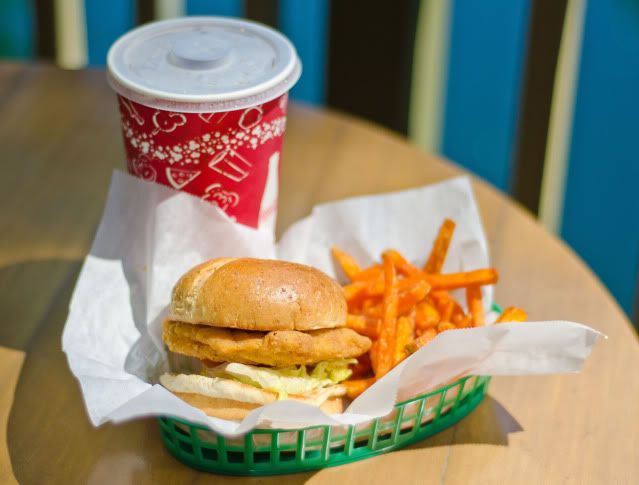 On other visits, I've also ordered the chicken sandwich, which was a good option, especially for counter service. It's something I'd definitely order again (and obviously did, given that I had it twice on the trip). It's nothing overly amazing, but good nonetheless, and the real star of Hungry Bear Restaurant, in my opinion, is its location, desserts, and ambiance.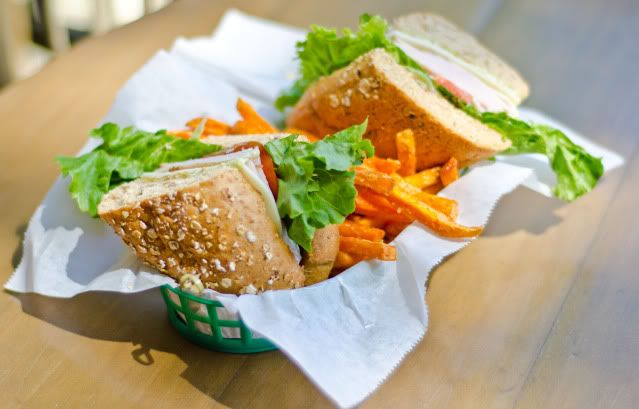 Sarah got the Turkey and Provolone Sandwich on each of our trips, as she enjoyed it so much the first time that she didn't want to deviate from a successful choice. It's not the type of thing I order at Disney given that it seemed like "just a deli sandwich," but I will admit that it tasted quite good. I'd rather have something a bit more complex, and I think if you can't make a decent turkey sandwich, something is wrong. That's just me, though, and I definitely can understand the desire to go with it given that it is relatively healthy, and does taste pretty good.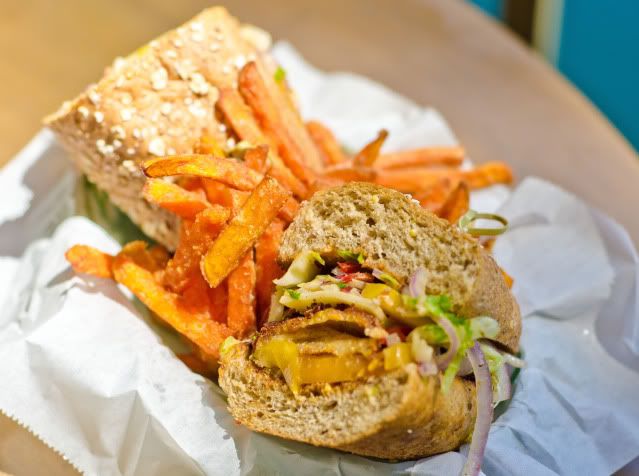 Most dishes at Hungry Bear Restaurant are accompanied by the sweet potato fries. I'm not a fan (our long national nightmare is over, as you can now get regular fries here again). Thematically, I think they work well here, but Disney is introducing them everywhere, so it's not a matter of theme, it's a matter of them being trendy.
Sweet potato fries are marginally better for you than regular fries. However, to offer them as the only fry-like option is a bit disappointing, given that they don't have broad appeal. I think if Disney is going to offer unique menu items–and it absolutely should–it needs to offer balance. That said, if it's a matter of offering only conventional foods or a bit more unique options, I would much rather have the unique options. I think a mixture of the two is the best business model, and I have to believe the kitchens at issue here are large enough to accommodate both, but what do I know.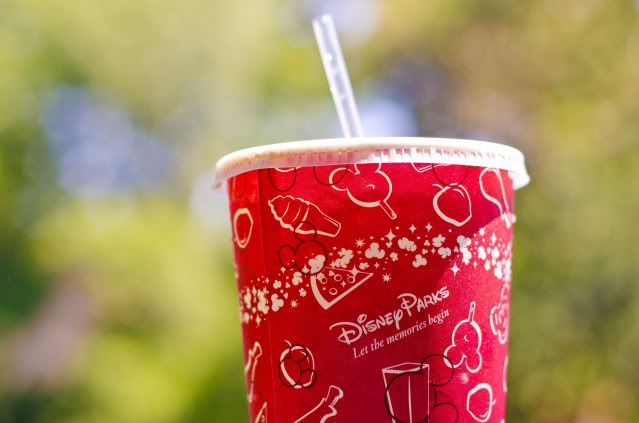 In advance of the trip after seeing it featured on the Disney Parks Blog, Sarah had her mind dead-set on one of the Lemon "Bumblebee" Cupcake; she was actually reasonably excited about it. Once we saw it in person, there was good cause for this. It was huge, and looked very well prepared. It actually looked like it would be worth the $4.99 price tag (but honestly, we would have bought that sucker if it were $29.99, given the hype we built for it in our heads).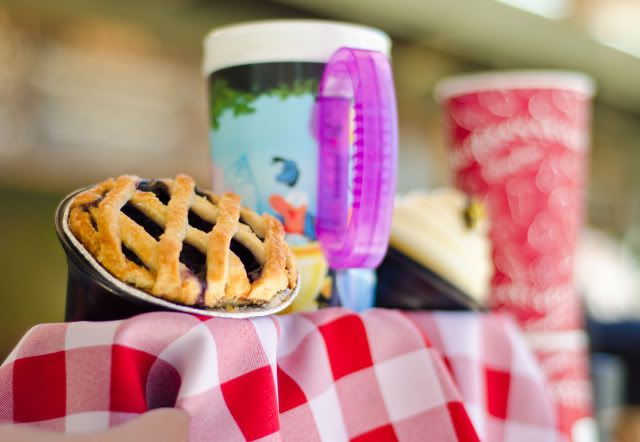 While the entrees at Hungry Bear Restaurant are 'merely' above average, the desserts are the runaway stars of the show. On our trips, we got the Lemon Cupcake twice and the Mini Bluberry Pie once. Both were out of this world. I thought the cupcake was large-enough for us to split, but I think Sarah had other plans, asking why I didn't get my own. I said I would just eat any of it that she didn't want, if she didn't want any.
Sarah didn't up not eating a fair portion of the cupcake, even though she said it was absolutely delicious. And it was absolutely delicious. Moist, rich but not to the point that you can only eat small portions, and most importantly, balanced in flavor. This last one was big for me. All too often lemon flavors are too strong, and are overbearing on any supposed complimentary tastes. Here, the lemon was understated with a honey-vanilla taste, and was a perfect pairing with the chocolate of the cupcake itself. This cupcake is the stuff legends are made of.
More recently, Disneyland has added Trixie's Pie to the dessert menu at Hungry Bear Restaurant. This dessert is incredible–so good that it recently made our "Top 7 Disneyland Counter Service Foods" list. We highly recommend this, but it's a very rich treat, so you'll probably want to split it!
Overall, I think counter service seems to be improving at Disneyland. The new Hungry Bear menu is excellent, and the menus at Trader Sam's, Tangaroa Terrace, and Village Haus all look excellent. Yet people still constantly knock Disneyland Counter Service food.
People just like to complain about things, and Disneyland CS food has a bad stigma based upon the last however many years. With regard to most CS restaurants, that stigma is simply untrue. I think part of the problem is that people want something to turn their noses up at: "Fast Food? I only eat at Napa Rose and Club 33." Certainly the latter restaurants are better, but I don't see why people can't appreciate things for what they are. Disneyland's "fast food" is very good, and there's no reason to knock it.
To compare it to more expensive fare is ludicrous, and is along the same lines as comparing the Storybook Land Canal Boats to Pirates of the Caribbean. They're a different experience: enjoy each of them on their own terms. Not every attraction is going to be an E-Ticket; likewise, not every restaurant is going to taste like a $50/plate steakhouse. I know there are those out there who would rather eat at some chain on Harbor to save $4, but I'd much rather spend the extra $4 and remain in the "Disney bubble," and enjoy the themed Disney ambiance. I'm sure it's not the same for day-trip AP holders, but that's my philosophy.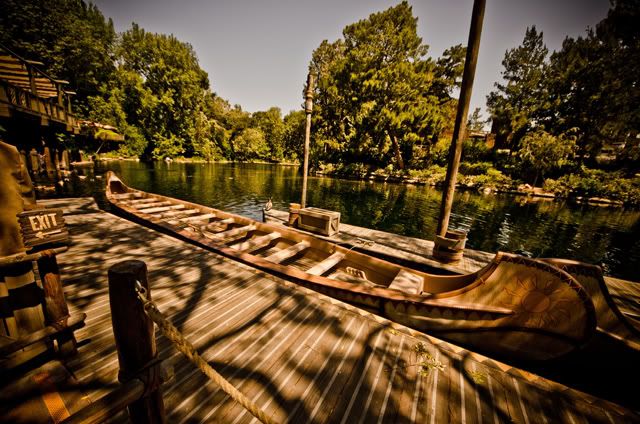 Overall, Hungry Bear is an interesting creature. It's one of those places where the end is greater than the sum of its parts; individually, the entrees are not all that amazing. They are good, to be sure, but not knock-your-socks-off amazing. Couple those good menu items with the phenomenal desserts and secluded ambiance, and Hungry Bear is a real winner, if not the best counter service option at Disneyland. If this will remain true once we try the other recently opened restaurants remains to be seen, but for now, it's an excellent option, and is not to be missed.
As for figuring out the rest of your Disneyland trip, including how to save money on Disneyland tickets, our Disney packing tips, whether you should stay off-site or on-site in a Disney hotel, where to dine at Disneyland & Disney California Adventure, and a number of other things, check out our comprehensive Disneyland Trip Planning Guide!
Overall Score: 9.5/10
To read other Disney restaurant reviews from Disneyland Resort, organized by location, check out our Disneyland Dining Reviews Index.
Your Thoughts…
Are you a Hungry Bear Restaurant fan, or is it not among your favorite locations? Share your thoughts in the comments!