Sanaa is an African-inspired restaurant with Indian flavors in Kidani Village at Disney's Animal Kingdom Lodge in Disney World. Sanaa has gained recognition as one of my top Walt Disney World table service restaurants. Seriously, check the wall, I mailed them a certificate of achievement. It should be hanging up. Sanaa is definitely out of the way, as it's nestled back in the already-secluded Animal Kingdom Lodge.
Sanaa can be a cheap place to eat depending upon what you order, but it's also one of the best values for using Table Service Disney Dining Plan credits if you order the right items. That means the item ranges pretty greatly in price! Sanaa participates in the Disney Dining Plan, and also accepts the Tables in Wonderland card for 20% off.
Sanaa has a really unique menu–so unique that it seems to scare away some potential patrons. Do not let its menu dissuade you from eating at Sanaa! As with a lot of menus, I think a lot of the descriptions are puffery. Many of the items here are unique, but some of the descriptions of even more standard items make them sound exotic, when that isn't necessarily the case.
For example, if you enjoy more conservative meals, you may see the heading, "African Cooking with Indian Flavors" and dismiss-out-of-hand everything within that category. If you look a little deeper, you'll see one of the items is a N.Y. Strip Steak. While its preparation with Chutney may not be the most conventional, a good steak is a good steak, and from what I've heard, this is an excellent steak. Just about anyone, regardless of their culinary-adventurousness, should be safe ordering this steak.
Here's a look at some of our favorites from Sanaa…
Each time we've dined at Sanaa, we've received great and very attentive service by the staff (it's rarely crowded). On our honeymoon, we received complimentary champagne, and when we last dined at Sanaa, our server brought out a complimentary Indian Bread Service.
Bread is something I would not typically order as an appetizer because most restaurants provide reasonably decent bread complimentary, but this bread has me re-thinking that position. The bread was amazing, unlike anything I've had at Walt Disney World. It was even better than the Le Cellier pretzel bread! The sauces, particularly the Cucumber Raita, were similarly delicious. This is arguably the highlight of a meal at Sanaa.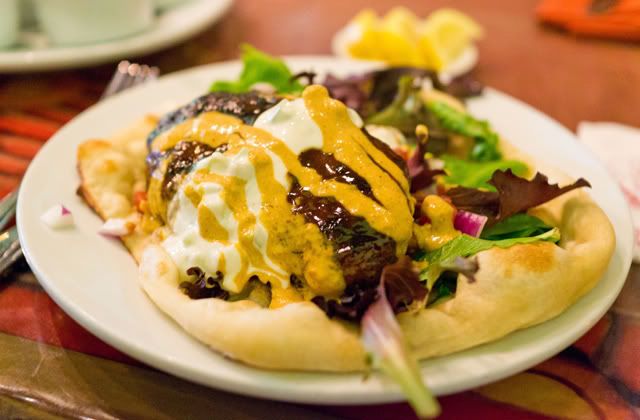 My favorite dish at Sanaa is the lunch menu's Grilled Lamb Kefta. This consists of deliciously grilled lamb and the out-of-this world Cucumber-Yogurt Raita. It's a bit messy, but just think of yourself as a zebra devouring a wildebeest! (One of these is the predator to the other, right? My animal knowledge is a bit lacking…)
At only $12.49, this Kefta was only a bit more expensive than a Quick Service meal, and it was decidedly more delicious, filling, and unique!
Sanaa's menu is very unique, and may not be for everyone. There have been a couple of times there when I've thought a particular item didn't sound so appealing, but after tasting it, I discovered it was excellent. I would hazard a guess that I could randomly order an item from the menu and would enjoy the cuisine. If you're willing to deviate a bit from the traditional Disney dining menus, you might consider giving Sanaa a try.
One of the experiences that intrigues me at Sanaa is the opportunity to "Dine with an Animal Specialist." This is a 4-course meal with an animal specialist during which the specialist explains some of the "secrets of the savannah." Not many more details than this are known, but I'd imagine it's comparable to Dining with an Imagineer.
I'd rather dine with an Imagineer, but if you're really interested in animals, or have a child who dreams of this line of work, this might be a great experience. More details can be found here.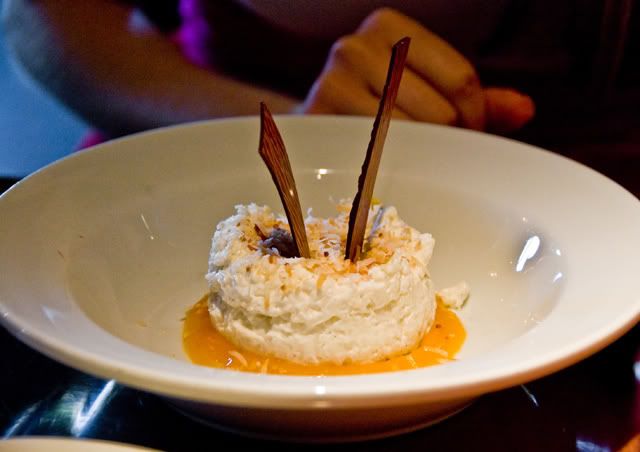 Overall, Sanaa is one of the newer Walt Disney World restaurants, along with The Wave, that despite its excellent cuisine, hasn't developed a real following and has actually had some trouble filling tables. I hope this improves so the menu isn't dumbed down, as it's presently one of my favorite places to eat at Walt Disney World, and probably the restaurant that is the most adventurous at Walt Disney World menus. It combines great cuisine with great prices and great views (second perhaps only to Coral Reef if you're a wildlife lover) into the unnatural/natural Disney World. I would consider it a must-visit for any Walt Disney World guest, and not a place that should scare away non-adventurous eaters. There truly is something on the menu for everyone, even if it takes examining the menu a bit closer.
Planning a Walt Disney World trip? If you're interested in learning more about hotels, our Walt Disney World Hotels Reviews page is a good place to start. If you want to save money on tickets or determine which type you should get, read our Tips for Saving Money on Walt Disney World Tickets post. Our What to Pack for Disney Trips post takes a unique look at unconventional things you should take on your trip. Once you arrive at the parks, our Walt Disney World "Ride Guides"are great for determining what to do and when to do it.
Want more dining tips? Check out our 101 Delicious Walt Disney World Dining Tips. If you are planning a Walt Disney World trip, make sure to also read our comprehensive Walt Disney World Trip Planning Guide to make the most of your experience!
To read other Disney restaurant reviews from Walt Disney World and dining resources, check out our Walt Disney Dining Reviews Index.
If you enjoyed this post or found it helpful, we would really appreciate it if you would share this post via social media, or leave a comment below. We put a lot of work into making this blog a helpful planning resource, and hope it's useful to you! 🙂
Your Thoughts…
Do you enjoy the diverse menu and ambiance of Sanaa? Which menu items are you favorites? If you're not a fan, post why. If you have any other questions or comments, share them in the comments.