Star Wars Land Construction Update
Star Wars Land construction is coming right along and we have a Summer 2017 progress report with photos of the progress taken on May 30, 2017 at Disneyland. Both the Millennium Falcon and Stormtrooper Battle Escape attractions have significant vertical progress, and the construction site is quite active.
While it's still too early to tell, we think a Christmas 2018 soft opening remains in the realm of possibility. If both Star Wars Lands are going to open in 2019 (as Disney has announced), it seems likely Disneyland's Star Wars Land will have a longer soft opening period beforehand.
We don't know when within 2019 the lands are supposed to open, but Summer 2019 would make sense as the target. With Disney's Hollywood Studios' construction now also going vertical, we can better-compare the two projects based upon where Disney's Hollywood Studios is now, and when Disneyland was at that point…
When comparing current photos of Walt Disney World's progress to Disneyland 'archive' footage, it looks like the DHS Star Wars Land is about 3-4 months behind Disneyland's Star Wars Land. Assuming a Memorial Day Grand Opening, with soft openings beforehand, that would put Disneyland's soft opening around December 2018 or January 2019.
Now, it's certainly possible that Late 2019 is the actual target date, or that Disney's Hollywood Studios will catch up, especially now that construction has wrapped on Pandora – World of Avatar (and, more importantly, the costs of construction there). Disney could choose to kick the DHS project into overdrive to get the two Star Wars Lands opened simultaneously.
To me, that seems unlikely. Observationally, it does not appear that Star Wars Land construction at Disneyland is progressing at a leisurely pace, and although I'm about the exact opposite of a construction expert, I question whether Disneyland's pace even could be sped up.
All of that coupled with the recent issues with heavy crowds at Disneyland make me wonder whether Star Wars Land at Disneyland will have an extended soft opening period to ease crowding when Star Wars Land officially opens. This is a problem Walt Disney World won't have (to the same degree) as DHS is better poised to absorb crowds.
There are already whispers of paid previews for Star Wars Land (on both coasts), and this seems very plausible. The last time Disneyland Resort did paid previews was for Cars Land, and they were extremely successful. Despite Disney charging $75 per ticket (which you've gotta figure is like $200 in 2019 dollars given Disney inflation), all of the previews sold out.
Cars does not have nearly the fan following of Star Wars, so I suspect Disneyland could do a couple months' worth of paid previews and have no issues selling tickets at over $100 per person.
Now let's take a look at the view of the Star Wars Land construction site at Disneyland from the Mickey & Friends parking structure…
A lot more progress on both attractions, but there's a notable vertical work on the Battle Escape attraction. For a while, you could also see the clear outline of AT-AT Walkers, but those have now been obscured by other progress.
The roof of Mickey & Friends is almost an attraction unto itself, with crowds gathering to take photos of the very active construction site across Disneyland Drive.
Here's how the same site looked back in March…
Below is approximately one year earlier, when the construction site was first cleared of all backstage facilities…
As mentioned, I know literally nothing about construction, but that seems fairly impressive given the scope, scale, and complexity of this project.
Now let's head inside the park, where work remains ongoing around the Rivers of America to get that all ready for a target date of around July 4, 2017.
While Disneyland has not released an official date for Fantasmic 2.0's debut, rumors (dating back to last year) suggest the Independence Day holiday is the target date. Given visible progress along the river, the actual return might not occur until a bit later.
Nevertheless, Disneyland has teased some of the changes. New scenes will feature songs such as "Friend Like Me" and "A Whole New World" from Aladdin, the latter of which will include Jasmine and Aladdin flying over the Rivers of America on a magic carpet.
Captain Jack Sparrow and a crew of ghost pirates will man an eerie pirate ship that appears on the Rivers of America, as the Sailing Ship Columbia is transformed into the Black Pearl, complete with stunt performers executing spectacular duels and falls.
There will also be new appearances by characters from The Lion King, Finding Nemo, and Tangled. Rapunzel and Flynn Rider will join other Disney couples in a new romantic sequence.
Disneyland has also announced that "additional enhancements give the popular show an even brighter look, with more vibrant projections and new mist screens. Every inch of every surface on the show's island 'stage' has been digitally mapped. Projection mapping and three-dimensional video combine, allowing the creative team to transform the island as never before. All technical elements of the show, including lighting, fountains and water screens, have been upgraded."
Along with these new scenes, Disneyland has confirmed many returning favorites, including the dragon Maleficent, Kaa, and whale tails of Monstro.
With this mix of old and new, I honestly could not be more excited for Fantasmic. The Disneyland version already was one of the best-ever pieces of Disney entertainment before this refresh, and I can only imagine what a bit of new technology and a few new segments will do for the show.
Here's a closer look at construction on the backside of the Rivers of America…
Above is the rockwork and trestle that will be part of the rerouted Disneyland Railroad. The rock-work above looks like that featured in the Rivers of America concept art Disney released…
For those unfamiliar with this part of Disneyland, what we're looking at would be the far left of this art, where the train is pictured.
Also back by Hungry Bear, a portion of the walkway that will connect Critter Country to Star Wars Land is open. It's unclear (to me at least) where this path will run with regard to the Disneyland and its rockwork, but I'm guessing that it runs along the waterfront until just before the trestle, and then will enter Star Wars Land via a tunnel under the train track.
While it's a bummer to lose the waterfront seating for Hungry Bear on the lower level, having Critter Country connect to Star Wars Land should help ease traffic flow issues. It's a net win, by a large margin.
The coffer dams that dried the back half of the Rivers of America have been removed. It's sort of neat to see this rockwork peaking out from the back of the Rivers of America as you walk the waterfront in New Orleans Square.
Even though it stinks to have the Rivers of America shortened, I'm optimistic that the kinetic energy of the Rivers will be improved, particularly with the Disneyland Railroad running along part of the waterfront. Lemonade out of lemons.
Equally as exciting as the return of Fantasmic is the reappearance of some other classic Disneyland attractions this summer. I was a bit nervous that the canoes would be quietly cut, but Disneyland's latest press release specifically lists the Davy Crockett Explorer Canoes as returning for Summer 2017!
Over by Big Thunder Railroad, there's now a second construction wall up, with a crane between the two sets of walls.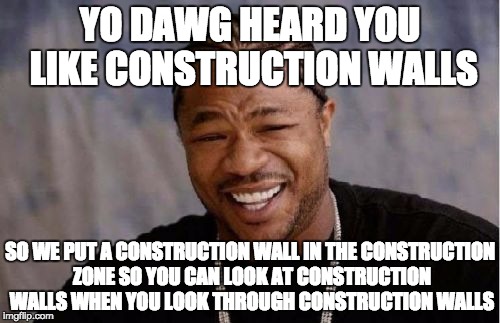 I don't know why there are now two layers of construction walls back here, but I'm guessing because the crane won't be there for too long? Either way, this meme felt apt. Gotta keep things trendy so everyone knows just how cool and hip I am. 😉
That's it for this Disneyland Star Wars Land construction update. As a side note, we'll be back later this week with a more general Disneyland update as well as an update on Super Hero Summer at Disney California Adventure. After an incredibly busy winter and spring, crowds are starting to subside a bit (on certain days, at least), so we should be back at Disneyland with greater regularity going forward. Oh, and in case you missed it, yesterday we reviewed the Guardians of the Galaxy: MISSION Build-A-Warehouse, Fortress-Like Power Plant Kinda Oil Rig-Looking Monstrosity. Some parts of that review are downright positive, which might come as a surprise. (It did to me!)
If you're preparing for a Disneyland trip, check out our other planning posts, including how to save money on Disneyland tickets, our Disney packing tips, tips for booking a hotel (off-site or on-site), where to dine, and a number of other things, check out our comprehensive Disneyland Vacation Planning Guide!
YOUR THOUGHTS
Have you been keeping tabs on the construction progress for Star Wars Land? What do you think of the progress at Disneyland versus Walt Disney World? Are you excited for Star Wars Land to open? Looking forward to finally being able to spend some time on the Rivers of America and see Fantasmic 2.0 this summer? Share any questions, tips, or additional thoughts you have in the comments!