Part XVI: Coast-to-Coast Disney Trip Report
Lines were even worse this morning for the buses. The line was easily two buses deep for the Magic Kingdom, and we had no desire to wait there for forty-five minutes, so we turned to each other, and almost in unison, muttered, "taxi." It just wasn't worth it to wait that long in the humidity for a bus, especially when we paid so much to attend the weekend's events.
At this point, we made the decision to rent a car for the next trip. The Disney bus transportation system is beyond broken, and is really aggravating. For those who shrug this off because the transportation is supposedly free and is a nice gesture from Disney–it's not. The bus system, much like Disney's Magical Express, is Disney's way of having a captive audience. It keeps people spending money at Disney. Disney would not offer it if it didn't have a positive impact on the company's bottom line. Hey Disney, here's some free advice: make the system more efficient so guests don't stand in line for buses for an hour (time they could be spending in gift shops in the parks!), and arrive to the parks cranky after standing in the hot line for so long!
We arrived a tad late to the opening session, which was fine, because all the advertised "surprise" was for this session was a trivia challenge for a few participants on stage. We know Disney pretty well, but our knowledge is nowhere near as broad as anyone who participated, so we wouldn't have won anything, anyway.
The first real presentation of the day was Walt Disney World in Detail with Jason Surrell, Alex Wright, and Jason Grandt. I had read plenty of Jason Surrell's Disney books, and appreciated some of the humor in them, but I never expected this presentation to be so entertaining.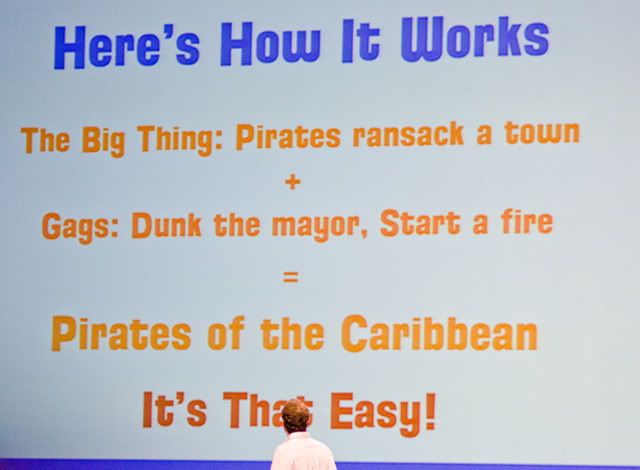 Beyond the non-stop laughs, the substance of this presentation was pretty awesome, too. The three Imagineers focused on how stories are told in the parks through subtle details and also through placement of certain objects, attractions, and sight gags. It was really cool stuff.
More importantly, the three were incredibly funny. This was the kind of presentation you'd see and afterward think, "man, it'd be awesome to have a beer with these three dudes!" They had an awesome dynamic, and you could tell they were most definitely Disney geeks, too. They live and breathe Disney, and it was crazy to see the effort they put into some of the obscure references in the parks.
To illustrate by example (one of the many examples they gave), they discussed the Tropical Amity (say it a few times out loud) company to which the Crush 'N' Gusher at Typhoon Lagoon is themed, and how they created some of the humorous safety warning signs that are actually written with fruit cleaning in mind. In addition to these, the guys discussed designing lunch trays for the Land pavilion, TTA forbidden stairways, and a whole host of other details that were fodder for us geeks.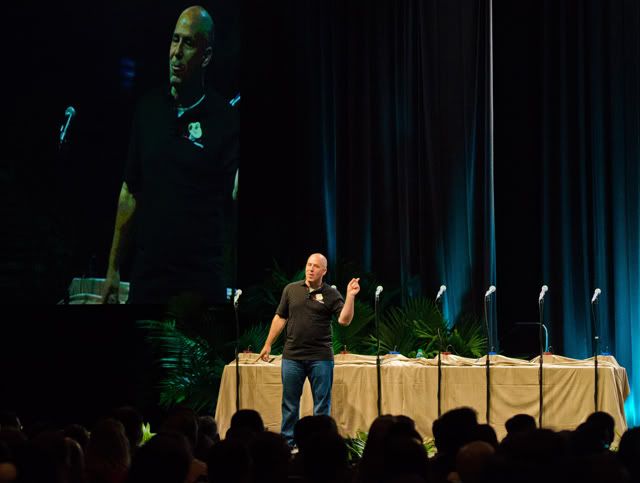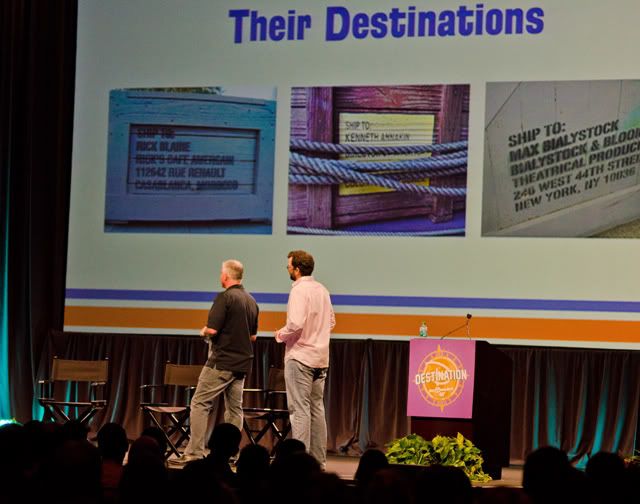 Imagineering Walt Disney World: From Yesteryear to Tomorrowland was next. Despite this being the most forward-looking presentation of the weekend, it was also the most uninteresting. Eric Jacobson was the presenter, with Kathy Rogers also on hand. This presentation discussed Star Tours: The Adventures Continue (an attraction that had soft-opened the day prior, and many people had already previewed), the Fantasyland Expansion, and Art of Animation Resort.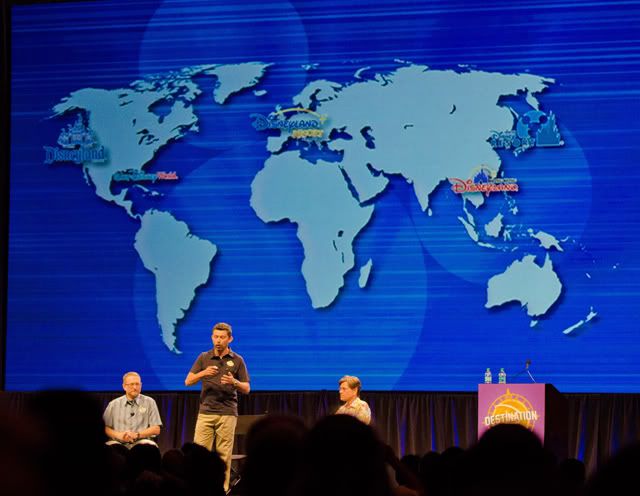 There were photos of a few new models, and it seemed like there was a lot of new information about the Art of Animation Resort, but after the engaging and humorous presentation preceeding it, the flat and monotone delivery of these panelists did their material a disservice.
It was still interesting to see some of these new photos, but it was essentially a PowerPoint presentation. Anyone could have been up there presenting the information (actually, I think I could have done a better job than the presenters, I would have at least shouted a bit!), which is a disappointment.

The segment ended with the "announcement" that the Tiki Room's newest management would also be its original management. I put announcement in quotations because it was actually announced on the Disney Parks Blog about 30 minutes prior to the actual announcement on the floor of Destination D (despite the Parks Blog indicating that it had just been announced at Destination D). When you have a hyper-connected audience in the room, 30 minutes is a big deal, and by the time it was actually announced, the reaction was pretty anti-climactic. I wasn't so connected that morning, so it was a nice surprise for me, at least!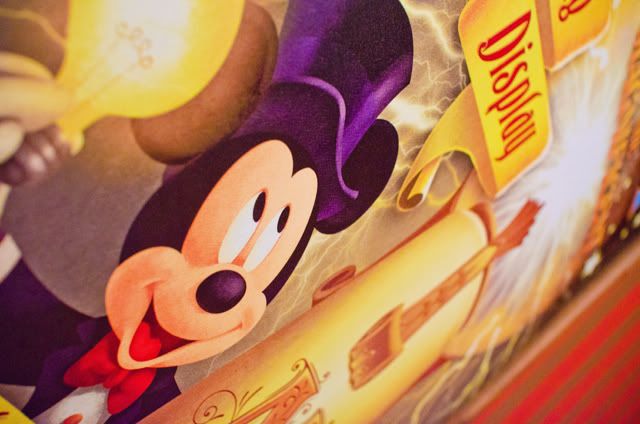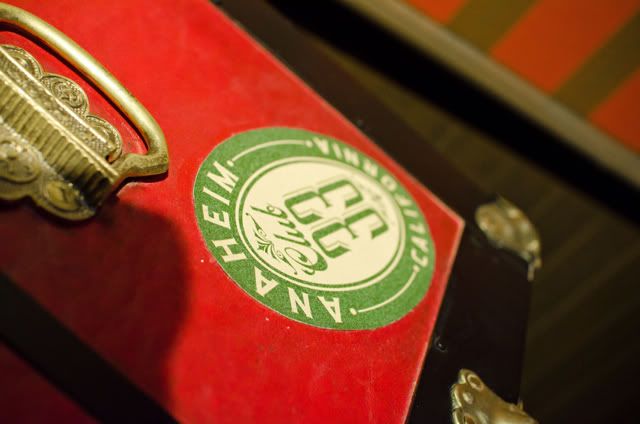 Our lunch break came next, and we again decided to head to the Magic Kingdom. As we entered, we saw that the wait for Mickey in Town Square was only 5 minutes, so we headed inside. We were pretty excited about this, as the Imagineers had discussed many of the details in this show during their Walt Disney World in Detail presentation earlier that morning.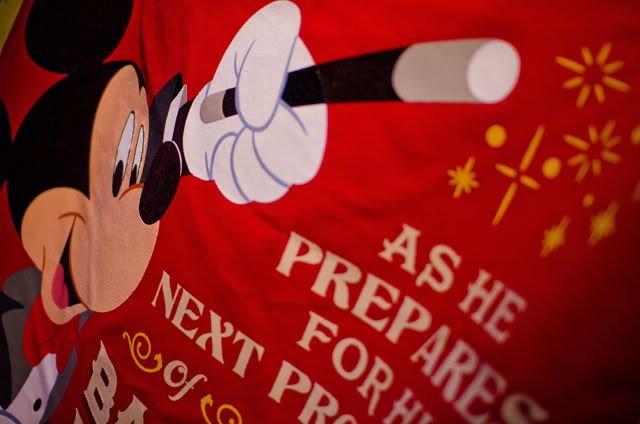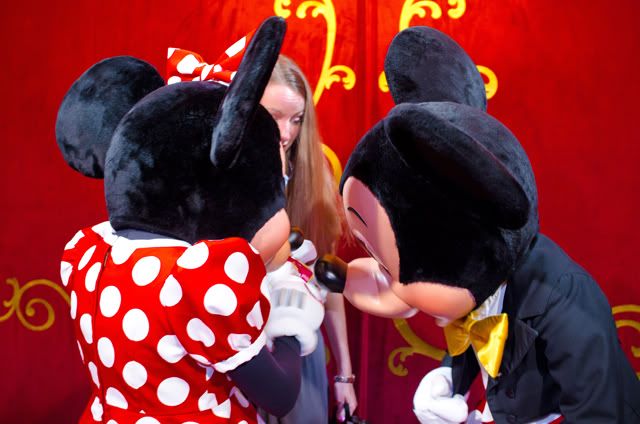 There were definitely some awesome details in the waiting area/queue! From Club 33 stickers to bunny ears, the wait flew by. Unfortunately, some of the coolest details appeared behind the PhotoPass photographer, and we couldn't venture back there. (We tried and were admonished for it!)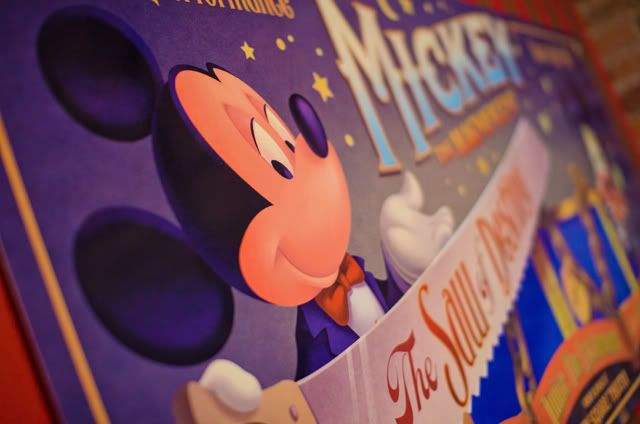 We got our photo taken with Mickey and Minnie, and then headed on our way.
We thought about grabbing some sweet treats as we headed up Main Street as opposed to grabbing lunch, but when we saw some of the prices, we rethought that idea. However, I did grab some photos. Avert your eyes if you don't want to awaken that sweet tooth!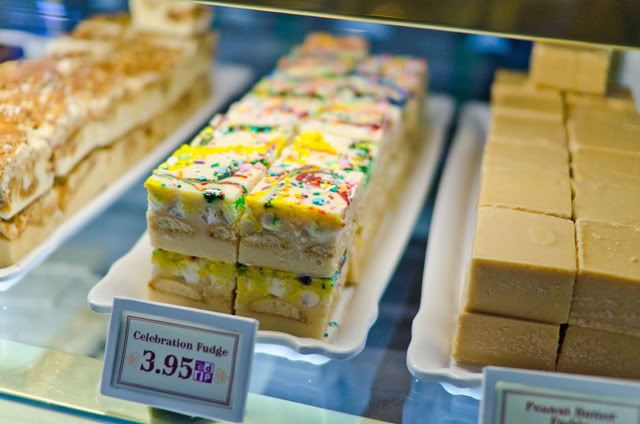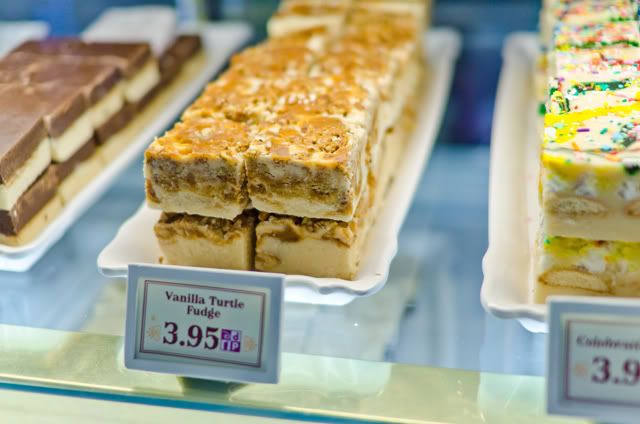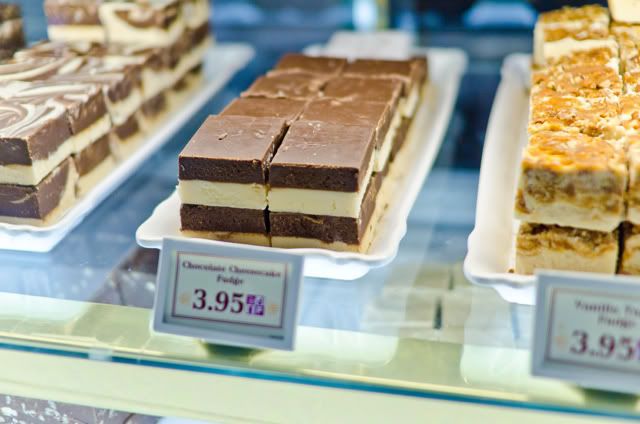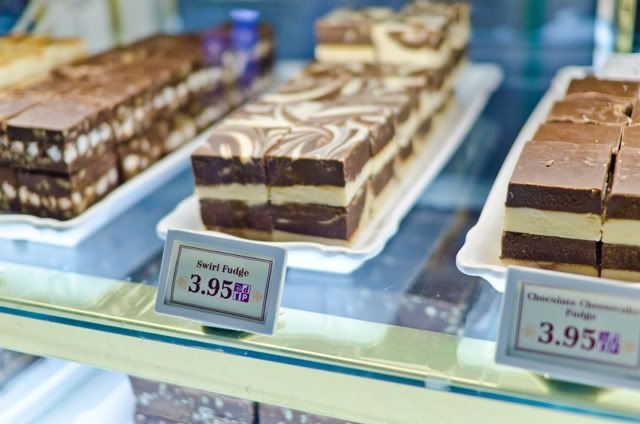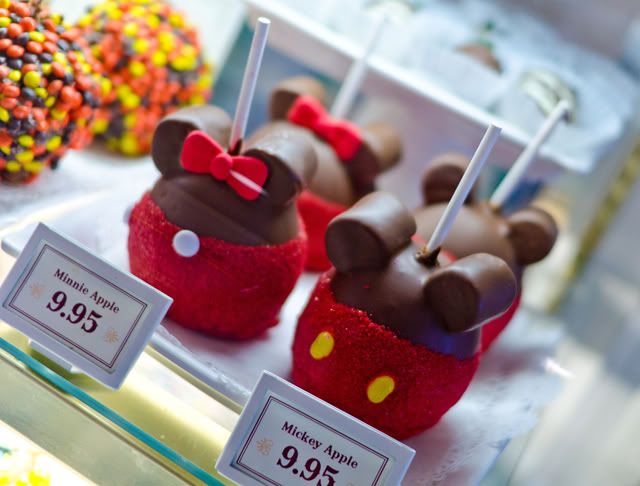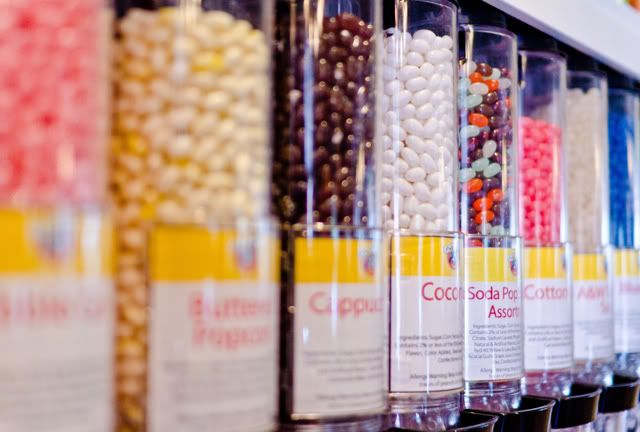 Hope you made it through those okay.
We instead decided to grab lunch at an uncommon location for us: Columbia Harbour House (click for our full review). We had only ever eaten here twice, once in 2006 and once in 2009. In the meantime, we had eaten at Cosmic Ray's well over 20 times.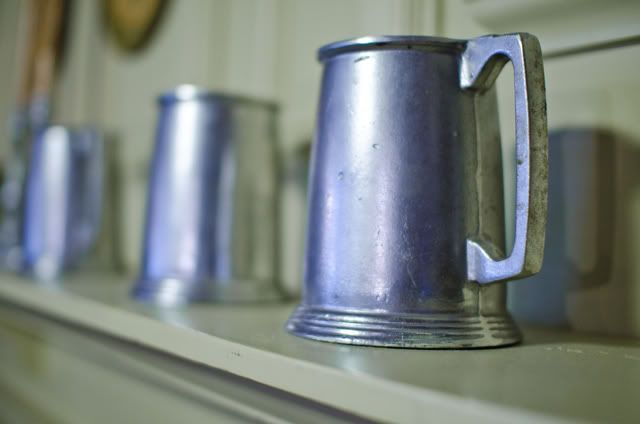 It had been so long because Sarah and I are frugal people and we didn't feel we were getting adequate value at Columbia Harbour House. Part of the problem is that I can spend $9 on a double cheeseburger and fries, and thanks to the toppings bar at Cosmic Ray's, I can make the burger more substantial and thus, more filling. Since seafood costs a premium to begin, I get less at Columbia Harbour House, and then get hit with the double-whammy of there being no toppings bar.
That said, we realized the error of our ways this trip. On our previous trips, because of our frugality, when confronted with the high prices at Columbia Harbour House, we chose cheaper menu items, which saved us a whopping one dollar over the menu items we purchased on this trip.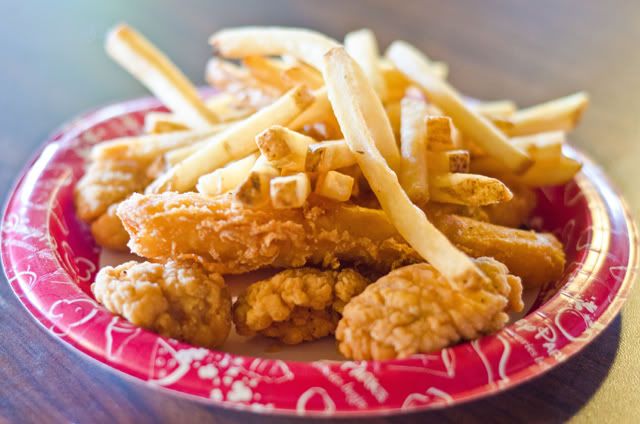 In either a moment of clarity or during a reckless spending spree (okay, in actuality, since we've graduated from college we make more purchases based on what we actually want—especially when only around a $1 in price difference is at issue), we decided to order what looked best to us this time. It was a tough call for me, but I ultimately ordered the Shrimp Basket. Sarah, wanting to eat animals from the land and sea, opted for the Chicken Breast Nuggets and Fish. While our meals, including drinks, each exceeded $10, we were both quite happy with the results, which were filling for once! Success!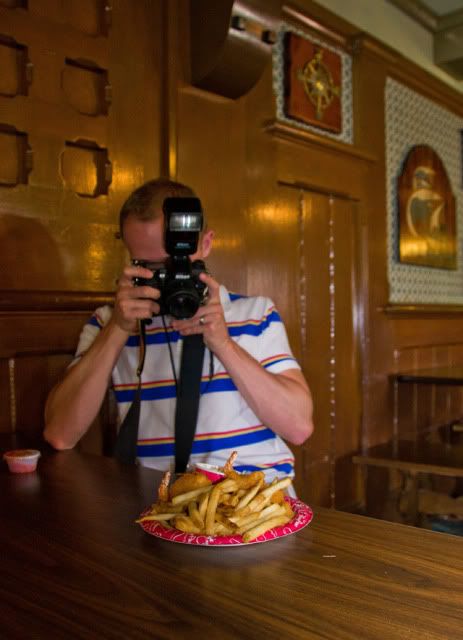 After lunch, we had a bit of time left before we had to be back for the next segment, so we quickly hit up it's a small world. Of course, things never happen as quickly as we expect at Walt Disney World, and when we got off the attraction, we only had 10 minutes before the next presentation began. As this one was hosted by Marty Sklar, I wasn't about to slowly make our way back to the Contemporary. Instead, we made haste!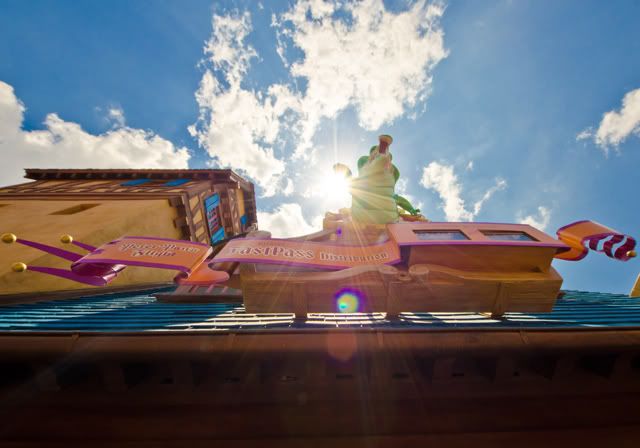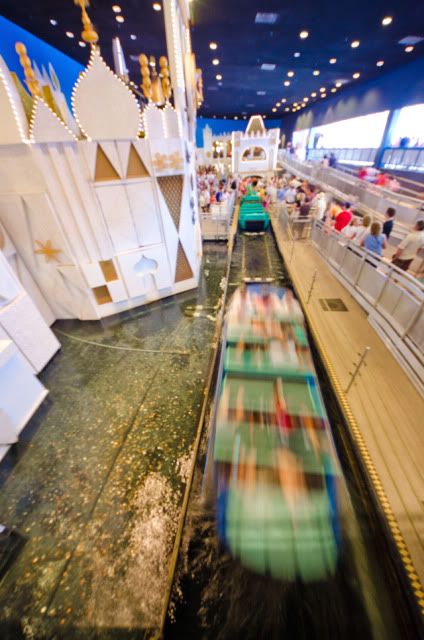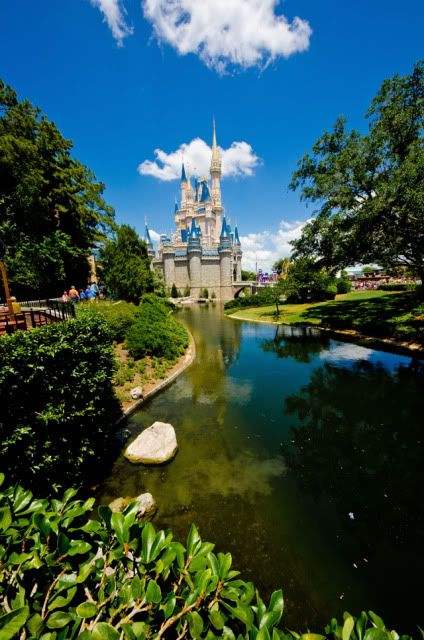 Of course, as we quickly walked back to the Contemporary, I saw about 37 monorails. And of course, I had to document each one of them, you know, for archival purposes. (You're welcome, Dave Smith!) Luckily, my version of brisk walking, even with 20+ pounds of camera gear is still more brisk than Sarah's version of brisk walking, so even after stopping multiple times to take photos, I was ahead of her most of the time.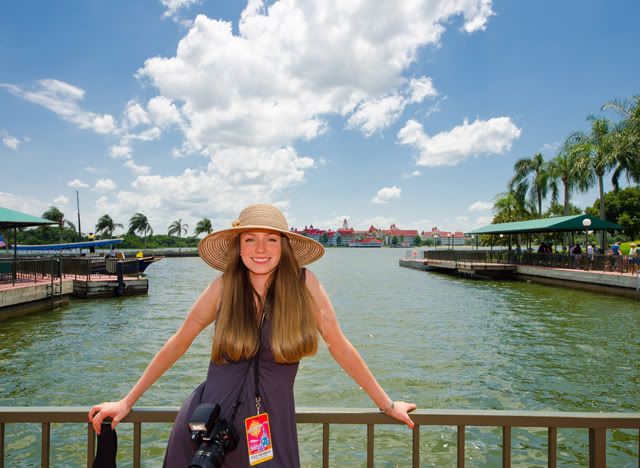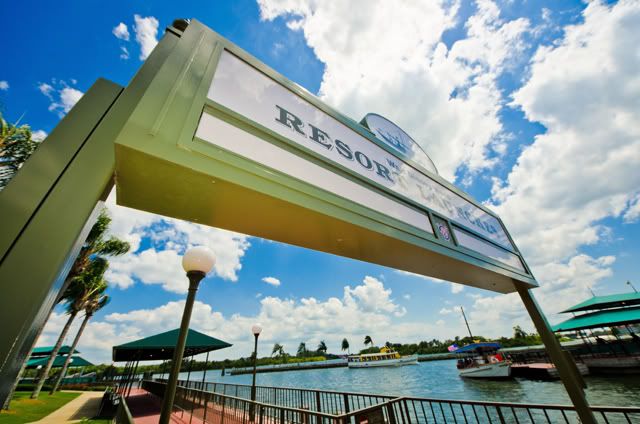 At one point, I noticed a monorail approaching in front of me, and I happened to also see a monorail behind me. I surveyed the situation, and determined where the monorails would likely meet in front of me, and began running to that spot.
Here's the call from our play-by-play man:
The race was on. On the far outside, Tom Bricker, experienced human using two legs to propel him, weighed down by 20+ pounds of photo gear. In the middle, monorail teal returning from the Contemporary resort, propelled by a motor 'n' stuff, weighed down by hundreds of slovenly and rotund tourists. On the far inside, Monorail Lime, also propelled by some sort of engine, and likely also weighed down by tourists.
It was a photo finish! Our evidence shows that Tom won the race, arriving at the location and drawing his camera, with Sigma 8-16mm lens mounted, just a split second before the two monorails!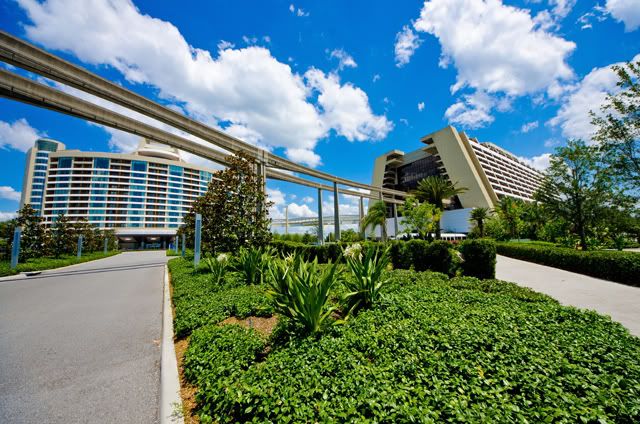 Still ahead of Sarah by a bit, I kept going. As we approached the Contemporary, I again saw a monorail, so I decided to quickly set up for a shot. While taking this shot, she passed me, but not for long, as I quickly sprung up and resumed my pace.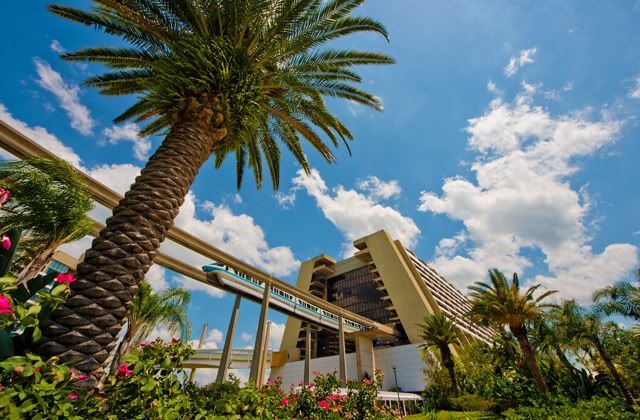 Once we got inside the Contemporary, someone informed us that the next presentation hadn't started yet (we were 5 minutes late), so Sarah decided to grab some coffee. Even after she did that, we still made it into the ballroom before the presentation began, albeit drenched in sweat.
This seminar, featuring Debbie Dan Browne, Orlando Ferrante, Bob Foster, Bob Gurr, and Ron Logan, with host Marty Sklar, was nothing short of awesome. Sarah and I were both enamored by the vivid historical accounts presented by the panelists, and each brought their own flavor to the stories, which definitely seemed unscripted.
I'm not sure if it was announced that photography wasn't allowed for this presentation, or if I was just so caught up in the stories that I forgot to take photos, but I unfortunately don't have any. It was just a bunch of older guys and a lady sitting around in chairs, so you're not missing much by my lack of photos.
The entire presentation discussed Walt Disney World, circa the mid-1960s until the park's opening. It was really interesting hearing from the folks with first-hand experience into the creation of the park, especially given that most of these people had worked alongside Walt in bringing the Florida Project (or Project X) to fruition. It was moving hearing about how Walt's passion for the project was what kept them all going on it after he passed.
The next presentation was similar in nature yet totally different. Called, "Making the Magic Happen," this panel was hosted by author Tim O'Day and included Jack Lindquist, Bob Matheison, Tom Nabbe, Charlie Ridgway and Bill Sullivan. I knew a few of these names in advance, but it was actually the lesser-knowns, like Tom Nabbe, who really made this panel exciting.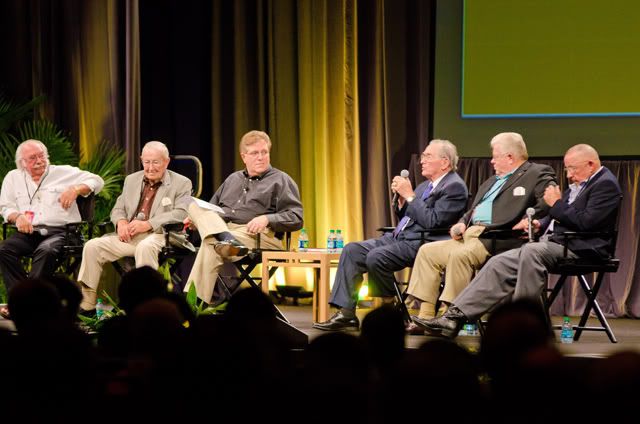 In keeping with Tim O'Day's previous presentation, this panel contained some fairly uncensored stories (at least, uncensored by sanitized Disney standards). Jack Lindquist told stories of water gun fights in the offices above Disneyland, Tom Nabbe told stores of his days as Tom Sawyer (including sneaking into the park and selling newspapers edited by Marty Sklar, among other things), Charlie Ridgway discussed the chaos that was the second day of Walt Disney World (and the disappointment of opening day), and the whole panel discussed the "brilliant" decision to dress up a bunch of ducks and let them loose in the Magic Kingdom.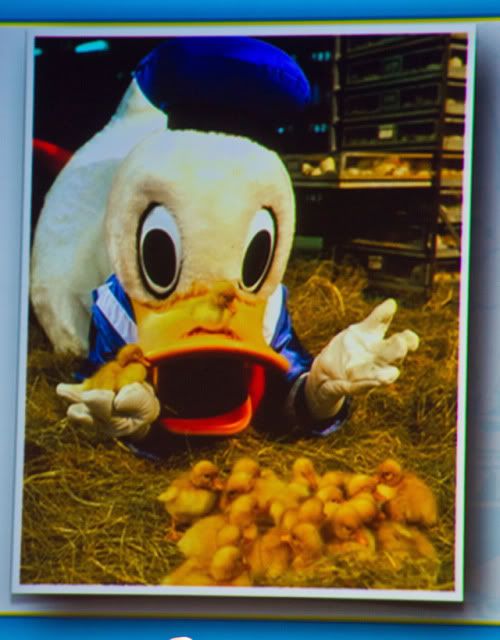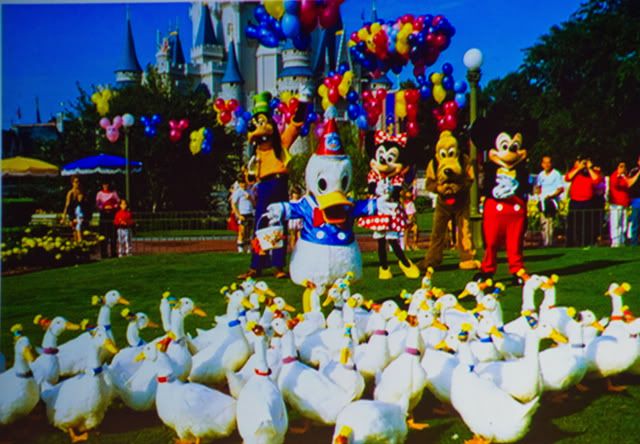 These guys were awesome, and although many of them had ended their official roles with the Company years ago, the parallels to the younger Imagineers (Surrell, Grandt, and Wright) were striking. The old guard seemed equally mischievous, and still had tremendous passion for the empire they had helped build. They weren't your typical stuffed suits, not by a long shot, and even though a few of them weren't in the creative departments, per se, you could tell that they each possessed a tremendous amount of creativity. Me recounting their stories wouldn't do any of them justice, but like I said above, the stories of Tom Nabbe's days in the park oozed of a "Dennis the Menace" type quality. He definitely got himself into some mischief, but not the "bad" kind of mischief.
As exciting as this panel was, it could not keep Tony Baxter awake. He again sat near us in the back of the ballroom, this time two seats away from me, and he almost immediately began nodding off. As he slowly fell towards me, I didn't know whether I should tap his shoulder or just let him be. Quite intimidated, I decided to let sleeping dogs lie, and as he fell a bit more, he woke himself up. I can only imagine how hectic his weekend was, and how many times he's probably heard these great stories in person (even more uncensored), so this is in no way meant to criticize him. It does explain why he sat in the back near us rather than in the reserved VIP seating up front, though. It was definitely cool to see him among the fans (and over the course of the weekend, he was EVERYWHERE: the Polynesian, Magic Kingdom, etc., sightings of Tony were like sightings of Bigfoot. Well, except people actually saw him often instead of just reporting that they saw him).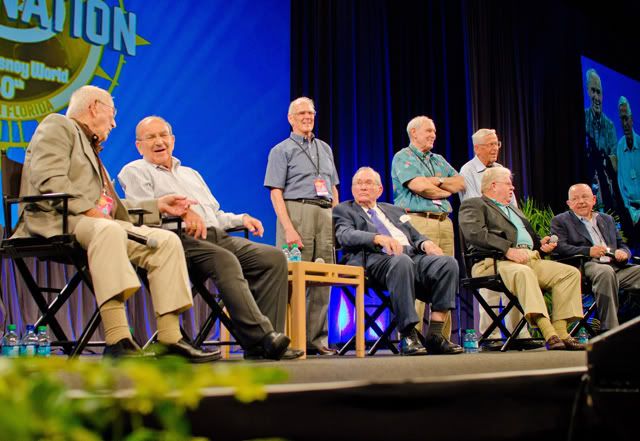 After this panel ended, there was some time allowed for photos of all of the Legends on stage before the autograph sessions began. I quickly made my way to the front of the room to snap some shots before heading into the hallway for the autograph sessions.
Unfortunately, near the end of the previous panel, a lot of people had snuck out early to get in line for autographs. We didn't do this because: A) we thought it was rude, and B) because we didn't bring anything special to get signed. I honestly don't quite understand the obsession with autographs.
That said, we did want to meet and get our photo with Tony Baxter, so we lined up. We ended up in the standby line after the main lines were cut off. If there is one (there's more than one, actually) thing D23 is bad at handling, it's lines. This was no exception. I think all of the volunteers and D23 Cast Members had the best intentions, but it was unclear to a lot of people where they should stand. We figured it out by asking a volunteer directly, and consequently, we wound up near the front of the standby line, but a lot of people got (understandably) frustrated and left. However, the behavior of some of these fans (yelling at volunteers) was inexcusable and definitely not in line with being a purported Disney fan.
We were told we may not get to see any of the Legends, and if anything, we'd only get to see one set of them (there were 4 sets of 4). Of course, the one we cared about seeing the most, Tony Baxter, had the longest line. Why we didn't get a photo of him when we met him in between sessions earlier was beyond me.
Despite the warning that we might not get to meet anyone, we made it through the line in no time.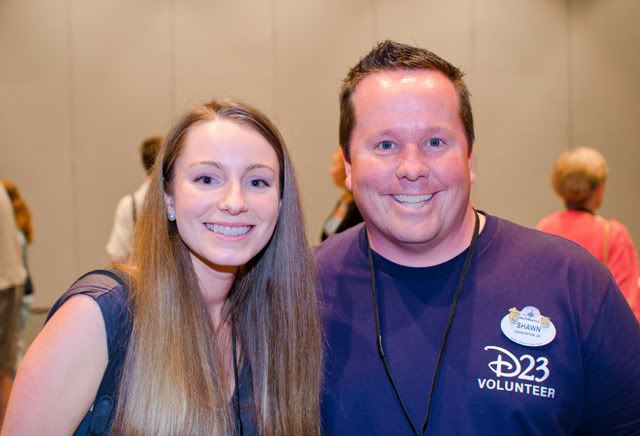 As we were in line, Sarah met Shawn Slater, of the DisneyShawn blog (if you recall, this was one of the sites we read extensively to prepare us for the Scavenger Hunt. It's a great blog and you should really check it out if you haven't). We had met him with Henry at Christmas the previous year, but at that time Sarah hadn't read his blog, so she didn't think anything of it at the time. This time, she was much more excited, and got her picture taken with him.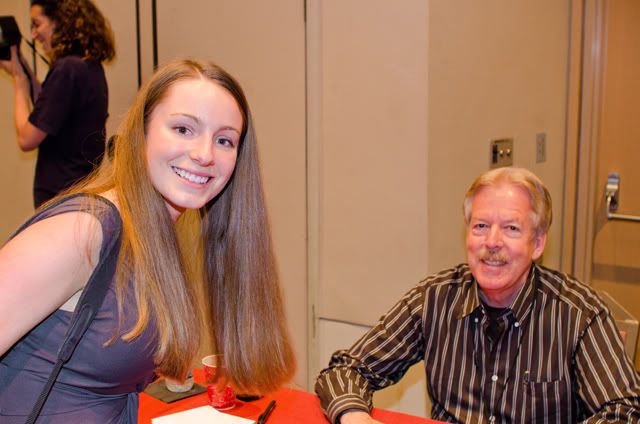 I let Sarah meet Mr. Baxter first, so I could take her photo and adjust the camera settings as necessary so that the photo she took of me would be better (after all, he was my hero, so that was the important photo). Not knowing whether it was customary to just meet and say hello to these guys, we decided to let them sign things we had in our possession. Luckily, I'm always carrying around Figment collectibles, and I just happened to be wearing a circa-1982 Figment button. Mr. Baxter immediately knew it was an original and not a reproduction (I guess he's a collector, too?), and complimented me on it.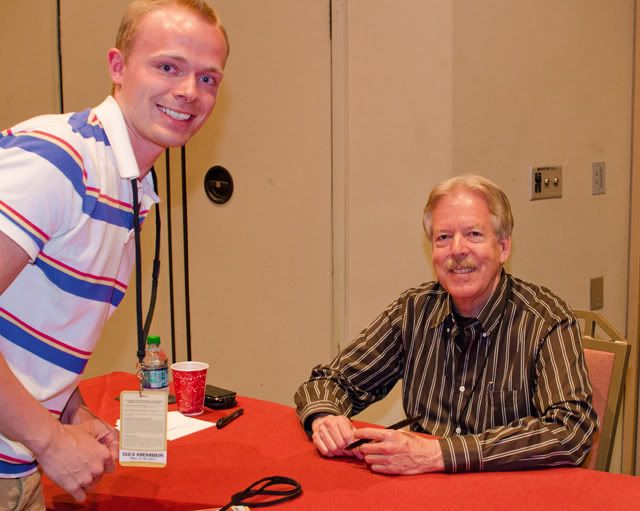 We then proceeded to talk about the state of the Journey into Imagination pavilion, and he had some choice words for some of the decisions made. I was shocked that he was so candid with some random fan he had never met before. I could have just as easily gone to Twitter and repeated his words verbatim (I didn't disclose what he said publicly, and I won't) as they were definitely far, far from your typical Disney talking points. That was far more meaningful to me than and scribbled Sharpie markings, and I was really glad to get the chance to talk to him for a few minutes. That was the highlight of my weekend up until that point.
By this point, Sarah had moved along in the line pretty far, and was just getting to the end to see Tom Nabbe. I think it must be a fact of life that people with the name "Tom" are troublemakers. This Tom certainly still was. All of the other Legends had stayed on their side of the table for our photos. When Tom met Sarah, he came around the table and gave her a hug. He was immediately repremanded by one of the D23 volunteers, who told him that he couldn't touch the guests (consequently, Sarah did not get a photo with him, because the volunteer who said this was taking photos of her with the other Legends). The volunteer saying that aloud was far more awkward than him hugging Sarah. In any case, can you blame him?!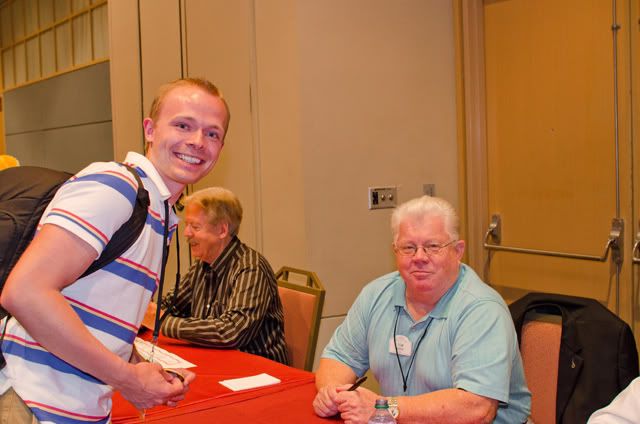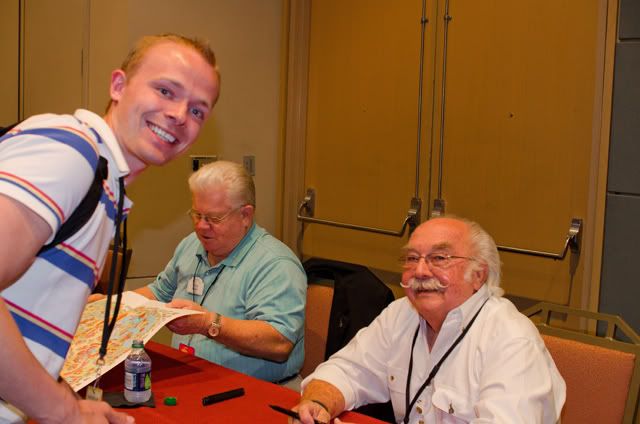 From 5 pm until 6:30 pm was the time allotted for autographs, and we had made it through the line by 5:20 pm. In looking at the standby line (which had pretty well cleared out because of the assurances that you might not be able to meet anyone if waiting in the standby line), we could have easily met every single Legend, but we also wanted to catch the tail-end of Pixar's 25th Anniversary Weekend at EPCOT, which ended at 6:30 pm. Decisions, decisions. Ultimately, we decided to go to EPCOT. With the exception of Marty Sklar, I didn't really know what to say to the rest of the unmet Legends. I have since done a lot of "Disney history" reading (mostly Disneyland reading, actually), and I now wish we would have also met at least Jack Lindquist and Charlie Ridgway. And probably a couple others. Oh well, though, you can't do it all.
Once we made the decision, we raced up to the monorail line. For once, it was short, and we got right on. Another quick transfer at the Ticket and Transportation Center, and we were in Epcot by 5:45 pm. Pretty exceptional time given the circumstances.
The Pixar events that were still taking place were in the World Showplace, which is just past Canada. This was another time when we briskly walked (admittedly, my version of brisk walking is more like a casual run when no other Guests are in my vicinity) to our destination.
We arrived at the World Showplace right around 6:05 pm, and immediately got in the Toy Story line. Even though we wanted to meet the Monsters, Inc characters more, the Toy Story line was much shorter, so we took a gamble and got in it first, assuming we'd probably be able to get in the Monsters, Inc. line before it was cut off. It was a gamble, but we knew if we did it in reverse, we would only get to meet the Monsters. Around eight people were allowed in the Toy Story line behind us, which made us nervous that we wouldn't get to meet the Monsters. Oh well, at least we got to meet Mr. Potatohead, who we had never seen anywhere.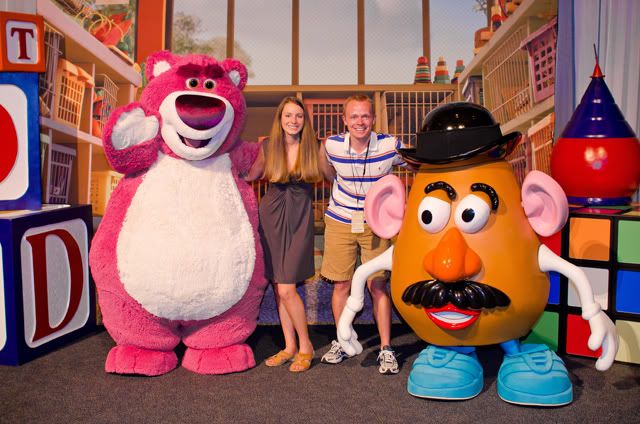 I think someone must have known that we really, really wanted to meet the Monsters, as the line was still open, so we quickly headed over there. Another younger couple entered the line right behind us almost as we did, and the line was cut immediately after them. Talk about great luck! This line rotated Mike, Sulley, Boo, Smitty, Needleman and George. We had never met any of these last four, and were excited about the prospect. As we waited in this extremely long line, we watched the characters in our line and at the Up house. I think they must have found the best character "friends" that weekend, as even Carl was having a ton of fun with his guests!
Boo was out when we first arrived, and she was putting on a show. She engaged the kids who met her, was playful, and even messed around with those in line in between guests.
It would have been cool to meet her, but I'm very happy with Smitty, Needleman and George, who we ultimately met. I just wish George would have been the shaved version!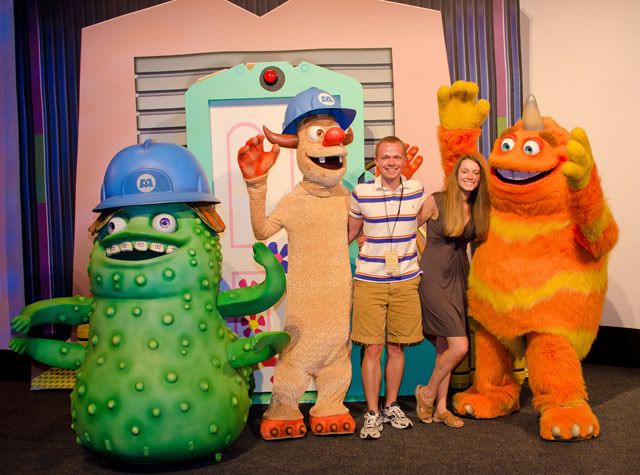 After meeting the great supporting players from Monsters, Inc, the Showplace was pretty much empty. It was around 6:45 by this point, and we were some of the last people to leave the building. As we left, a Cast Member gave us a couple posters for Cars 2, and I grabbed a few photos of the building's exterior.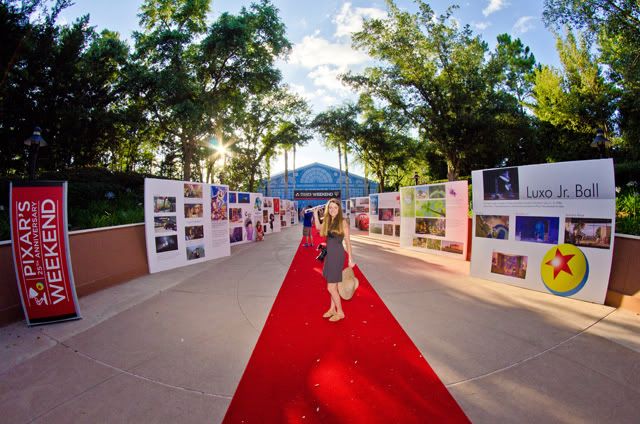 Next up, it was time to grab photos of the topiaries up all around World Showcase for the Flower and Garden Festival! We didn't have too much time to do this, and there were a lot of shots that I missed, but I was quite pleased that in less than an hour, I managed to get halfway decent photos of almost all of the topiaries around World Showcase, plus photos of us. I enjoy the sense of urgency being on a deadline like this creates. I like to think I thrive under pressure.
I don't think any commentary is necessary, the photos pretty well tell the story: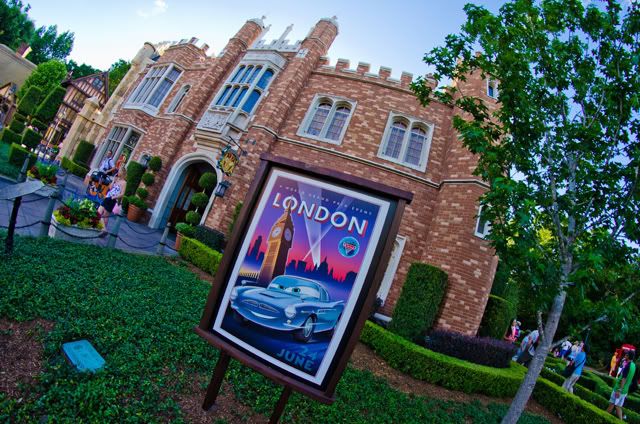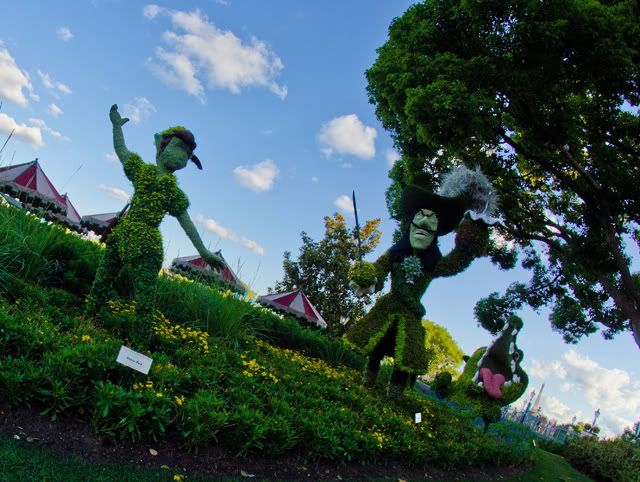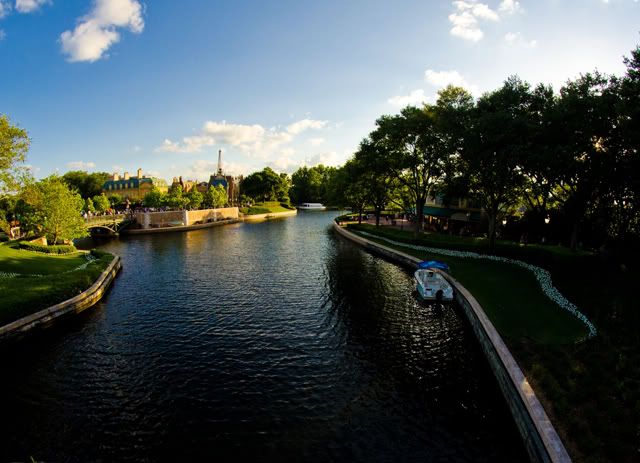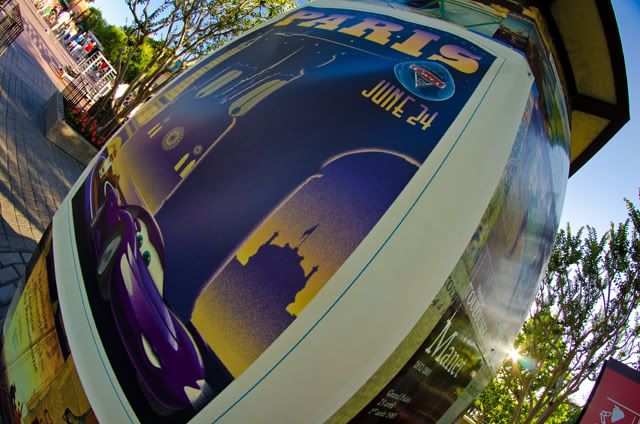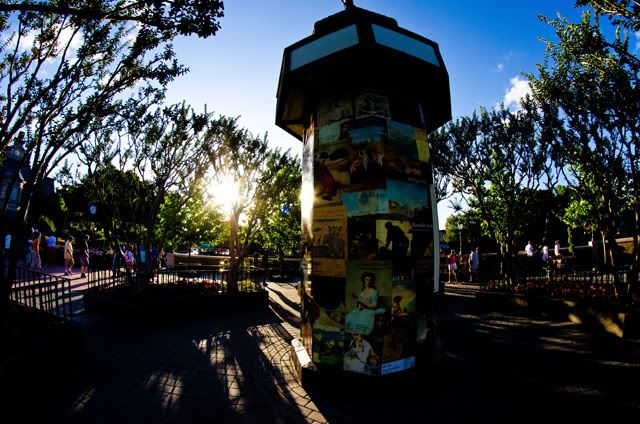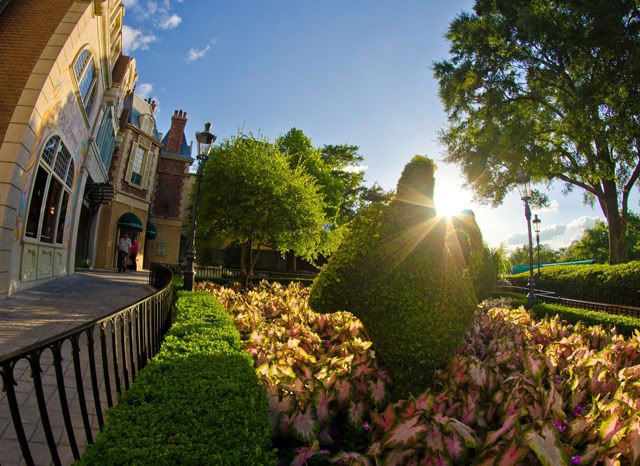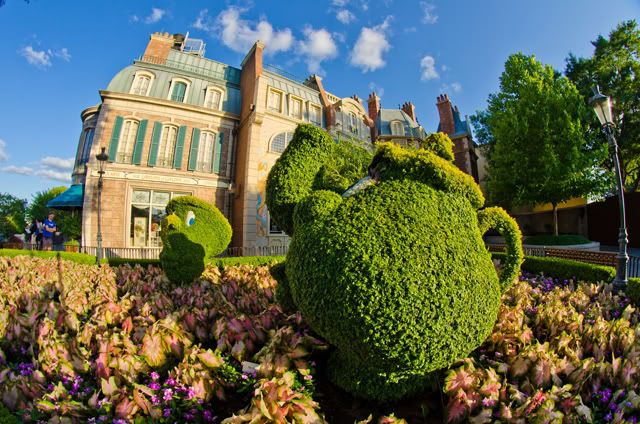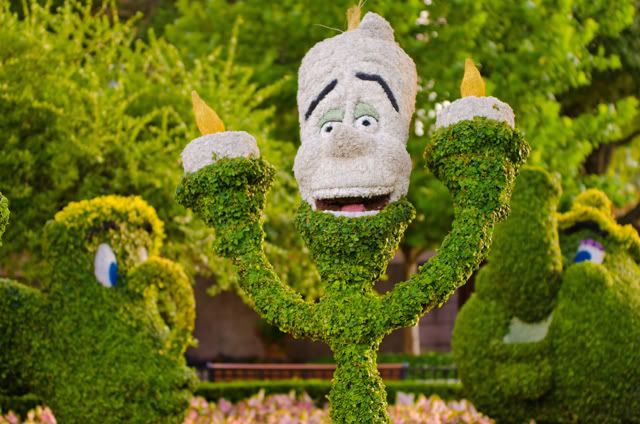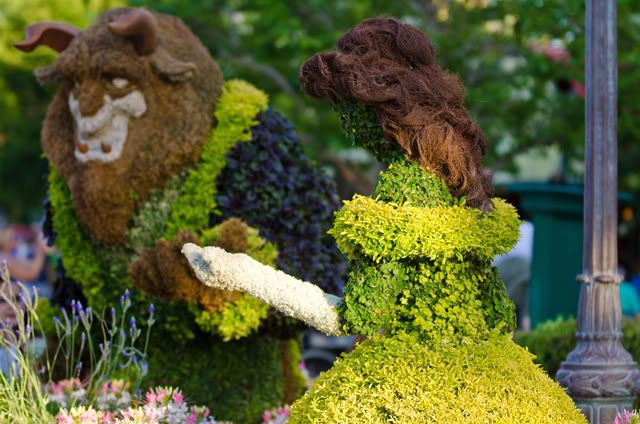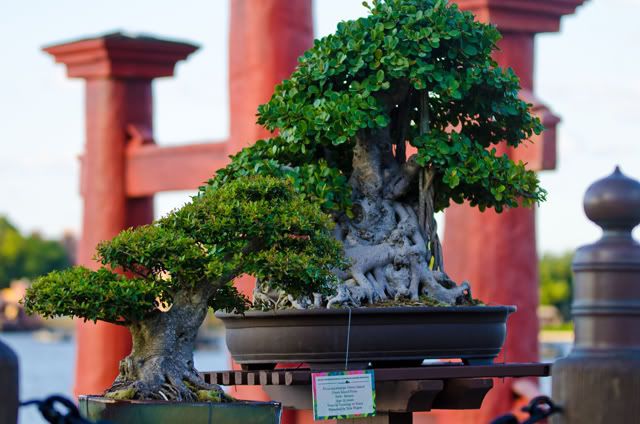 Sarah really wanted to get dinner from the La Cantina de San Angel, a restaurant that's not high on my list. I knew there would be a long line, so I let her go that way while I snapped a few more shots in China and Norway. For my dinner, I decided to grab some School Bread and a Carlsberg. Nothing beats dessert and beer for dinner!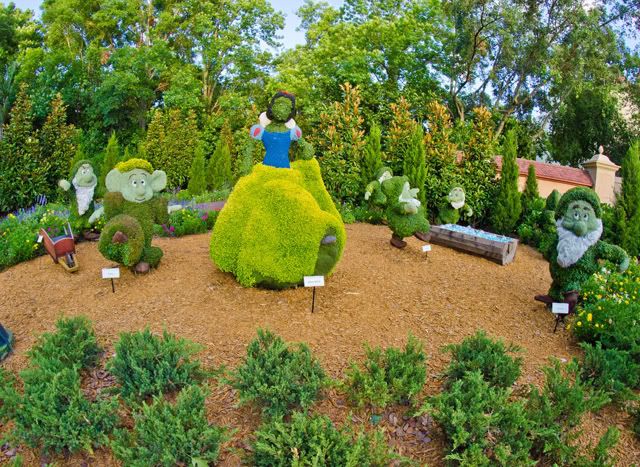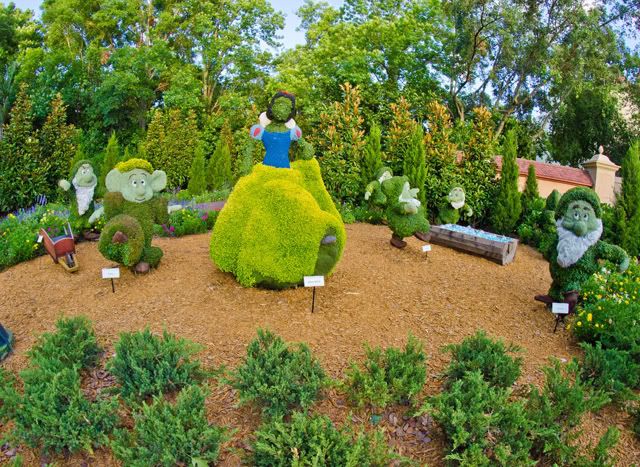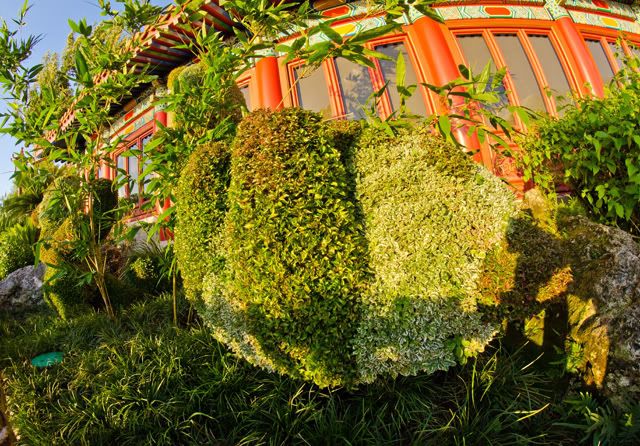 After getting my photos and food, I went looking for Sarah. She was still in line! This was not good, as the Magic Journeys pre-show started in 40 minutes! Even worse, I couldn't find a table for us.
Instead, once Sarah finally got her food, we sat on the ground off to the side and quickly ate. We simply didn't have the time to wait around for a table. Finishing my food quickly was no problem. It was just a beer and a dessert. Hers was a little larger, but she made excellent time, I must say.
As we, again, briskly walked out of EPCOT, I stopped a Cast Member and asked if they would be taking down the topiaries overnight (as that day was the last of Flower and Garden Festival), he said most likely not, that it would take a few days. Only the events would end that day.
We thanked him and raced on, now with a dilemma for Monday as to which park we'd visit. As we made our way up to the monorail station and quickly caught a monorail, I reflected upon our great fortune. In just over two hours, we had gone to EPCOT from the Contemporary and had begun the voyage back, along the way partaking in some of the Pixar 25th celebration, getting a large number of Flower and Garden Festival photos, and eating dinner. Not too bad!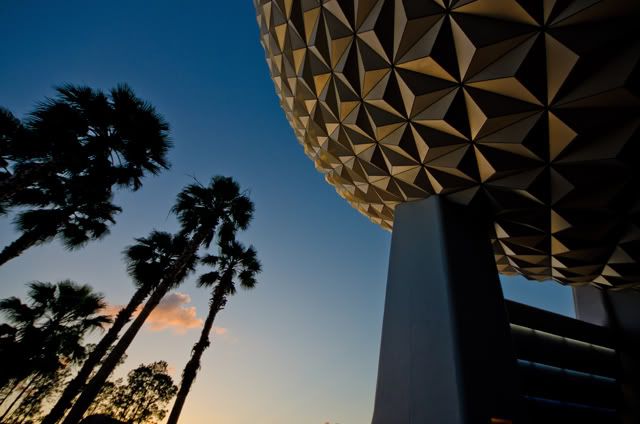 As we exited the EPCOT monorail at the TTC, it was a race against the clock. The Magic Journeys pre-show was starting soon, and a monorail had just pulled into the station for the resort loop. We raced down our ramp and up the resort ramp, hoping we'd make it in time!
…and that's where we'll pick up next time, with the absolutely amazing conclusion to Destination D!
If you liked this installment of our Coast-to-Coast Trip Report and want to read about our other Walt Disney World trips, visit our trip report page! Help us spread the word about DisneyTouristBlog.com by "Liking" this post or giving it a Google "+1" at the top of this page.