Holiday Time at Disneyland Tour Review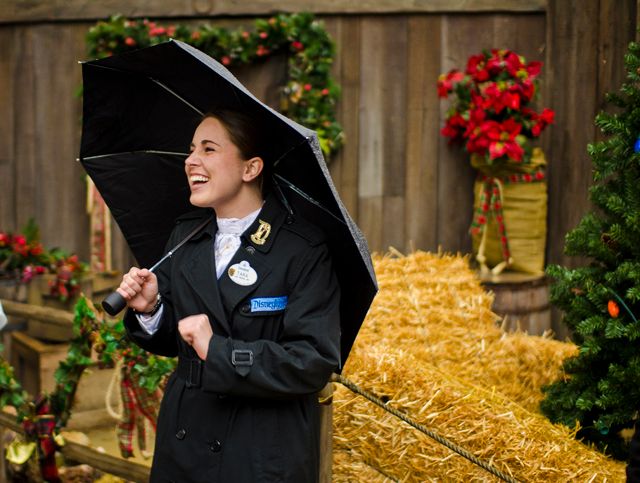 Disneyland's 'Holiday Time at Disneyland' is a guided tour featuring holiday history, and more. This post covers our review of the tour, pros & cons of doing it, photos from the tour, and more.
In addition to a tour covering the history of Christmas at Disneyland and various holiday customs, guests receive: priority boarding on "it's a small world" holiday and Haunted Mansion Holiday; hot chocolate and gingerbread; a collectible pin; a cardboard tour tag that can be used as an ornament (I wouldn't); and reserved seating for 'A Christmas Fantasy Parade' in the "it's a small world" mall.
At the time of this post, tickets for the Guided Tour are $64 each (with separate Theme Park admission also required). Fortunately, Premium and Deluxe Annual Passholders receive a 20% discount, as do AAA or Disney Visa Cardholders, making the cost a little more palatable.
To make reservations call (714) 781-4400 or visit the Tour Gardens Kiosk at the front of Disneyland Park, which is located right next to City Hall. Tours are offered daily multiple times (the first is usually at 10am) with a capacity of 20 guests per tour. Larger tours will utilize headsets, smaller tours typically do not. Each tour lasts approximately two and half hours. Valid Disneyland Park admission is required.
Wondering whether the tour is for you? Here's our take…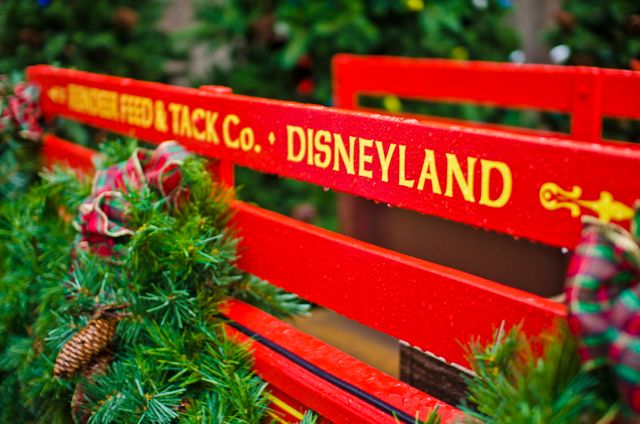 The tour we took, fortunately, consisted only of 6 people so it was very intimate. Unfortunately, it was in the rain so we got soaked. The best part of the tour is definitely the history lesson, and that was the part we figured would be the least significant to us.
Unless you're a history buff who can recite the lines from vintage Disneyland Christmas television specials from memory, it's likely that you'll learn something on the history portion of the tour. A few of the facts presented we had learned at prior Disney events, including D23's Destination D, but for the most part, the information was new.
To be sure, guests could just as easily find most of this information themselves on the internet for free, but there is something to be said about having it presented to you by a delightful and cheery Disneyland Cast Member as you tour the park.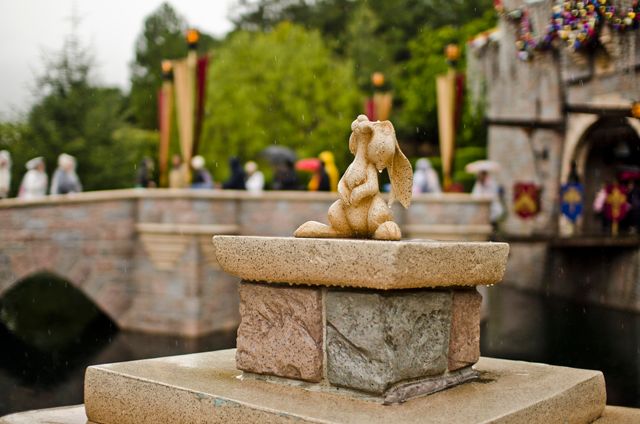 In addition to the walking history lesson, guests receive dessert samples and hot chocolate in a collectible plastic mug. For many, one of the big draws of this tour is the priority access to "it's a small world" holiday and Haunted Mansion Holiday as well as the reserved seating (in actual chairs, no less!) for "A Christmas Fantasy" Parade.
If you're visiting during Thanksgiving or Christmas week, these three aspects of the tour alone might justify the somewhat hefty price tag for the tour. Of course, no Disney event would be complete without guests also receiving a pin that commemorates the tour!
The fudge, gingerbread, and hot chocolate we sampled likely totaled a little over $10 in value, and all of these treats were delicious.
It wasn't a case of receiving $10 in "value" of things we didn't want and wishing that the tour simply would have been $10 cheaper without the treats. The treats definitely enhanced the tour.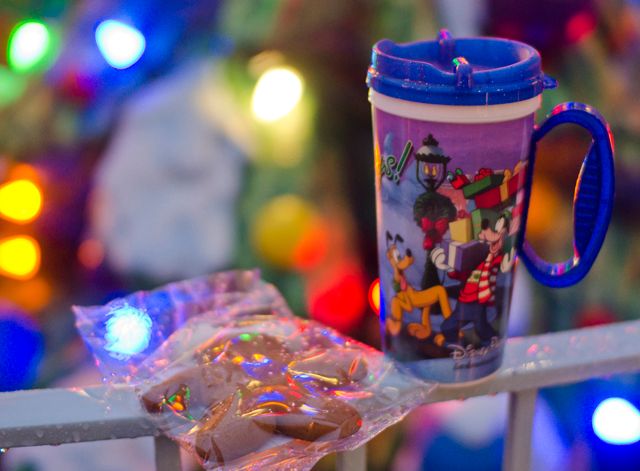 Additionally, the priority access to "it's a small world" holiday and Haunted Mansion Holiday are very advantageous if you're traveling during busy days of the holiday season or you're too lazy to arrive at the park for rope drop. The priority access can save around an hour in line at each attraction during busy times.
Even if you do arrive at Disneyland for rope drop at experience only 5 minute waits for the aforementioned attractions, you'll frequently have to wait a couple hours for good "A Christmas Fantasy" Parade spots regardless of when you visit during the holiday season. No matter how long you wait, you won't be waiting on, and viewing the parade from, folding chairs. Trust us, we tried to bring lawn chairs into the park and we didn't even make it past the bag check!
Given all of this, in retrospect, we feel the Holiday Time at Disneyland tour was a reasonably good value for the money. We learned a little, ate a little, and enjoyed some of the best holiday offerings at Disneyland without fighting the crowds. That said, it's not an absolute must do, and if your budget is limited, you're much better off allocating any spare funds towards desserts.
If you really want to prepare for a trip to Disneyland during the holidays, read our Ultimate Guide to Christmas at Disneyland, which is a crash course in everything you can expect this time of year at Disney California Adventure and Disneyland.
As for figuring out the rest of your Disneyland trip, including how to save money on Disneyland tickets, our Disney packing tips, whether you should stay off-site or on-site in a Disney hotel, where to dine, and a number of other things, check out our comprehensive Disneyland Vacation Planning Guide!
For more Disneyland tips, special offers, and news, subscribe to our newsletter!
Your Thoughts
Have you done the Holiday Time at Disneyland tour? What did you think of it? Share your thoughts in the comments!