The Wave…of American Flavors Review
The Wave…of American Flavors is a Walt Disney World table service restaurant located in Disney's Contemporary Resort. The Wave is a trendy American-style restaurant serving a menu of sustainable and locally sourced foods for breakfast, lunch, and dinner.
The restaurant participates in the Disney Dining Plan; depending on what you order, it can be either a good or bad value on the Disney Dining Plan. As you'll read in this review, this restaurant is like a wave of excellence breaking right in the lobby of Disney's Contemporary Resort.
We've now eaten at The Wave a few times, and each time it has been very good. The first time we dined at The Wave, it was a last minute addition (same day ADRs), and this trend has continued with each subsequent trip there. It seems as if the restaurant is never that busy.
On the particular day of this review, we found ourselves hungry and not wanting to eat counter service again. So, we made the voyage to the Contemporary. I think I speak for everyone when I say that I'm glad we ate there. It was–no joke–better than our recent experiences at the Contemporary's elite restaurant, the California Grill.
Each time we've dined at The Wave, it has been fairly dead, although we've heard it can be quite busy when there is a convention in the Contemporary. Given that it is generally so slow for both lunch and dinner, I wonder why the tables are spaced so close together. Perhaps they are going for an American spin on Biergarten?
As far as decor goes, The Wave is fairly bland. It looks "contemporary," but without any of the character you'd find at a trendy stand-alone restaurant in a city. Rather, it looks like what you might find in the lobby of a Hyatt. There's nothing necessarily wrong with this theming, it's just a little mundane for Disney.
As with most Walt Disney World restaurants, a meal at The Wave begins with bread service. The bread and butter at The Wave are excellent.
The photo makes the bread service look ordinary, but the multi-grain bread is fresh, and, more importantly, the salted butter is out of this world. It's not as good as the pretzel bread at Le Cellier or the garlic bread at Yachtsman Steakhouse, but it's still very good.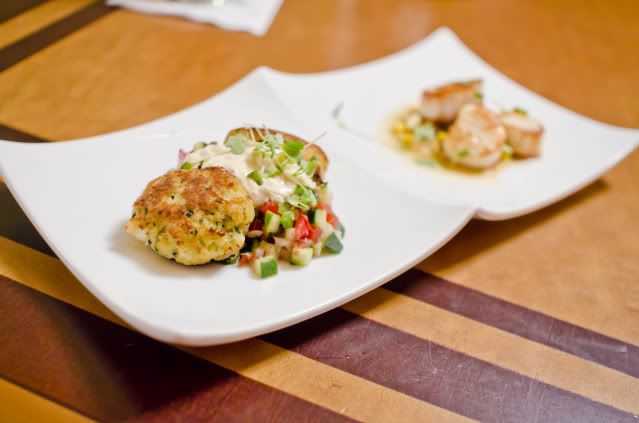 On two of our visits to The Wave, we had the signature "Appetizer for Two," which included scallops and Lump Crab-Florida Rock Shrimp Cakes with an excellent creamy sauce.
Unfortunately, it appears the Appetizer for Two no longer includes the scallops, but fortunately, the crab/shrimp cakes were the star of this appetizer, and they're still available.
These cakes are served with a menagerie of other ingredients, but nothing overpowers the taste of the shrimp and crab, and the meat to breading ratio is very solid. As long as these cakes are in that Appetizer for Two, we'd highly recommend ordering that.
For some reason, the first time we visited, the Bison Burger sounded really good, so I opted for that. Not very daring, I know, but I love Bison Burgers. If there is a Bison Burger on the menu at a restaurant we visit, there's at least a 50% chance that's what I'll order.
This burger was so delicious (the three cheese spread is incredible), that it's the only thing I've ordered on subsequent visits. The whole menu looks excellent, and I think next time I'll order something different, but for now I'll give you a collection of Bison Burger photos I've taken at The Wave over the years.
One our first visit to The Wave, Sarah ordered the Seasonal Soup and Sandwich. She raved about both, especially the soup. I don't recall what kind of soup it was (even if I did, it wouldn't do you much good as the soup changes seasonally), but I know the sandwich was turkey.
Although I love deli sandwiches, I'm of the opinion that there are better things to order at most table service restaurants, since deli sandwiches typically aren't very complex. I tried this one, and it was excellent, but definitely not as good as the Bison Burger (which itself is far from being the most interesting menu item).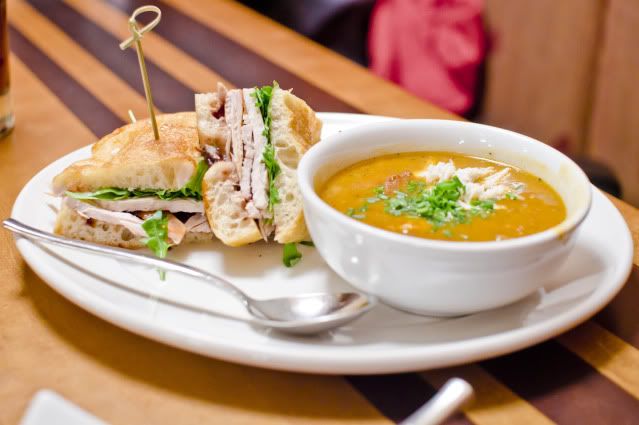 More recently, Sarah ordered the Cobb Salad (from the appetizer menu). This was also pretty good, but after having the Hollywood Brown Derby's Cobb Salad, there truly is no comparison. It really isn't fair for the other Walt Disney World restaurants to have to compete with the Brown Derby's Cobb Salad.
The desserts served at The Wave are all mini dessert trios. Sarah has more experience with these than me (I've ordered dessert at The Wave only once) and she has been impressed with each of the desserts she has tried.
It's great that these trios offer a way to try three different desserts, but the downside is that if there's one dessert you really want, it's one-third the size it otherwise would be, and you get stuck with two other desserts you might like less. For people interested in variety, this system is excellent. For those who know what they like, it's not ideal.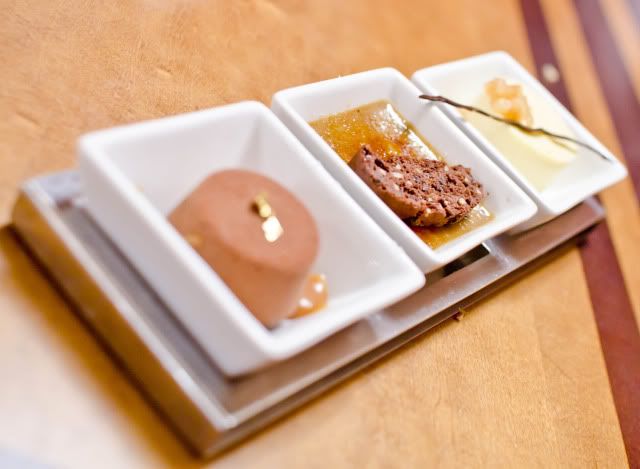 Based solely on the cuisine, the Wave is an excellent–and highly underrated–option. Appropriately priced for what it offers, the Wave can provide great value-for-money relative to other Walt Disney World restaurants depending upon what you order; it can also be a relatively pricey meal depending upon what you order.
We have always enjoyed our meals at The Wave, and for being an "American" restaurant, it actually served more inspired cuisine than some of the restaurants in World Showcase. Although it's not as "aggressive" about the local product sourcing and sustainable ingredients as a chic metropolitan restaurant, it's clear some effort has been put into making the menu akin to a chic American eatery. Unfortunately, the ambiance of the restaurant is not as impressive, with relatively plain surroundings and too many tables. Luckily, though, the Wave is rarely crowded, so the spacing of tables is often a non-issue.
Your Thoughts…
Have you dined at The Wave? If so, do you agree with our assessment, or were you unimpressed with your meal? What dishes did you order? Share your thoughts in the comments!