Disney World Christmas Trip Report – Part 3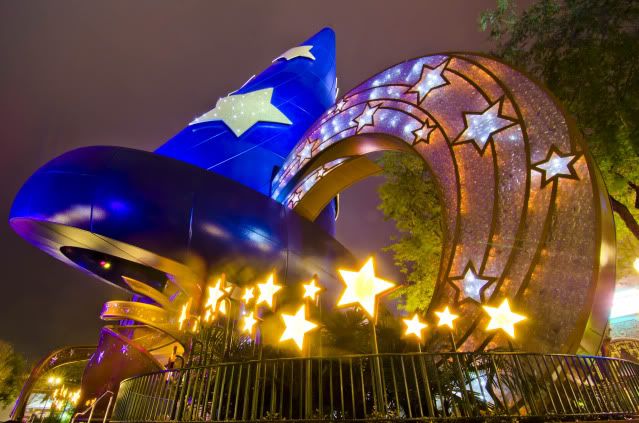 The next day was another Magic Kingdom day. Since we only had an hour and a half before lunch reservations, we decided to do our Monorail resort tour first, so my parents could see the decorations at the Grand Floridian (we had already been to the Polynesian, which wasn't exactly loaded with decorations–what happened to all of the little candy/chocolate displays, and lunch was at the Contemporary); one resort isn't much of a "tour," I know, but it seems like we accomplished more if I call it that, so I will. The Grand Floridian was gorgeous, as always, but was an absolute madhouse. Honestly, I don't think I would want to stay there at Christmas. I would be a little irritated if I were one of Disney's elite, and the resort was freely letting in the riff raff, like me, to take advantage of the resort's amenities. Plus, us riff raff generally have pungent odors, so I imagine those elite get pretty irritated that we come in and stink up their resort. Really though, I would be a little peeved at noise there.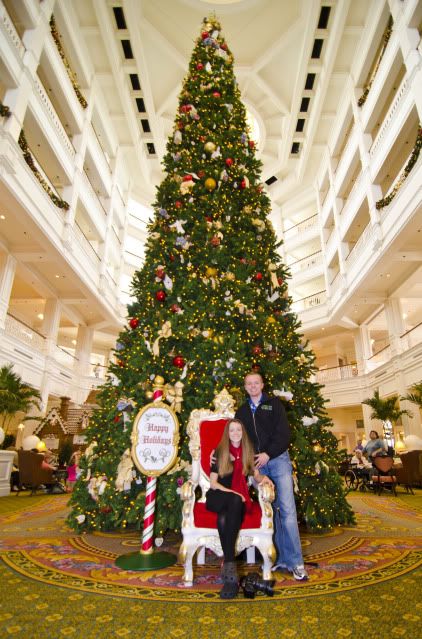 After wandering around for a while, we headed over to Contemporary to try The Wave. The Wave was a last minute addition (same day ADRs). We had discussed it prior to the trip, but had decided we wouldn't eat there. Then, on this particular day, we found ourselves hungry and not wanting to eat counter service again. So, we made the voyage to the Contemporary. I think I speak for everyone when I say that I'm glad we ate there.
The restaurant was pretty well dead when we entered, which made me wonder why all of the tables were so close together. As the server took us to our table, I was really worried that we'd be seated at one such table on that was practically on top of the table next to it, but luckily, we weren't. Instead, we got a large booth. Given that it was so slow (and we would have had no problem getting our pick of dinner reservations, either), I wondered why the tables were spaced so close together. Perhaps they were going to an American spin on Biergarten.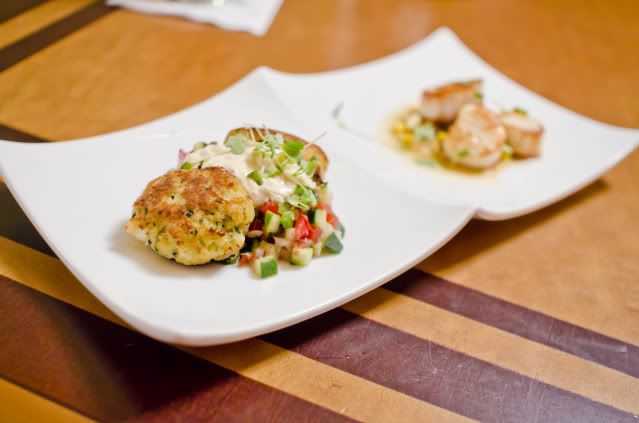 For some reason, the burger (really, the cheese on the burger) sounded really good, so I opted for that. Not very daring, I know, but I think I had lost the energy for daring. Although, to my credit, I didn't fall asleep at dinner like my father, who likely set a world record for times falling asleep during meals on a single WDW trip. Guinness keeps world records on just about everything else, maybe I can submit my photos and get my dad some recognition!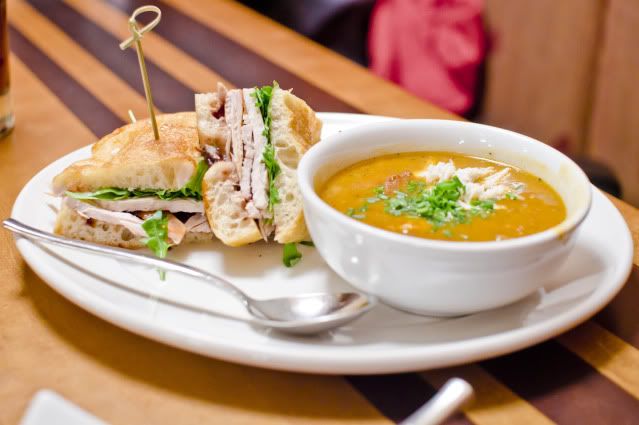 I didn't want to be in a food coma the rest of the day, so I opted to avoid dessert, although it did look delicious. By all accounts of our party, all of the food was really good. Sarah actually preferred The Wave to Jiko. I found this a little dubious, so I suspect that someone at The Wave must have paid her off for this ringing endorsement.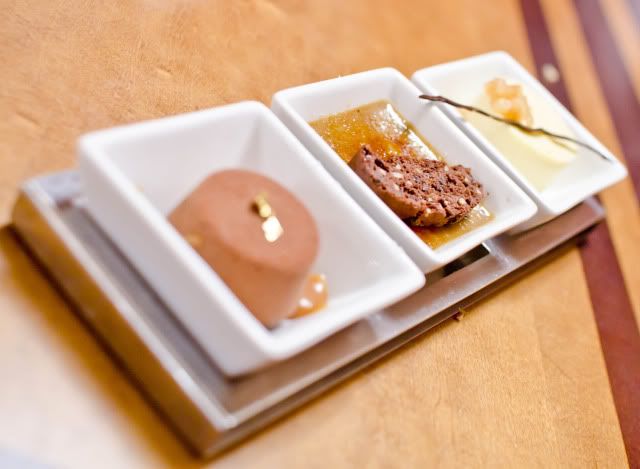 One of my quests since our honeymoon was to find a nice velcro wallet for WDW. I had just about aborted this quest when I was prepping some of my Figment collection to sell on eBay, and I stumbled upon this gem. Although it had a little squeaker in it that caused it to make a noise when I bent over or sat down (by around the second day of the trip, thankfully, this squeaker wore out), this little guy was a lifesaver, and an incredibly awesome way to store FastPasses and tickets. Plus it was oh so stylish.
It made me want to get other retro accessories for our WDW trips, too. I would mention exactly what, here, but I've been sort of burned by that in the past. Back when I started buying WDW camera straps, I had no problem getting them for around $5-15 each. Then, as more people asked where I got them, and I answered, the prices skyrocketed. Now, the prices are anywhere from $30 to $100. Unfortunately, that's just too much for me to pay. I am all for a market economy and I understand that's what's occurring, but it still pisses me off that I shot myself in the foot, so to speak. It pisses me off even more that one of the people who began purchasing the straps because of me has since started selling them for $100-200 each. Whatever, I suppose, such is life. By bringing this up, I'm probably only shooting myself in the foot even further, but at this point, the straps are already so far out of my price range that it doesn't matter.
As the days of the trip passed, my belly became more and more "jolly" looking as I gorged myself. By this point in the trip, I looked like I was in the second trimester. Perhaps that's why random strangers kept coming up to me and rubbing my belly.
I mentioned earlier that the wait times for Haunted Mansion were higher than we ever waited in the summer. The reason for this, I think, is that we got there relatively late in the day this trip (never arrived at a park, besides for Magic & Merriment, before 10 am) and the parks closed relatively early. Conversely, in the summer, we'd still arrive at 10 am, but the parks would often be open until 1 am (or 3 am with EMH), and we mostly did FastPass attractions, shows that never get waits, and the TTA during the day then and wait until late at night for the 'moderate' attractions like the Fantasyland dark rides (except Peter Pan's Flight) and Haunted Mansion as they have no waits by then. However, when the park closes at 10 pm, it's not as empty in the last two hours as it is when it closes at 3 am. Perhaps in the future if we're not sick during the trip (thereby causing us to require more sleep), we will actually arrive at park opening when there are such short operating hours. Maybe my theory isn't even accurate.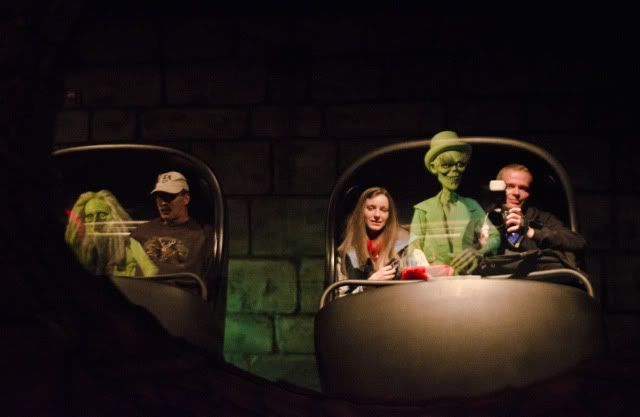 This was another packed day at the MK, and further proof that wheelchairs aren't advantageous–or at least weren't advantageous for us (I'm not contending that my anecdotal evidence is irrefutable proof by any means). We waited a while at Haunted Mansion, and my parents had what probably ended up being a 45 minute wait for IASW. I say probably because Sarah and I got out of line and went to do our own thing for a little while. The only reason my parents didn't get out of line is that they were sort of boxed in. Breaking off for a bit was nice, though, as it gave us the opportunity to do things at our own pace. I very much enjoyed being there with my parents, but at times the slower pace was a little frustrating.
During the time we were separated, Sarah and I managed to accomplish a number of attractions, hitting PhilharMagic (awesome as always!), TTA, Pirates, and Pooh. Pooh is one of those attractions that I find gets better with each visit. Perhaps this time that wasn't just because my enjoyment of the ride involved internally to me, but because the ride's entrance and queue changed substantially. The new queue is really something, and even though we didn't get to play with any of the cool features, I did get to photograph them (sorry, photos aren't edited yet), which was fun. One thing I worry about with the new queue is the little gophers (or whatever they are) that pop up. Each of the three times we rode Pooh, we saw little kids being vicious to these guys. I'm sure Disney designed these to handle abuse from kids, but how much abuse? It would be disappointing to see these broken in 3 months and never repaired because it's not "in the budget" or "not feasible" or, heaven forbid, because gophers become "obsolete technology."
Following this burst of attractions, we met back up with my parents to do Country Bears. While waiting, Sarah stopped for more of her world famous Disney Bird photos. While taking the photos, Sarah got up and quickly moved away as some of the birds flew above her. When I inquired why, she responded, "with the length of my hair, it would be game over if a bird shit on me. I'd have to go back to the room and take a shower." I guess I sometimes don't think about the additional concerns of a female with long hair. Aerially released bird droppings landing on me have never been too great of a concern for me, but then again, I could always head to the nearest restroom and put my head in the sink.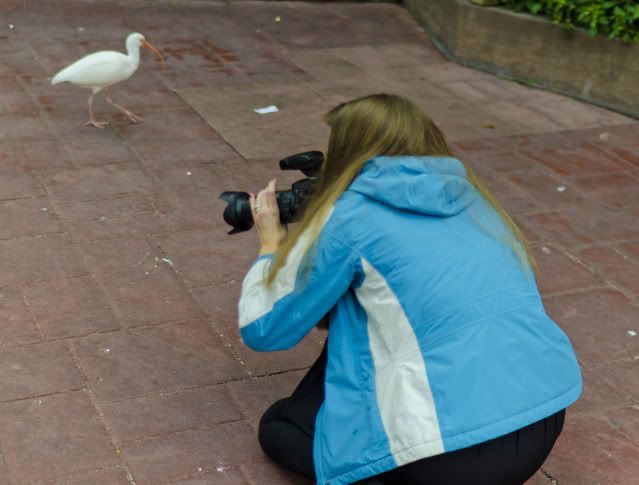 We did a couple more attractions with my parents before Sarah and I prepared to depart for the Studios. As we left, I made an ADR for my parents at Trail's End. I really wanted to eat there earlier in the trip, but we had opted to eat elsewhere because of the additional commute to Fort Wilderness. This is probably one of my biggest regrets of the trip, as my parents said they had an absolute blast going around the campsites looking at decorations.
We tend to plan one event that acts as icing on the cake to conclude our trips, so that the final days of the trip aren't quite so "ominous." Usually, this is something like attending a character breakfast on the last morning to gain early access to a park. About a month prior to this trip, we saw that D23 would once again be holding its Magic & Merriment Event. Sarah and I desperately wanted to attend this event in 2009, but it coincided with two of my finals, and I don't think my professors would have been too keen on me missing them to play in Walt Disney World. Obviously, they're priorities are skewed.
Luckily for us, the event was so popular last year that it became annual, and 2 of its 3 days overlapped with our trip. Tickets for these events are notoriously difficult to secure, but with a little practice and quick fingers, we were able to purchase two. Once we secured the tickets, we adjusted our flights and added another night to our resort stay.
With the backstory set for our Magic & Merriment experience, we headed to the Studios on Friday, December 10th to check in for the weekend and see a screening of "Archiving the Archives," a new documentary about Dave Smith and the Disney archives. Sarah and I debated long and hard about even going to this event, as there was a 'late' check in the next day, and we didn't really care about the documentary. However, after reading accounts from last year that surprises and giveaways occurred at various events, we decided to suck it up and attend.
Once there, we got the final schedule for the weekend. One of the events for Friday evening was a 'private viewing' of One Man's Dream that lasted an hour and a half while check-in was taking place (check-in itself lasted around 15 minutes, save for a few stragglers). Disney history buffs we may be, but not such that we wanted to spend 90 minutes combing through One Man's Dream. With this knowledge, we decided to ask a D23 Cast Member if any surprises might be in store for the event. He only gave an ambiguous response, so we decided to stay, and go sleep in the theatre.
Ten minutes after arriving in the theatre, we were all kicked out, saying it wasn't "ready" yet. At that point, Sarah and I asked a D23 Cast Member if it would be an issue if we took photos in the Studios, and returned when the film was to begin. The Cast Member did not object, so we availed ourselves of this opportunity.
While we cannot spend 90 minutes in One Man's Dream, apparently 90 minutes taking photos flies by. In the middle of one photo, Sarah checked her phone, and the movie was set to begin in 2 minutes. We raced back to the attraction, and snuck inside just as it started. We got end seats in the very back so as to avoid being rude.
The film was interesting, I suppose. Like I said, we are huge Disney history fans, but I find a film, accompanied by little else (say, CircleVision or 3D) as a worthy theme park attraction. The event concluded and we all were dismissed without anything being given away. If Sarah and I didn't spend that time taking photos, I really would have been irritated that this evening was packaged as an "event." Wasting two hours of my time (plus transit time) to see a 30 minute documentary that I would have had the same experience watching at home is not a good use of theme park time, nor is it a valuable option on an expensive private event. Just as my blood began to boil over this, a D23 Cast Member came up to us, and said he wanted to exchange event lanyards with us (another D23 CM had done this with someone else prior to the documentary). At first we were skeptical, but quickly we realized what was happening, and we agreed to the exchange.
Overall, I would rate this event a solid F. If a lower grade were possible, I'd give it that. It was unnecessary, poorly organized, and time was not managed well. Moreover, the event didn't really offer anything holiday-specific or even worthwhile.
On our way out of the park, Sarah danced about with grandiose visions of what the lanyard "meant." At first she wondered whether it was a stay in the Castle Suite. Unlikely, I told her, as two guests had these lanyards, and more importantly, that was such a large prize that the rest of the attendees would be envious and irritated by it. She bounced around the idea of other prizes, all the while I told her not to get her hopes up. Knowing Disney, it wouldn't surprise me if it was a DVC tour.
EPCOT was open late that night, so we headed over there, as was the plan prior to the event. As the bus approached EPCOT, we both sort of simultaneously realized how early we'd have to be up the next morning, and said maybe it would be best to only hit an attraction or two.
SpaceShip Earth was the obvious choice, as it didn't require walking too far in the cold weather. As we got off SpaceShip Earth, an idea for a photo came to me and I saw what can only be described as an epic-ly orange sky. I don't know quite why it was like this (FotoDave told me on Twitter, but it involved science, so I quickly forgot), but it was great. Unbelievably great. I was yammering for a few more shots, and Sarah could tell, so she offered to ride SSE once more while I played. I got a few more while she boarded the Spaceship; when she returned, we called it a night.
Since we left before the park closed, this would be the first night of the trip that we'd be able to take a Shades of Green bus. It was crazy waiting for the bus, seeing it pull up, and NOT walking from the Polynesian in the chilly weather. Unfortunately, while we were waiting for the bus, I decided to set up my tripod for some lame shot–it would've been much cooler during a busy time of day–and when the bus came, I was in such a rush to board, that I left my lens cap on the bench. We never ended up returning to the TTC (with any time to spare, at least) so I never checked lost and found for that cap. Maybe I should call them up, although I'm not really sure what that would accomplish.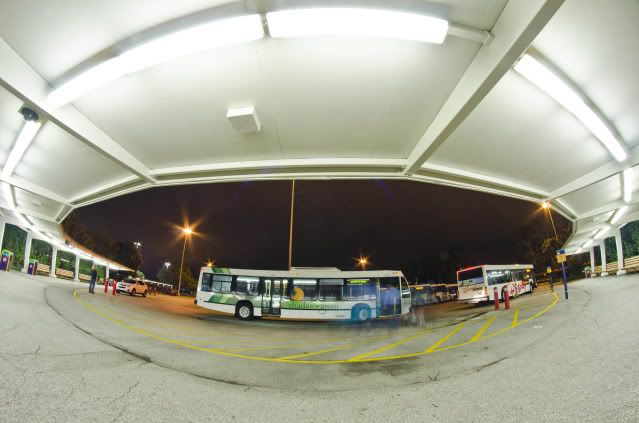 There are multiple pages in this Walt Disney World trip report installment. Navigate to the next page below!