Disney World Christmas Trip Report – Part 3
Following this event, we had the day to enjoy EPCOT before Candlelight Processional. We first stopped at the new counter service restaurant in Mexico. Sarah is a big fan of Mexican food, me…not so much. I thought the food we had was good for what it was, but the portions were too small.
As for the Candlelight Processional that afternoon, it was exactly what you'd expect out of the show. Whoopi Goldberg was the narrator, and while this might be exciting for some, I wasn't so enthused. I liked her before she joined the View, but that show is just unwatchable. All of those anchors have opinions about everything, and they have little basis for any of their opinions. Essentially, they just complain to one another about things outside of their expertise. Not my idea of an entertaining show. I would much rather have J. Peterman as the host! It was nice having reserved seats without paying for a dining package, but we certainly still paid for them.
After Candlelight Processional, we boarded a secret monorail (okay, charter buses) backstage to take us to the Studios. This was one of the most irritating parts of the weekend. After we got on the bus, it took around 40 minutes before we departed. At the time, no one on our bus had any idea what was taking so long. I later came to find out, after reading a report of someone else who attended the event, that one of the other buses was having difficulty loading wheelchairs/scooters. Thus, several people were just standing outside waiting to board that bus for that 40 minutes. I would have been even more irritated if I were one of those people waiting in the cold. Either way, there is no excuse for that issue. Yet another example of the poor organization and inefficiency of the weekend.
Once FINALLY there, we entered the set of Indiana Jones Epic Stunt Spectacular for dinner. We have always wanted to do one of the on set/in ride dinners, so we were glad that this was included in the event. We went around to various set pieces and took photos around them. We were told not to climb on any of the vehicles for safety reasons. Climb on is not the same as crawl under, so Sarah and I quickly snapped the shot below before any clarifications were made to those rules.
Sarah and I must not be very outgoing, because by this point in the weekend, we had still not really struck up prolonged conversation with any of the other attendees to the point that we had people we wanted to sit near. Instead, we nervously paced around, looking for a table with "normal" people (while most of the attendees seemed normal, there were a few of those rabid oddballs who you probably wouldn't want to sit near). Shortly after sitting down, this guy named Clint approached us and said he had joked to his friends how they should sit near us, as he had seen my 70-200 lens during the Candlelight Processional, and figured I was taking good photos. It turned out that the joke came true, as they had actually (inadvertently) sat at the same table as us. Clint, Pam, and Matt turned out to be cool, and we did strike up prolonged conversation with them.
Dinner was epic. The food was delicious and the beer and wine were unlimited. It was easily the best buffet I've had at Disney. I can't recall everything on it, but it was all hot, and well-prepared. I was actually a little surprised. Afterward, Chip and Dale came out for photos. When I went up to get my third and final beer, the bartender knew what I wanted in advance. Apparently myself and two other people were the only ones who had anything to drink. I felt a little odd about that, but for the price of the event, I was going to get my money's worth! Overall, I would give this event a B+; while being on the set was cool, the Indy set just doesn't strike me as being as immersive as, say the Great Movie Ride. I would have given it a solid A had those spears that pop up from the ground been active. If one of those bad boys popped up, it would've soiled anyone going through the buffet line!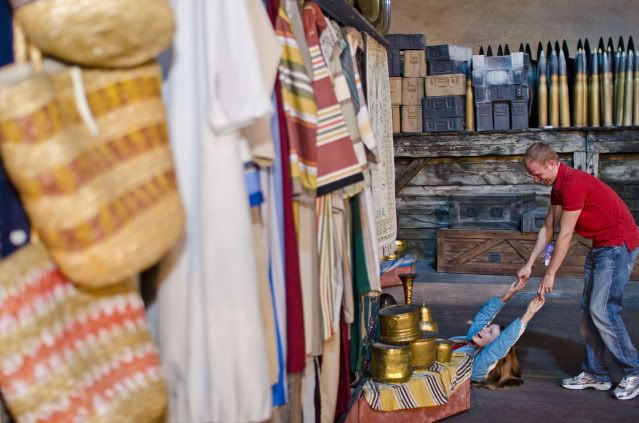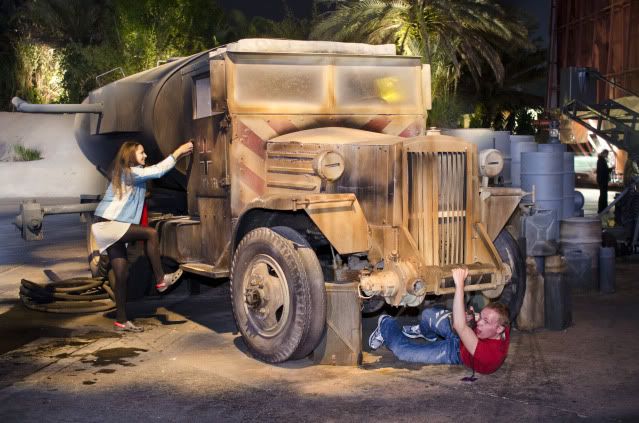 Once dinner concluded and the park cleared, we got word that it was time to head to the Osborne Lights for a private showing and behind the scenes information from the show director, John Phelan. I must say, Mouse Fan Travel and WDW Today really spoiled us. WDW Today spoiled us in that John Phelan's presentation was almost word for word what he said about the Osborne Lights on the podcast. After about 2 minutes of listening to him, we realized this, and decided to enjoy the opportunity to take photos and enjoy the lights sans crowds. Mouse Fan Travel spoiled us in that it delivered a hard ticket event with fewer people crowding the Streets of America. I can see how this event might have been wonderful for those who don't listen to the podcast or didn't attend Desserts and Delights, but for us, it wasn't that unique. Still, that's our fault, not the event's fault. I'll give it a solid B+, with it losing points due to the short time duration.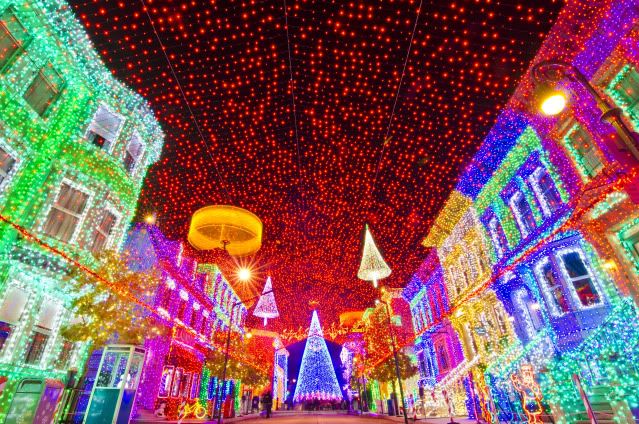 After this event concluded, we still had some time left before the Magic Kingdom closed, so we headed over there. We had encouraged Clint, Pam, and Matt to do the same, so they came as well. We only did three attractions before realizing how beat we were. We felt a little bad that we had encouraged the others to come, too, but they seemed similarly tired, so we all left at the same time.
The next morning my parents checked out of Shades of Green at around 5 am while we were still sound asleep. As neither Sarah nor myself are or have been in the Department of Defense, we couldn't stay there for our last day. This meant that we had to check out when we got up, and change resorts. Of course, with us, procrastinating always trumps actual action, so we checked out and checked our bags with bell services instead of actually heading to Music again. We figured it was a good move, since brunch at the Contemporary started at 10 am. It's never a good idea to miss brunch. Especially when you've paid so much for it.
As alluded to, Sunday brunch at the Top of the World Lounge the following morning was our next event. Despite staying at Shades of Green, we had…uhh…magically found our way into this lounge earlier on the trip, and we were enthused about seeing how it would look during the daytime hours. We arrived fashionably (more like inadvertently) late thanks to monorail delays, but luckily that only cut into brunch by about 10 minutes. As soon as we got there, we received a reusable DVC tote with loads of DVC advertising materials. If any of you out there are looking for a confident with whom to share secrets, I suggest steering clear of Disney. I can only imagine how it treats "normal" secrets given its blatant advertising of its "Best Kept" secret.
The food here was delicious and the Top of the World Lounge was a great location. I was a bit disappointed at the lack of variety in the food, but what was offered was pretty good. Although it was exceedingly windy outside (which stunk, because we had to eat outside until some space inside cleared), the morning views were gorgeous, and the photo op set up with Mickey was a nice touch. My only complaint would be the in-your-face DVC advertising. Between the bags and the subsequent constantly-announced tours, it was a little much. I understand that this was probably part of the Faustian Bargain made in order to secure the exclusive Top of the World Lounge, but if that was necessary, maybe D23 should have looked into getting the California Grill or some other location? Clearly the Top of the World Lounge was not large enough for us all (at least indoors). Even with the advertisements, this event gets a respectable B.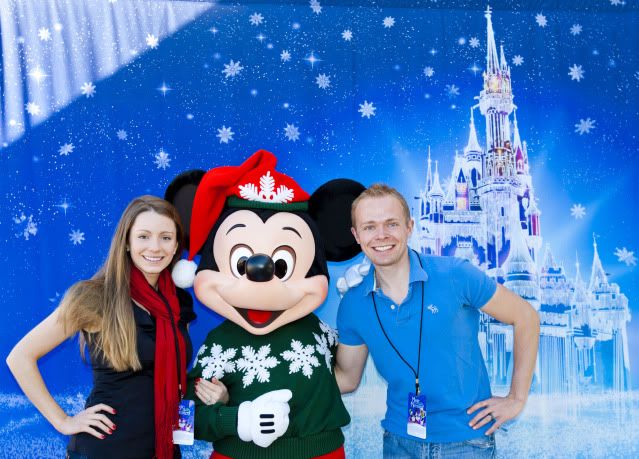 While eating brunch, we met back up with Clint, Pam, and Matt and decided to tour the Magic Kingdom with them. I was a little weary of this at first, as we had already done several slow paced days, and I was hoping for a faster-paced day with Sarah, but this ended up being the most efficient day of the trip. Pam and Matt, who had been touring together since 1996 (I think), remarked, that it was their most efficient day ever, they thought.
Lunch was a first for us: we ate at Pinocchio Village Haus. It was interesting, a little out of date looking. I had always wanted to try the fries there that have all sorts of crap on them (I can't recall their name) that were taken off the menu a year or so ago. After those were taken off the menu, we didn't really have much of a desire to eat there. That said, my meatball sandwich was decent. Not amazing, but palatable.
There are multiple pages in this Walt Disney World trip report installment. Navigate to the next page below!