Disney World Christmas Trip Report – Part 3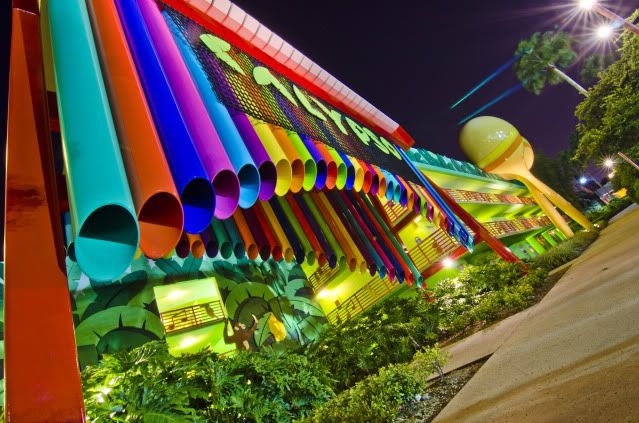 As I mentioned above, we had checked out bags with bell services at Shades of Green that morning in lieu of actually heading to All Star Music. Normally, I regret putting things like this off because it still sucks to do it later, but this time, even though I didn't want to switch resorts that night, I still realized it was a lot better than doing it that morning. We got our bags from bell services, and caught a taxi to Music.
When we finally got to our room, it was around 1:30 am. I was ready to collapse on the bed. Then, of all things, Sarah began antagonizing me into taking photos of Music! I was a bit taken aback, but, since I hadn't taken any photos of the grounds the first night we were there, I rose to the challenge, and headed out. I was back right around 2 am, at which time I finally did get to collapse into bed.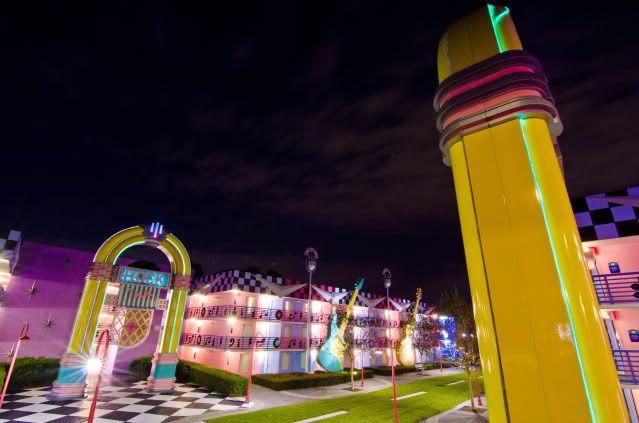 The next day was brutal. We rarely sleep in on the last day no matter how tired we are, thinking we can sleep all we want on the plane ride home. However, this morning, when the alarm went off, neither of us could get up. We slept another 30 minutes before reluctantly getting up. Our colds had definitely peaked, and we were still extremely tired from the previous night. Being tired and sick wasn't exactly the ideal combination for visiting the parks.
Normally if I could only pick one word to describe a day at Disney, it would be "magical." What can I say, I'm a sap for the cheesy special feeling that Disney creates. This particular day, the word definitely would have been "lethargic." We didn't have the normal sense of urgency or desire to do as much as possible. We just sort of slowly moved around, like sick hogs waiting for someone to put us out of our misery.
On top of that, it was the coldest day of the trip yet (I can only imagine how could it must have been that night). It was so cold that as we walked through the park, we saw CMs putting tarps over topiaries and flowers. It was so cold that when I went to the restroom, I contemplated just hanging out in there for a few extra minutes because it was warm.
It was worth it, though. Not because we got to do some more attractions or see the MK one last time. It was worth it because of what I saw and heard as we headed onto Space Mountain. As we headed towards the queue, I saw a man awkwardly carrying a car seat for a baby in front of us. I wondered what the heck was up, so I began paying careful attention. The man climbed over the rope to enter the queue (rather than entering it like a normal human, for some reason), with car seat still in hand, at which point I saw that there was a child in the car seat. A CM quickly approached him, asking what he was doing. He was, "going to Space Mountain." Of course he was. I mean, what kind of parent would he be if he didn't let his infant experience all of the rides?! The CM said that the infant couldn't come onto the ride, explaining twice that it was a roller coaster. A r-o-l-l-e-r c-o-a-s-t-e-r. The man seemed perplexed, not understanding why this roller coaster was ageist.
We didn't stick around to hear the rest of the conversation, as something else of interest had occurred. After entering the standby line, a boy (probably around 12 years old) in front of us jumped over to the Fast Pass line in front of us. As we passed a CM, we heard him on a walkie talkie to someone else indicating this had occurred. The boy kept looking backward while he was in line, probably doing a fist-pump in his head at his ability to cheat the system. Then, he arrived at the Fast Pass collection point. When the CM there asked for his FP, he said, "what's that." Another CM motioned for the boy to come with him. We're probably terrible people for obtaining so much joy out of seeing the idiotic acts of others, but if that's the case, so be it. It cracked us up and made our morning a little better.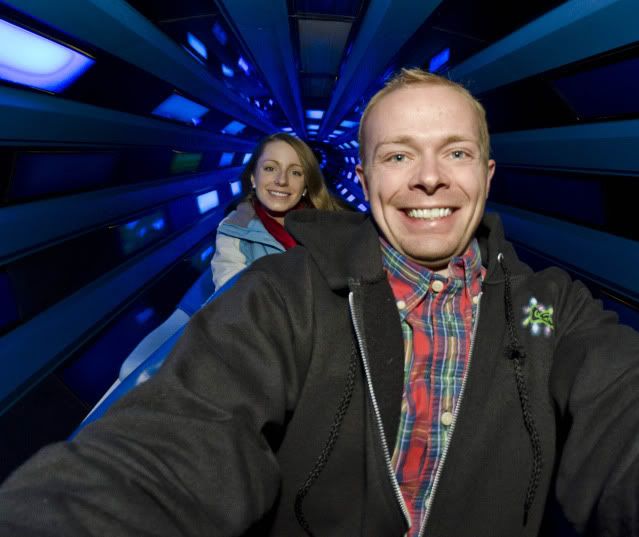 The rest of the day was uneventful. We wandered around, mostly doing indoor attractions to avoid the cold. We avoided shows, as we knew we'd just sleep through them. When the day finally came to an end around 1, and it was time for us to leave, it wasn't the sad event it often is. I am sad that we aren't there now, but at the time, we were both just so physically drained that we were ready to go.
We waited a while for the bus, to the point that we began worrying if we'd be back to All Star Music in time for DME. Finally, a AS: Sports bus came, and we just hedged our bets, knowing it would only be a 5 minute walk to Music from Sports, and could be a longer wait for the Music bus. Along the way back to the Sports, Sarah saw an armadillo. With the way she reacted, I could have sworn this was the highlight of her trip. It sure did give her some energy, if only briefly.
We finally found ourselves back at Music, where we waited briefly for the DME bus. Once we boarded the bus, we zonked out. I did have to wake up to be on the look out for our bus driver potentially giving away our luggage (he professed how he was new several times on the trip, and I was worried he'd drop off our bags at the first stop at the airport…so were many others, apparently, as they pressed up against the right-side windows on the bus).
The cold weather that day was not unique to Florida. Our return flight had two stops, and both of those had delays. Despite our original 9 pm return time, we weren't back in Indy until 1 am. At least we weren't delayed a day, I guess.
Overall, the trip was a lot of fun. We managed to strike a good balance between overdoing it with group events and actual park touring. That weather, on the other hand, was something I don't wish to experience again any time soon. A big part of it was my fault. For 12 days, I packed 12 polos compared with 4 long sleeve shirts. I didn't pack a coat or sweatshirt, and had to end up buying a thin sweatshirt that I wore everyday. I know we'll be back again in December, as the parks are beautiful at Christmas, and when we are, I will be armed to the teeth with warm clothing. Still, even with that warm clothing, there is the potential for a cold, given our touring style. Plus, you can't keep every part of your body warm.
The potential of that alone makes me a bit weary of traveling in the winter months to WDW. I downplayed it a bit here because I didn't want to be constantly complaining, but being sick at Disney is not the greatest thing in the world. Sarah and I don't see eye to eye on this one, but I'd much rather travel in the hottest of summer months. At least then all I get is a little sweaty. Although I do understand her point, given that she has long hair, and probably gets even hotter because of that–and she has to deal with that hair in the hot weather. I also prefer the longer hours the summer months offer, even if it is busier then.
Anyway, that's all for now. Hope you enjoyed the trip report. I went into it thinking it would be somewhat abridged, but it feels like I've written just as much as I always do. We don't yet have our next trip booked, so I don't know when I'll write next, but in any case…
See Ya Real Soon!