Disneymoon Trip Report Pt III
This is Part 3 of 3 in our Walt Disney World Honeymoon trip report. To view Parts 1 and 2, please visit our Walt Disney World "Disneymoon" trip report index page.
The next morning we were up bright and early to get checked out and checked into Old Key West before our 11:30 a.m. ADRs at Coral Reef in Epcot. The checking out part was pretty easy, although we managed to mess it up (second time we've done this–did it last time at Fort Wilderness Cabins, too; you'd think we'd learn). I dropped off three of our bags with Bell Services for them to transfer, and informed them that my wife would be bringing one more bag in about 30 minutes. Sarah and I had agreed that she would get ready, pack her 'getting ready' stuff in the last suitcase, take it to Bell Services, and meet me at EPCOT. She carried out her end of the bargain without a hitch.
After I dropped off the other bags, I went out the bus stop, planning on catching the first one. When a Studios bus arrived, I got in and the bus driver said "you know I'm going to the Studios, right?" I told him I didn't care where I went (he presumably told me this because normally buses for the Studios don't stop at the bus stop, so I'm sure he found it odd that anyone boarded). A couple minutes later, we arrived, and I went to the Old Key West stop. Given my luck in catching a bus there so quickly, I figured it would take a while before I got a bus to OKW, but I had a fair amount of time, so I wasn't worried.
Thirty minutes later, I was a bit surprised to see around 7 buses stop at Coronado Springs' (I think it was CSR, it could've been something else), but none stop at OKW. After forty minutes, when one finally stopped and I started to board it, the driver told me he was only dropping off, and that buses picking up would be marked with something (can't remember what) on their display. I informed him that I had been waiting for forty minutes and his was the first bus I'd seen for OKW, period, and he told me one should be along shortly. After an hour and fifteen minutes of waiting, another unmarked bus stopped. He told me the same thing when I started to board, and I told him I had been waiting for an hour and fifteen minutes. He indicated that sometimes buses take 20-30 minutes, and I said, "no, not fifteen, an hour and fifteen." Shocked, he told me that he was going to radio someone, and closed his doors. After a couple of minutes, he told me to come on the bus. Relieved, I boarded, and started to sit, only to have him tell me that he couldn't take me.
He indicated that he wanted me to come on the bus because he wanted to tell me this in private. He said that normally, there is a spotter who stands out by the bus stops and watches for people who need to go back to their resorts for whatever reason before 11 a.m., as that's when the return service starts. When that spotter sees someone waiting at a stop, they send for a bus to come. On that particular day, he said there was no spotter, which was why I, and a group of about 8 people waiting for nearly an hour at the Saratoga stop, had not been picked up. He said it was absolutely ridiculous that this had happened, and that I needed to call the head of Transportation, and he gave me the head's name and contact information. Indicating that he called for a bus and that one should be there for me soon, he closed by saying, "but I didn't tell you any of this." I take this as sign of honesty, as usually people only tell you that they're not the source of information if they could get in trouble for disseminating it, or if it's untrue. I don't think he had any reason to lie about it, so I took him for his word, and thanked him. He apologized profusely for the situation, but I told him I understood, and that I realized it wasn't his fault. I got off the bus, and five minutes later, the bus for Old Key West came to pick me up.
I arrived at OKW in a bit of a foul mood, yet I knew I needed to act pleasant so the Cast Member at check-in might give me a better view (and for the obvious reason that it wasn't her fault that it took an hour and twenty minutes for a bus to pick me up, so it wouldn't be fair to be sour towards her because of that). Getting a better view assumed as a condition precedent the ability to check-in. The Cast Member at the desk couldn't find our reservation, so that would be tricky. I didn't have my membership number handy, so it was partly my fault, nor did I know what name Sarah put the reservation under. First, I tried Sarah's maiden name. Then Sarah B, then Tom Bricker. Not knowing what to do, she told me that she'd look again. Turns out Disney spelled her maiden name incorrectly. I was just relieved we wouldn't be sleeping at a bus stop for the rest of our honeymoon!
After checking in, I went straight to the bus stop to catch a bus to the EPCOT (of course it was the last to arrive, but it was still very quick to arrive) without even stopping at our room. I got to EPCOT only 10 minutes after our ADR was to start, and booked it over to the Coral Reef. To think, when I first caught the Studios bus with such ease, I had these grand visions of riding Soarin', The Seas, and SpaceShip Earth all before lunch. I met up with Sarah right as our table was ready, so at least that worked out well.
We shared the stories of our mornings, and to add insult to injury, I discovered that she got her picture with Ariel! There are only a couple of face characters with whom I'd ever want pictures, and she is definitely top on the list (I later found out that it was "Princess" Ariel, so I didn't really care anymore; I want the Mermaid version). That actually made me snap out of the foul mood, as at the time, it just seemed like too much. Come to find out, Sarah also had a frustrating experience when she tried to buy a hat and her room key was rejected (we had this issue earlier; I believe it had been demagnetized). She also indicated that despite indicating that we'd wait for a table close to the aquarium window, we were seated in the row of tables farthest from the aquarium. We laughed about the morning and cheered up, ready to devour some fish.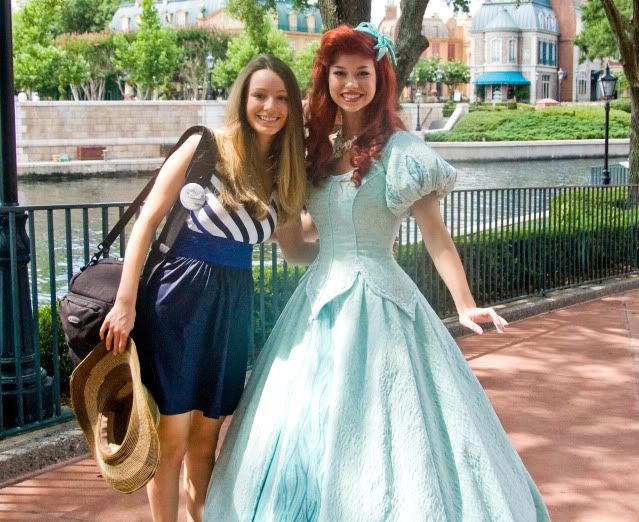 This was our second time at Coral Reef, the first being in 2006. It took us so long to return because the food we had there the first time was underwhelming (except the dessert). We had low expectations this time, and really only booked it because of the ambience. While the ambience was definitely better the previous time when we sat right next to the tank, the food was considerably better this time. It was actually very good, and something I'd highly recommend. The Chocolate Wave was, of course, delicious, too. Our server was inattentive, but it appeared that she was serving a lot of tables. I wouldn't be surprised if they were short-staffed that day, so I don't blame her. Still, I expect attentive service (regardless of who is at "fault") when dining out, so it was still disappointing.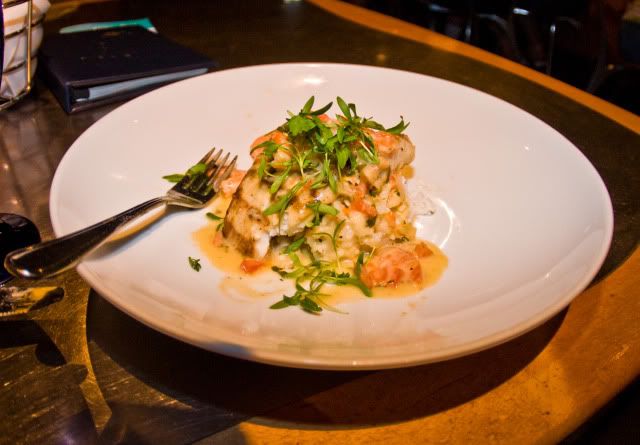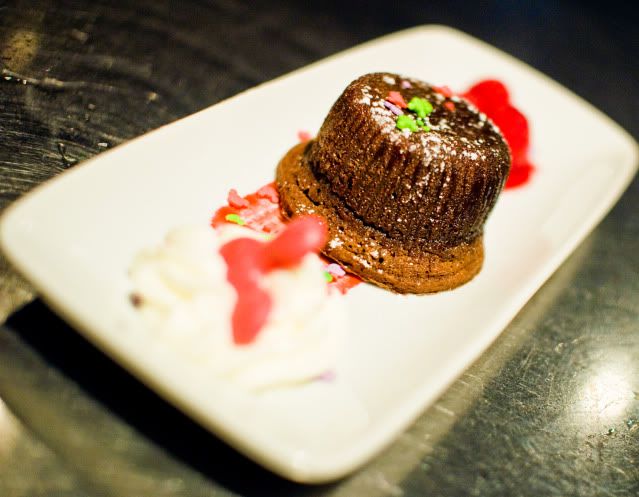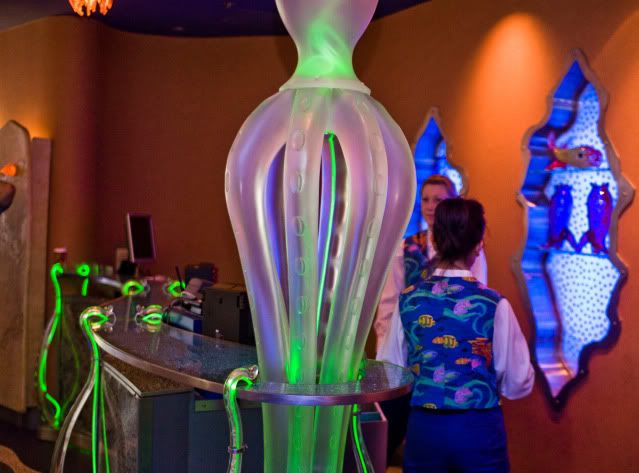 With the exception of Illuminations and brief stops in Mexico and Norway for Gran Fiesta Tour and Maelstrom, we hadn't experienced much of the World Showcase. Thus, we decided this afternoon would be devoted to doing that–after a Living with our Land and a brief trip aboard our spaceship, our SpaceShip Earth.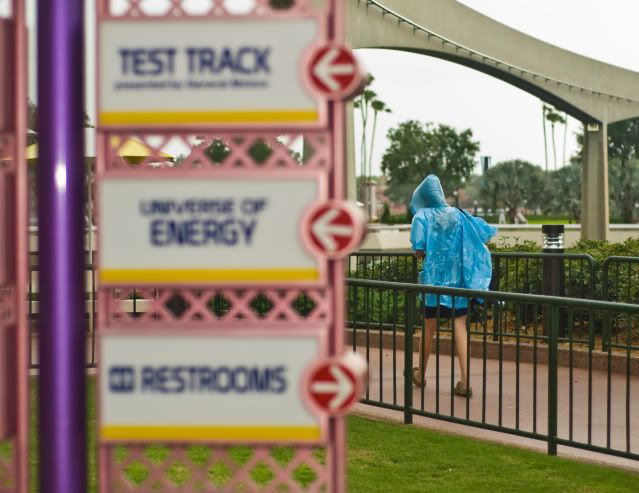 Sarah had already picked up for us a Kim Possible "Pass," and we were fully committed to doing it for once (this was roughly the 6th pass we'd picked up, but we always ended up doing something else). We had some time to kill until KP, so we decided to see O' Canada. Until our October 2009 phototrip, Sarah and I had never seen either of the CircleVision 360 films in the World Showcase. We had this attitude that if we wanted to watch a tourism video, we'd watch it on YouTube. That's like saying watching Planet Earth on a 3.5" black and white TV is the same as watching it on IMAX. I am really glad that we reluctantly followed those guys to the CircleVision films, as Canada's is now one of our favorite things in World Showcase. It might be my top favorite.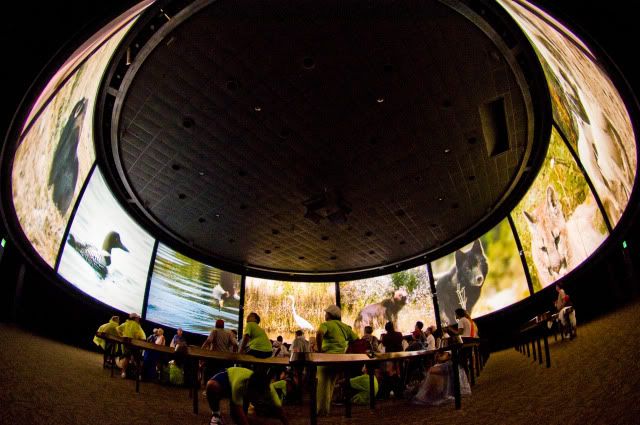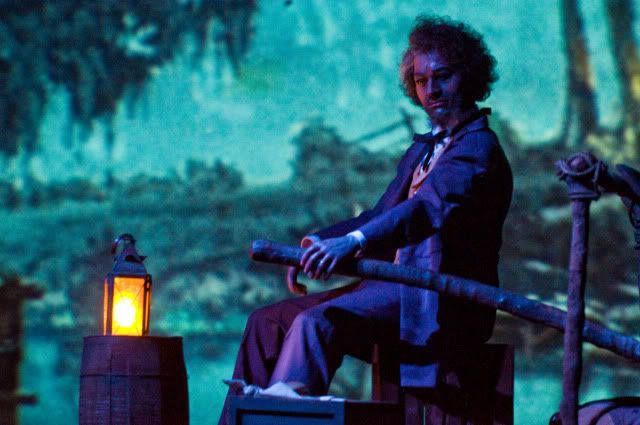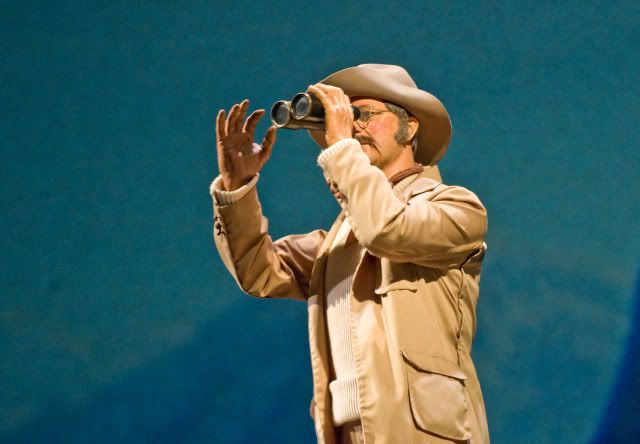 After we emerged from Canada, it had started to sprinkle. With only 5 minutes until the next American Adventure show, we decided to go see that while the rain passed. When we entered the theatre, famed Cast Member Lonnie motioned for us to come to the podium, where he said there was a call for us. It was Minnie and Mickey, who wanted to tell us congratulations! Very cool! After we took our seats, Lonnie had us stand and had everyone in the audience give us a round of applause. The show was great as always; I'm sure I've made clear in past reports my Patriotism and how the American Adventure always gets me riled up. Lonnie approached us as we were leaving, and took us over to the Liberty Inn and gave us an Apple Cobbler and a certificate in honor of our honeymoon. There's a reason he's widely regarded as one of the best Cast Members; talk about making our day!
It was still raining when we exited the Liberty Inn, and I convinced Sarah that it wouldn't be much fun to do KP in the rain. She agreed, and we contemplated what we could do. We still had a decent amount of money on a Disney Visa Rewards card that we had to use, so we considered doing a mini "Drinking Around the World." We were a bit hesitant to do this as we're both frugal and the drinks are expensive, and because we had a late night ahead of us in the MK, and we didn't want to be anymore exhausted for that then we'd already be.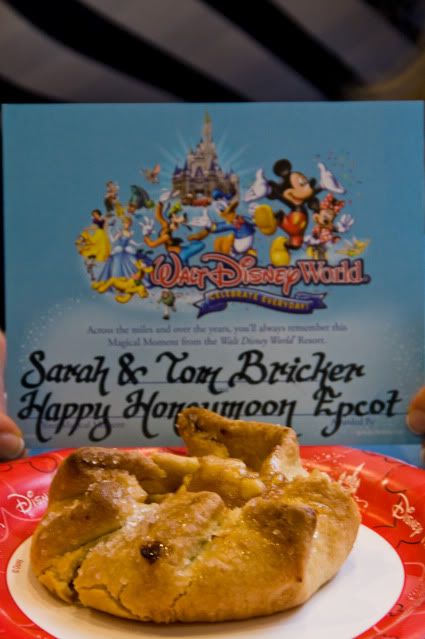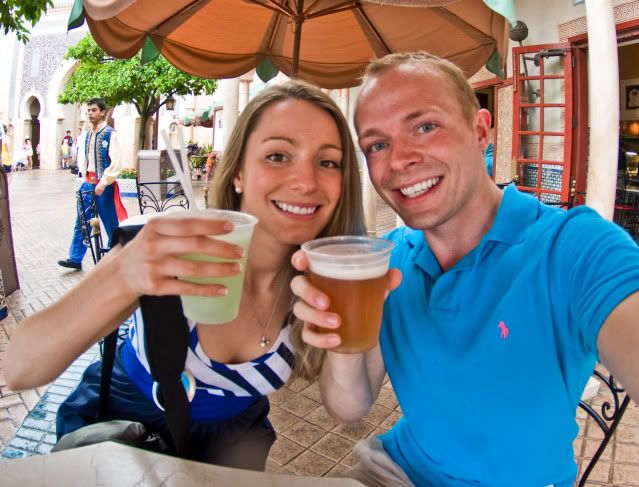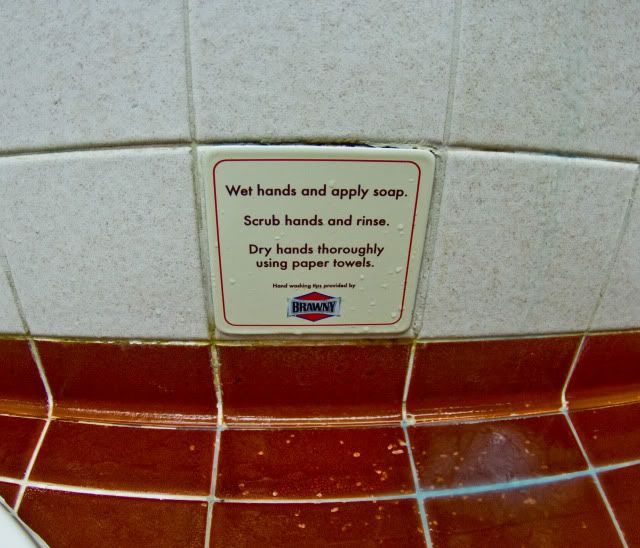 A message for blackthidot. Those puppies don't just clean themselves–especially with all the places YOU put them!
We decided to start, and see how things went. If the rain cleared, we'd take another stab at Kim Possible, if not, we'd just do Soarin' and head over to MK in the early evening. We started in Morocco where Sarah got the Sultan and I got Casablanca. This is a pretty good beer and, I think, it's one of the cheapest in the World Showcase. After we got the drinks, we sat down with them under an umbrella and chatted for a while as we did some people watching. Next on my list was Canada. I really wanted to try another Unibroue beer. When we arrived in Canada, much to my dismay, I discovered that the outdoor stand did not serve Unibroue. Extremely disappointed, I opted for a Molson while Sarah got a Torontini. I'm not sure why (besides the fact that there was a line behind me so I just impulsively ordered the first thing I saw) as it's something I could probably buy in any Wal-Mart in the US.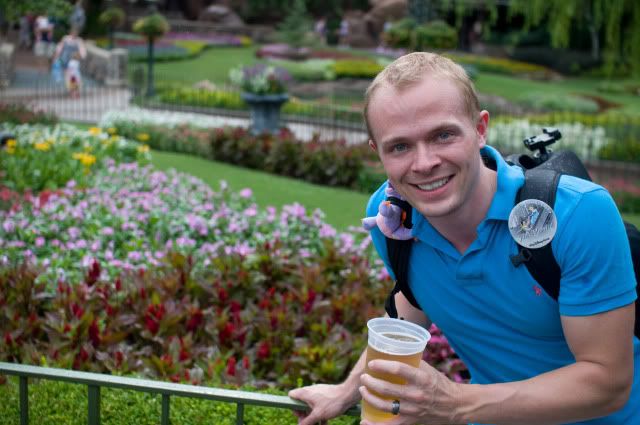 Some ducks were under a tree near a bench in the area, so we went over and did voiceovers for them while doing some more people watching. We saw some interesting people, but watching the baby ducks was far more interesting. After that, we headed to Norway's Kringla Bakeri og Kafe where I got a Cloudberry Horn and Sarah got the other thing that's pictured. We heard a lot of positive things about the School Bread, but it was cheaper than the items we did get, so we figured it would be better to use the DDP credits on more expensive items this trip, and save the School Bread for Christmas. Can't experience everything in one trip, after all. After having our snacks, we stopped at the stand in Norway and got a large Carlsberg Beer to split. Neither of us had ever had it before, and it was probably our favorite.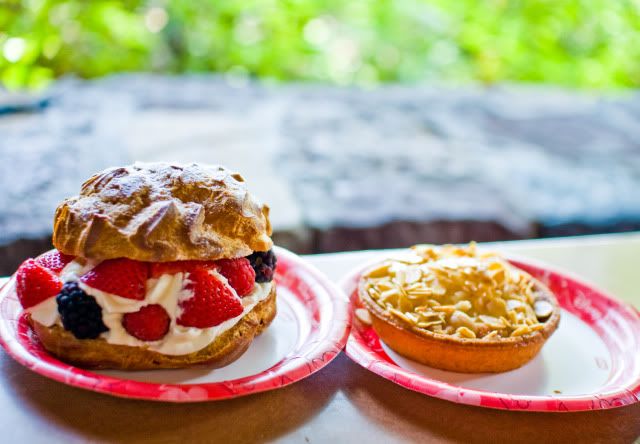 I got down behind some planters paparazzi-style to introduce this cool foreground bokeh. I thought it was pretty cool, but it got us some weird looks and comments. Sarah had to tell one lady that she knew me!
It was getting fairly late by this point, and we had to decide whether to leave then and beat the post-Illuminations crowd or stay, watch Illuminations, and get stuck in the crowd. We really wanted to try out the new La Cava del Tequila in Mexico, so we decided to do that and then watch Illuminations. For those unfamiliar, La Cava is an actual bar/restaurant, and not a little kiosk like the other beer stands. Accordingly, unless you inquire, the prices aren't always listed. Assuming it would "only" be $10-12, Sarah and I ordered drinks upon the bartender's recommendation. Come to find out, the drinks were $25 each! I was sick to my stomach. No matter how good the drink, there is no way it is worth $25. I could not believe it. We could have eaten a table service meal for that price. We learned an important lesson: always ask the price of things, even if it is "tacky."
I think this gentleman agrees with me that Blackthidot's skirt is a little too shirt. Plus, c'mon, rainbow with black? That just clashes!
Although beside ourselves regarding the drinks, we enjoyed Illuminations just the same. We tried to rationalize the amount spent by saying it's okay to splurge on our honeymoon, but I don't think either of us really bought that explanation, especially given that wasn't something on which we had any desire to splurge.
Right when Illuminations ended, we booked it for the exit.
There are multiple pages in this Walt Disney World trip report installment. Navigate to the next page below!