Disneymoon Trip Report Pt III
First on the agenda was getting FastPasses for Space Mountain. Yes, I know we had already ridden it like 15 times by this point, but we just couldn't resist. From there, we determined our priorities, as we knew we wouldn't be able to experience too many attractions. Obviously Pirates and Haunted Mansion were musts. Time would preclude other favorites such as Country Bears, Carousel of Progress, and Hall of Presidents. I also said I'd prefer to ride TTA only once, as to me, it didn't hold the same allure during the day.
As we were heading towards the front, we saw Princess Tiana for the very first time ever. Seeing the insanely long line for her, we knew there was no way we'd be able to get our picture with her. Still, we wanted to get a couple of pictures of just her. As I started to take a picture, a woman moved in front of my camera. Now, what follows here is, I'm sure, going to be a divisive subject, but please bear in mind that I myself am not even sure how I feel about it. I am just soliciting feedback.
I moved and started to take another picture, when a woman positioned on the other side of the exit gate said, "excuse me, I don't want you taking pictures of my son." I responded that we weren't taking pictures of her son, just the character. She said, "don't take them while my son is there." Not wanting any issues, we waited until she left (and to her credit, she thanked us) to take the pictures. Now, I don't completely understand the cause for concern here, but I realize there is cause, and it's not just limited to her. I've been told the same thing by Cast Members before (I must look like a creep, huh?), so I imagine there have been complaints by other parents in the past to occasion Cast Members saying this type of thing.
That said, and while I respect concerns about a child's safety, I don't really think this is realistic. Well, perhaps I should put that differently as I realize people can do inappropriate things with pictures: I think taking your kids to Walt Disney World is very inconsistent with having concerns of people taking pictures of your children. If you really have that concern, taking kids to Walt Disney World is a terrible idea since you can't control every picture taken in the parks. While this mother could prevent us from taking pictures of her kid when we approached the gate and made it patently obvious that we were taking pictures, there is no way she could prevent all pictures of her kid from being taken, especially any intentionally taken in a clandestine manner. In fact, I'm sure many pictures were taken of her son that trip inadvertently, just where he happened to walk into the background of a shot someone else happened to be taking. Don't get me wrong, I think the potential kinds of abuses people could make with pictures of children are abhorrent, but short of never letting your children go out in public, it's not at all preventable; since it doesn't directly cause harm to the kids, maybe it's not worth effort as a parent to protect-against. Does what I'm writing here make sense, or is this unreasonable on my part? Am I just bitter because I had to wait to take my picture. I really don't think so, but I'm also not a parent, so perhaps I'm only seeing this from my perspective. I really am not sure of what to think.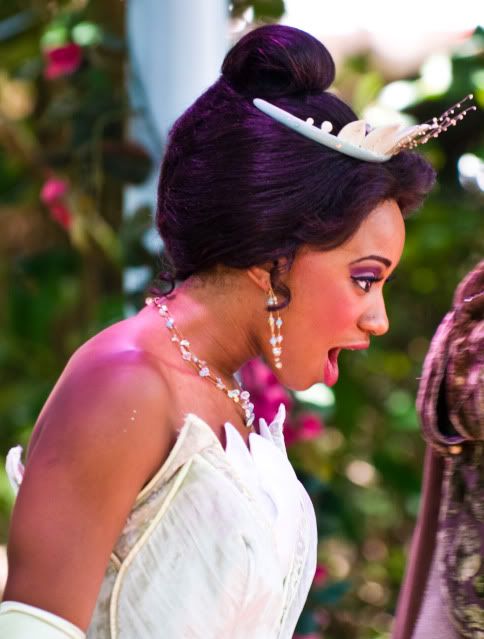 After waiting to get pictures of Tiana, we headed towards the front. We each got spontaneous ideas to do "one last thing," before leaving, but ultimately we realized we had better get going or else risk having to fork out money for a cab to the airport. That was definitely not on the agenda. Plus, for some reason or another, cabs don't play the cool Disney video as you leave (although most of the time we both sleep soundly through that).
I mentioned above that there were several shirts I wanted to purchase, but that I'd be waiting to get them all until Christmas discounts were available. Well, not entirely. One of the shirts I wanted was a Summer Nightastic shirt. Something told me that would be available during Christmas, so I bit the bullet and paid full price. Now that I think about it, cool new Christmas shirts should be available when we're there in December, so I'll bet I'll want even more toys! If clothes can somehow "pay for themselves," the Nightastic shirt definitely has, as I've worn it for around 25 days since returning. Since I didn't go outside (except to let out Walter E. Dogsney) at all while studying for the Bar during the month of July, I didn't think it much mattered if I wore gym shorts and a Nightastic tee shirt everyday.
Reluctantly, we dragged our feet to the front entrance (after getting a last minute fix of pictures) and said goodbye. Even with the December trip planned, it was really difficult to leave. We quickly schemed of how Sarah could get a job as a nurse down there, I could withdraw from the Indy Bar and take the February Florida Bar, before ceasing, realizing that perhaps the dream, in this situation, is better left as an unfulfilled one. After all, anticipation is part of the fun–for me, at least.
The bus returned us to OKW where we met up with Nick again to return him a point and shoot camera we borrowed for Jellyrolls, to say goodbye, and thank him again for being in the wedding. We requested our bags, wandered around the gift shop, and finally boarded the bus. We were both so tired at that point that I can't quite recite what happened, it was all a blur. All I know is that suddenly we were in the car with Sarah's mom, who was picking us up from the airport. In Indiana. Walt Disney World and the Disneymoon were over. Luckily, even now, the Honeymoon continues.
When we returned, I tried to get in contact with DVC about the issues with the OKW room I mentioned above. After some initial difficulties with getting ahold of the right person, our guide gave us an email address to contact. The email I sent best sums up the communication, so rather than remember what I said, here it is verbatim:
"Hi,
After a few initial issues finding someone who was the "appropriate contact" to deal with the issues, I spoke with both a member of Member Services yesterday (who informed me that she was passing along my problem to, I believe, Member Satisfaction), and later, our Guide, XXXXXX, returned a message a left for him and also encouraged me to personally email Member Satisfaction anyway, as he indicated there was absolutely no reason for us to have an experience like this (thus, this might be duplicative).
For our honeymoon, my wife and I stayed at BoardWalk and Old Key West (we are Member Number XXXXXXX for reference). The BoardWalk portion of the stay was fantastic. We have stayed at many Disney Resorts, but BoardWalk is easily our new favorite. Everything from upkeep to general ambiance to the friendly demeanor of the Cast Members was great. However, when we transferred to Old Key West we had some issues with the room.
The entire room smelled of must or mold. Not just a little, but a lot; to the point where it seemed like it might have serious mold issues. We actually found visible mold near our door (see the attached picture). While I find the smell of mold inexcusable, the visible mold was even more aggravating, as that is something that seems like it should have been spotted by housekeeping and immediately taken care of. Additionally, our sheets smelled and were visibly dirty, and our shower curtain was dirty. Separately, I don't believe any of these conditions should have been occurring, but together, they gave the impression that our room had been neglected for a while. Had we been staying for anything longer than three days (however, given that we didn't arrive in our room until after 3 a.m. of our first night staying there due to Extra Magic Hours in the Magic Kingdom, we felt it wasn't an efficient use of our time), we would have requested a different room, as it was that bad.
Upon returning, my wife contacted Disney Vacation Club (a non-Member Services line) and was re-directed to Old Key West. Upon contacting the Resort, she was given a, what I believe is, lame answer regarding construction and 'continued improvements' to the resort (there was construction at Old Key West, but none of these issues related to it in any way) and was re-directed to Member Services. Unsatisfied, I thus left a message for our Guide about it and called Member Services. I am hoping you can resolve this problem for us.
Although this is our first trip as DVC members, we have stayed at Saratoga Springs previously and many other "regular" Disney resorts, and have never had anything less than wonderful room-amenities. While this did little more than put a slight damper on an otherwise amazing honeymoon, it is a situation that we believe needs to be addressed."
Approximately 10 minutes after sending this email, I received a call from a member of the Member Satisfaction team. He was very cordial and emphatic, indicating, as our guide had, that the condition of the room was unacceptable. He said Old Key West should not have even had the room open for guests.
I read a lot of negative experience comments around here wherein people say, "honestly, I wasn't expecting Disney to give me anything, I just wanted the company to know about the problem." I'll be honest, while DVC knowing about the problem was a big part of me contacting DVC, I also expected something. Frankly, we felt shortchanged for our points/money. When the Cast Member indicated that he'd be returning the points for the Old Key West portion of our stay, I was shocked. We didn't expect that much. While the stay there certainly was less-than-stellar, it was still not worthless. Still, I wasn't going to complain or demand less, so I thanked him and reiterated how great our stay at BoardWalk was, saying that I didn't want to dispense only the criticism and not the praise.
As silly as it may seem, given being, in our opinions, being overcompensated by DVC, we decided not to contact Disney transportation about the issues we had there. We figured we would minimally be sent a gift card for the amount of the taxi, and possibly more. Since DVC had already given us too much, we felt it wouldn't be fair of us to complain about that negative experience. Not contacting Transportation would "balance" things out a bit, in a way. Like I said, it might sound silly, but if that's the case, then it's our silly rationale.
With that contact as somewhat of an epilogue, the only loose strings to tie up were editing pictures and writing this trip report. Of course, with us there is never a time when we're not preparing in some way for a Disney trip. Even before I got done with the Bar we were getting our ducks in a row for our late summer Disneyland trip and our Christmas-time Walt Disney World trip. Although the Disneyland trip is in the immediate future, the planning has really been geared towards the Christmas trip, and that's the one we're both heavily anticipating at the moment. Still, even almost two months after the fact, we still reminisce about the wonderful Disneymoon. Something tells me even two or twenty-two years out, we'll still be discussing it.
I think it's fairly obvious that it was a great honeymoon. I know there is no point in second guessing decisions, so I'll file this under the category of "advice" for similarly situated individuals: if we had to do it again, and could change one thing, it would definitely be paying more for a later (direct) flight after our wedding. Other than that and being tired on a few days, it was wonderful. I got to spend 11 days with my new wife enjoying our favorite place in the world right after our wedding, which I can only describe as pure bliss. We found a new favorite resort, had wonderful dining experiences, and all the while, had the wonderful company of one another. It really was the perfect honeymoon.
There is an old line that goes, "all good things must come to an end." In the last couple of months, I've learned that whoever thought up that line must not have married his or her best friend. I was lucky enough to meet my soul mate about five years ago. I've been lucky enough to have a wonderful time with her thus far, rekindling a love for Walt Disney World with her, raising two beautiful little kids (pets) together, and forging the absolute best friendship I've ever had. I was lucky enough for her to accept my proposal for marriage on the beach of the Polynesian Resort at our favorite place in the world, Walt Diseny World. Then, she was patient enough to plan our wedding and tolerate me as I went through three years of law school, often spending inordinate amounts of time away from her at the library. Finally, I was fortunate enough to have her say "I do" beginning our lives together with a whirlwind Honeymoon, which continues to this day.
So, while some good things must come to an end, I now see how it's asinine to think that all good things must come to an end. But, like I said, the saying is right that some good things must come to an end. Such was the case with the Disneymoon, and such is the case with this Disneymoon report. Well, hopefully it has been a "good thing" (although I don't think you would have read this far if it wasn't). With two more trips to Disney resorts in the works for this year, rest assured that it won't be along before we have another one of these written. See ya real soon!
Did you enjoy this Walt Disney World trip report installment? If so, please share the post on Facebook with a "Like" or "Share" through the buttons at the top of the post, on Twitter by clicking the "Tweet" button, or by sharing it through the random assortment of buttons below! As always, please leave your thoughts about this post in the comments!