Disneymoon Trip Report Pt III
When we first walked through the queue, we were both impressed. It looked better, but more importantly to us, it had retained the "windows" on the right hand side of the queue that we love. As we progressed through, we saw the games, which appeared seamlessly integrated, rather than awkwardly wedged in. Emerging from the queue tunnel, we saw the newly installed ceiling. It looks great not only from the queue, but also on ride, in that it makes Space actually dark again!
My only complaint, and I think this is more about queue management than the refurbishment, is that about half of the days we rode Space, the queue diverted us back into hallway right behind the far walls of the queue that didn't see like it was on-stage. The paint was pealing, it was well light, and was generally just unthemed. The oddest thing about this was that we experienced this when the main switchbacks weren't even in use. It wasn't as if we had to be diverted back into the hallway because more queue was necessary.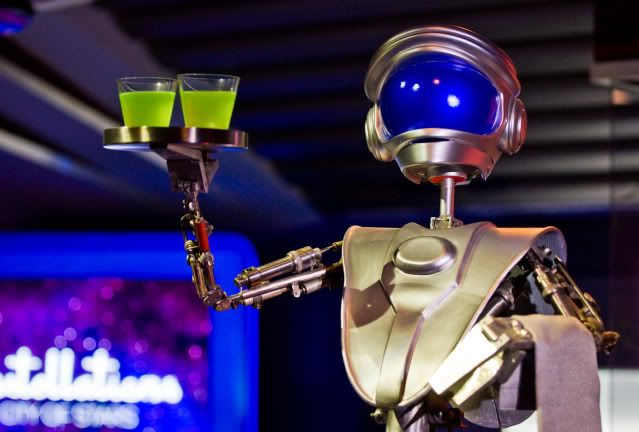 I've never had any problems with the ride itself, but it did feel smoother. Definitely darker as well. It seemed to me that the red re-entry tunnel was longer, but it's quite possible that my memory deceives me on that one. Following the attraction is where the coolest changes, in my opinion, were made. The photo viewing area is always fun, as we're (mostly me) those immature people who make funny poses. Then there's the new post-show. Starting with the Horizons nod in the Mesa Verde luggage, this post show is cool. Rather than being a (former) advertisement for FedEx, it actually continues the Space Station theme very well, especially with the final scene in the home of the future, and the cameras and TV sets that I used to abhor have been modernized with a cool green screen effect that is really fun.
Overall, I would give the refurbishment a B+/A-. The only reason it losses any 'points' are because I think, overall, despite all of the great things that were done, a little more could have been done. Honestly, I don't know what, but that's probably part of the reason I'm not an Imagineer. I wouldn't want to see a total overhaul a la Disneyland (at least I don't think I would, let me get back to you in a few weeks on that one), but more of the elements there could have been incorporated into the attraction. That said, what was done was done very well, and the ride definitely feels new again. We were both very pleased. Sarah gave it especially high marks for the smoothness of the ride itself.
After Space, we used our Splash Mountain FastPass. Then, my perseverance paid off. I convinced Sarah to a place we'd never been together: Tom Sawyer Island. I have to admit that I was skeptical as well. It just didn't sound all that interesting. The one thing I was really excited to do was the barrel bridge. When we finally found it, I started bouncing on it, much to Sarah's chagrin. As I've alluded to, she has a bit of motion sickness, and I don't think she was too thrilled with me jumping up and down bouncing a bridge like a 6 year old all jacked up on Mountain Dew. I had an awesome time jumping up and down. Some little kids started doing it while I was doing it, and that's when it was the absolute best. Certainly made moving on the bridge more interesting!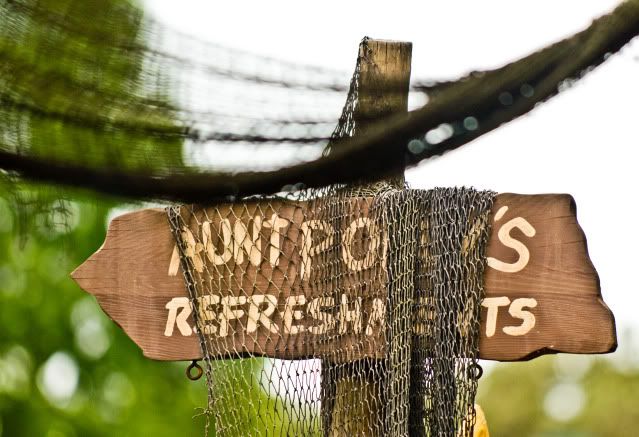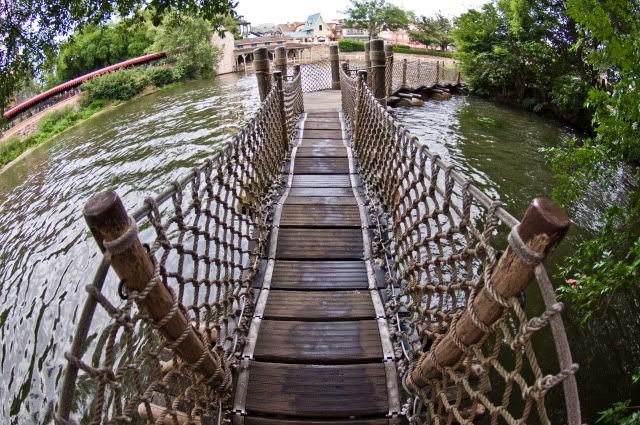 I was surprised at how cool I found the island to be. There was a lot to explore, poke around in, etc.. I really can't describe what was so neat, but I think part of it was the new (to us) experience of it all. In discussing it, although we both really enjoyed it, we did figure it would be one of those things that we couldn't do every trip. I am somewhat surprised that there isn't a quick service restaurant or at least a turkey leg stand over there (it looks like there might've been one at some point, is that the case?). All in all, we were very glad we made the trip over.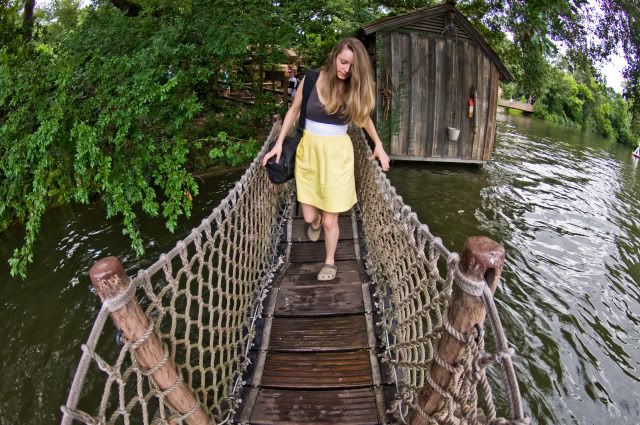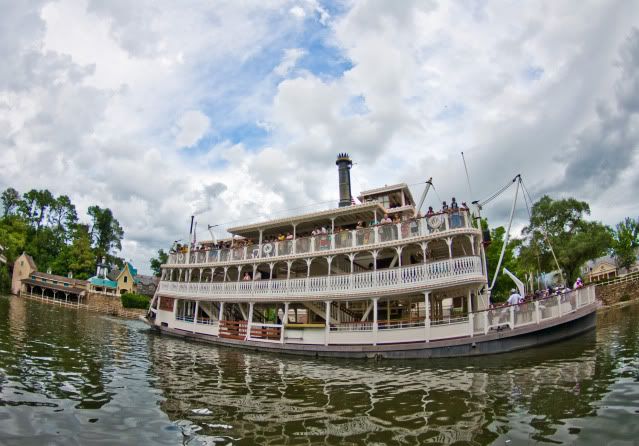 This makes the perfect segue way into a soapboax of mine. One of my absolute least favorite threads in the General Discussion forum requests people to list the attractions they should skip. As discussion point thread, I don't really see a problem. However, there is no discussion (for the most part). It's just a bunch of lists that will undoubtedly be used by someone (perhaps not the other poster, but I guarantee someone will base their decisions of what attractions to skip off the general consensus of that thread). I think basing the attractions you see off of suggestions like that is a terrible idea. The thing is, we each have unique likes and dislikes, different senses of humor, etc.. I am sure there will be people who will read this report, and disagree with every opinion I've interjected. Likewise, there will be some who agree substantially. It would be foolish to base your touring plan off of my opinions, just as it would be foolish to base it off a consensus thread such as that. Three of my favorite attractions, Country Bear Jamboree, Hall of Presidents, and Carousel of Progress, frequently appear on the others' lists of "attractions to skip." Skip?! We visit each of these multiple times per trip! The point is, I think it's important that everyone go in with an open mind, experience as much as they can, and determine what they like. You may find that you think the consensus of people have lousy opinions. I'm glad we have adopted this policy in recent trips and have visited new attractions that we otherwise overlooked because of our preconceived opinions of what it'd "probably" be like.
Sarah really wanted one of the taco things from Pecos Bill's, and we had to split our meal anyway, so we agreed to go there and split it. Sarah had her half of the salad first, then I went and loaded up my half with all sorts of crap from the toppings bar. The salad was okay, but Pecos Bill's doesn't have an awesome singing audio animatronic, so the experience is sort of lame. I suppose the theming of the restaurant is okay, but I really don't know how people prefer Pecos Bill's. I mean, come on, Sonny Eclipse lives at Cosmic Ray's!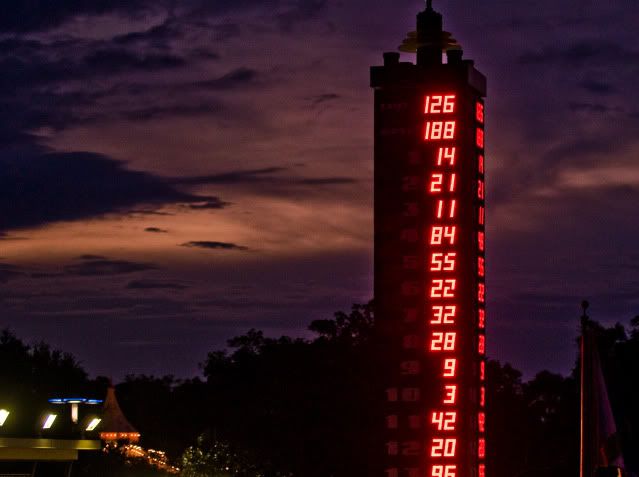 We then headed back over to Tomorrowland and played around in the dance party before heading to Space Mountain. Yes, we rode Space Mountain way too many times. It's just so fun that we couldn't resist! I honestly think the hours we've logged in space rival even the most senior NASA flight team members. If my experience at Mission: Space tells me anything, it's that I know how to pilot a spaceship. Given my abilities and my experience, I am a bit surprised NASA hasn't contacted me yet. Maybe I need to put my resume on Monster.com.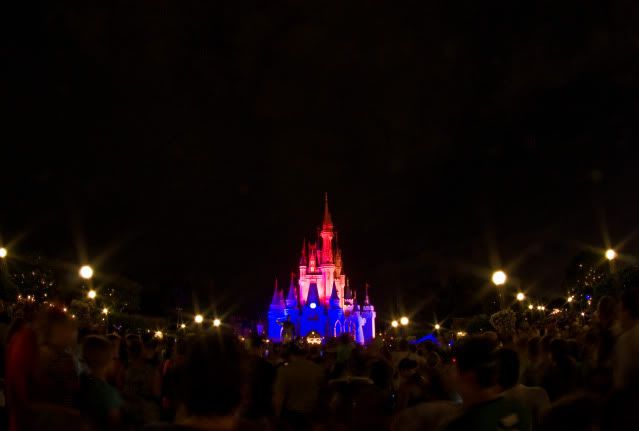 It was fireworks time after that! I opted for the fisheye lens this time, wanting to get full coverage of the perimeter bursts. I didn't quite have the success I wanted, and probably should've used the ND filter one less day and the fisheye one more day, but oh well. Perhaps they'll bring back Nightastic next summer. The crowd was terrible in the hub, so we headed for the nearest land: Liberty Square. Haunted Mansion had limited wait, so we figured we'd get a ride in before the Main Street Electrical Parade. In the queue for Haunted Mansion, I used Sarah's phone to send a tweet to Henry from TouringPlans that we'd be watching the second showing of the MSEP from the hub area. Cory was planning on meeting up with us there, too.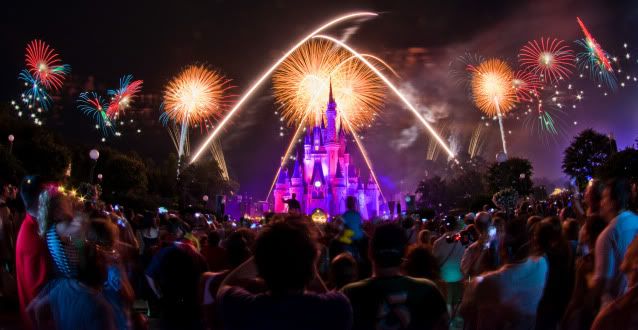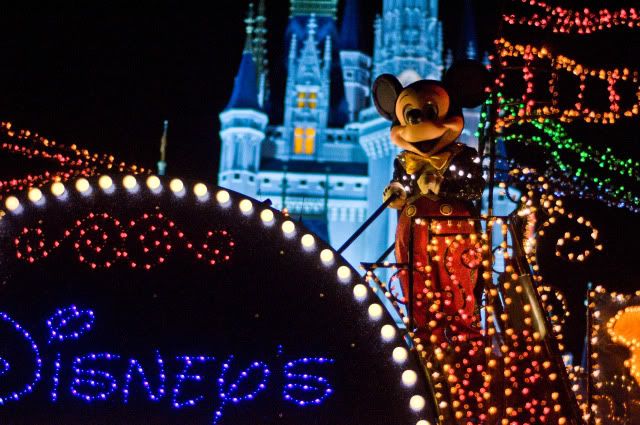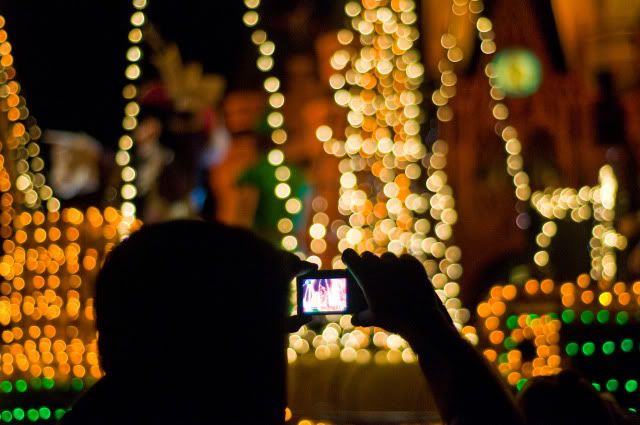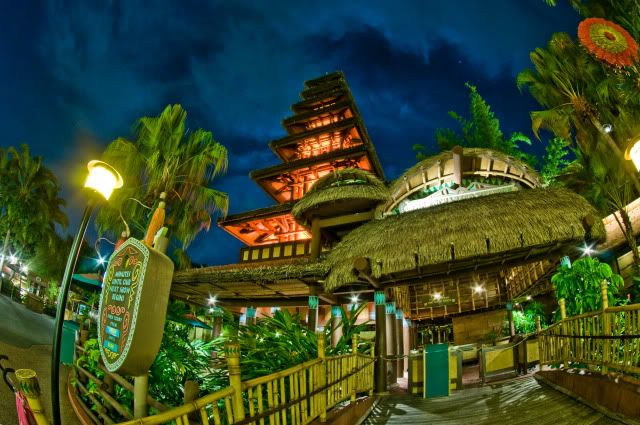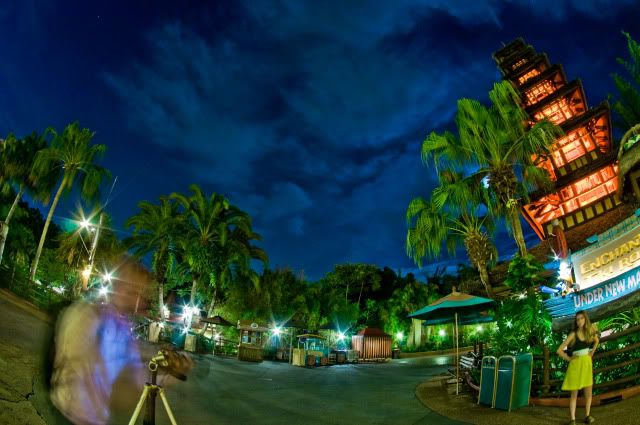 Another unintentional shot with the wrong camera. Check out that sky, though!
Cory was waiting for us when we exited the Haunted Mansion and we headed with him to the hub and met Henry. After the parade, the park wasn't open for much longer, so we just rode TTA a couple of times and chatted. With four people including a tall person, the cars can be a little cramped; we still had a good time. I know I'll be monitoring the permits thread for TTA car expansion, though! After the couple of rides, the park closed and we started shooting. We went on a tear. For the first time, we shot a land outside of Tomorrowland, heading to Adventureland, where the skies looked awesome. From there, it was on to Tomorrowland, the Hub, Main Street, the upper level of the Train Station, and the front side of the Train Station. I was shocked no Cast Members approached us, actually. When we finally made our way toward the exit, we had to share a bus! This is something that rarely happens, and was somewhat surprising given that there were plenty of other buses there idling. I guess they couldn't spare any more than two buses!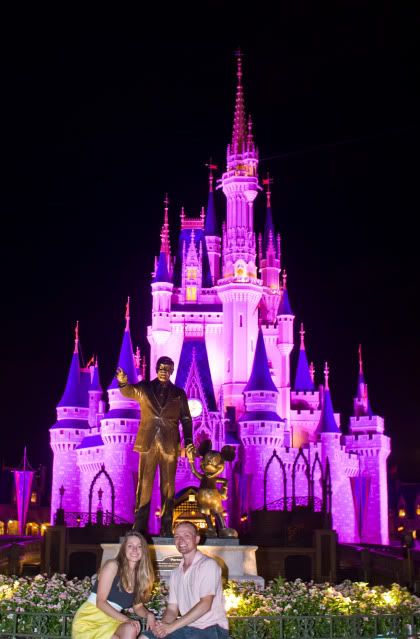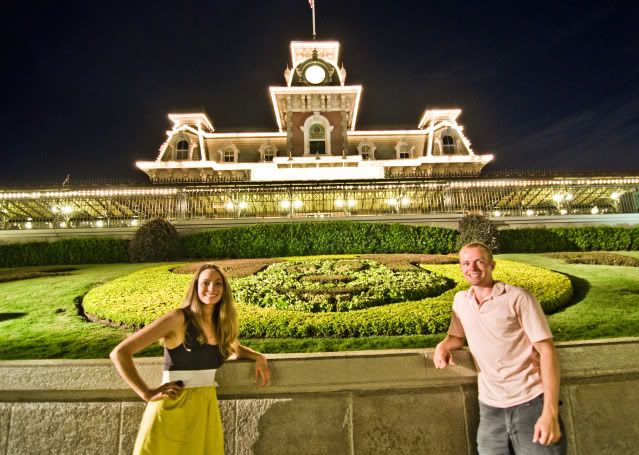 There are multiple pages in this Walt Disney World trip report installment. Navigate to the next page below!