Disneymoon Trip Report Pt III
Unfortunately, even by this point, we had to wait for three monorails. By the time we finally made it to Magic Kingdom, the fireworks were just starting. It was crowded and it would take too long to set up my tripod, so I just snapped a couple pictures of the fireworks handheld. Not the greatest shots ever, but not bad given the circumstances.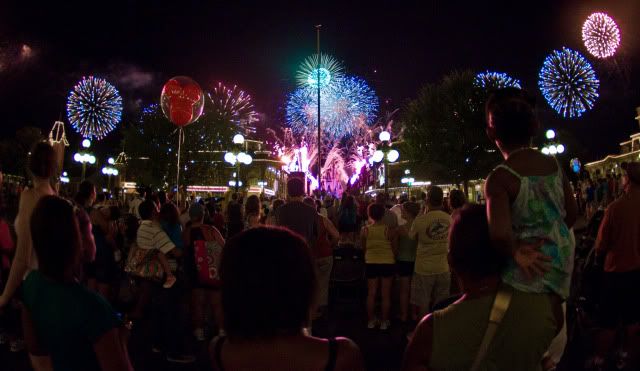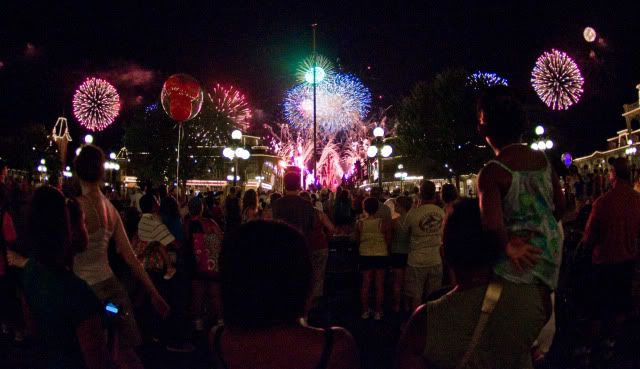 After the fireworks, we headed for our old standby, the Tomorrowland Transit Authority. It was a nice leisurely voyage, and definitely relaxing after being in mobs of crowds from the start of Illuminations until after the end of the Nightastic fireworks. With the crowds more or less dissipated, the park was much more enjoyable when we exited TTA. Given that it'd been a while since we ate lunch, we decided it was time to eat again. Surprisingly, we weren't that hungry. My Cloudberry Horn was huge and very filling, so perhaps that was why. Since we'd need to conserve counter service credits a bit, we decided to split a meal. That meant we'd be ordering the half rack of ribs and chicken combo, which is by far the best option to split. Given its size and cost, I'm really surprised it's still a DDP option.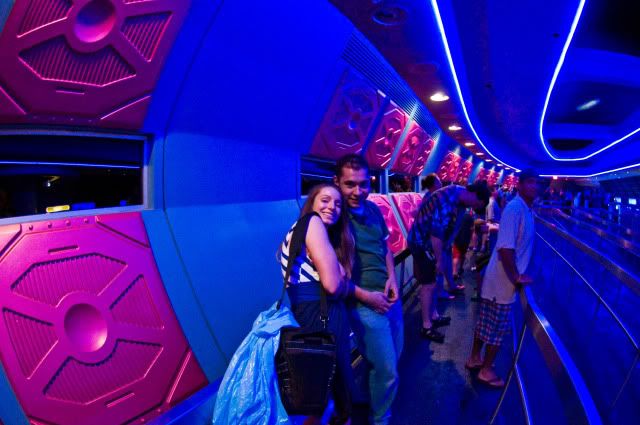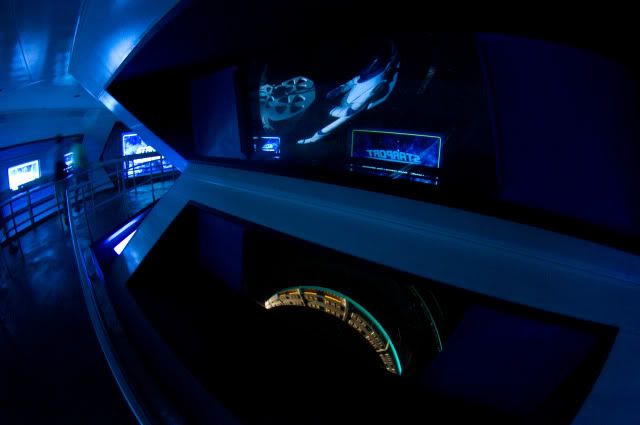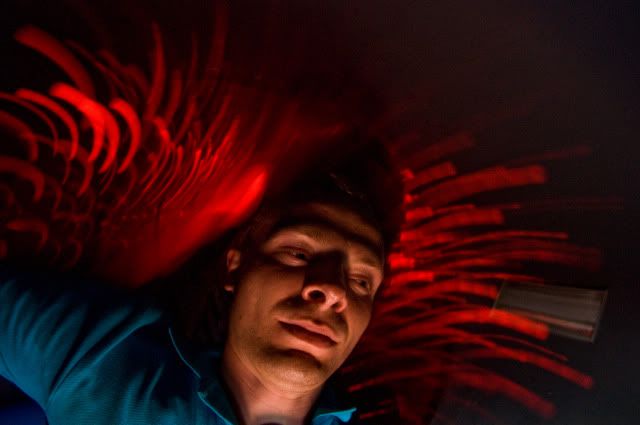 Sorry about these last two shots. On the plus side, you all now have blackmail material on me!
Our friend Nick, who was in our wedding party and is a Cast Member, met up with us at this point for a couple hours. We rode Space Mountain several times, along with the TTA, Big Thunder, and Splash. At closing, we found ourselves in Tomorrowland again. I realize that the fisheye lens is an acquired taste (or better put, not to everyone's taste), and I realize that I probably over-used it this trip. It was just so fun to use (there's a reason "everyone" in the Disney photography crowd has been buying them–they're incredibly fun to use at Walt Disney World).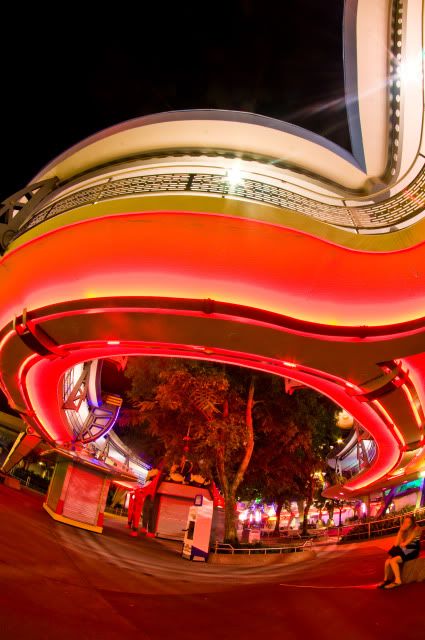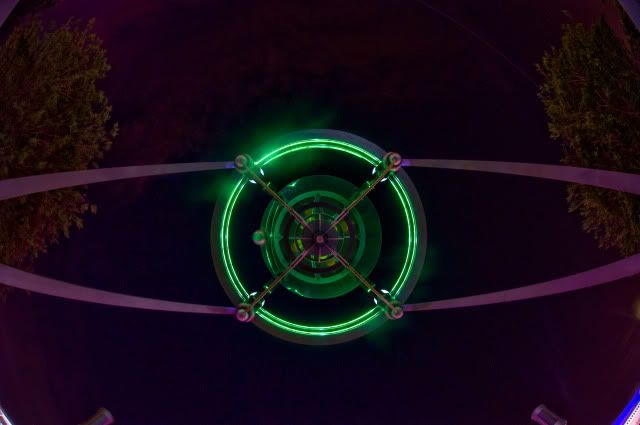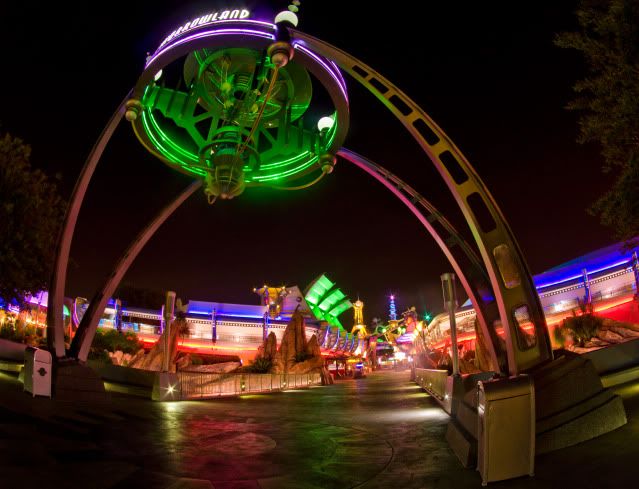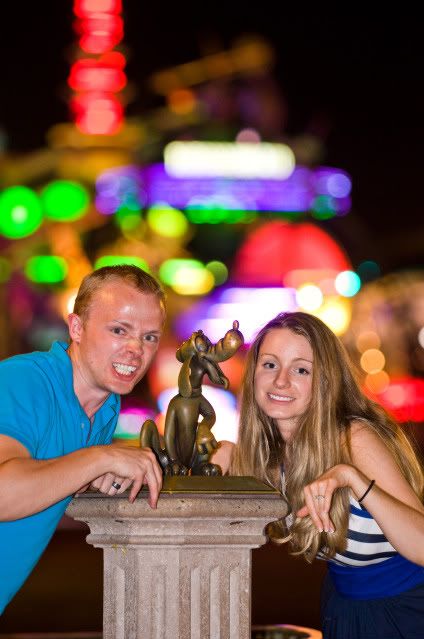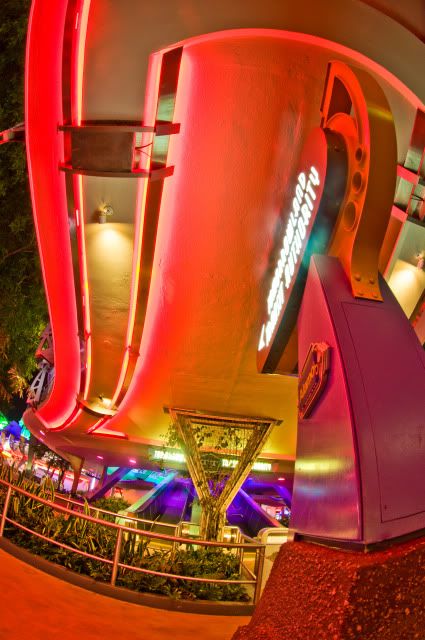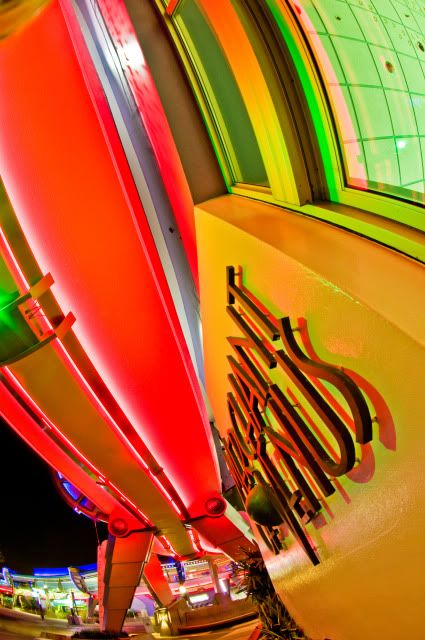 Moreover, certain subjects lent themselves to the lens rather well. On this night of shooting, I discovered one such subject was Tomorrowland. The liquidity of the land's lines, the curves, and the circular focal points culminate in one delightful land for goin' fishin'. Once I got on a roll using the fish, I just couldn't stop. I went with crazy angles, odd compositions, and so on. I thought it made for some interesting images. Sarah, whose constructive criticism I always solicit and appreciate, was less enthused by the pictures. She thought they were awkward and just visually busy. So I guess they are somewhat divisive. I'd be curious to hear some of your takes. We took some pictures there and on Main Street before heading back to Old Key West, feeling completely drained.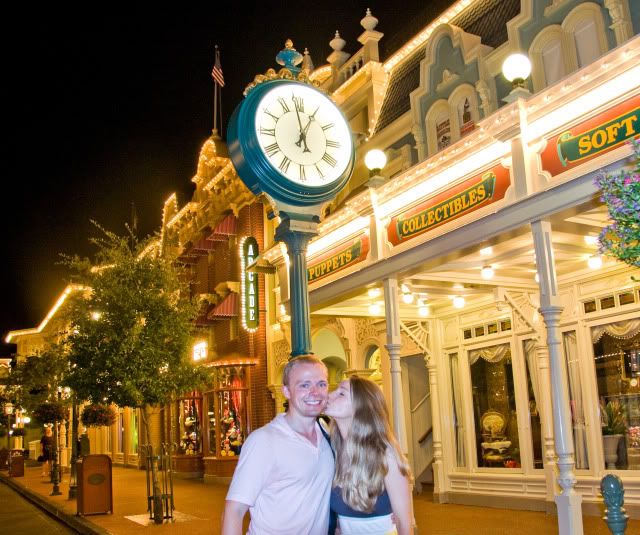 There are multiple pages in this Walt Disney World trip report installment. Navigate to the next page below!