Disneymoon Trip Report Pt III
The next morning I got up a little earlier than Sarah to do some morning shooting around OKW. After getting some shots around the Hospitality House, I headed back to our room right as she was finishing up getting ready. Perfect timing!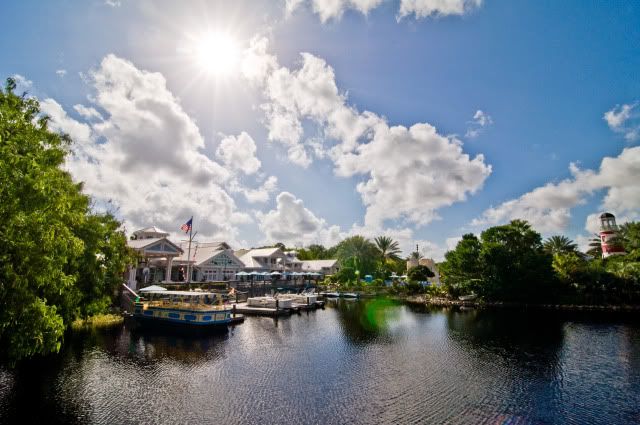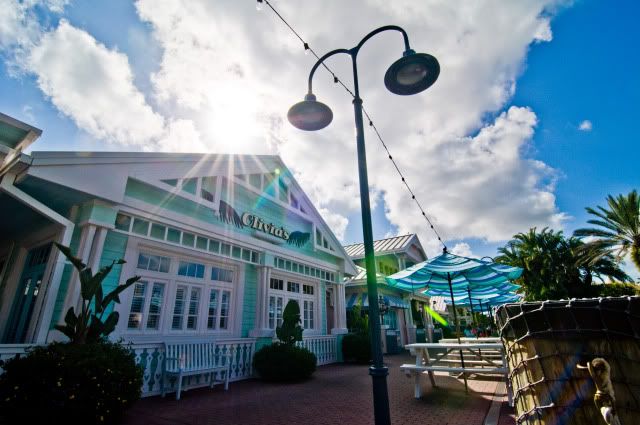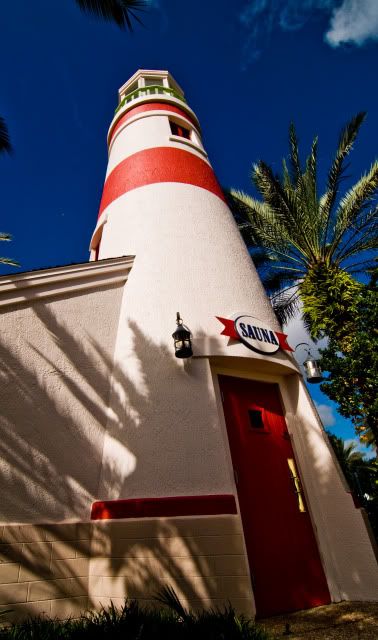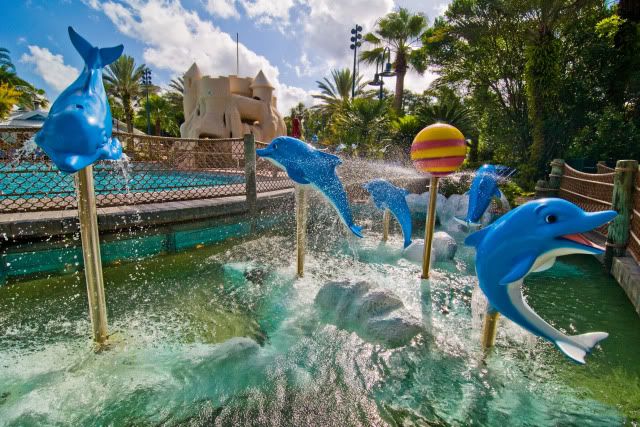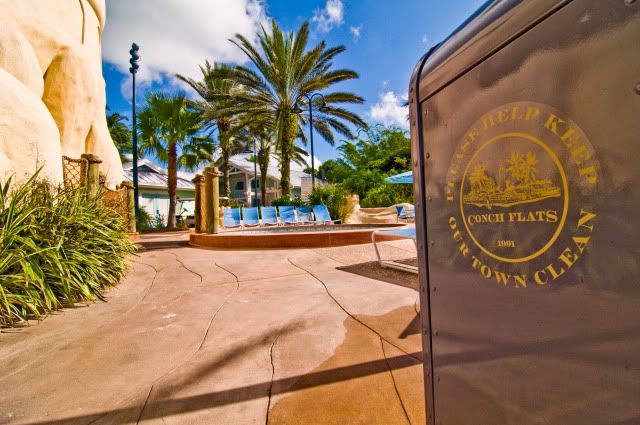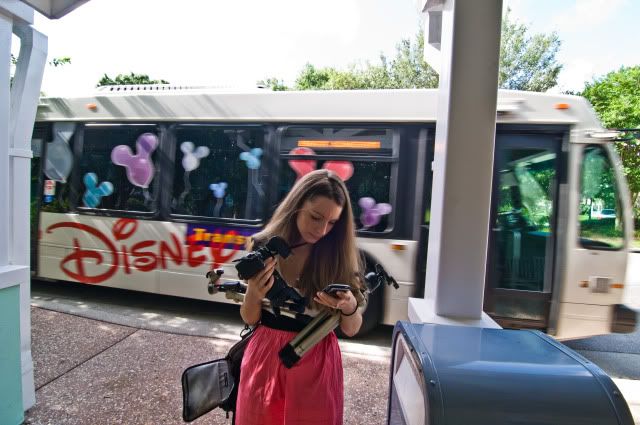 We arrived at MK pretty early, but we were both already hungry. I suggested that we get snacks first, and Sarah wanted something from the Sunshine Tree Terrace, so I went there as well, and got a "fake Dole Whip." After picking up Big Thunder Fast Passes, we headed back to the Adventureland area, doing Tiki Room and Pirates before picking up Jungle Cruise FastPasses. It was then almost time to meet up with Cory and Susan & Bill, other friends from Flickr at Cosmic Ray's. When we arrived in Tomorrowland, we had about 15 minutes. We thought Carousel of Progress was about 12 minutes long, so we did it. Somehow, even though we've seen the show hundreds (no joke) of times, we thought it was that short. I guess we're bad judges of time.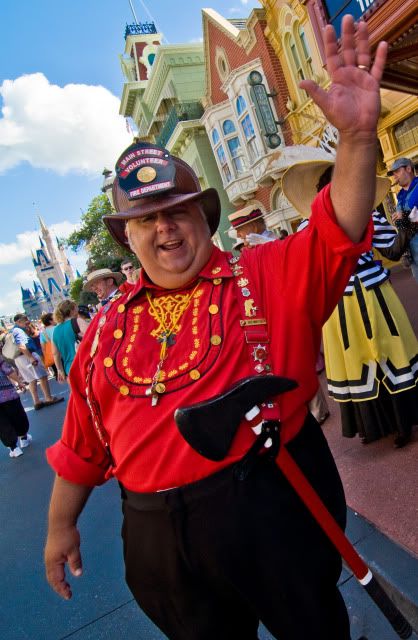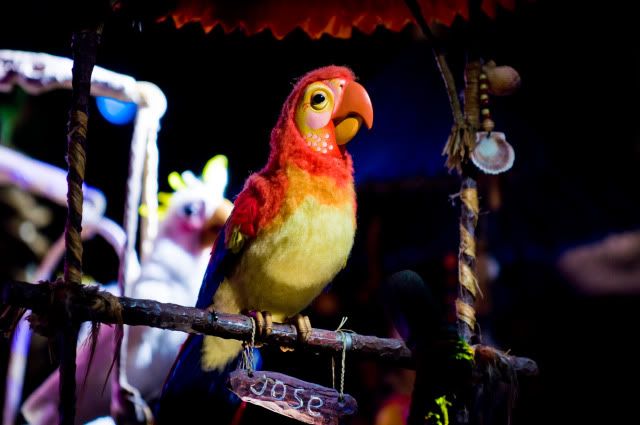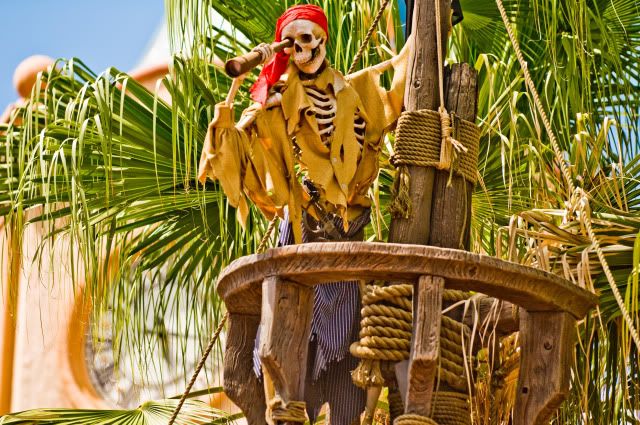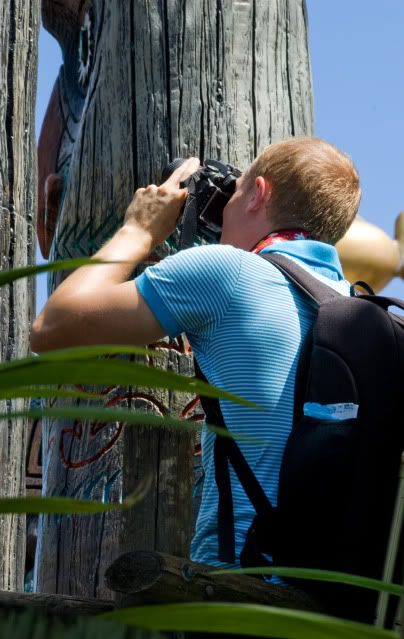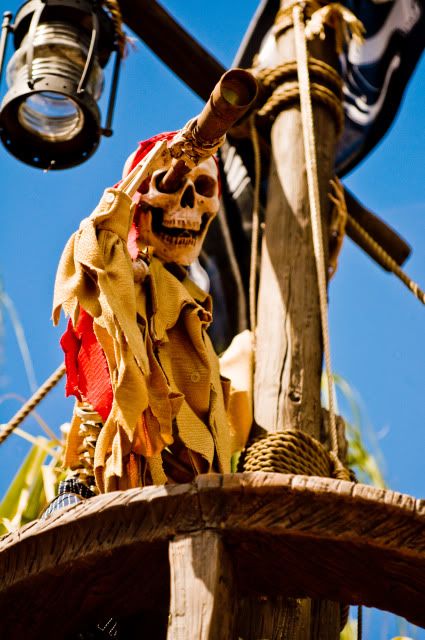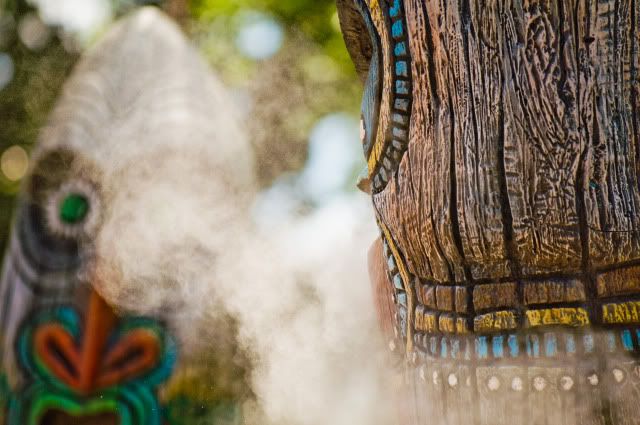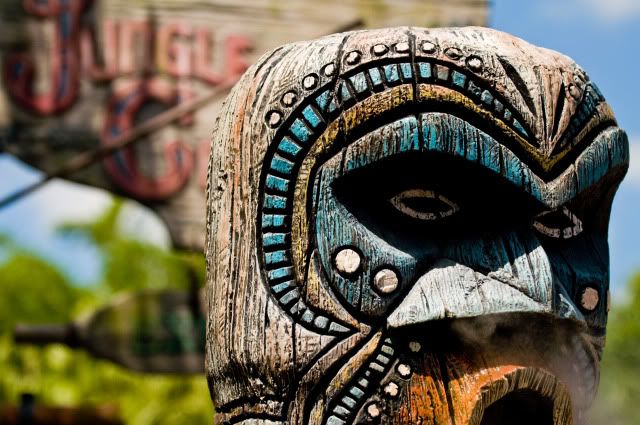 Eating lunch with them, I minded my Ps and Qs. I didn't load with a ridiculous amount of toppings, and I didn't consume my meal like a Lion devouring a Wildebeest. I figured it might ruin their appetite if I consumed my meal in the normal manner, so I refrained. I hope they appreciated that. I consider it my good deed for the year. It was an odd feeling leaving Cosmic Ray's not waddling around gorged beyond belief, and I don't think I'm comfortable doing it again.
Next, we headed to get Space FastPasses, then went over to one of the Magic Kingdom's best new attractions, the Hall of Presidents 2.0. I won't dwell on the ways this attraction has improved, but jeez, if you haven't seen it since the new president was added, you haven't seen it. It is a totally different attraction. The only thing that could make it better would be better is if Ronald Reagan broke the Fourth Wall with a forty-five minute aside on EPCOT Center. Perhaps it's a good thing I'm not an Imagineer.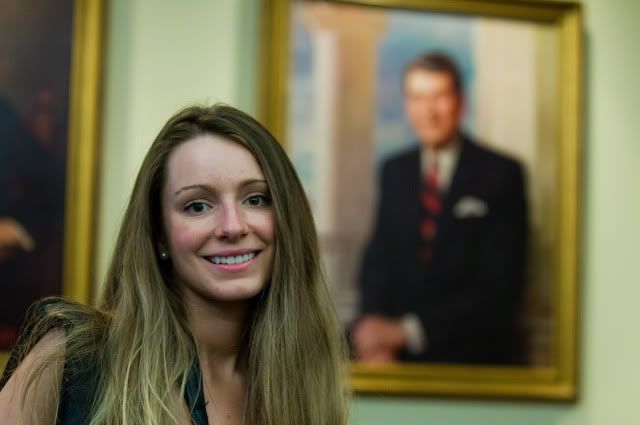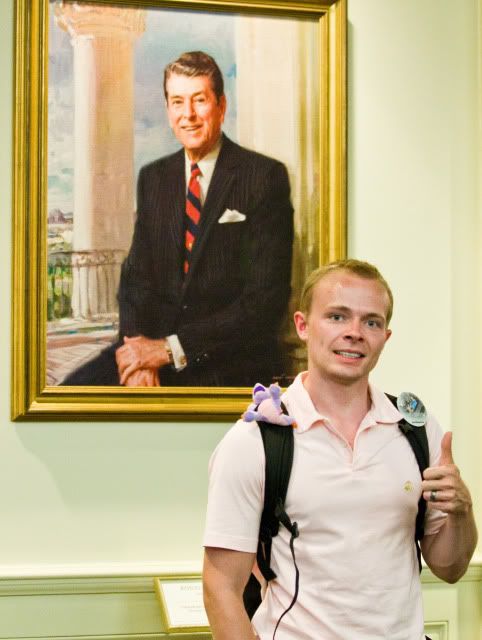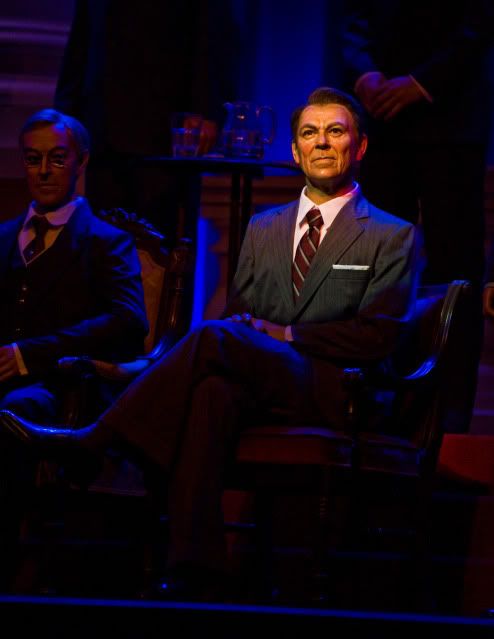 A visit to Grizzly Hall was next on the agenda, followed by a climb up into the Swiss Family's Treehouse before we descended to watch the Pirate Tutorial. This was a really bad idea for me given the heat. About halfway through, I had to go sit in the shade and take a rest. I guess I am not so invincible after all. The Flickr gang left around this time, wanting us to be able to enjoy the waning hours of our Honeymoon by ourselves.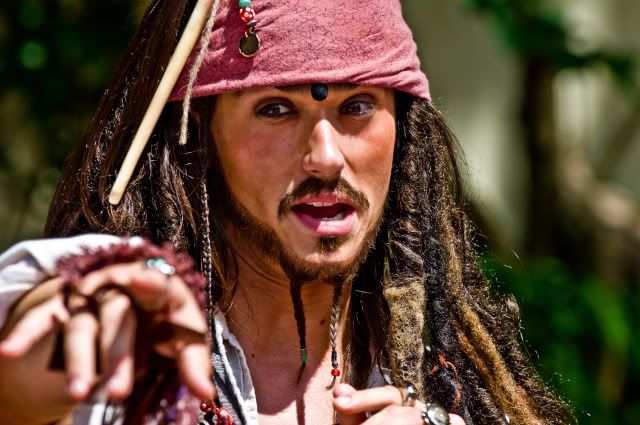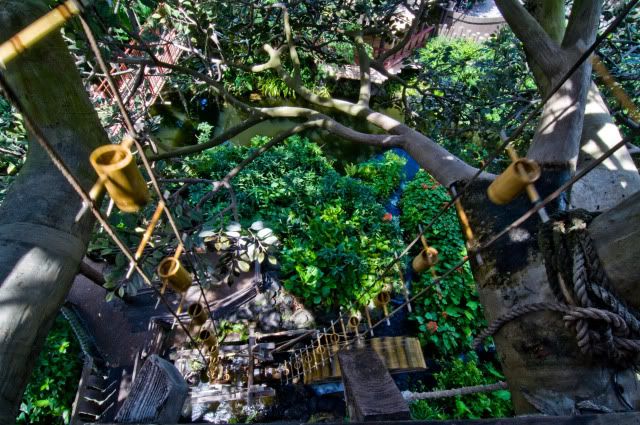 Realizing that the end was near, we kicked it into high gear. We boarded Jungle Cruise for one of our worst treks deep into the jungle ever (talk about a Skipper who was just "reading" the spiel from her head) before heading to Splash, Big Thunder, MILF, and Space. Using a couple of Space FastPasses, we rode that twice.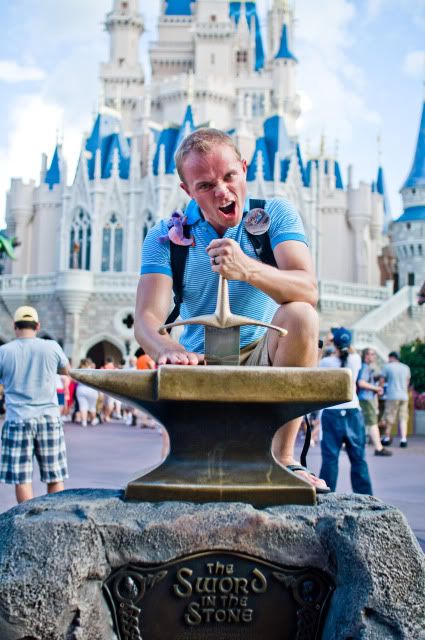 After all of these years, this sword is still stuck in the stone. I assume we won't encounter the same issue out in Cali. I can't imagine the Governator would allow that to stand.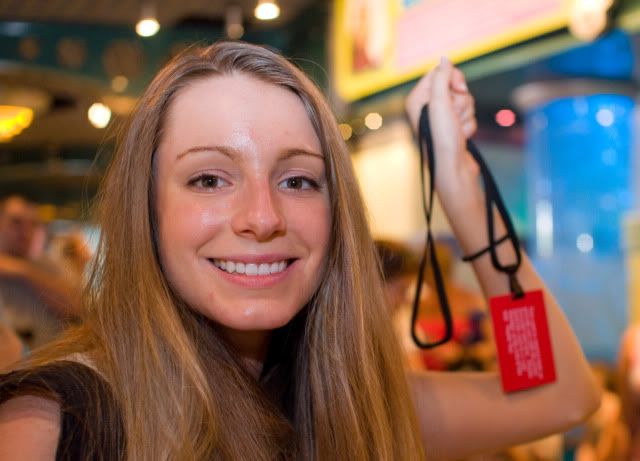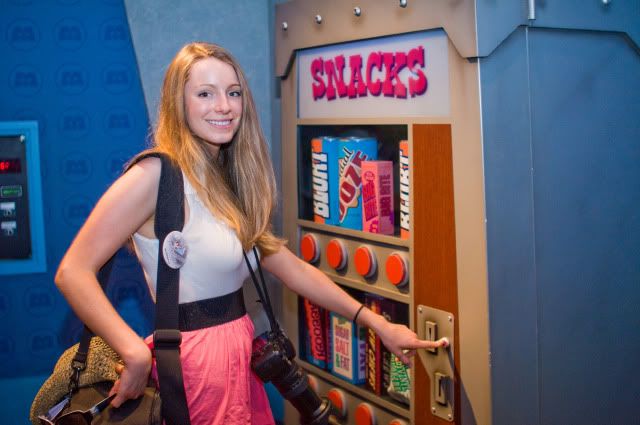 As we exited into the Arcade/Pop Culture gift shop located in Tomorrowland, I noticed some new Space Mountain t-shirts that weren't there earlier in our trip along with a new coffee mug. This made a grand total of four different Space Mountain shirts, which was a drastic increase from the 0 that were available prior to the refurbishment. Plus, these shirts were really cool! I wanted to buy two of them, but I thought I'd wait until Christmas, when I anticipated being able to get a nice discount on them. Over the course of the entire trip, I noticed a definite increase in the quality and design of merchandise, as well as an increase in unique attraction and park merchandise. I was a little shocked about this because I've read a lot of recent complaints about the cessation of unique resort merchandise (both BoardWalk and Old Key West had resort merchandise) and a reduction in quality. While I agree that merchandise wasn't great in 2006-08, in the last couple of years I think it's improved, this year especially. I have plenty of merchandise that I've purchased on eBay from the 80s, and for the most part, the new stuff is of much better quality. Perhaps it's not of the same quality as the stuff released in the mid-to-late 90s, but it's not the worst ever, as claimed by some, and it's definitely improving.
I am not a t-shirt person (I usually just wear them around the house or to workout), but I found 6 shirts I wanted, among other things. I was also very pleased to see that most of these have a more modern cut. In years past, no matter how nice the unique merchandise, the sizing was with deference to linebackers, and not slender folks. I know there has been a trend towards more trim fits in the vintage looking shirts, but I noticed it this trip with even the "normal" shirts. I was quite pleased with this. My parents will definitely be doing some Christmas shopping for me when they're with us in December! With a fair amount accomplished in a reality short span of time, we headed over to the Poly for dinner at Ohana.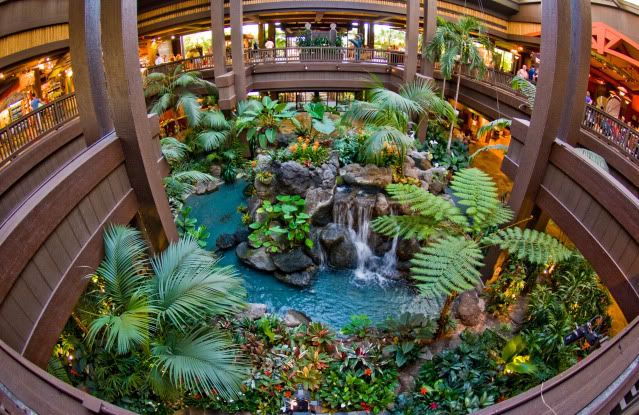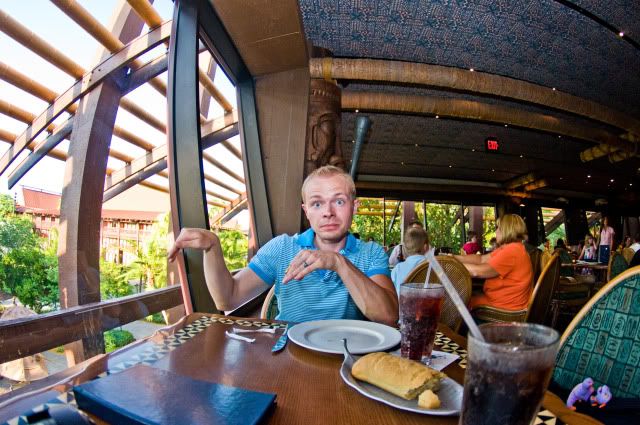 We had eaten at Ohana for breakfast a few years ago, and we really enjoyed it. We knew it wouldn't be at all the same for dinner, but one of our favorite things about the restaurant is the ambience. This should be no surprise, as I don't think I've ever written or spoken a negative word about the Poly. We got a window seat, which made the experience all the better. The food was delicious, especially the meats brought around on skewers. We didn't get quite as many shrimp as we wanted, and we both were itching to get back into the MK so we didn't want to wait around for more to be brought to us, so we decided to make it a relatively short dinner (it was still around an hour, but were it an earlier night of the trip, we would've paced ourselves better and eaten for twice the amount of time). While eating, we saw a gorgeous sunset develop–the kind that are only visible from the Poly, it seems–so we decided to take a boat to the Magic Kingdom to really 'bask' in the soft glow of the sun. We snapped some pictures while waiting for the boat, and then boarded.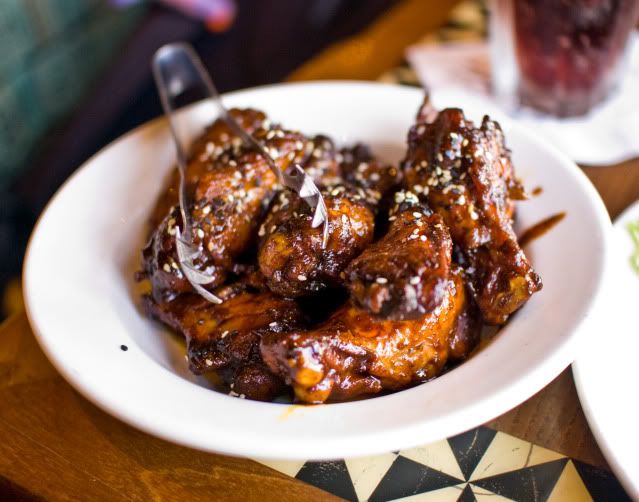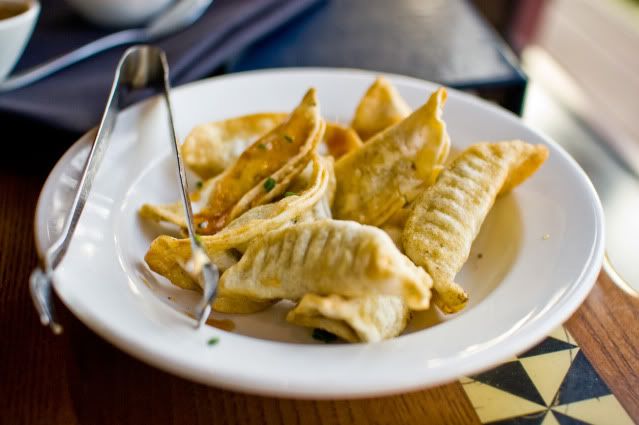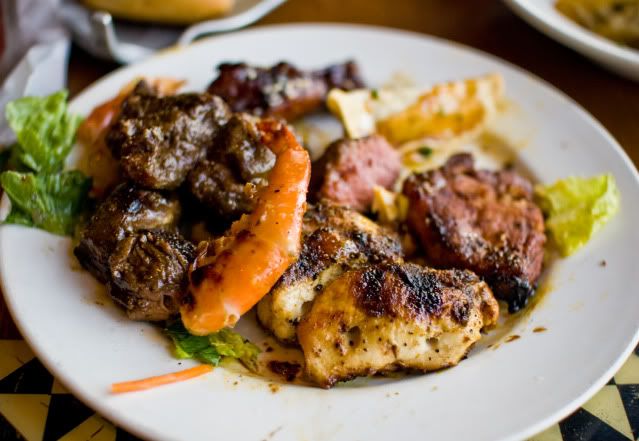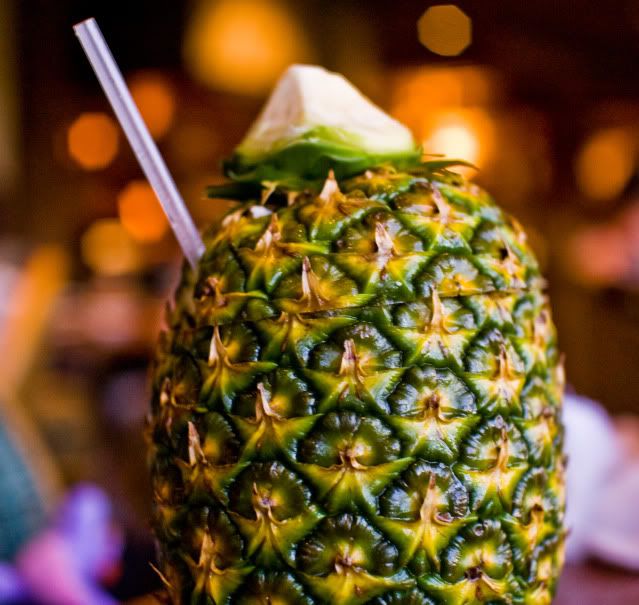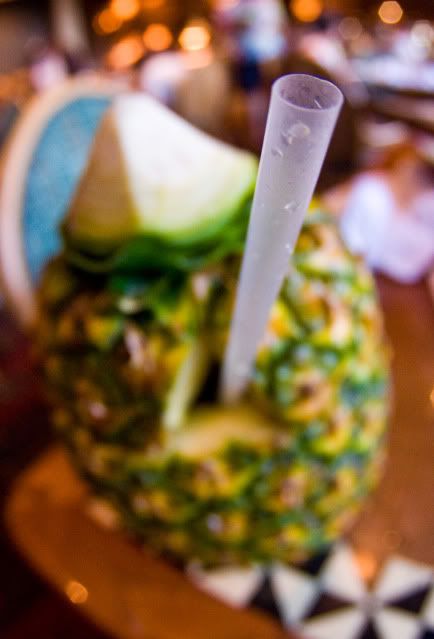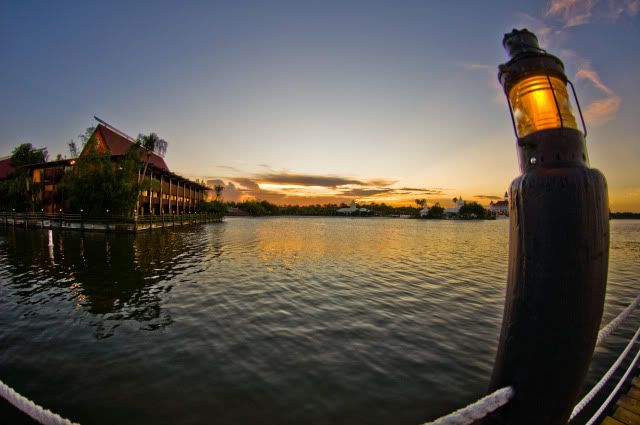 At dinner we had strategized a bit of what we would do on our final night in the MK. Since we always fail to fulfill our lofty objectives in situations such as this, we decided to take a more realistic approach so that we could actually meet our expectations. The plan worked fairly well. We managed to ride Peter Pan, Space, Splash, and Big Thunder all in only a few hours. We knew in order to do all of that, we'd have to plan on skipping the parade, so that was cut. Not a big loss, as we had seen it several times over the course of the trip. We did not cut the Nightastic! Fireworks, however, as those were simply too good to miss.
Everyone else must have had the same thought as us because Main Street was packed when we arrived there 15 minutes early for the show. We got spots near the outer edge of the Hub; so close to the edge that people a few "rows" behind us were constantly being told by CMs that they had to move, because they were outside the Hub, which was a 'traffic lane.' I wanted to take in the show, so I didn't even bother setting up the tripod (doubt I would've been able even if I wanted to). About 2 minutes before the show started, out of nowhere two kids went on shoulders right in front of us. We were irritated, to say the least. I understand that kids need to be able to see the show, but that doesn't mean they need to block the views of 10 other people. I've heard Tokyo Disneyland has a rule against this. I wouldn't mind seeing it adopted state-side. Rather than letting it spoil our view, we asked if we could stand in the areas vacated by the kids. The men obliged. It's not like we'd block their view, anyway, as we're both rather short, and these guys were pretty tall. The show, of course, was awesome. I think it must've been in a test and adjust phase, because I noticed a new special effect: it seemed as if somehow there was a large volume of body odor being emitted from somewhere (perhaps the speakers?). Not my favorite special effect, but I guess it's good that they're trying to make the shows total sensory experiences.
After the fireworks, we had roughly an hour and a half left in our last night. We hit more of our favorites, using the FastPasses we accumulated during the day to cut through the lines. At close, we found ourselves exiting Big Thunder–just as we planned it to slowly make our way through the park taking pictures. We finished taking pictures at Big Thunder (I don't even know why we bother, it's so dark over there that rarely does anything look decent), when we heard an announcement that the MSEP would be showing in 10 minutes! I don't know why it was running after the park closed, but my bet was that because of the unexpectedly huge crowd there that day, the park added a performance. We were unaware of this, so it was a nice surprise! I set up and took a few pictures in front of Splash while Sarah got us spots–not that getting spots would be necessary, as very few people were still around, at least in Frontierland.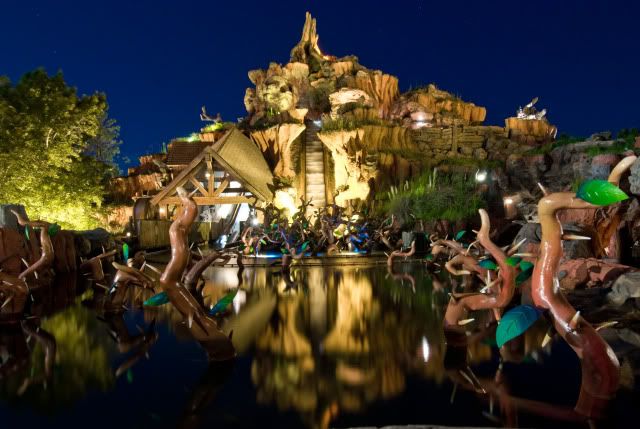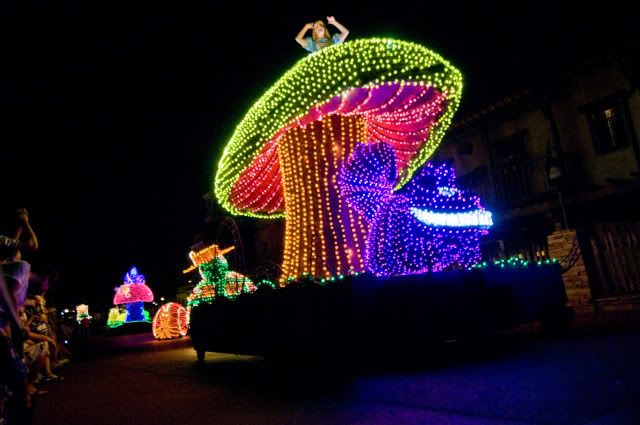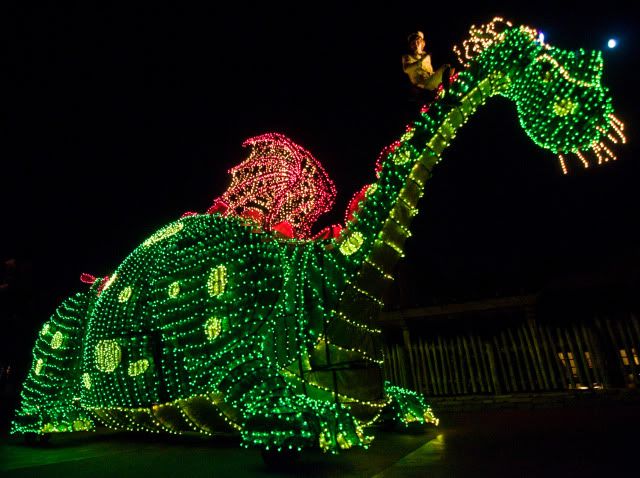 When the parade ended we began slowly making our way to the front of the park. The last night is always bittersweet for us. We're sad for the obvious reason that we're leaving, but we have a whole host of memories from the trip and the "See Ya Real Soon" mentality that, while it stinks to leave, we're already looking forward to the next time we'll be experiencing nighttime alone together in the Magic Kingdom. This trip, that "next time" was Christmas. With a year absence from Walt Disney World at Christmas, we were already really excited for that trip. Even with all of the upside, the bitter side of bittersweet always wins out. No matter what spin you put on it, leaving the Magic Kingdom stinks. After the final other guests cleared out, we made our way to the very front, waving goodbye to our Kingdom one last time.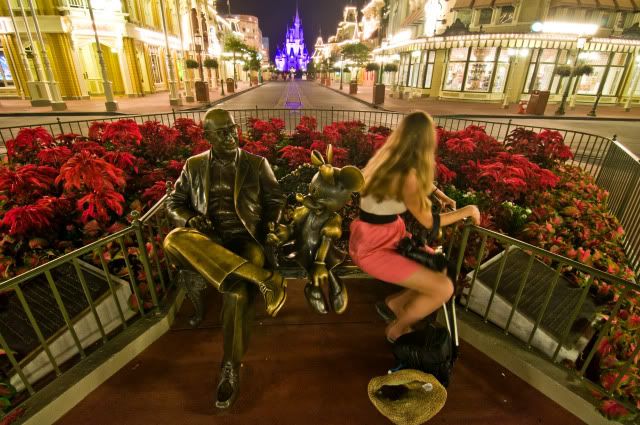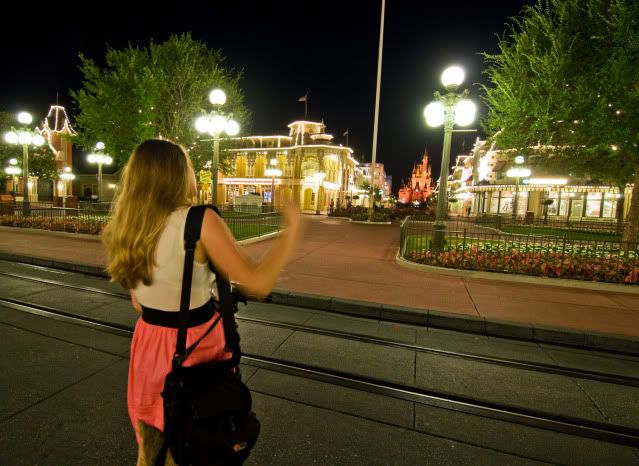 There are multiple pages in this Walt Disney World trip report installment. Navigate to the next page below!