Disneymoon Trip Report Pt III
The disappointment of leaving on our last day would be blunted a little by the fact that we were having pre-opening breakfast at Crystal Palace. We were really excited about this, thinking we'd finally get some awesome empty park shots during the daylight hours! We quickly got ready, packed up our suitcases, and headed out. Rather than calling Bell Services to come pick us up with our luggage, we walked to the bus stop and boarded a bus to the front. At first, the bus driver was reluctant to take us, saying they weren't supposed to, but then I asked how we get to the front (honestly forgetting Bell Services was supposed to take us from the room) and he said he'd drop us off there. It's not like we're trying to circumvent the rules or gain some advantage by doing this; it is far less convenient than just calling Bell Services and having them pick us up at our room. It was a good thing he did agree to take us, as we would have been in poor shape time-wise if not.
When we got to the front, we saw the MK bus entering the resort. We dropped off our bags without a hitch and made our way to the bus stop right after the bus passed. We still had some time to spare, so we were only slightly worried. Each passing moment was eating into our picture time in the empty park. At the time, I didn't think of the obvious solution: walk to the last bus stop, which is right near the second to last bus stop, which would easily allow us to catch that bus given that it would have to turn around and come back to the stop. As we waited, we took pictures of one another before a gentleman offered to take a picture of us together. Normally, when people do this, if they get a poor shot, I don't bother to ask them to take another when they inevitably ask, "is this alright?" but this time I thought, what the heck, and asked if he could get a shot with the lighthouse in the background.
I didn't realize I was speaking with a photography expert who would be given me a lesson in photography. He proceeded to explain why that wasn't a good idea, because of the location of the sunlight. Although I was uneasy about whether we'd arrive at the park in time, I wasn't in a bad mood, so I maintained my cool, and responded that we didn't care about light, we just thought the lighthouse looked cool. He obliged, and composed the picture as requested. Perhaps I don't know much about photography, but I much prefer the individual shots Sarah and I took to the one of us together that he took.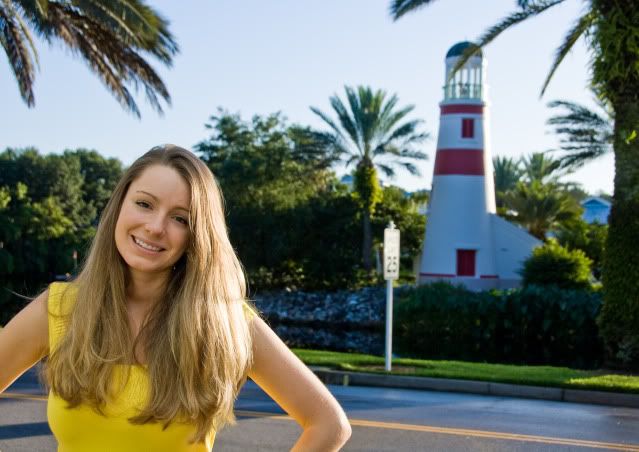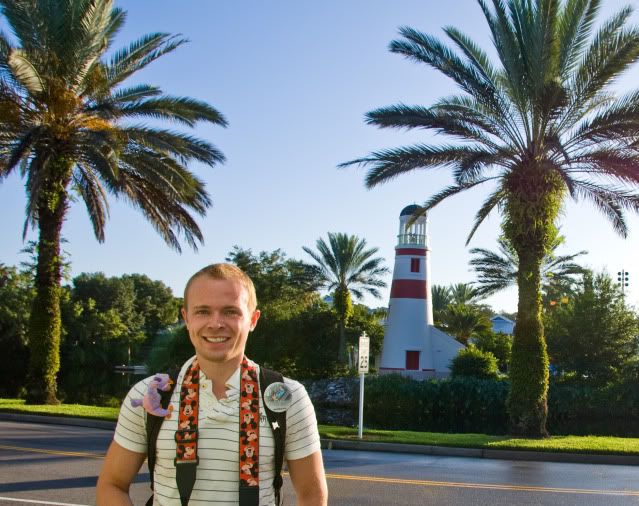 Shots Sarah and I took.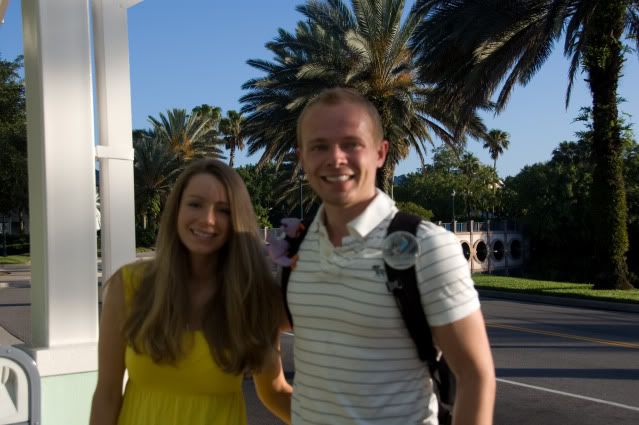 Shots the gentleman took.
Finally, a bus headed for the MK came. Just our lucky day, it was a training bus! Right as we were about to board our bus, a second MK bus pulled up behind ours. By the second bus stop, I was heavily contemplating getting off, and boarding the other MK bus. I really wish we would have, as it passed our bus shortly thereafter. During the trip, we realized that I forgot Sarah's AP. I really have a terrible track record with this type of thing; luckily, this time, we weren't out any money, she just had to get it reprinted. After the long ride, we made it to the MK, and booked it inside. I was supposed to go ahead and check into Crystal Palace, but Sarah got her new AP with such lightning speed (to this day, I don't know how she got it so quickly), that she was able to catch up to me. We stopped for a couple of quick pictures on Main Street, both of us already sweaty and tired, before heading to CP.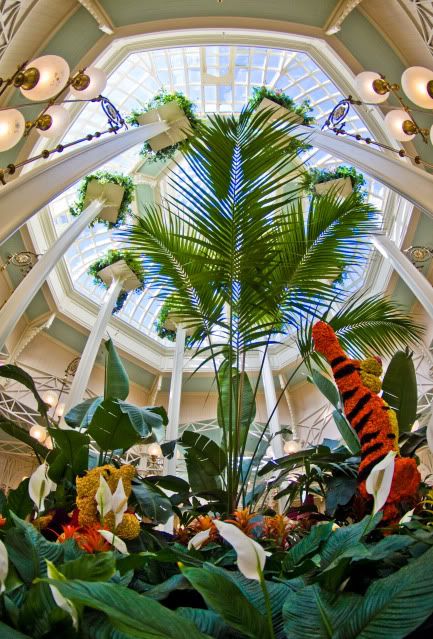 Thirty minutes late, the check-in kiosk at the Crystal Palace informed us that the tardiness was no issue (phew) but neglected to tell us that once we checked in there, they wouldn't give us an estimate on time, and if we weren't there when our names were called, we would lose our ADRs. This meant no pictures in front of the Castle. While we really wanted that breakfast, we really wanted those Castle pictures, and really didn't think our names would be called in 5 minutes or less. We thus ran over to the Castle, found a PhotoPass photographer, and had him take a few pictures of us. I was disappointed I couldn't get any cool shots of my own, but the pictures of us were far more important. When we returned to CP, we asked if our names had been called. The hostess said no, but then immediately said our table was ready. It was sort of odd.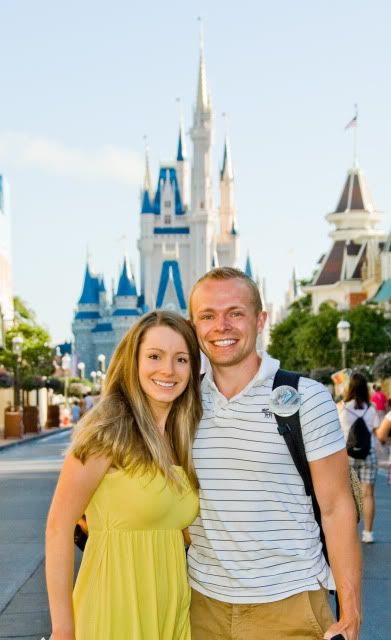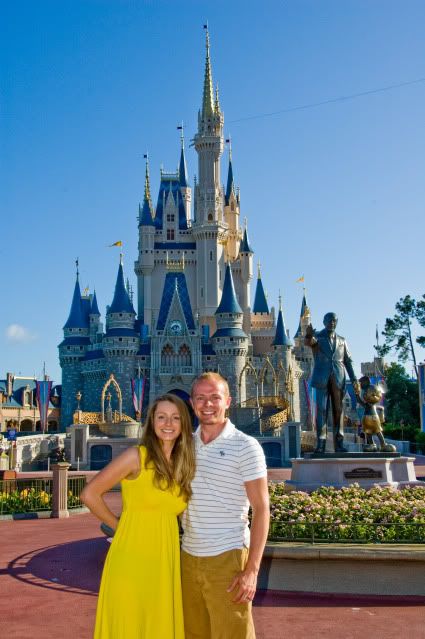 Once inside, we realized why it wasn't a big deal that we were thirty minutes late–half the restaurant was empty. I was under the impression that this was an extremely popular breakfast location. I was shocked to see it that empty. It was 8:30 at this point, and we realized we wouldn't be making it out of the CP by the time the park officially opened. Oh well, we thought, we didn't need to make it out in time for the park opening. We were paying out of pocket for this meal (not that we didn't pay indirectly for the others), so we wanted to get our money's worth. Plus, we wanted plenty of character pictures.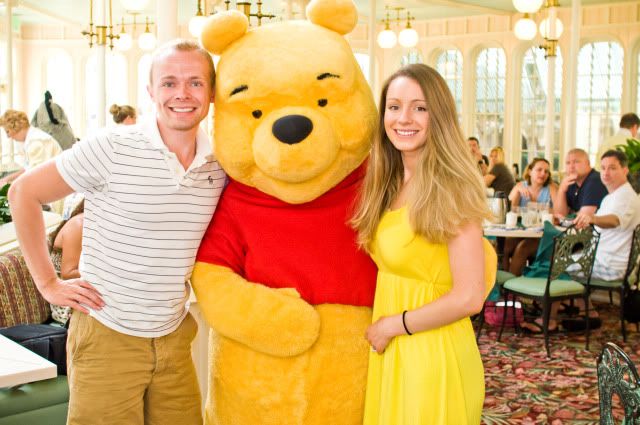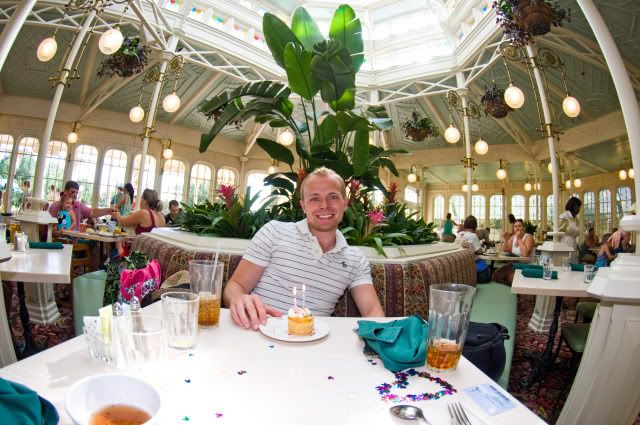 The food at Crystal Palace is delicious. I'm not sure what's different from Cape May Café, but for some reason, CP seems better. In any case, they're both delicious. My one complaint is that neither offer breakfast sandwiches (e.g. Sausage McMuffin with egg), but I think that's an unrealistic expectation given the complexity of a breakfast sandwich. It also might be a good thing; if they had breakfast sandwiches, I'd probably never leave.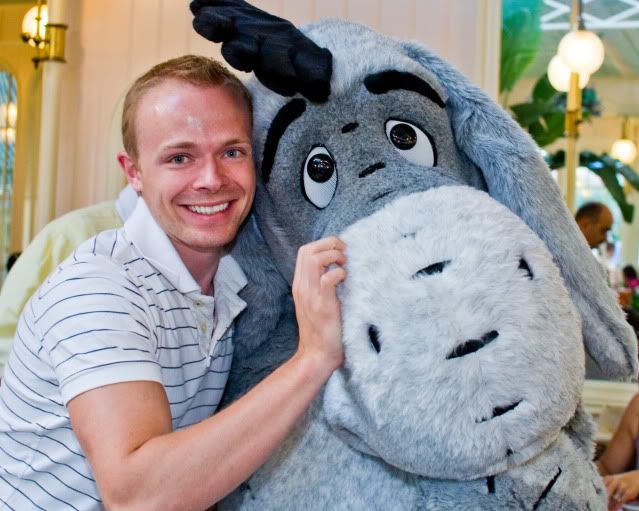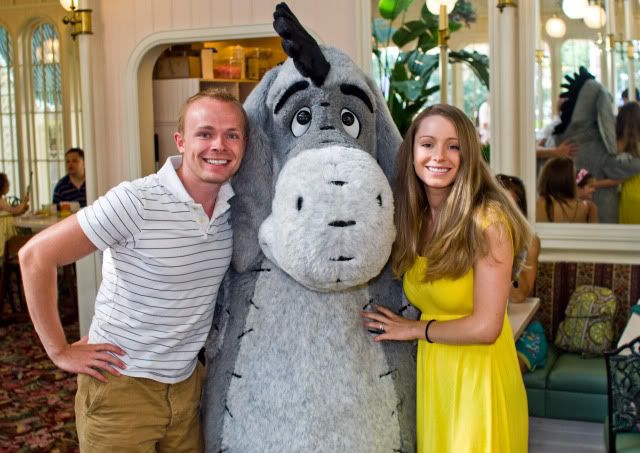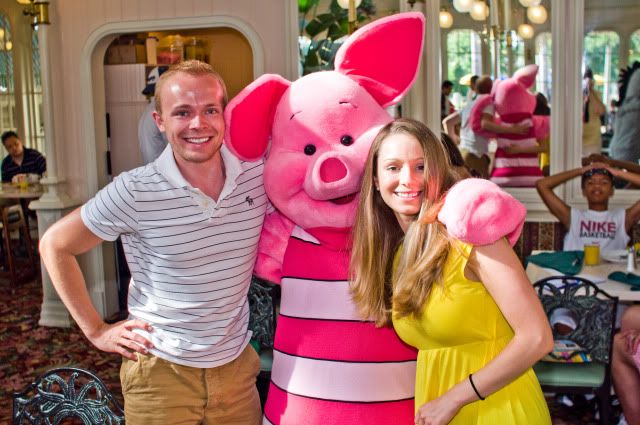 Pooh, Piglet, and Eeyore came around to us by the time we finished our first plates. Tigger was still nowhere in sight so we figured it would be safe to go get our second plates. Upon returning, we ate the food at a leisurely pace. Tigger was still on the far side of the room. We asked our server when Tigger would be making his way around, and he went to talk to someone else, and the server told us that it'd be around 10 minutes. Five minutes passed and it was clear that it would be an easy 20 before Tigger made it to us, so we decided to cut our losses and go. We have a plethora of Tigger pictures already, so it wasn't like he was some unconquered character that we absolutely needed, so neither of us were too upset.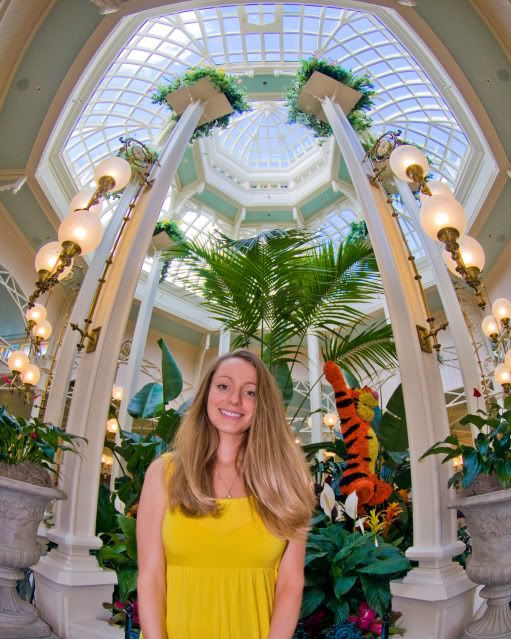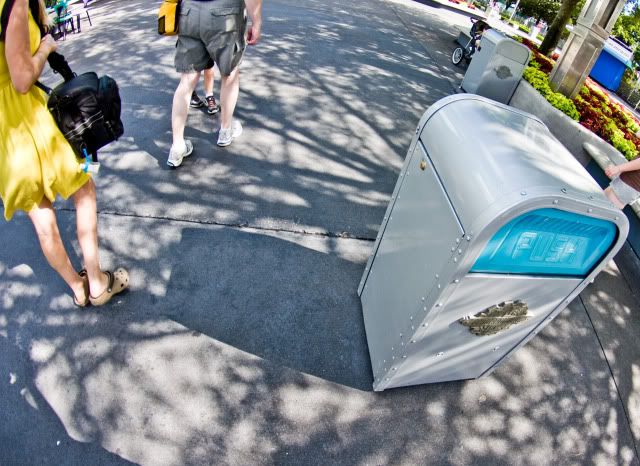 Attack of the deranged mutant killer monster trash can goons!
There are multiple pages in this Walt Disney World trip report installment. Navigate to the next page below!