Disney World Christmas Trip Report – Part 3
The next morning came entirely too soon. Naturally, it took us longer to get ready than I accounted for in my timelines, so we were running late as we left our room. We got the luggage folks to take us to the end of Shades of Green property again, a service that relatively pricey with our frequency of use on this trip. But, it saved us seven minutes, and that was valuable time. After all, we didn't want to miss the prize-awarding at the Odyssey Center!
From the edge of Shades of Green property, we walked to the TTC. In our experience, we determined this would be substantially quicker than using even the most efficient monorail. Part of me wanted to check lost and found and the bench at which we were sitting the previous night, but we just didn't have the time. That is, until we waited and waited for the monorail. After it came, and we approached EPCOT, we saw the line at the Odyssey. We weren't too late!
Once we departed the monorail, we searched for someone to let us into the park. Finally we found a Cast Member who was aware of Magic & Merriment (yes, we're sure we weren't there for a Princess breakfast!), and let us inside. It was awesome being at EPCOT all alone in the morning, although the weather sucked (it was really foggy) and we were already late, so I didn't take many photos.
We arrived at the Odyssey Center, were handed some goody bags, and I found seats while Sarah scheduled a Castle Suite tour time. I didn't know anyone at the table, but apparently one of the ladies knew me, asking if I was WDWFigment on Twitter. I responded that I was, and she said, "I'm [Twitter handle], I follow you, but you don't follow me." For a few seconds, it was a little awkward here. I wasn't quite sure why she'd indicate that I didn't follow her. I hope it was as sort of a heads up that I wouldn't recognize her Twitter name, but in the context of the rest of the conversation, it seemed a lot more like an admonishment for not following her in return. I didn't realize that the Twitter Covenants included an obligation to follow all those who follow you. (For those unfamiliar with Twitter, there are a lot of people on there with mostly idiotic things to say; I'm not suggesting she is one such person (I have no idea), but if I followed everyone, my updates would be inundated with crap about Justin Bieber and relationship drama. I have no desire to read about either.)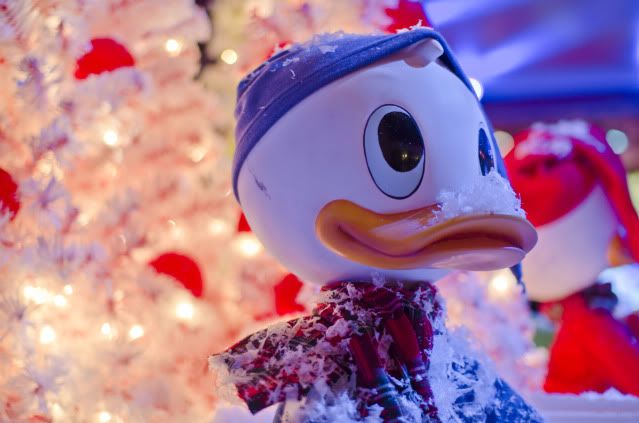 Seeking to avoid the awkwardness, I fiddled around with my camera for a few minutes until Sarah arrived. Almost immediately thereafter, the presentations began, the first with three chefs from Germany giving a presentation of an array of Christmas topics, mostly German food at Christmas. I don't remember of the credentials of each, but one is the head chef at Biergarten. These guys were really amusing, and interesting. I was surprised by some of the discussions of Biergarten. I wasn't highly impressed with the place (I'd say it was on the upper end of mediocre), but their discussion gave me new interest about the restaurant, and made me impressed by it. They didn't seem like the types who would recite the company line or fluff things up, so I buy what they had to say. They were engaging, humorous, and had plenty of "un-Disney" zingers. Great
The next presentation was from Meg Crofton, President of Walt Disney World. If you follow online news and rumor discussions like I do, you'll know that Meg Crofton is not very well-liked in the fan community. At least, not among the most fervent fans. When she walked out on the stage, I searched high and low for horns and a tail, but I saw neither. Perhaps the podium was concealing the tail and she has a really good hairdresser.
Her speech was nice, but decidedly canned. While all of the other presenters spoke candidly and in a conversational manner, she read from a teleprompter giving a presentation that said "all of the right things" but ultimately felt impersonal. I much preferred the irreverent and off the cuff humor of the chefs. As soon as her speech was over, she exited the building, never to be seen again. Oh well, I suppose it was better than her presentation just being a video of her. I understand that as the President of the largest single site employer in the US (as she pointed out multiple times in her presentation), she is likely busy in her job. However, by not taking the extra 20 minutes to talk to D23 members and Cast Members, it reinforces the message that she is detached and distant from cast and guests. I wonder, does she know the name of the building she was in? Does she know that the Lights of Winter do not operate at EPCOT? Or does she just know that X dollars have been saved in fiscal years 2009 and 2010 by not operating "Seasonal Element 24" (or whatever line-item name it may have). Say what you will about Michael Eisner, but in his prime, he had a firm grasp on every aspect of the company that its leadership since hasn't seemed to have.
Next up were some chefs, one of whom was the Head Pastry Chef at the Grand Floridian, and and the other was the Head Something at all Resorts. These two, again, had great chemistry. The "all Resorts" Chef previously worked under the Grand Floridian chef, and it was clear they had a pretty good dynamic. More off the cuff jokes, including some ribbing about the Grand Floridian chef being Austrian rather than German. Not the type of humor you'd find in Meg Crofton's solemn speech!
These guys were awesome, sharing how the Grand Floridian's ginger bread house is made, why it cannot be consumed, and how to make good German ginger bread. During the course of the presentation, they alternated construction of a ginger bread house up on stage, which was pretty cool.
After their presentation concluded, a presentation began by two gentlemen whose names I forget. One of them is a former Imagineer who creates DVDs of the parks, the other runs the temporary tattoo stands around the parks. Figuring this was going to be a lame advertisement, I dismissed myself to the restroom (people had been doing this throughout the presentations, so it wasn't as if I was breaking some unwritten rule and being rude about it). I also took this opportunity to get some Ginger Bread coffee as Sarah and I were really dragging but from having to get up so early after the late night the previous night.
As I was getting the coffee, I noticed that the presentation actually sounded somewhat interesting. It concerned this new endeavor of the tattoo man creating bead necklaces and bracelets out of recycled guide maps. To make the maps, they had partnered with a non-profit that had impoverished women creating the beads. The men described the inherent difficulties in this, as it required work to import the bracelets, and required changes to the typical process of the bead-makers, as their previous beads wouldn't get approval from Disney's labs (if I recall correctly, this was due to the weather in Florida).
The men also discussed the involvement of Imagineering in the project, and how Imagineering created the carts for these locations, the price signs, and a host of other things (recycling bins for the maps). They also discussed how the first test cart at Rock 'N' Rollercoaster had been highly successful, and had also driven increased profits at an adjacent cart owned by Disney. While all of this may seem somewhat dry, boring, and/or a veiled advertisement, it was really quite cool and interesting. It was so interesting that afterward, Sarah and I found them and discussed the project for a bit. They gave us a couple of samples, attached to the guide map from which they were made, explaining that how the beads were rolled would impact their color. Very cool stuff.
Before talking to them, and after the event had formally concluded, we wandered around a bit, collecting photos while we waiting for the Chef's line (all the chefs were lined up taking pictures and signing a cook book we had been given) to die down. We wanted to be the last people in line for the chefs so that we got more time with them, but two people snuck in line behind us. Rats.
While in line with them, we chatted with the Chefs about various aspects of their lives in America, specifically at Christmas, and listened to them rib the lone Austrian some more. Apparently, Austrians do not work as hard as Germans. This is good to know.
Given the build-up about it from the previous night, you might be wondering what we won at the event. I only mention it so as to not leave you hanging, because it's not really worth mentioning. At the conclusion of the event, they asked for anyone with a certain sticker on their lanyard to come forward. I didn't have that sticker (I had another), so I quickly many more prizes than 2 were being given away, and thus whatever prize I won wasn't that great.
The first group won miniature gingerbread houses from the Grand Floridian. These stood about 16 inches tall and could be purchased at the Grand Floridian. I hadn't seen the ones there, but the one at the Contemporary sold for $50 (I think) and was smaller, so this at least looked like a decent, albeit impractical for carrying around all day in the park, prize. There were 5 people who won these.
Next was my group–there were six of us. We won pins of the gingerbread house at the Grand Floridian. I don't want to sound ungrateful, because I did win more than most other people there, and the pin did look neat, but winning a pin at a private event is like winning ten cents in the Lotto. Oh well, probably our own fault for thinking about what we might have won in advance. Definitely set ourselves up for disappointment.
Overall, I would give this event an A-. The only things that was a bit disappointing was that it didn't include a proper breakfast, and that Meg Crofton couldn't be bothered to descend from her mighty thrown and mingle with the commoners. The gift bags were somewhat lacking, with gifts that were clearly just advertising material for other arms of the company (Tangled soundtrack), rather than special gifts like last year (a Magic and Merriment ornament). Also, while the final presentation was interesting, it had nothing to do with the Holidays, which where the theme of the weekend.
There are multiple pages in this Walt Disney World trip report installment. Navigate to the next page below!