Disneymoon Trip Report – Part 1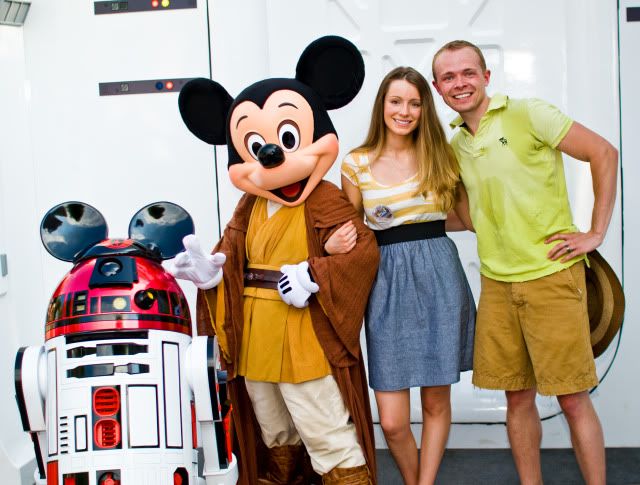 We arrived at the Studios (wow, finally some substance to this TR!), and immediately headed for the Star Tours area. Without maps. We figured we'd just see lines for the characters, but this wasn't the case. After some initial confusion, we finally found the line for Darth Goofy. After being in line for 5 minutes, Goofy left, and Jedi Mickey, R2D2, and Princess Lei Minnie came out.
Although I wanted to see Goofy, I wasn't too distraught. I was, however, absolutely soaked with sweat. I asked Sarah if I could go get a water from the Commissary. When I returned, Mickey and co. were leaving. Quickly, I busted out the camera and grabbed a few shots. I guess we'd get whatever characters were there when we got to the front of the line.
This is when I made a big mistake. Whenever I see someone else with a nice camera in the park, I always check it out, wondering if I know them from one of the Disney photography forums (yes, there are forums that are that specialized). On this particular occasion, I decided to approach a foreign couple and ask if they'd like me to take a picture of them with the characters. The couple did not understand me. As I tried, with the help of another couple, to explain what I meant, I realized that I shouldn't do this in the future.
It was really an awkward situation for both me and, I'd imagine, the couple. When they finally realized what I was saying, they said no, indicating that they'd give the camera to the PhotoPass photographer. They had large Star Wars Disney character dolls, which were very cool, and Tokyo Disneyland bags, which made me want to head there even more.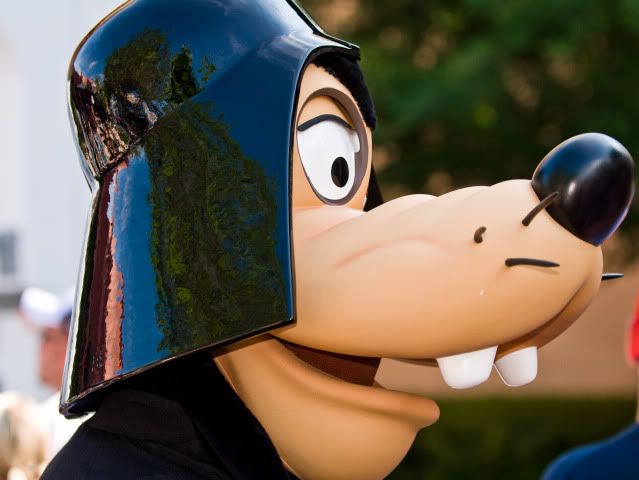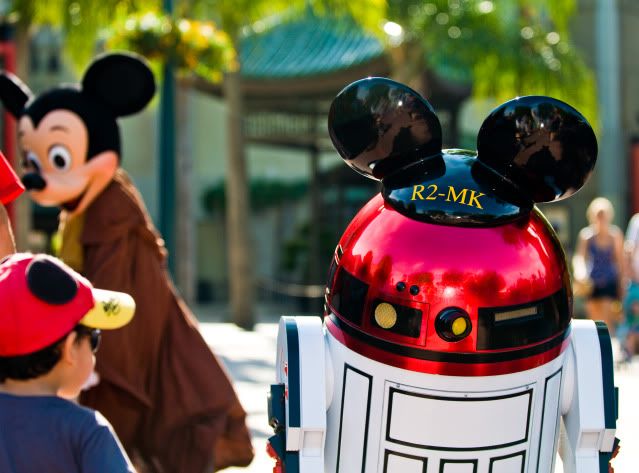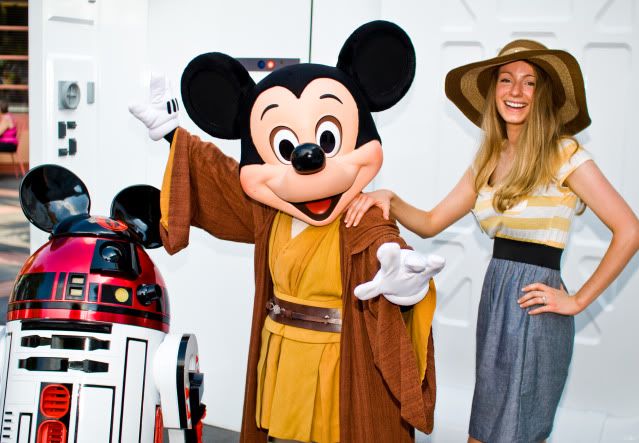 After the picture, we sort of stood around for a few minutes, somewhat dumfounded. What should we do next? We had written an email to the WDW Today crew to answer this exact question, and Matt and co. answered it with precision, but when push comes to shove (and it's 100 degrees out), logic sometimes goes out the window.
At the very least, we figured, we would have to eat something besides just our Kona Cafe dinner. However, it was already near 6 p.m., and that dinner was at 8:30 p.m. Still, we were starving, and a snack would not be sufficient. We decided to split a pizza at Pizza Planet.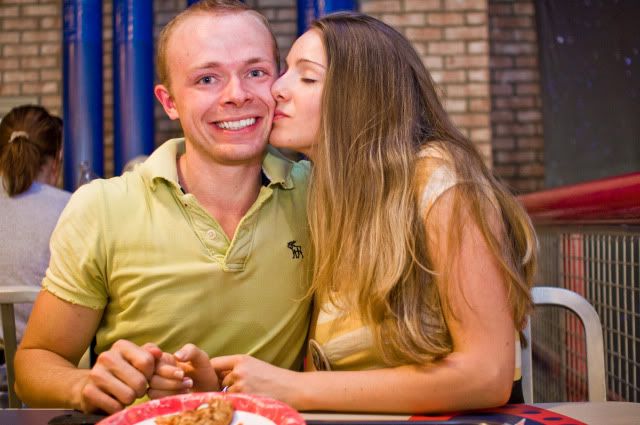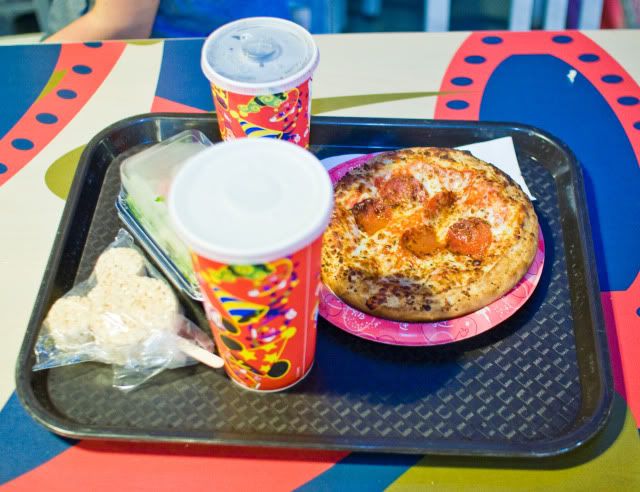 The decision then was: to Hyperspace Hoopla or to not? Clearly one of humanity's great questions. Sarah was a little uneasy about standing elbow to elbow with a crowd for some show based on a movie of which we weren't fans, but I implored her to give it a chance, as I had read good things.
For the next 9 days, she was singing "Dachshunds, Hyperspace Dachshunds…" to the beat of Hyperspace Hoopla (this may seem odd, but it's par for the course with us; if we like a song, we try to incorporate our pets into the lyrics of the song. Before you judge, just remember, you're the one choosing to read about this…). Suffice to say, she and I both loved the show. The pictures below were all taken by her; I didn't even bother as I was enjoying the show so much. I think it's pretty clear that she has some skills.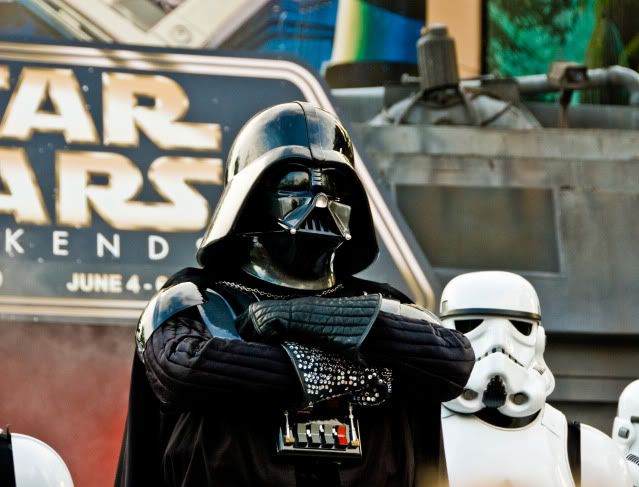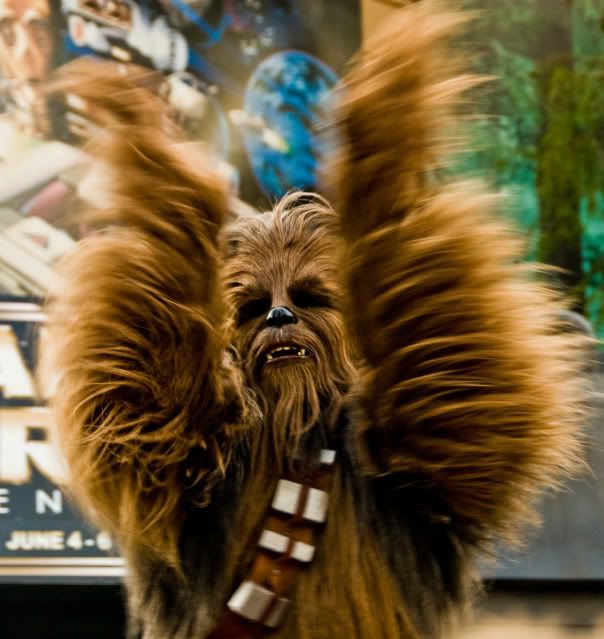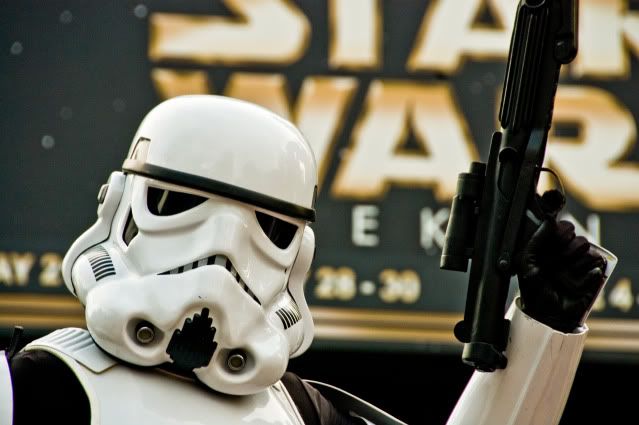 The conclusion of Hyperspace Hoopla marked the end of Star Wars weekend, and at that point, we booked it to the exit. We did not want to wait in a huge line for the Magic Kingdom bus, and we didn't, as we took the TTC bus.
Disney being Disney (captivating, thrilling, etc.), we normally don't want to leave the parks to head to the resorts for dinner. Thus, we normally unintentionally underestimate the commute time, and arrive to the resorts around 10 minutes late for our meals. This particular evening, we arrived 10 minutes early, right around sunset.
If there is a "kid in a candy store" score on your computer, queue it as you read this section. Sarah gave me permission to go play while she checked us in for dinner–reminding me to feel for my phone (I always keep it on vibrate as ringing phones ________ me off).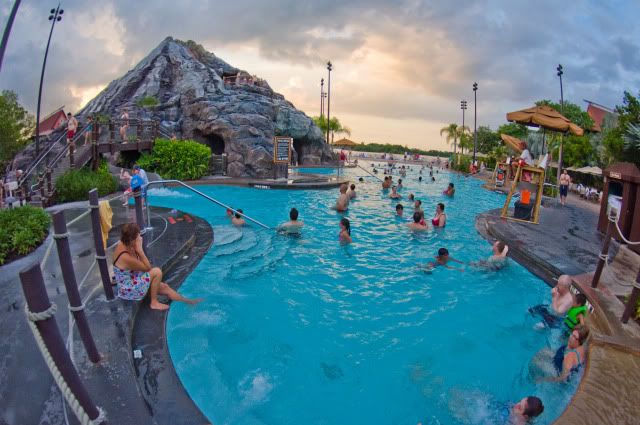 Sometimes photography is a race against the clock. This night it was a race for two reasons: sunsets don't just hang around for you, and also because at any moment I might get the hook as our table for Kona Cafe became available. So I did what any wise photographer would do in the circumstances: I screwed my ND filter onto the front of the lens to make the shot take even more time. But to offset this, I didn't set up the tripod, and instead just set the camera on the edge of the dock (brilliant idea at the beginning of an 11 day trip) and held onto the camera strap for dear life. The ND filter allowed me to get rich, vibrant colors out of the sky and water (you may find this hard to believe, but these are very near to the colors seen by the eye that evening) while smoothing the water, while the lack of tripod cost me a lot when cropping to get the horizon straight again. The sunset and the buzzer both held out, allowing me to capture subsequent shots.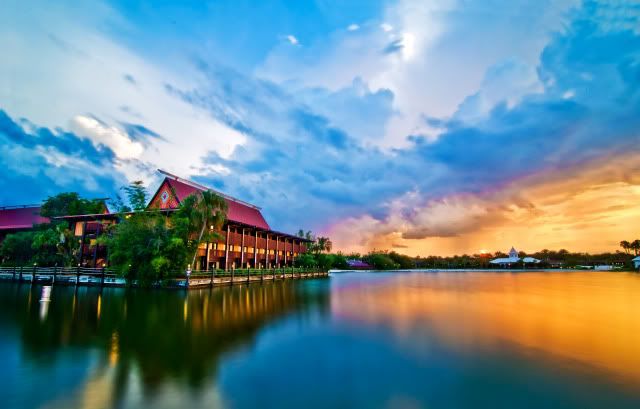 Since I've probably lulled you into a near comatose state with photography-jargon, I'll cut to the chase and start with one of the more climactic points of the trip report now: Kona Cafe v. Le Cellier.
Obviously, it makes sense to start with Kona. We were on the Dining Plan (more on this later), so we were "given" a drink, entree, and dessert. Despite our best efforts, we were often "pulled" to the more expensive entrees in a value maximization attempt. I don't know if that's what influenced me to order the New York strip–what island makes a good steak!?!–but whatever influenced me, I thank. Condensing my meal to a word, the steak was amazing. Everything a steak should be: lean yet flavorful, hearty, honestly, I can't go on for fear I will head to the airport today for WDW. The steak was perfect. In addition to the steak, I had mashed Yukon potatoes, which were also amazing.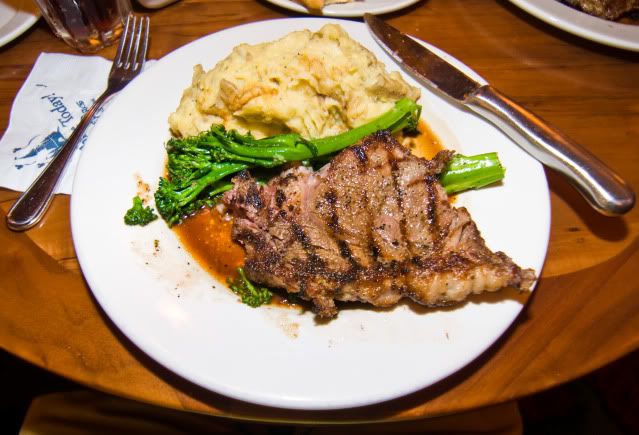 Then, prior to dessert, our waitress brought us a celebratory treat. I don't think I've adequately described the elation I've been feeling at this point of the trip (as I look back, the TR seems somewhat monotone), but my life was perfect at that moment. Imagine marrying the woman of your dreams, going to your favorite place in the world, and then having amazing new experiences there, and eating delicious foods. Cram this all into 24 hours and you'd be in my boat. Looking at Sarah, I smiled, and dug in. We were truly lucky.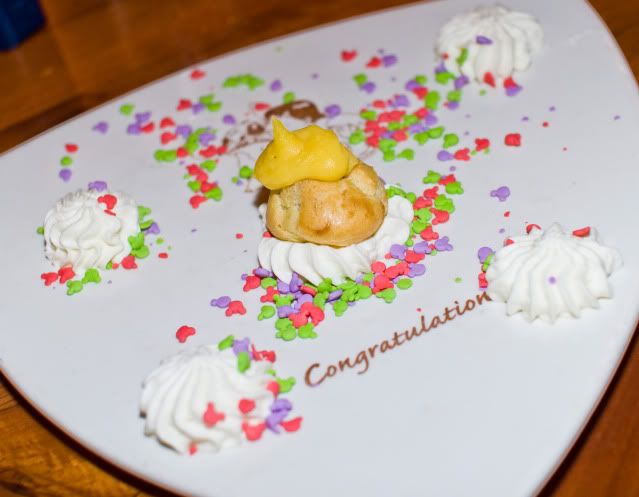 I'm not going to offer my review of Le Cellier now–you'll have to scroll ahead or keep reading for that. It was amazing, as always. However, Kona Cafe was better. Well, I should add an "in my opinion" there, as Sarah preferred her meal at Le Cellier. They really were very close. I guess the deciding factors for me were, as trivial as this may seem, location and availability. We booked Le Cellier on the very first day we were able. If we tried to book it the second, I'm betting we wouldn't have gotten it. I booked Kona 20 days out, on a hunch that our plans were going to change from what they were originally. Both had amazing steak. We've eaten at Le Cellier a few times now; to me, Kona's steak was better. When accounting for the whole experience, Le Cellier wins, as our waiter was more knowledgeable and personable. Conversely, though, Kona is in our favorite resort–where we got engaged–and had a beautiful sunset while we were there. This almost is like choosing a favorite child: inherently unfair. Both were amazing and highly recommended. If we were paying out of pocket, I would have been unsatisfied with the proximity of nearby tables (although they went unfilled at Kona) at both restaurants. Honestly, though, I probably can't articulate why I'd give the edge to Kona. That may make my opinion less-than objective, but I think if you read my commentary, it's buried in there.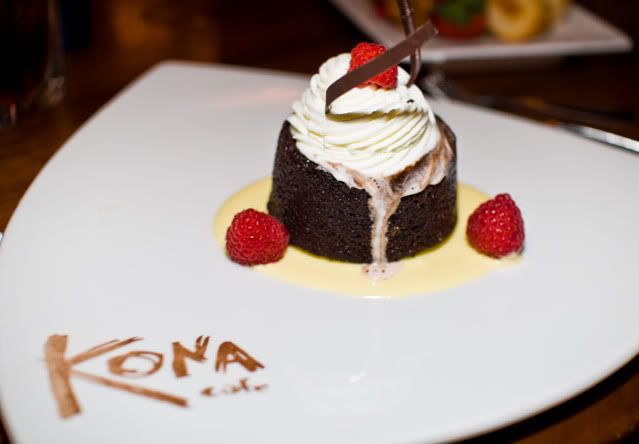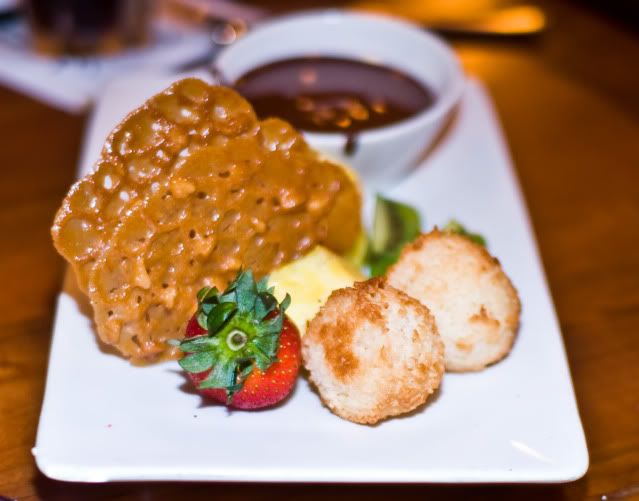 Upon finishing, we dragged ourselves to the monorail and boarded for the Magic Kingdom. Talk about timing: 15 minutes after we arrived at the MK, the Summer Nightastic Fireworks (more on these later) were set to go off. Sarah and I are lazy when it comes to fireworks and parades. In order to get one shot last summer, we waited two hours for Spectro–but it was for a shot I really really wanted. Other than that, 30 minutes is by far our max. Seeing them is more important than taking the pictures, and we can typically see them regardless of whether we get "front row" spots. Consequently, we usually end up with odd or obscured vantage points. I'm just stating this mostly to preface my crappy fireworks shots. While normally our poor spots can be attributed to our lack of desire (laziness) to wait, on this entire trip, waiting for the fireworks would have been impossible. Cast Members were positioned up and down Main Street to prevent people from loitering, and by the time the show was about to start, the bum rush of people to center-street essentially precluded tripod use. I set up anyway.
There are multiple pages in this Walt Disney World trip report installment. Navigate to the next page below!