Disneymoon Trip Report – Part 1
Since we feel that renting a car would remove us from the full immersion of the Disney Magic by bringing us to the real world (not that waiting for buses in the sweltering heat is all that "magical") we always use Disney transportation.
Okay…and we are too cheap to rent a car (I like the first rationale better!). This means getting to some of the resort restaurants–like Sanaa–can be a huge pain. When starting at our resort, our approach is to hop the first bus we see for a park or Downtown Disney, even if that location is in the opposite direction of the ultimate dining location, and catch a bus from there.
It usually works out reasonably well (read: takes us around an hour to go between locations that would take 10 minutes via cab). This time, as soon as we stepped out to the BoardWalk bus stop, an Animal Kingdom bus arrived. Then, as soon as we arrived at AK, an AKL bus showed up.
As a result of the Disney Transportation gods smiling upon us, we arrived roughly thirty minutes early to our ADRs. Of all the places to arrive early, AKL would probably be my last choice. I mean, it's neat and all, but for some reason, it just doesn't do a whole lot for me.
I have the same feelings towards Animal Kingdom. I consider the cornerstone of both to be the animals, and I just think little is offered in that regard above a stellar zoo. I guess this is more of a knock against Animal Kingdom than AKL, since a resort being a "stellar zoo" should be perceived as a compliment.
A theme park that's supposed to have top rate creativity and captivating attractions should be predicated solely on animals and minor details and lack substance in the area of attractions. In any case, AKL isn't my top resort.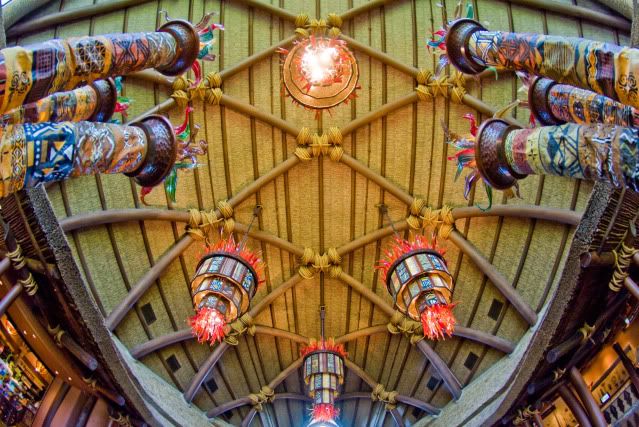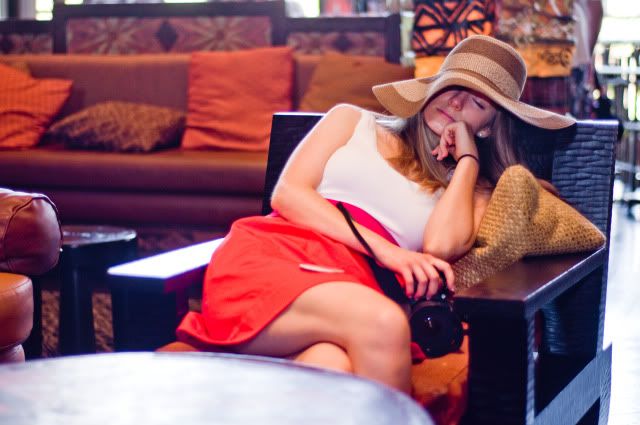 One of the main reasons I don't like AKL: their lenient stand on vagrants.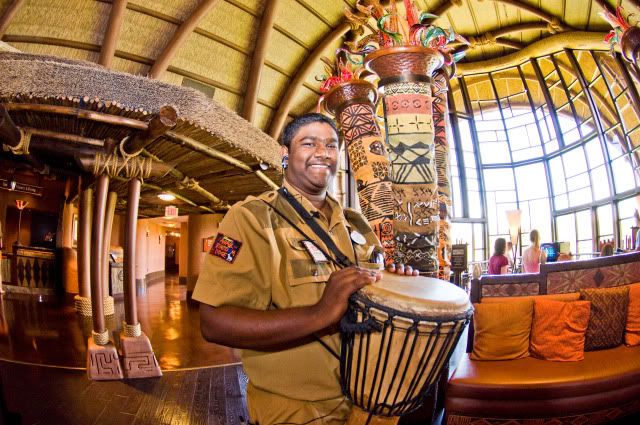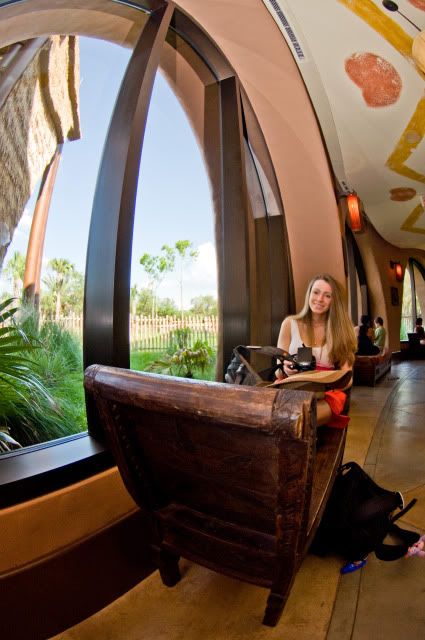 Sanaa, however, was excellent. The food was unique, the atmosphere was great (despite all of what I said above, watching two zebras 'fighting' at dinner was pretty amusing), and the service was good, too. Although the appetizers looked and sounded really good, we knew that ordering them wouldn't be the best use of our funds due to the dining plan and the likelihood that if we got an appetizer, we wouldn't be able to eat all of our entrees. The entrees were great On top of all of that, they gave us free glasses of champagne. It was really the perfect cap to the dinner.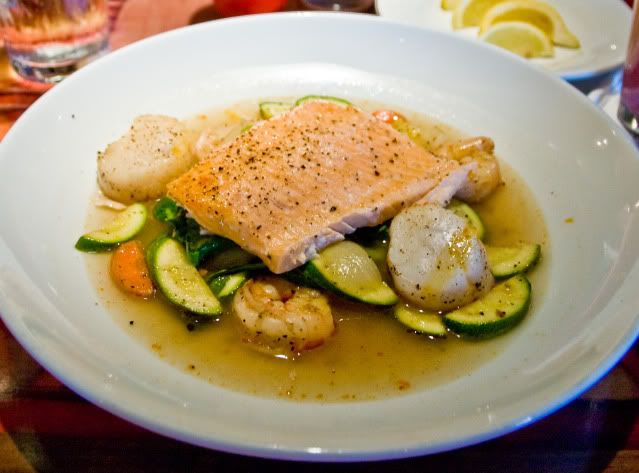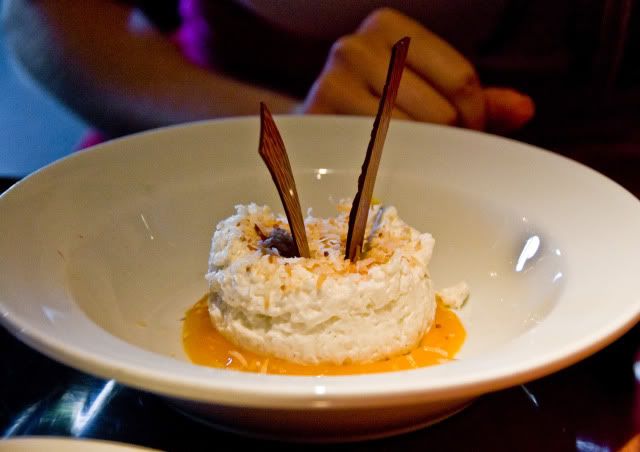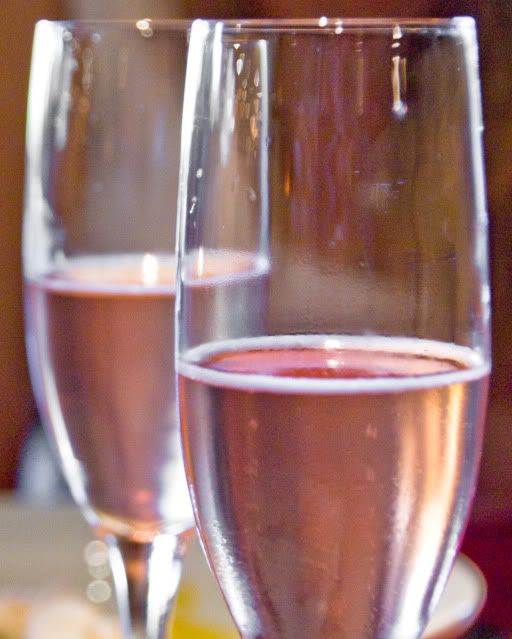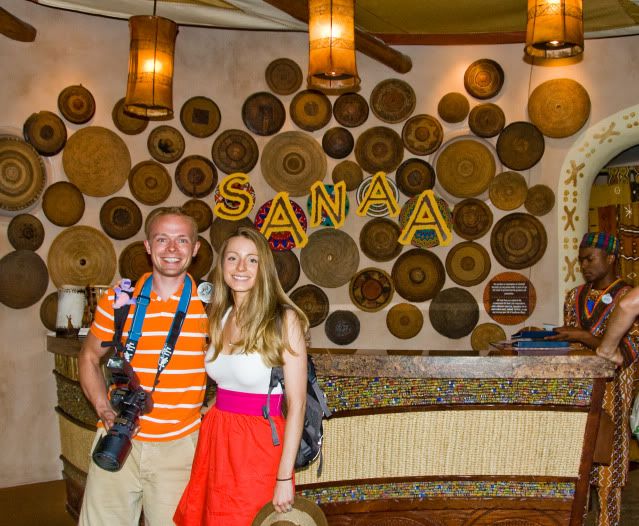 Following dinner it was back over to Animal Kingdom. As you might have ascertained from my previous comments, I am not that "wild" (pretty clever, eh) about Animal Kingdom. If I am not wild about it, Sarah is decidedly anti-AK. Compared to me, she downright can't stand the place. This is quite odd, given her normal desire to adopt just about any animal that we see. Perhaps it's because there are no stray cat or dachshund-based attractions at AK? Whatever our reasons, AK is the park where we spend, far and away, the least amount of time per trip.
Since we hadn't gone to AK on last October's trip, I was eager to experience some of the things I do enjoy at AK. I figured that, given AK had evening EMH that night, there was still an off-chance Everest might still have FastPasses.__ We rushed over there to discover it did, and that the FPs would be valid in around an hour.__ Then I looked at the wait-time sign to discover only a 20 minute wait.__ I had never seen Everest standby at less than 30 minutes besides in the first hour of operation (we usually start early at AK and leave by 2 p.m. due to the heat)!__ Sarah was sweet and let me wait to ride (Everest makes her sick).__ I don't really have a pointed opinion on the "Disco Yeti" controversy either way, so I will save the space here.__ Although I'd like it to be fixed, I think it was probably a bad investment in the first place.__ If fixing it meant taking the ride down for upwards of a year, I probably wouldn't favor the move.__ At least not until more was added to do at AK.
When it was almost time for me to board the attraction, I discovered that there was a single riders line (afterwards Sarah said that people who entered that long after me rode and exited long before me).__ Guess I need to be more observant.__ As I am prone to do on occasion, I took pictures throughout the ride.__ Often, this just meant sticking the camera out of the vehicle a tad and firing away at random without peering through the viewfinder.__ The guy next to me gave me a couple of odd looks (perhaps he was concerned that I'd lose my grip and he'd end up with a D90 imprint on his head) but I had fun nonetheless.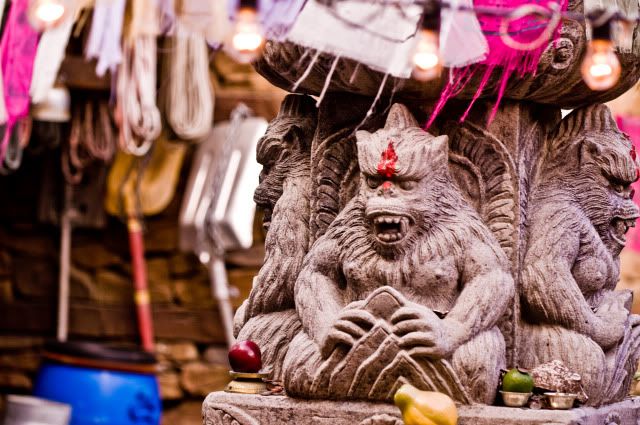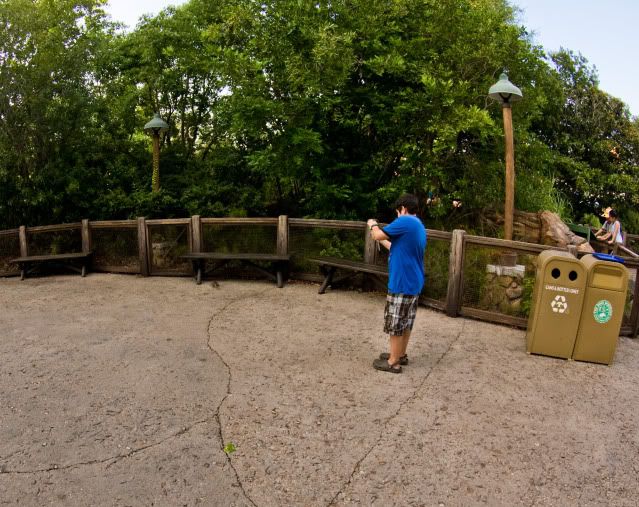 I watched this kid taking pictures of this squirrel for around 2 minutes, all the while chuckling in my head that he'd be so intrigued by a Squirrel. Little did I realize we'd soon start a collection of duck shots.
After Everest we did Dinosaur and Tough to be a Bug. Then, we realized there was nothing left to do. At this point, it was around 8 p.m. and not probably an hour away from sunset. I was really hoping to spend our first-ever evening in AK, so we decided to stretch things out, do a couple character meet and greets, and see if anything else struck our interest. Nothing did. Flights of Wonder was having one last showing, but neither of us really felt like watching that. We did spot what was shaping up to be a wonderful sunset, so we tried to find a good angle to take some pictures. After scurrying about (what seemed like) the entire park, we finally settled on a location right as the last of the sun disappeared.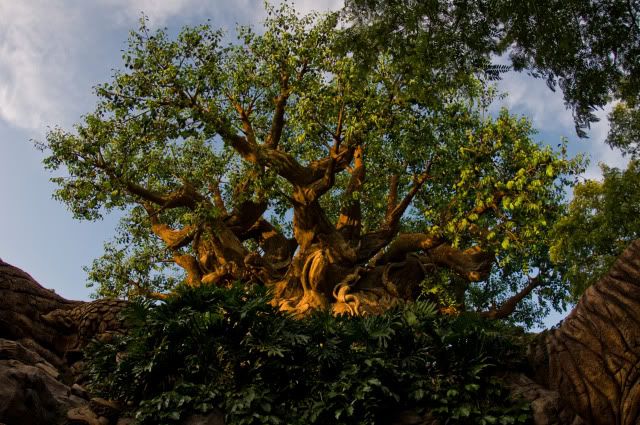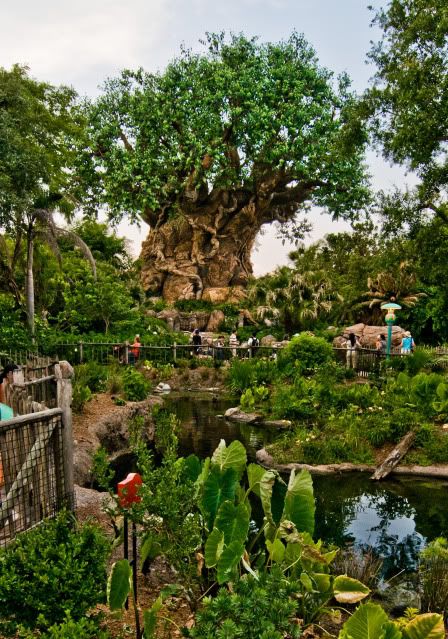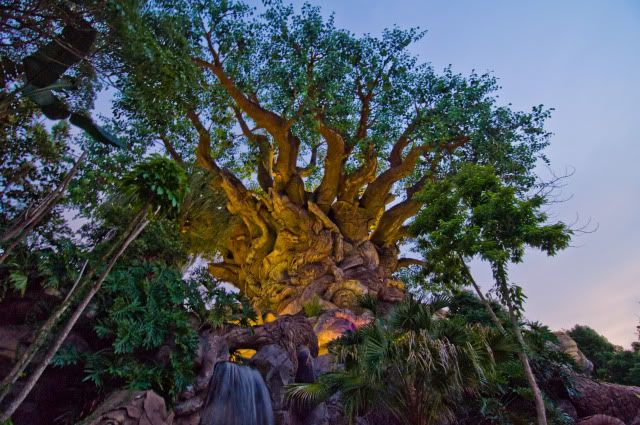 Can't win them all. At this point we were both getting frustrated and ready to head in early, but I said we should head to Dinoland to do Dinosaur once more. On the way there, I set up the tripod to catch a shot of some lighting over Dinorama! Oh all the places to spot lighting, we just had to be near one of my least favorite spots in all of WDW. Oh well, like I said before, can't win them all. After this, we were both really ready to call it an early night, so we went to Everest to grab a couple of pictures before booking it out of the park. It may look cool at night, but the absolute void of attractions really makes AK a turd for visiting at night. I won't belabor the point–it's already clear I'm not the biggest AK fan, but its even more limited offerings from its normal limited offerings was disappointing, to say the least. Still, we plan on heading there this December. At least then we'll be able to catch the Jammin' Jungle Parade, Nemo, and Festival of the Lion King.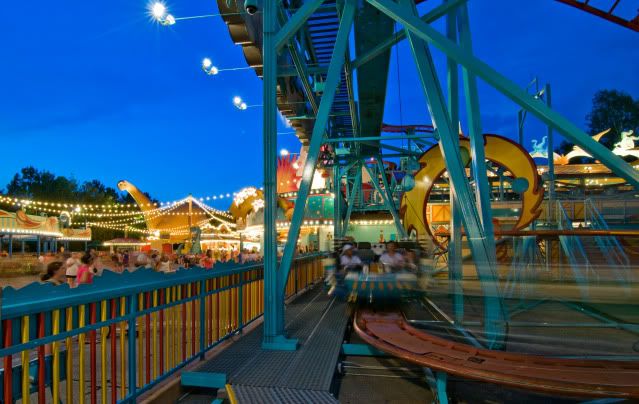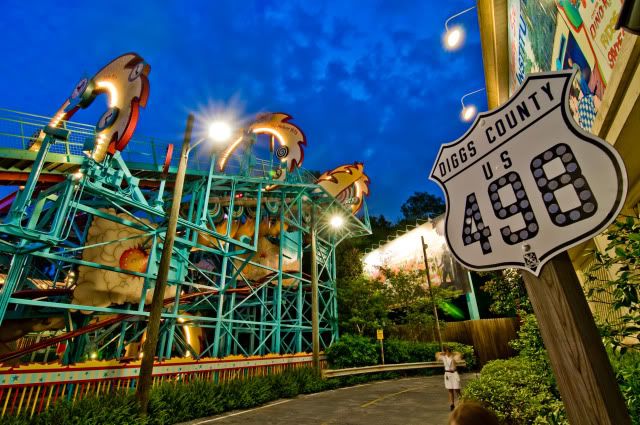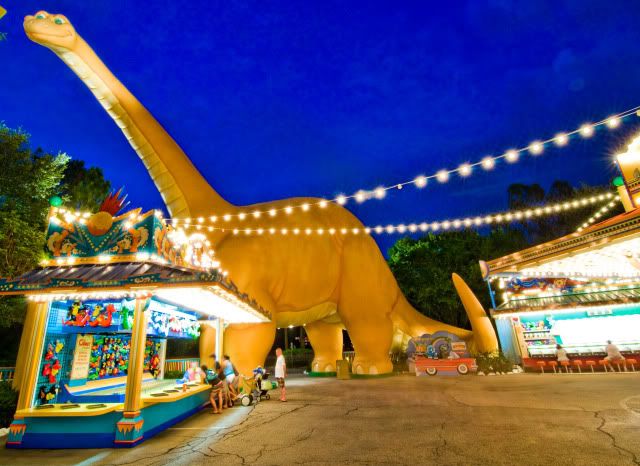 Rushing to get out of the park, we felt like the citizens of D.C. (or whatever city it was) in Independence Day making a similar mass exodus. Clearly an alien invasion is worse than AK at night, but by how much, I'm not sure. As we were leaving, we started throwing around the idea of heading to the MK for a couple hours before it closed. While we were both really tired, we hated the idea of calling it a night at 9:30 p.m., so we hopped the bus for MK.
This would prove to be a poor idea. Despite sleeping in that morning, we were both still really tired. After a relaxing bus ride, we were both a little groggy, and even with that delightful evening atmosphere in the Magic Kingdom, we decided we wouldn't be staying for long. We were there for such a short period of time, and I was so tired, that I didn't even take a single picture, which is a real rarity for me.
Since we didn't want to make a trip there for naught, we took another spin around Tomorrowland aboard the TTA, then picked up our first ever chocolate chip cookie ice cream sandwich. Wow, was it good. Messy, but good. I planned on grabbing another one later in the trip, but I forgot.
With my hands thoroughly sticky and my face covered in chocolate and melted ice cream, we headed for the bus to take us back to BoardWalk. In case you're keeping score at home, our travel pattern for the day was Boardwalk to EPCOT, EPCOT to BoardWalk, BoardWalk to Animal Kingdom, Animal Kingdom to Animal Kingdom Lodge, Animal Kingdom Lodge to Animal Kingdom, Animal Kingdom to Magic Kingdom, and finally, Magic Kingdom to BoardWalk. Add in BoardWalk to Beach Club and back for me to start the morning, but that doesn't really "count." If everyday were like that, we might just have to bite the bullet and rent a car. I dread considering how much time we lost by relying on Disney transportation. Still, it's fun to just sit back and let someone else do the driving.
There are multiple pages in this Walt Disney World trip report installment. Navigate to the next page below!