Disneymoon Trip Report – Part 1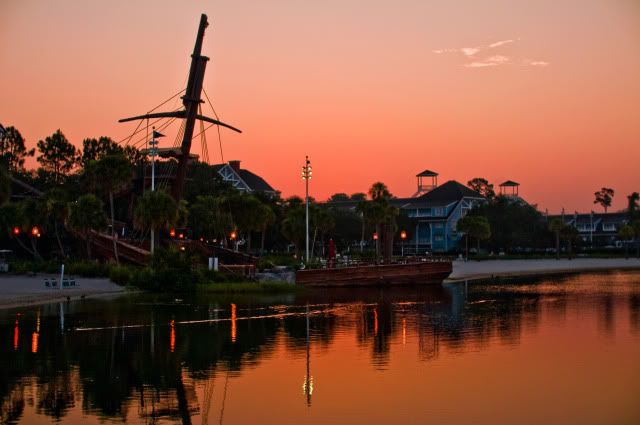 Full of energy, I got up early that morning to catch the sunrise while Sarah got ready. Unfortunately, it was already incredibly hot, and foggy and humid to boot, so it took my camera about 20 agonizing minutes to adjust to the temperature difference (fogging up before finally reaching the appropriate temperature). Consequently, I only got two decent pictures. Talk about a waste of time.
That morning was to be epic: Magic Kingdom morning EMH. I had visions of grandeur: "okay Sarah, first, we'll hit Space Mountain twice, then we'll do Peter Pan's Flight, then Big Thunder Mountain, then Splash Mountain, then…" We barely got there before park opening, and we definitely weren't some of the first people in; however, when we got to the Tomorrowland rope, we were near the front of the pack. Brisk walking for the win.
When the rope was dropped, we used our brisk walking abilities to arrive at the FastPass kiosks for Space Mountain first. On our way, we heard a disconcerting voice, "Space Mountain is currently down." We got FPs anyway, thinking they'd be valuable in the future.
We then headed towards Fantasyland; luckily, Peter Pan's Flight was not down. Following that, we were off to Frontierland. There, we discovered Frontierland was roped off. Not giving it much thought (or rather, thinking BTMRR and Splash might be "down" too so the land hadn't opened) we headed to Adventureland. Down too.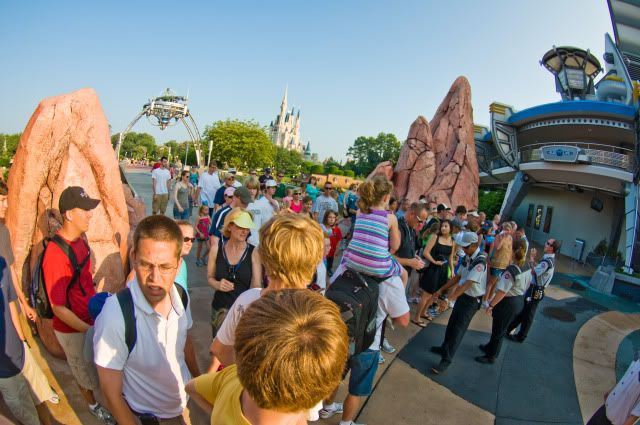 We asked a CM for a Times Guide (I'm a typical man–it takes me a few hours of being "lost" before I'll finally ask for directions), something we should have done upon arriving to the park, and we discovered that only Tomorrowland and Fantasyland were open that morning–but with all of the attractions in each of those two lands open. Knowing that, we would not have come so early! As truly important as it is to see Carousel of Progress and Stitch's Great Escape first thing in the morning to avoid the heavy crowds they accumulate, I would rather get a little more rest.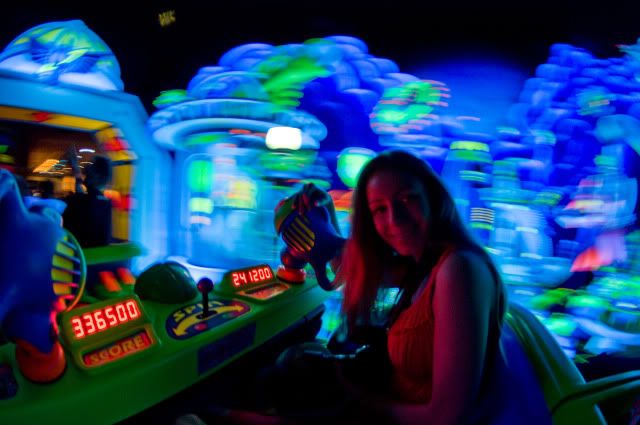 I was more than disappointed that few headliners weren't open. I would assume most people partake in EMH to hit the headliner attractions with lower crowds, and when only Dumbo, Buzz, Space, and Peter Pan are open for that hour, we felt a little shortchanged. Especially when Space wasn't open and Dumbo wasn't something that interested us. I have no idea if this has become common practice (opening only two lands for EMH) to save money or what, but I really hope it reverts back to the past system of opening key/headliner attractions in each land for EMH. This was the only morning EMH we did in MK, and none of the evening EMHs there were like this, so I have no idea if it was a test, or what. Anyone know?
We returned to Fantasyland to make the rounds there. Riding Pooh again further established my opinion that it's an extremely underrated attraction–one that I think will only get better with the new queue. I wish some cheaply done sections were a little more high quality, but I think even with those, it rivals Peter Pan's Flight as Fantasyland's best. Speaking of Peter Pan's Flight, it boggles my mind that this attraction draws such extreme wait times. While I enjoy the attraction, and I understand that the FastPass integration coupled with the slow loading inflates wait times, I still think they're too long. The ride is incredibly short, is showing its age, and other than being up in the air over London, doesn't really have an "awe" factor. Don't get me wrong, the ride is a Must-Do for us, it's just something for which we wouldn't endure the midday Standby wait times.
When the other lands finally did open, we quickly hit the Frontierland headliners before collecting another FastPass and heading to Main Street for breakfast. There was quite a line, but after seeing the breakfast croissants, I knew it would be worth the wait. When it was our turn to order, the CM behind the counter asked if we were on our honeymoon. We responded that we were, and she told us to hold on. She came back with a large copy, and told her it was on the house. When I say large, I mean pizza size. It was huge! I think WDW must have been fattening us up in the hopes that we wouldn't be able to leave. The cookie was very nice, as were all of the freebies we'd receive, but even all of the little "congratulations" really made our days. We heard these from so many Cast Members every day, it really was impressive. Either that many CMs are genuinely interested in making the magic (which is impressive) or Disney has done a great job instilling the importance of the "Celebrate" theme of the year (which is equally impressive). Regardless of whether they were genuine congratulations or not, we really appreciated them.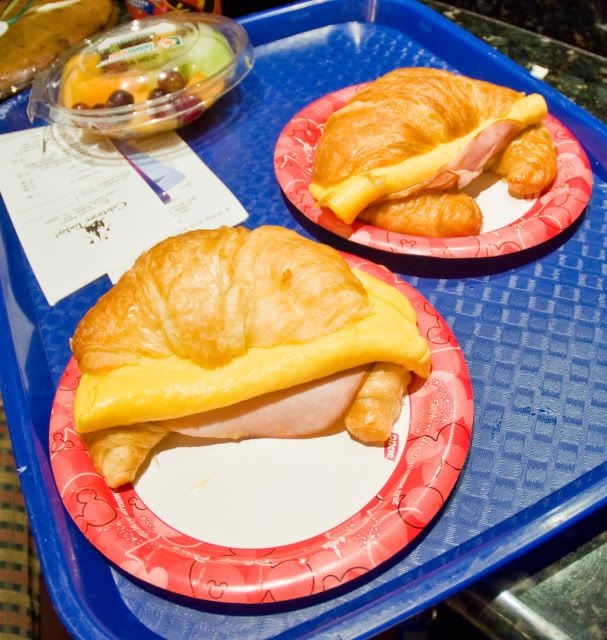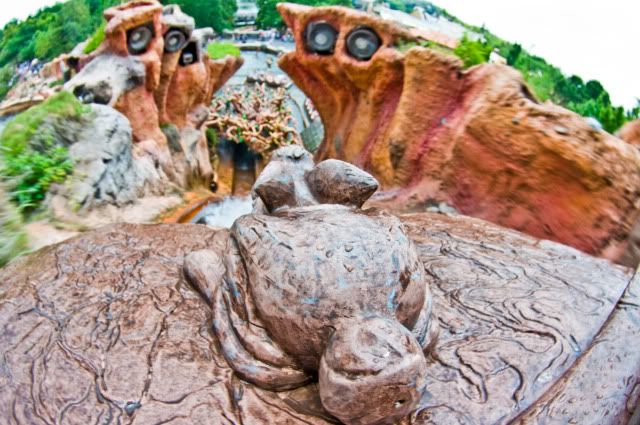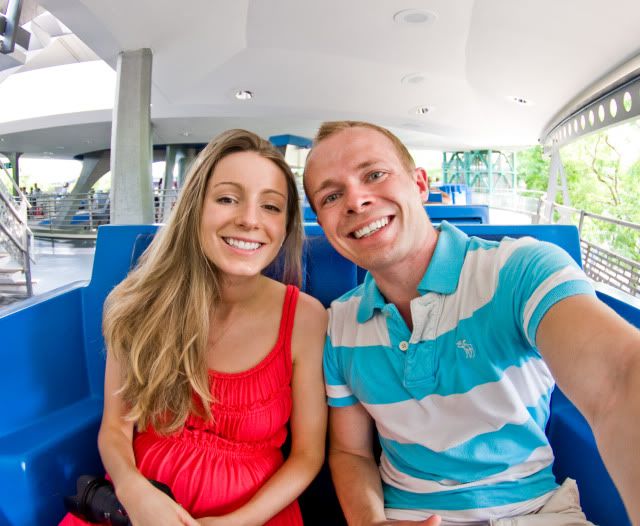 Following breakfast we headed to Liberty Square, Adventureland, and more of Tomorrowland before stopping to eat the Finest Dining Establishment Known to Man: Cosmic Ray's Starlight Café. I don't know if you've heard about this restaurant, but, suffice to say, double-cheese w/ bacon plus toppings bar equals crazy delicious!
It bears mentioning, although you've probably figured it out by now anyway given how I'm belaboring minor details, that this won't be the typical trip report. I figure everyone who is reading this knows what it's like to go on Splash Mountain, then to Country Bears, then to Tiki Room, then to… so I'm not going to give a count by count description of each ride.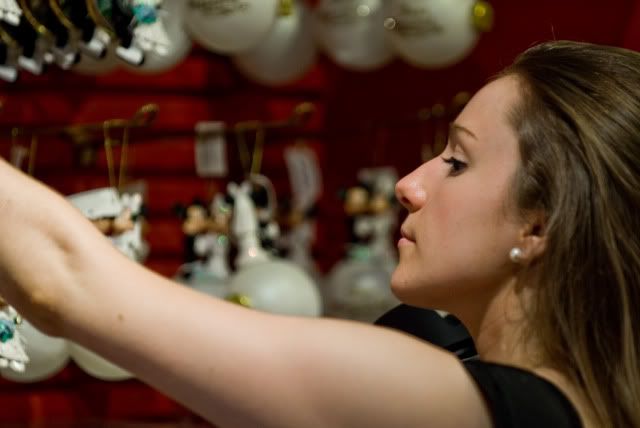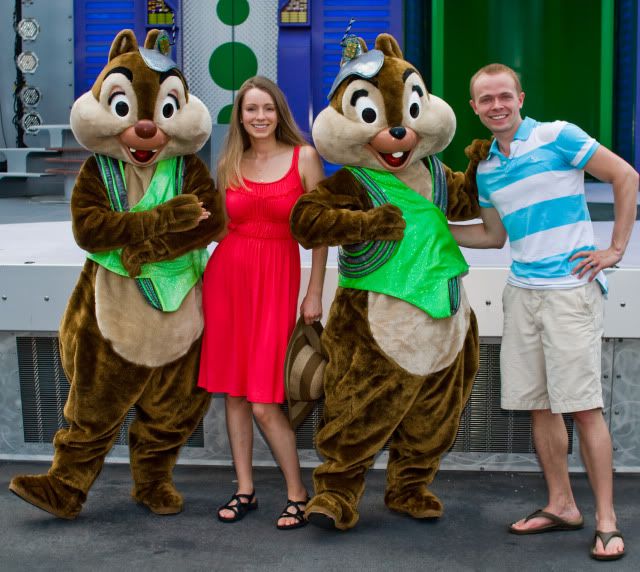 As you might have gathered, we are adults who like meeting characters. (Odd, right?) We stand in diametrical opposition to all those who complain about the supposed proliferation of Meet and Greets (yes, it's absolutely shocking that Disney would want to meet guest demand; instead perhaps it should focus on satiating the obscure minority interests that only appeal to rabid fans who complain about everything on Disney forums). Our biggest complaint about the Meet and Greets is that there are far too many temporary locations haphazardly located in the sun. Why must Disney locate all of its M&G locations right in the sun?! By the time we get through the line, we're usually drenched and in no condition to be getting pictures! That was definitely the case here–we took turns going and standing in the old Skyway restroom while we waited for Chip and Dale!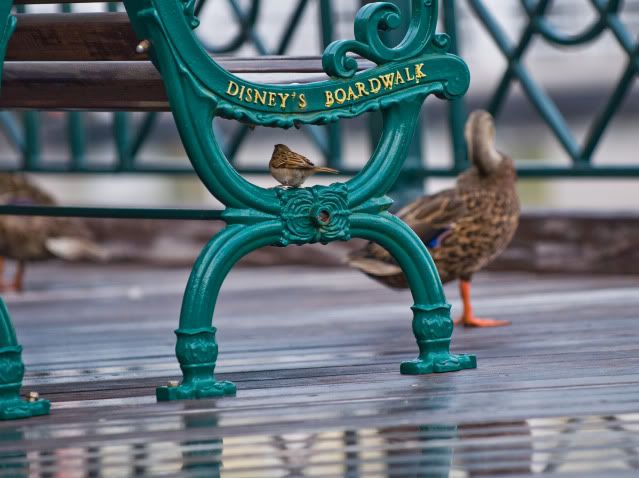 After a little while longer in the MK, it was time to head to EPCOT. Over there, we had a bit of time to get Soarin' FastPasses and take in the Seas before heading to Biergarten for dinner. Little did I realize when we arrived at Biergarten that Sarah was already husband-shopping, and that the family style seating would give her the perfect opportunity to find her prey. I guess I should have seen it coming. I am only in my twenties and have most of my hair. Clearly, not what most people look for in a man. The gentleman across the table from us, with his wife, mind you, was easily in his late 60s, and looked much like Santa Claus with shorter hair. I know how Sarah loves Christmas, so this should have come as no surprise to me.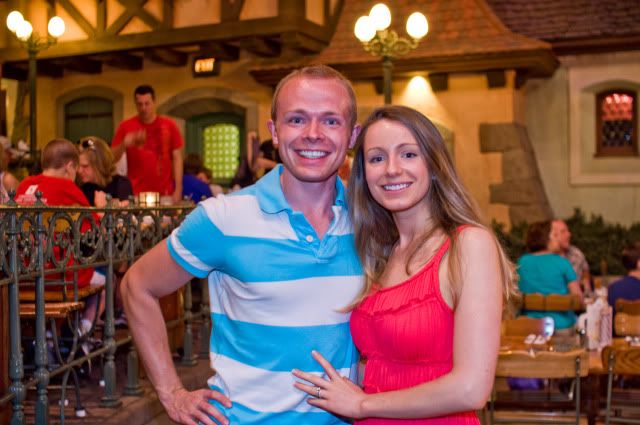 While I innocuously went to get my second helping of German meats I can't pronounce (besides bologna!), Sarah made her move. Over a microphone, one of the CMs began to congratulate Sarah and me on just having gotten married. Naturally, I assumed this was an elaborate ploy by Sarah to secure the man's affection, as the CM drew attention to he and Sarah, as if they were the two who had just gotten married. Okay, maybe this isn't quite how Sarah "plotted" the event. Truth be told, she was a little embarrassed about the announcement, as she said a lot of people looked over at our table oddly. Were I in their position, I would have done the same thing. Later we both got a pretty good laugh out of it, but I can imagine that it was fairly embarrassing for her at the moment!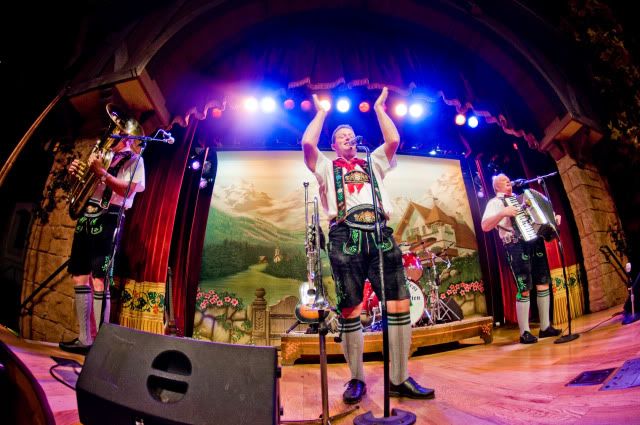 With that misunderstanding behind us, we decided to get up to dance together. This would be another embarrassing moment for Sarah. You see, I have absolutely no dancing abilities whatsoever. No matter how many times she tries to train me, my feet and brain inevitably fail. I think there's some kind of disconnect between the two (although I think I'm fairly decent at walking, so maybe not?). Consequently, I sort of just flail about, trying to put some semblance of a dance together. I try to dip her and engage in other swanky moves like that (as she, I'm sure, rightfully fears for her life), but I highly doubt that they look natural. Still, we have fun, and we always manage to get a good laugh out of the experience, so we keep doing it.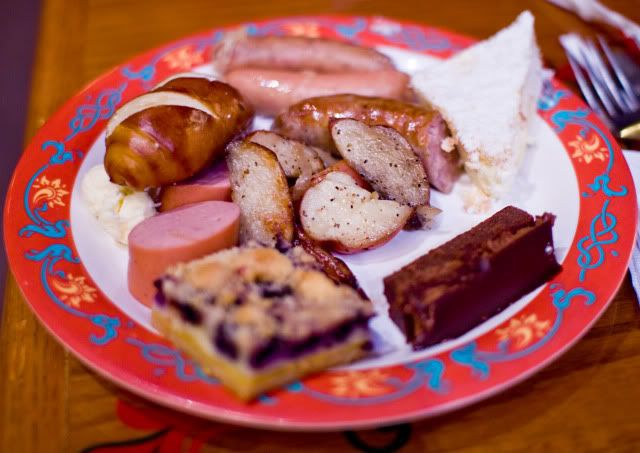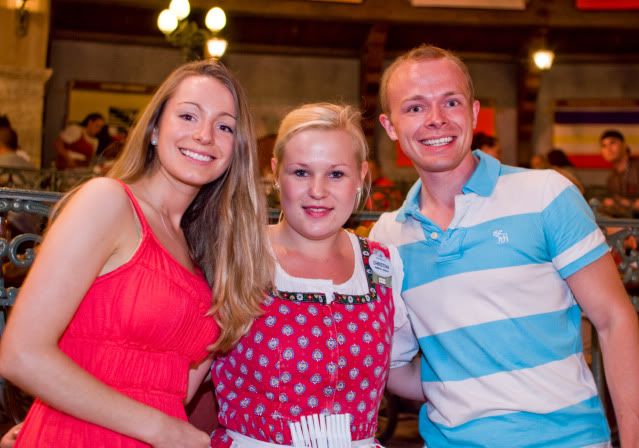 As for Biergarten's substance, it was pretty decent. The first round was on the lukewarm side, with the second round being considerably warmer. My usual theory with buffets is that you can get unlimited amounts of decent food versus a decent amount of good food at a 'normal' restaurant. It all depends on how hungry you are. Although I can't say either of us really ate that much this particular evening, we enjoyed the experience. The ambience in the restaurant was very good, and I would recommend the restaurant. It probably isn't the ideal honeymoon restaurant as you're seated with other parties, so I would not recommend it to anyone looking for a romantic evening.
It was only 10 minutes before Illuminations when we left Biergarten, so there really weren't any good spots from which to photograph the show. In the future, I think EPCOT should have a special area for tripods up against the rail. I wouldn't even need to be near the tripod (I could just use the remote from afar). They wouldn't interfere with anyone's viewing of the show, and would really make us photographer's happy. I know this will never happen (more likely, tripods will be banned a la Tokyo Disneyland at some point), but I can dream! I set up the tripod anyway to get practice using my ND filter. Every time I watch Illuminations, I love it more. While it doesn't evoke quite the same emotions as a show with Cinderella Castle in the background, the score is brilliant and the story great. It's honestly difficult to compare to Wishes!
With Illuminations over, we joined the herd of others heading back towards Future World. Traffic was especially bad through Mexico, where the walkway narrowed considerably due to construction walls. Given the huge crowds we encountered throughout the trip, this was par for the course, but I have to say the behavior of some people always cracked me up. Like the people with strollers or other large devices getting visibly frustrated because they could not easily go against the crowds at the conclusion of these shows. Or the same folks going with the crowds but expecting to be able to push through just because they have a big plastic cart. Well, buddy, you may be able to run into the back of my ankles with the plastic, but all you're not getting through. Everyone is trying to get to the same place, I highly doubt you actually "need" to get through.
Once we finally reached an area of reprieve, we determined where we needed to go…to feel the flow…to the Universe of Eneeeer-gy! One of our favorite hidden gems, we delighted at the thought of getting off of our feet for 45 minutes and watching some dinosaurs, Bill Nye the Science Guy, and Just Ellen. Or, as well call them, the "Trifecta of Awesome" (clever, right?).
Next, it was time to strap in and blast off for Mars! Sarah really wanted us to fly orange, but I LOVE the thrill of Mission: Space, and know I wouldn't have been satisfied with that. Very sweetly, she let me ride green while she rode orange. Afterward, we met up in the gift shop. The exterior of that attraction is so gorgeous at night. It really is too bad it has the taint that it does with so many fans due to replacing Horizons, and more sad that there isn't more of substance inside (i.e. an actual pavilion rather than just a single ride and post show. With the parks quickly clearing out, we boarded SpaceShip Earth, Soarin', Livin' with the Land, and the Seas before beginning the picture taking fun.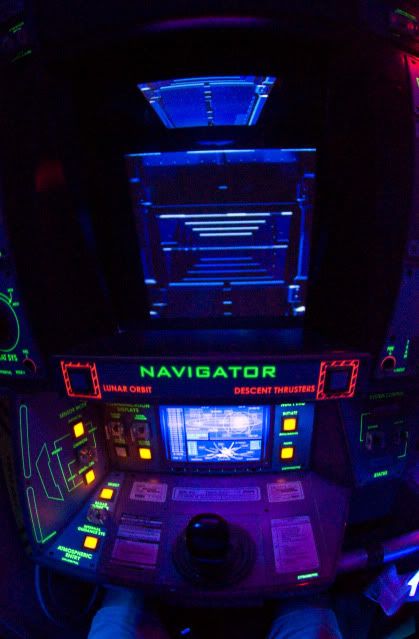 Our plan was to take pictures throughout Future World before heading back to World Showcase (and getting pictures again on the way as we left). We figured this would be a good strategy as we had seen people allowed to head towards the International Gateway in the past even though that portion of the park had been cleared. It was the perfect plan. We got pictures in front of the Seas, Imagination, and in the area of the Fountain of Nations before heading up front.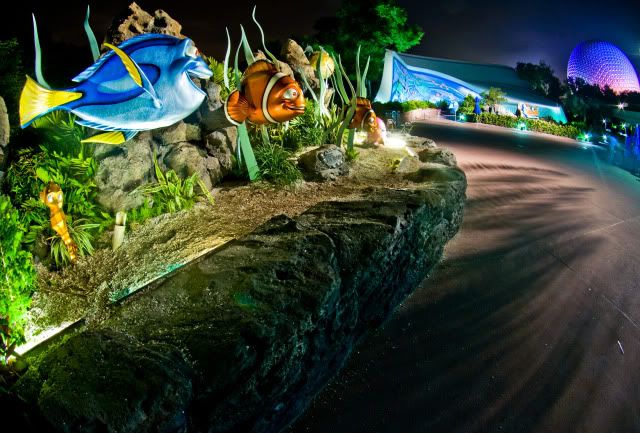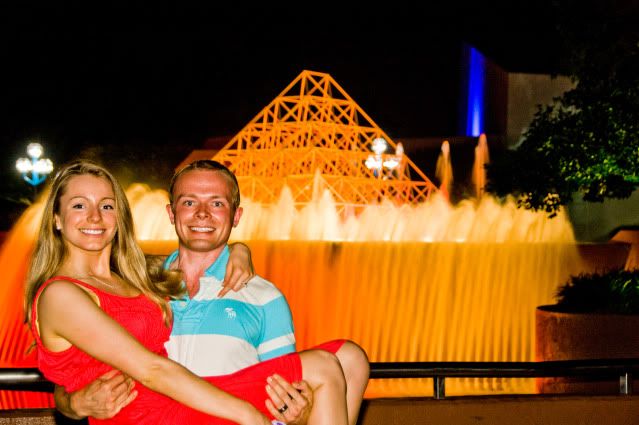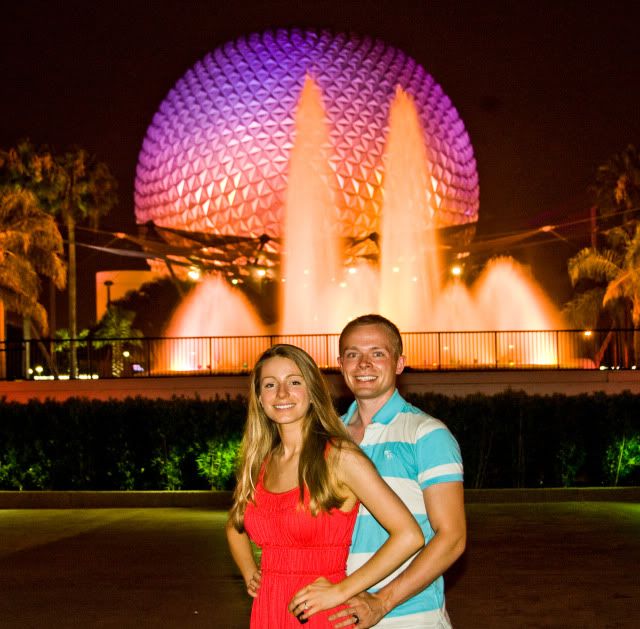 The above images is one of the reasons why I bought the fisheye. When I took the original "EPICOT" shot last year, I was disappointed by two things: 1) the Food and Wine display in the flower bed and, 2) 11mm being the widest focal length at my disposal. Despite having the lens for our honeymoon, I never expected to get this shot. I was hopeful, but it takes too long to set-up, and at that time of night (technically, morning) it seems like the monorails run once every 20 minutes.
Here, as we approached the front of the park, I saw the monorail approaching in the distance. I didn't hold out much hope that I could get to the flower bed before it arrived, but I tried anyway, running with my tripod fully extended as I attempted to dial in the appropriate camera settings with one eye on the camera and the other on my path (brilliant and safe, I know). Shockingly, I arrived in time, but the tripod was too high. Rather than adjust it, I balanced the camera on the plaque in front of the flower bed and fired–success. Then I realized that this plan wasn't fool-proof, as I couldn't hold the camera there steady for 10 seconds or so. I resolved defeat, knowing that I wouldn't get the shot since it'd likely be 20 minutes before the next monorail passed and being the last guests, we probably needed to make our way to the International Gateway prior to then.
Roughly 5 minutes later (or so it felt), as I set up for shots of Sarah and me with her camera and tripod, the Tronorail approached. This would be a theme of the trip: the Tronorail, a nemesis of mine, showing up in every great monorail shot opportunity. While the dreaded beast always showed up quickly, it was almost as if the Serpentine of the Sky was mocking me: "Pick your poison, Tom; take a picture of me without having to wait, or wait indefinitely for one of the 'pretty' monorails." As you can see, the Tronorail claimed victory here by snaking its way into the shot, but I think I still got the last laugh
After that set of pictures, we decided to call it a night. As we began to turn towards International Gateway, Security stopped us, asking if we would need transportation back to our resort. I said responded that we would not, as we'd walk through the International Gateway. He half-chuckled, informing us that International Gateway was closed. Instead, we were rounded up onto a bus of other people. They must have been waiting there for us, as I hadn't seen any of these people in the park! After a little loop around a couple other resorts, we were back at the resort, at which time we hit the hay.
There are multiple pages in this Walt Disney World trip report installment. Navigate to the next page below!