Disneymoon Trip Report – Part 1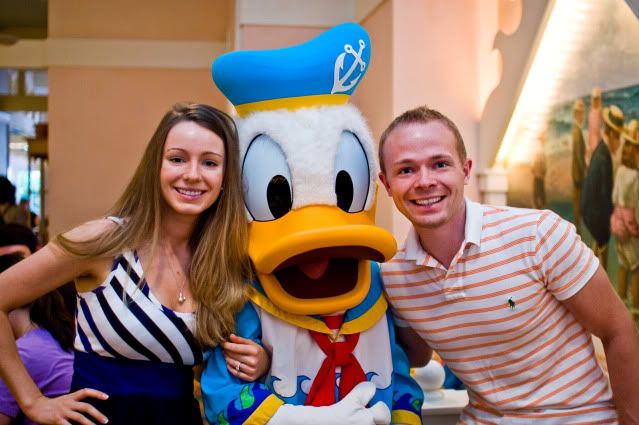 Cape May Café's character breakfast was on the agenda bright and early the next morning, so we rose early once again for that.
Again, we arrived at our ADR early (I keep noting this because it's absolutely unprecedented for us–besides midday ADRs at the park in which we were in on that particular day, on previous trips that has never happened) and were seated right away. I dialed in the camera settings so we'd be ready when the (Goof) troupe of beach characters came by, and then we headed to the breakfast bar.
Although the value for these breakfasts isn't that great on the Dining Plan, and actually, isn't that great when paying cash, either, they sure are delicious. Maybe I have lower expectations for breakfast, or maybe I just prefer breakfast as a meal.
Whether it be biscuits and gravy, chocolate mickey waffles, or my favorite, breakfast pizza, I love it all. I even sometimes eat a banana or two just to keep a "healthy" diet at WDW.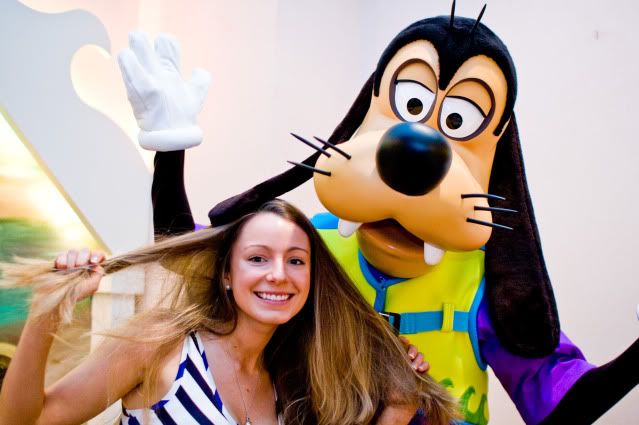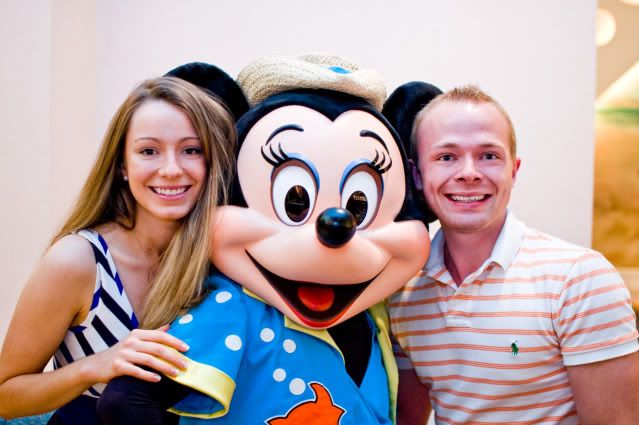 We got our character pictures, enjoyed a few plates of delicious breakfast, and then waddled our way to the beach, where we boarded one of the Friendship boats for the Studios.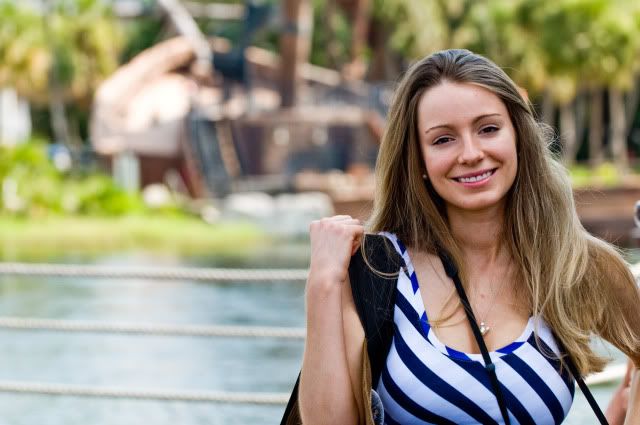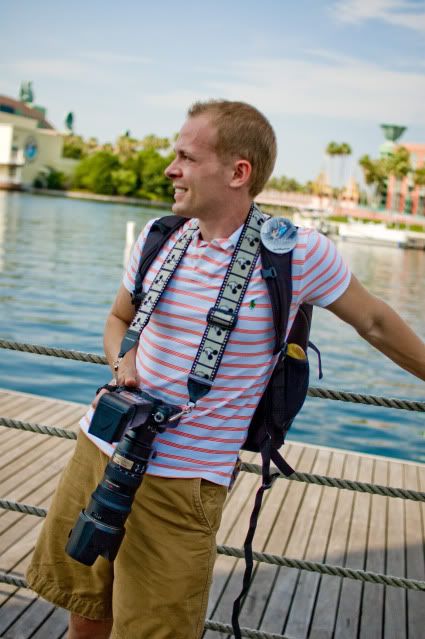 Since it was already about an hour and forty-five minutes after the park opened, the waits were already long, thus we developed strategy for the morning: pick up FastPasses as early as we could and ride unpopular rides between times we'd be able to pick up FastPasses then go back to the resort to take a midday nap, to return in the evening when we could utilize the FastPasses and enjoy nighttime in the park. Although the park was pretty crowded, it worked pretty well. We picked up FastPasses for Toy Story Mania and Tower of Terror; and, experienced MuppetVision and Great Movie Ride.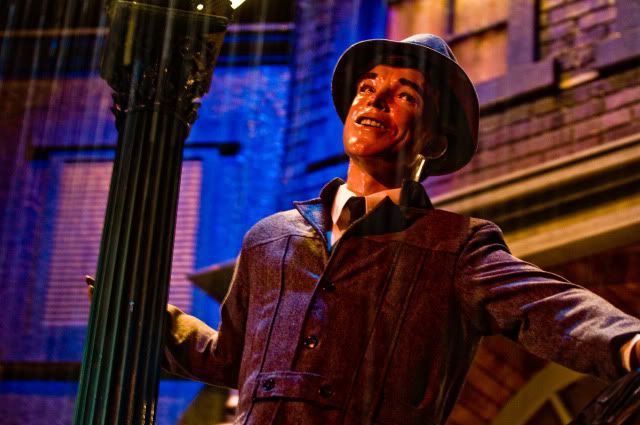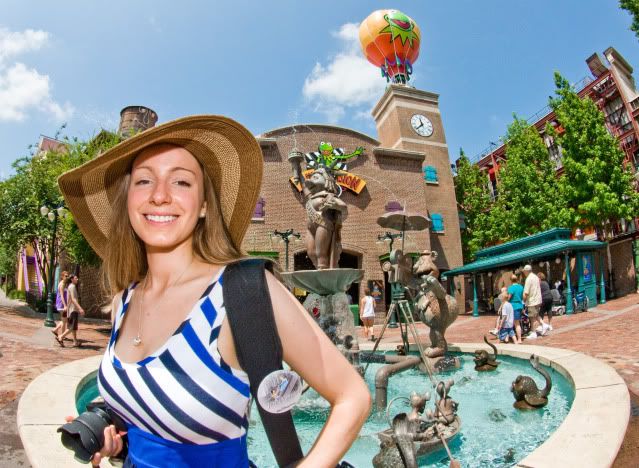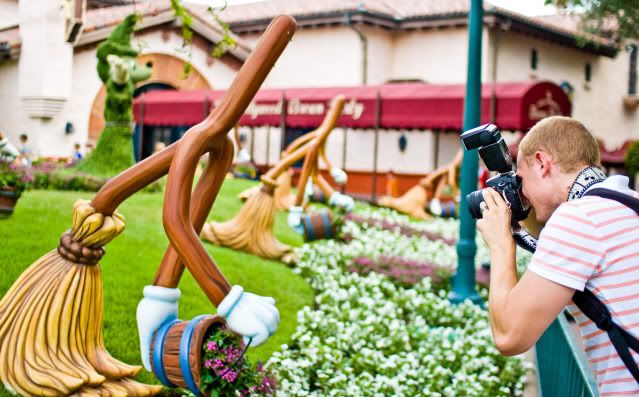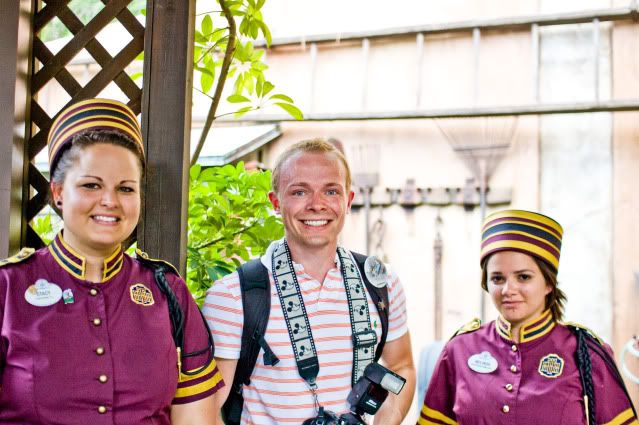 Then we took the plunge. We headed to Starring Rolls Café and ordered the muffin, the myth, the legend. The Butterfinger Cupcake. We had heard much chatter about this cupcake in the months preceding our trip. The WDW Today gang raved about it, as did Lou Mongello, and the review of AJ from the Disney Food Blog really sealed the deal that we'd definitely need to try this dessert.
Their recommendations were accurate. Rather than ordering two of the gigantic cupcakes that we'd been told is large enough to share, Sarah ordered something different, so we could taste another option as well, and wouldn't have "flavor overload." Although the first bite of the Butterfinger Cupcake was good (nice and moist), it lacked the "umph" of flavors I expected. I then realized I only got one layer.
With the next fork-full, I dug in carefully, getting a little of everything. Crème, Butterfinger stuff, cupcake, and other stuff (luckily I have no ambitions as a food critic) all combined into what can only be described as a flavor explosion. It was excellent–and definitely enough cupcake for at least 1.5 people. Full from the cupcake and ready for naps, we headed towards the exit.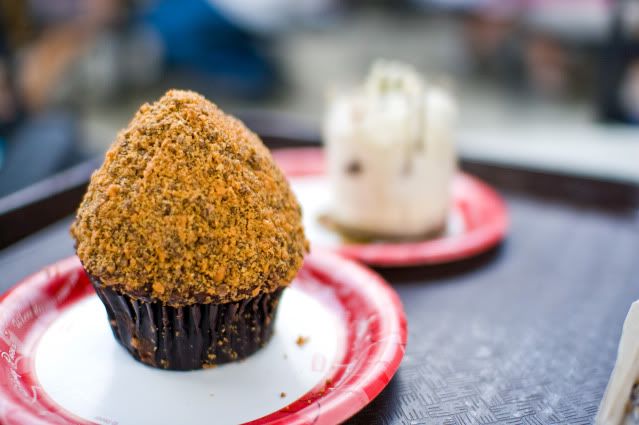 We thought up a clever strategy when returning via the boat. Rather than waiting for the boat to stop at the Swan & Dolphin and then the Beach Club before dropping us off at BoardWalk, we just got off at Swan & Dolphin and walked the 2 minutes to BoardWalk. We probably saved 10 minutes this way! I'm sure we're hardly the first people to do this, but we thought it was a great idea worth sharing, nonetheless. Almost as soon as we got up to our room, it started pouring. Perfect timing, we thought. We slept for around three hours, before heading back to the Studios.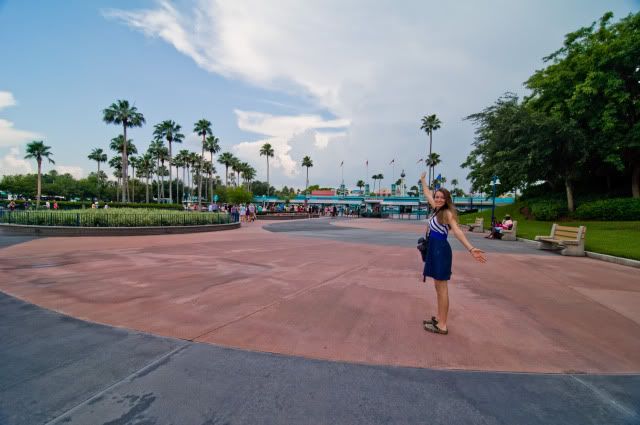 Upon arriving back at the Studios, we immediately got FastPasses for Star Tours, and then hopped in the standby line. We had already checked to see if ToT or RnRC FPs were still left, but they had all been distributed for the day. I took a lot of pictures throughout the queue and pre-show to document the attraction. Prior to boarding, the no flash pictures announcement was made, and when I started taking pictures inside (definitely without using the flash), I was admonished to put my camera away.
This is one thing that really grinds my gears: if the rule is no flash photography, state it and enforce it as such. If the rule is no photography, period, state it as such. There are several attractions (Carousel of Progress, Finding Nemo: the Musical, Soarin', etc.) where the Cast Members give inconsistent instructions on this. If they give a particular instruction, I am going to follow what they said on that particular experience.
I think it's unfair to later scold people for following the instructions as given. I don't even care if they make an overbroad rule of "no photography" when all they intend to prevent is flash photography (if their rationale is that people can't control their cameras well-enough to disable the flash), I am just irritated by inconsistent rules.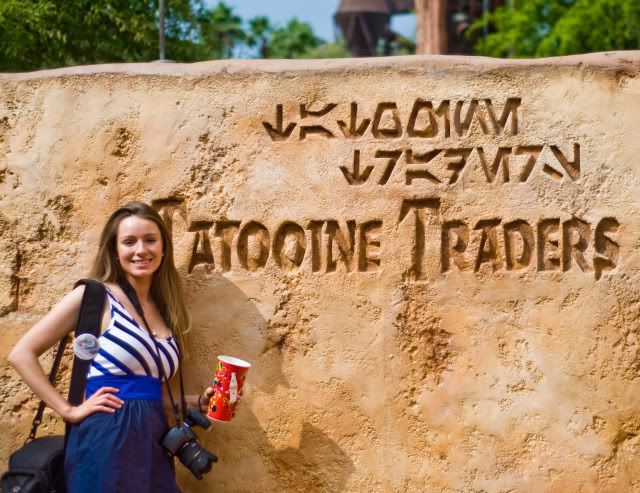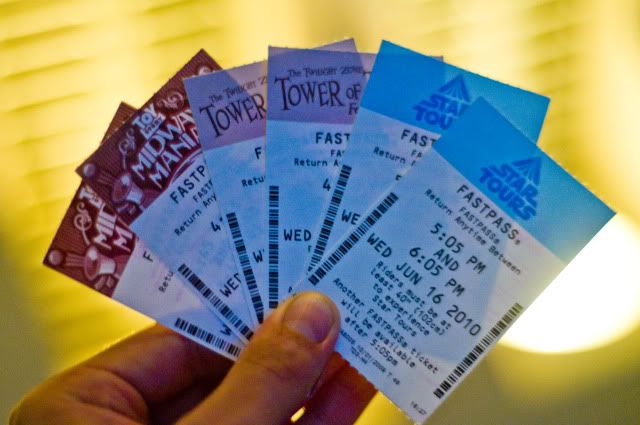 Anyway, back to Star Tours. It's not really a favorite attraction of mine, but it's one I remember vividly as a child. Until hearing that it would likely be refurbished, I didn't really "embrace" the nostalgia I had for it, with its humorous pre-show video, interesting color choices, and creative signage throughout.
I think one of the big problems with the Disney fan community is that its sentiment towards nostalgic favorites is much like mine was until a couple trips ago: we don't really show 'our' favorite attractions love, but rather only complain ex post facto. By that point, the decision has already been made that, due to unpopularity, the attraction is going to be replaced.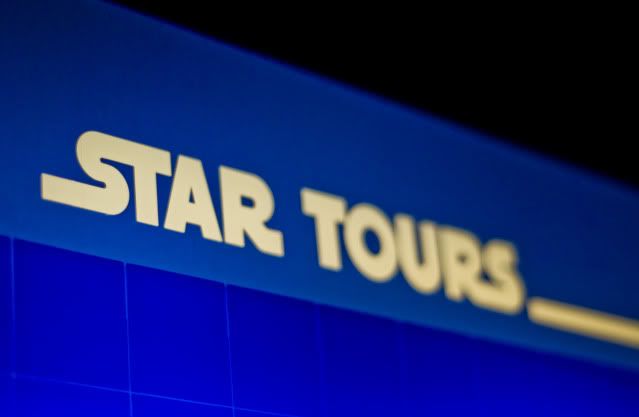 I don't consider myself hostile towards change to the degree of others, so I welcome the new Star Tours. Mostly unknown personal nostalgia notwithstanding, it is desperately in need of an upgrade, and I hope the refurbishment brings about a new attraction (a la Hall of Presidents or Space Mountain), rather than just a slightly refreshed attraction. So long as the changes are improvements, and not downgrades, I will embrace them.
In these circumstances, I don't see how downgrades are even a conceivable possibility–Star Tours will, undoubtedly, improve. It's not like the dismal Imagination refurbishment a decade ago that replaced a brilliant attraction with a dumbed down and somewhat annoying one.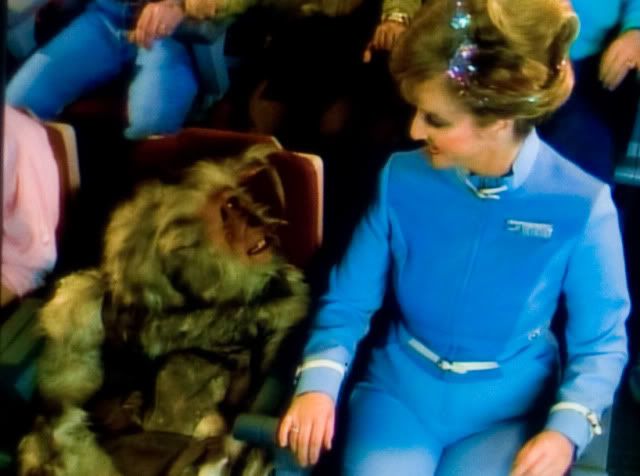 After what would likely be our last ride on Star Tours 1.0, FastPasses in hand, we headed for Pizza Planet for a quick dinner before Beauty and the Beast Live on Stage. Although I like Pizza Planet, if I have any regrets from our honeymoon, it's that I think we ate at Pizza Planet too many times.
I think the Studios is really lacking in the department of Quick Service restaurant theming and food, falling fairly far behind the three other parks in this category, in my opinion. Maybe it's just because we never have really tried the other options (they seem dull to me). Any suggestions for standout Quick Service options at the Studios?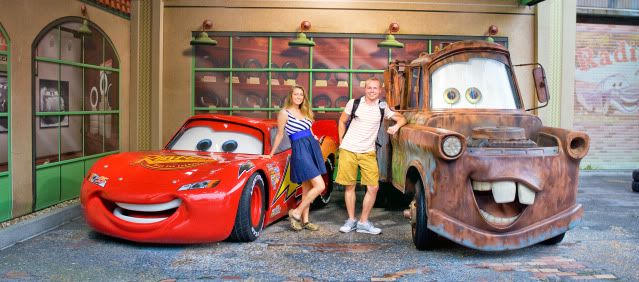 We inhaled our pizza, then booked it to Beauty and the Beast Live on Stage, which had always failed to catch on previous trips. It was a definite Must-Do for us this trip because of that, and since we had never seen it, I only snapped a couple of pictures so I could enjoy the show to its fullest. Overall, we thought it was pretty good.
We love Beauty and the Beast (it's my favorite animated classic–can't wait for the October Blu-Ray release!), so perhaps we were a bit biased. What I really thought, throughout, was that the utensils should appear in meet and greet form! I would love to meet Mrs. Potts, Lumiere, and the whole gang!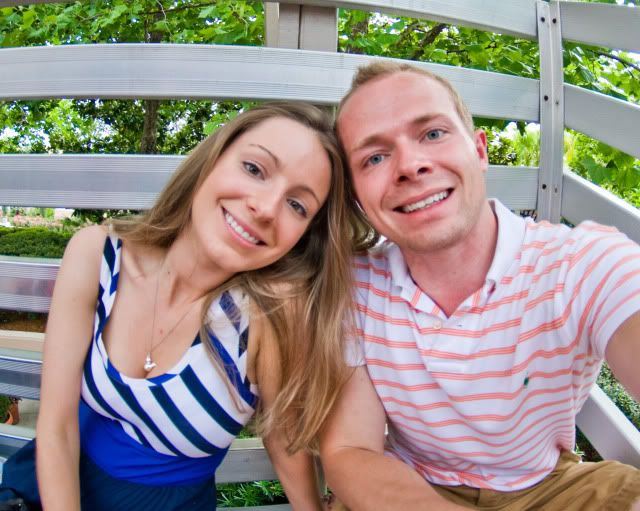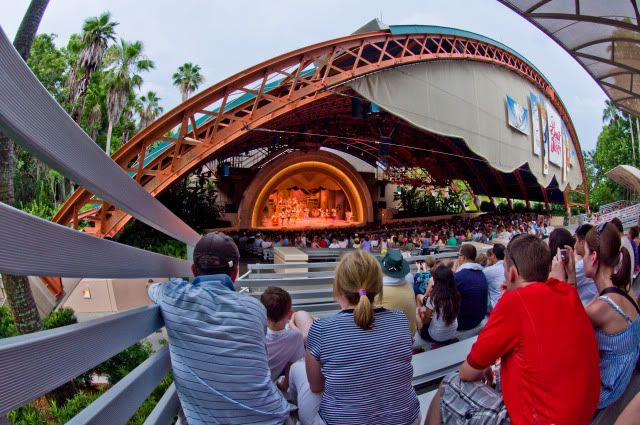 Voyage of the Little Mermaid was our next stop. If Star Tours is an "unknown" sentimental favorite, VotLM is definitely a "known" one. I fondly recall watching its lasers in awe at a younger age (although not as a young child, as I don't think it was there yet). While I think it could be refreshed, I definitely will miss any changes that come to it. Perhaps on subsequent trips, we'll watch it twice just so it's fully engrained in our memories when the inevitable change happens.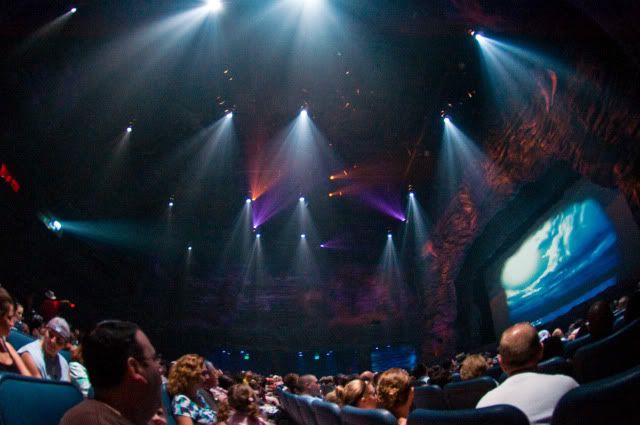 We rounded out the evening with rides about Toy Story Mania, Great Movie Ride, and a viewing of MuppetVision 3D taking some pictures in front of Grauman's and the Big ___ Hat. The debate between the BAH and Grauman's "camps" is another one that is difficult for me. With the shot below, I attempted to illustrate the adversarial relationship between the two (at least, as much as any two inanimate objects can have an adversarial relationship). While I think the Hat ruins the architecture fluidity of the area and is certainly thematically jarring, it is pretty to take pictures of! I know WDI can't just play RollerCoaster Tycoon with the parks, but in a perfect world, I would like to see the Hat moved to the front entrance or the backlot. Maybe someday.
In case you can't tell, we're trying to mimic the poses of Fozy and Piggy here. I don't think we conveyed that too well.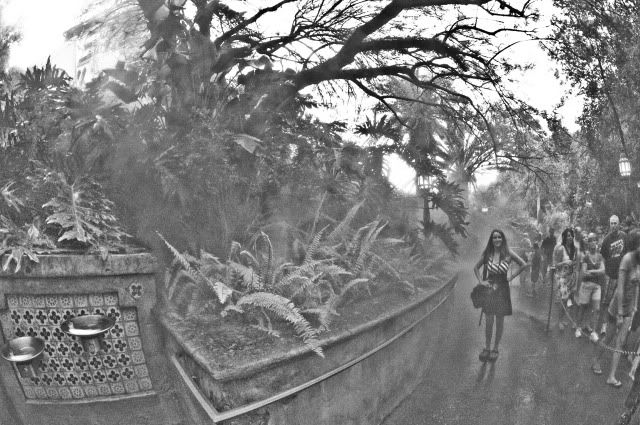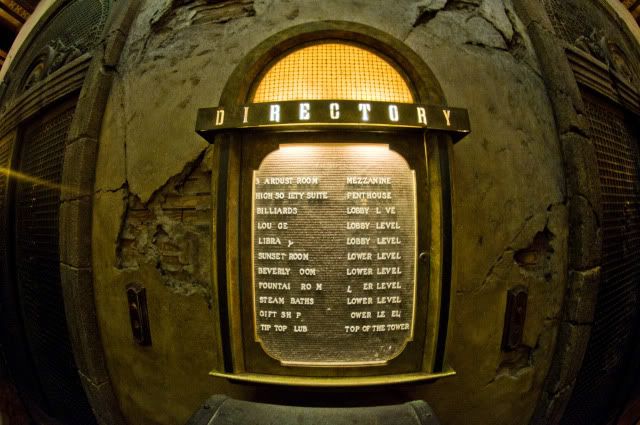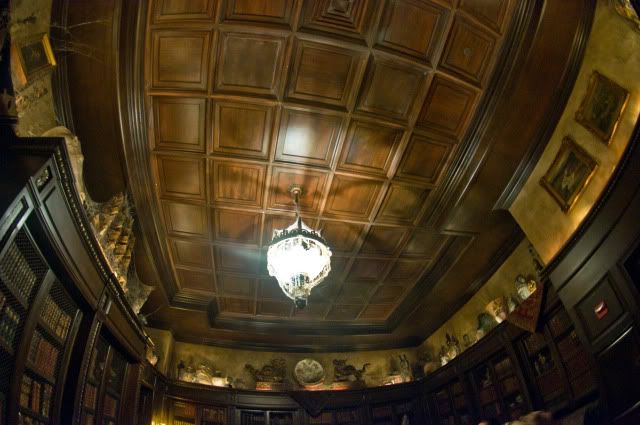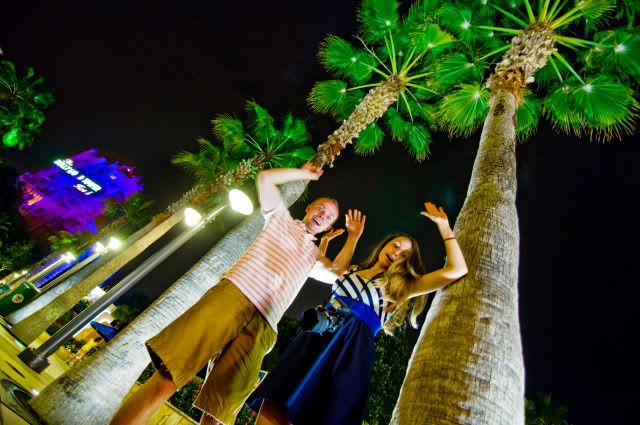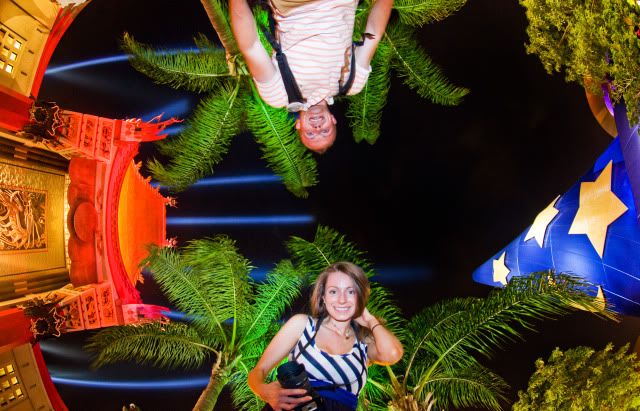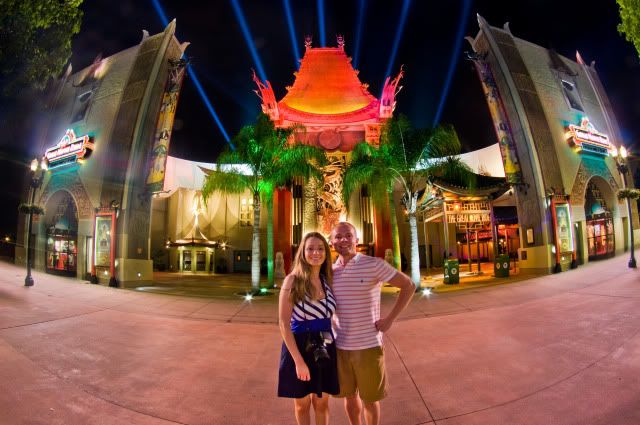 With our photo session concluded, we headed for the exit; it was right around park closing time, so it was quite odd to be walking through the turnstiles with so many others. Almost disappointing, actually, as it seemed like the parks were pleading with us to stay, to tuck them in for the night, or something of that sort. Metaphorically, of course, as we realize that theme parks don't get tucked into bed at night.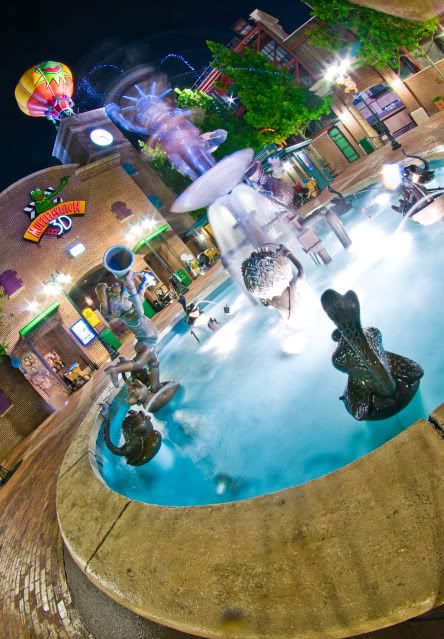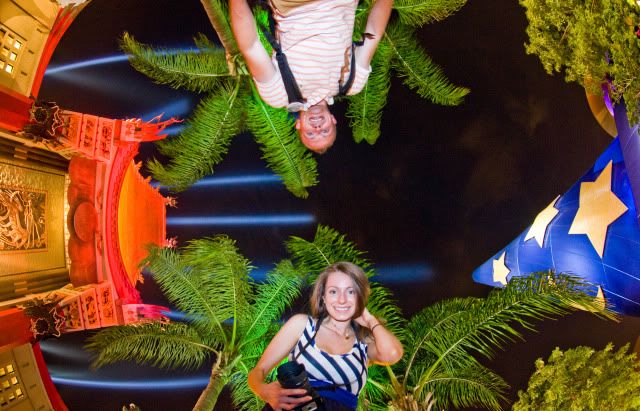 We were leaving slightly earlier than originally planned because we had received several comments that we'd be remiss if we didn't go to Jellyrolls at least once on our trip. When we got back to BoardWalk, we quickly headed up to the room to drop off our stuff, then headed down to the BoardWalk. It was a Wednesday at midnight, so it was not exactly crowded inside. We didn't realize this going in, but I think it might have influenced our decision to go. Jellyrolls is clearly one of those places that gets better when there is more crowd with whom the performers can interact.
We found it interesting to watch how the audience reacted to each of the pianists; the audience clearly preferred one of the performers, as demonstrated by cheering and tips. We wondered if this affected the relationship of the pianists. Don't know why we gave it so much thought when we could have just been listening to the music, but we did. I pass along that nugget of information with the hopes that you'll similarly be thinking about it if you go to Jellyrolls. We stayed for about an hour before finally heading to bed. It was still very fun, but it would've been nice if everyone else didn't go to sleep so early!
This is Part 1 of 3 in our Walt Disney World Honeymoon trip report. To view Parts 2 and 3, please visit our Walt Disney World "Disneymoon" trip report index page.