Village Haus Restaurant is a counter service restaurant in Fantasyland at Disneyland. The restaurant is fairly reminiscent of Pinocchio's Village Haus in Walt Disney World's Magic Kingdom in atmosphere. It had a classic look to it, but at the same time was a little drab and dreary (the drab and dreary day outside may have intensified this impression). It recently had its menu refreshed in 2011. The menu now includes premium cheeseburgers (including the Pastrami Cheeseburger), chicken sausage sandwiches, veggie burgers, BLT flat bread pizzas, pepperoni pizzas, cheese pizzas, and apple cheddar salad. In addition to these entrees, desserts on the menu include a black forest cupcake and apple strudel.
The drab and dated look of the restaurant was a bit disappointing, even if it did fit the look of Fantasyland, since the restaurant was refurbished on the inside not long before the menu was refreshed. There are some neat murals around the restaurant, though.
Village Haus Restuarant's menu was intriguing, with several choices that are a departure from "standard" Disney counter service cuisine. I had heard that the burger was pretty good here, so I ordered the Angus 1/3 lb. Pastrami Cheeseburger, which consisted of Angus chuck burger, pastrami, pickles, caramelized onions, Swiss cheese, lettuce and a creamy horseradish sauce. Sarah opted for the BLT Flat Bread Pizza, which consisted of thin flat bread crust, cherrywood-smoked bacon, provolone and mozzarella cheese, caramelized onions, marinated tomatoes and arugula-fennel salad.
This was definitely not your typical Disney counter service pizza (since it's a flat bread, this should be no surprise). It was pretty tasty and seemed to be made from fairly high quality ingredients. It was more in line with something you'd be able to order as a starter at a moderately-priced table service restaurant rather than something available at a counter service restaurant.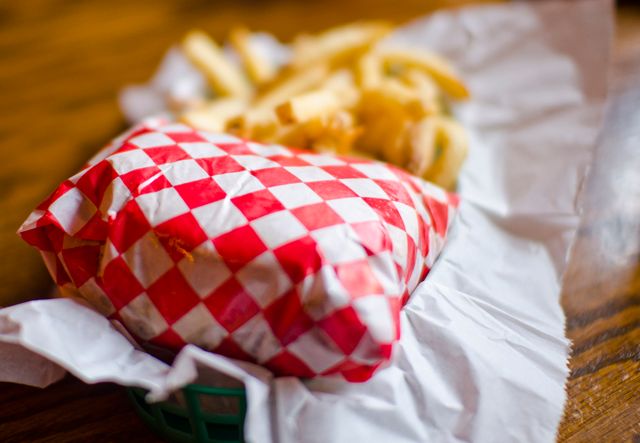 The cheeseburger was similarly more of a gourmet burger, although given its status as a signature item, I was a bit surprised that it would be served wrapped up the way it was. This likely didn't affect the taste, but it still made it seem like less of a signature item. As far as taste was concerned, the burger was good, but not great. The melted Swiss cheese was excellent, and the pastrami added a unique twist to the burger. However, it still was nothing exceptional. The flavor wasn't as good as it could have been, and for such an expensive burger, I expected a bit more.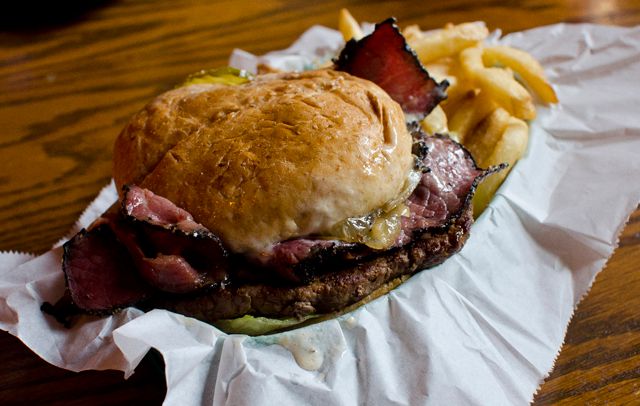 Overall, Village Haus Restaurant wasn't bad, but it wasn't great. The theming of the restaurant is merely so-so, and drab overall, and while some of the menu items are pretty good and unique (points for trying!), it doesn't quite stack up to other recently refurbished restaurants at Disneyland, like Hungry Bear Restaurant. After the meal we indicated that we probably wouldn't go back there for a while as there are much better options at Disneyland, but in retrospect, I think we might have just been tired or something (and being in the heart of Fantasyland, this is a noisy location, even at off-hours). Further investigation here might be necessary, but for now, even though I really wanted to love the new menu, I just can't give it an extremely glowing review.
Your Thoughts…
Are you a fan of Village Haus and that Pastrami Cheeseburger, or even with its new menu are you not a fan? Share your thoughts in the comments!
To read other Disneyland restaurant reviews, check out our Disney Dining Reviews Index.
Overall Score: 7/10